One of my favorite experiences last summer was the Sunflower Festival at Stony Hill Farms in beautiful Chester. After months of being stuck at home, it was amazing to get outside and enjoy nature with family and friends. Stony Hill Farms is one of the many amazing sunflower farms in NJ, and it is definitely one of my favorites!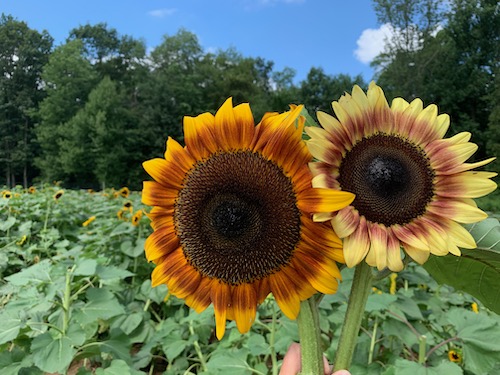 Stony Hill Farms offers 2.5 acres of over 50,000 breathtaking sunflowers. With 8 varieties of sunflowers to admire, guests will want to stay for hours taking in the beauty. Admission starts at $19.99/person (children 2 and under are FREE) and includes sunflower field access, a wagon ride, endless pictures and one sunflower. You can cut additional flowers for an additional fee. Tickets are available online and you must choose a date and entry time. This is to allow for reduced crowds (which we loved).
In addition to sunflowers, Stony Hill is known for their family friendly activities. We spent hours at the farm, and, honestly, we could have probably stayed even longer than we did. There was so much to see, do, and explore, and here were some of our favorite experiences.
Family Fun at Stony Hill Farms
Trike Rides
Guests of all ages can enjoy fun trike races which are included with admission. My boys and their friends could have rode the trikes all day if we let them. I have to admit, I had a lot of fun racing too.
Homemade Ice Cream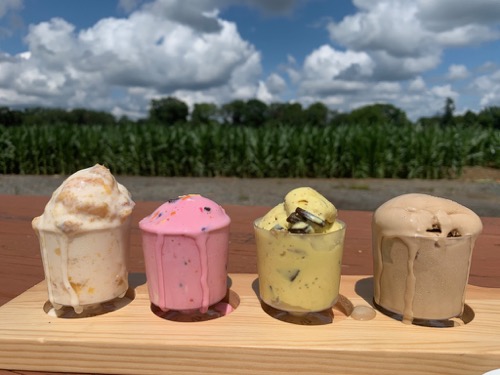 If you follow MU, then you know how much I LOVE ice cream. In fact, homemade ice cream is one of the main reasons I chose this particular sunflower festival to attend, and it did not disappoint. Stony Hill offers incredible and unique homemade ice cream during the festival. Of course I opted for the flight because I could not choose just one flavor.
Photo Fun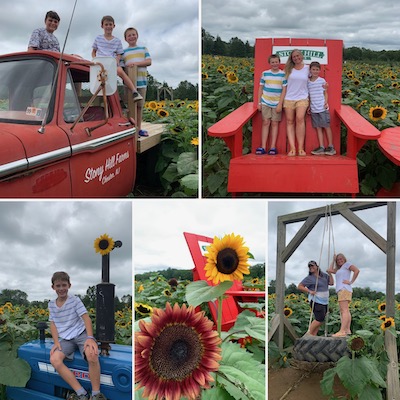 I LOVE taking pictures! (Of course you already know that.) Stony Hill Farms' Sunflower Festival offers endless photo ops for all ages. Whether it's just strolling through the field, finding unique colors, swinging on a tire, or climbing into a truck or giant chair, there are fun opportunities for great photos everywhere you turn.
Play and Learn Activities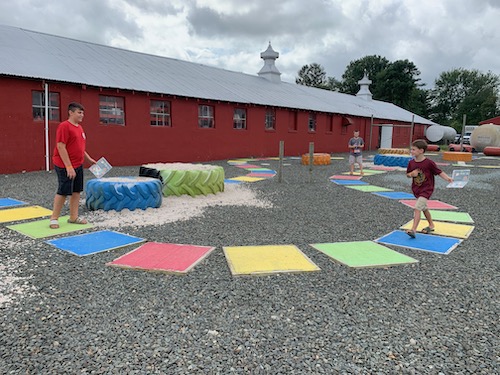 In addition to the trike rides, Stony Hill offers other fun brain boosting activities for kids. Noah's Ark Playground allows kids to climb, play, and make new friends, while the Tile Maze tests their problem solving skills. My boys and their friends really enjoyed the Barnyard Board Game which combined physical activity with strategic thinking. All of these activities are included with admission.
U-Pick Flowers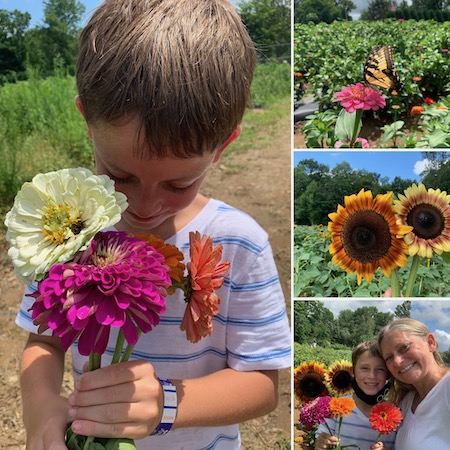 Stony Hills Farms offers gorgeous sunflowers of all shapes and sizes, but those aren't the only beautiful flowers you can cut and take home. During our day on the farm, we walked through the flower fields and cut some of the most vibrant flowers I have ever seen. I highly recommend purchasing one of their beautiful milk bottle vases to display your flowers at home (if you purchase the Classic Admission, it is included).
The Stony Hill Farms Sunflower Festival will take place July 24, 25, 31, August 1, 7, and 8 from 10am-5pm. The Sunsets in the Sunflowers event is also available on July 23, 30 and August 6 (4pm-9pm). This is a great option for photographers! Pick-Your-Own flowers are available on weekdays August 3-6 10am-4pm for $9.99/person. For more information and to purchase tickets, please visit their website.
You may also enjoy: