After much excitement and anticipation, on May 12, 2018, we attended Monster Jam at MetLife Stadium. We attended last June so we knew it was going to be a great time but with the forecast being rain, we were not quite sure what to expect. Monster Jam is a rain or shine event so we packed up the ponchos and headed to the stadium hoping for a memorable time. For this performance, we went with friends which made it a new experience for all of us. Even with the rain, Monster Jam did not disappoint!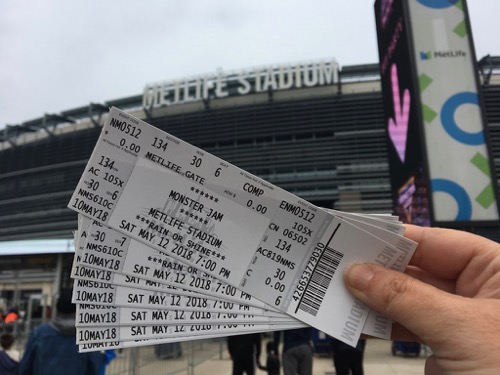 Luckily, it did not rain for the Pit Party which was the highlight of the night. The kids loved going from truck to truck and taking pictures. It was incredible to see the how big the trucks really were, and we loved looking at all the details in the artwork that adorned each truck. Monster trucks are often admired for their size and power, but I see them as pieces of art!
This was our 3rd Monster Jam event but first time in the rain. We were not sure what to expect so we came prepared and hoped for the best. We had a memorable night full of laughs and excitement. I also walked away with some tips for making the most of your Monster Jam experience in the rain!
5 Tips for Enjoying Monster Jam in the Rain
Bring Ponchos
Many outdoor venues do not allow umbrellas like MetLife so it's a good idea to bring ponchos. Whether you choose to just sit on them after it rains when the seats are all wet or you wear them while it's pouring, ponchos are a MUST HAVE when it rains at Monster Jam. Having ponchos allowed us to sit in our seats and enjoy the show while not worrying about getting wet and cold.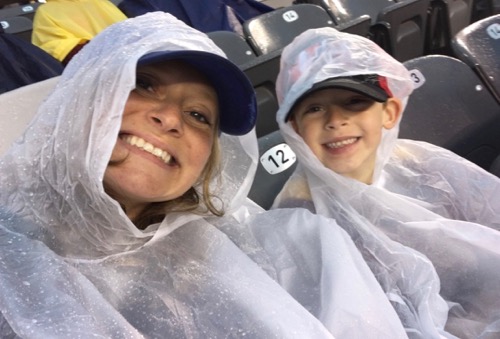 Check Out the Souvenirs
If it's raining, take some time to check out the souvenirs. There are some fun toys that can occupy the kids if they are stuck inside because of the rain. My boys loved the small monster trucks which they played with for the entire show. They even rolled and raced them through puddles behind the seats.
Go With Friends
Everything is better with friends! Even though we had a blast with just our family last year, we had even more fun when our friends came with us. You can even arrive early and tailgate in the parking lot (with tents of course) for more added fun. Monster Jam is a great way to bring people together for a night out!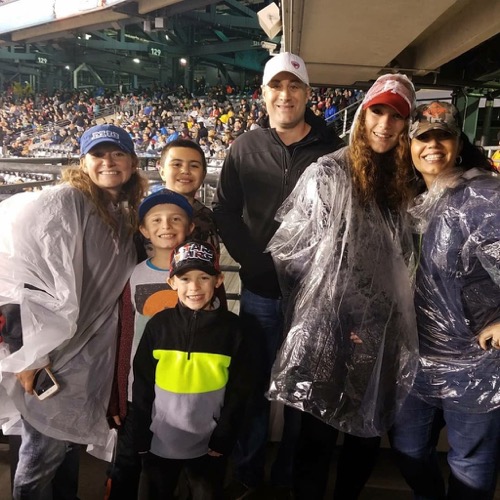 Expect the Unexpected
Every Monster Jam show brings about a new experience and this is especially true when it rains. Since there is no cover for the arena, the dirt quickly turned to mud before the show even started. It was fun seeing how the trucks handled these conditions and how it changed their performance. Even though most of the trucks broke down during the freestyle event, each driver did their best to put on a great show for the crowd!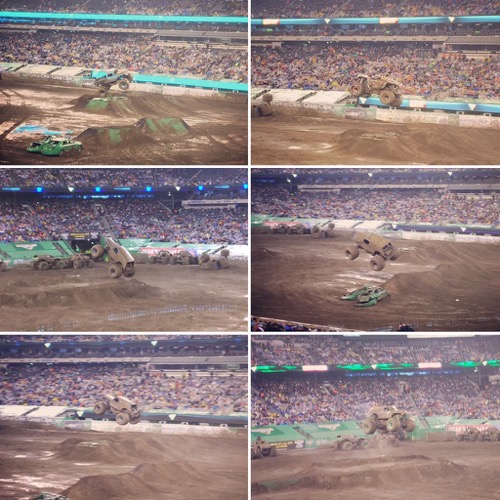 Take Pictures
Make sure you capture the memories of your fun in the rain at Monster Jam! Whether it's rain drenched hair, everyone covered head to toe in ponchos or just a great shot in front of the arena, these pictures will help you remember this epic experience!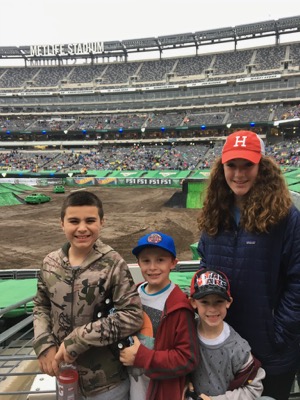 Monster Jam shows can be found all over the United States! To learn more and to purchase tickets, please visit the Monster Jam website.
You may also enjoy: