Mommy University is excited to partner with Feld Entertainment and Disney On Ice to bring you our magical experience. We were honored to be invited guests to the Disney on Ice Follow Your Heart show at the Prudential Center in Newark, NJ.
The excitement, the joy, the anticipation, the happiness, the magic! That is what surrounds you when you arrive at a Disney On Ice show. Of course, there are the adorable souvenirs and Disney characters scattered throughout the arena, but it is the sparkle in that little girl's eyes or the smile on that little boy's face that truly embodies the magic of Disney and the beauty of Disney On Ice.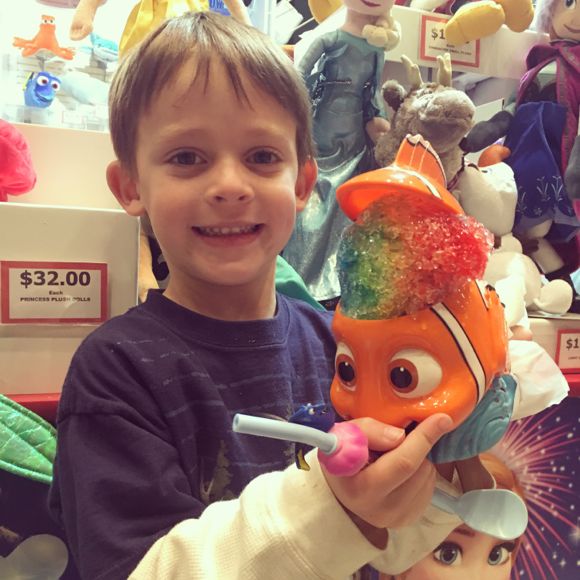 This was our 4th Disney On Ice show and it was just as amazing and enchanting as the first time. My boys smiled, laughed and danced in their seats. They pointed and screamed in delight as their favorite characters came onto the ice. I especially loved when my little one asked to sit on my lap so we could experience the magic together. We also brought our friends to the show who had not seen Disney On Ice yet, and it was so wonderful to see them on the edge of their seats with grins from ear to ear. Seeing the magic and wonder in our kids' faces is what makes Disney so amazing.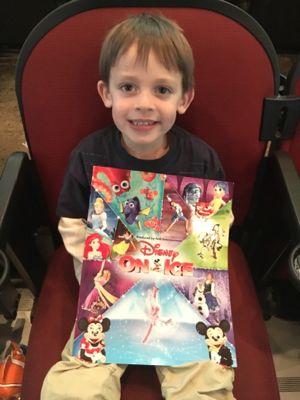 This show was entitled Follow Your Heart. It focused on following your dreams, reaching your goals and finding love, friendship and happiness. These amazing themes were presented by our favorite Disney characters, old and new. The show began with Mickey and friends, of course, but we also enjoyed adventures with the characters from Inside Out, Toy Story, Frozen, Finding Dory and more. We loved every minute of the show but here are some of the highlights.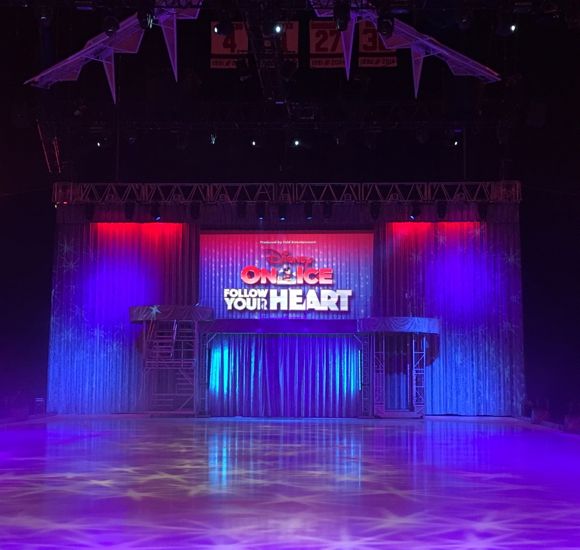 Our Favorite Moments at Disney On Ice Follow Your Heart
Inside Out
We loved the inclusion of the Inside Out characters in Follow Your Heart. The first half of the show was intertwined with action packed scenes of Riley leading her hockey team to victory. She was cheered on by classic Disney characters as well as her very own emotions, Joy, Sadness, Disgust, Fear and Anger. It was a wonderful representation of hard work, determination and perseverance. We watched as Riley followed her heart to happiness (and victory)!
Finding Dory
As the rink transformed into an underwater scene, the excitement in everyone's eyes was apparent as we all knew the next scene would be all about our friend Dory. We watch as Dory begins as a baby who is deeply loved and cared for by her parents to grown up Dory on a mission to find the family she can't remember she had. Dory follows her heart to find her parents with the help of her old friends Marlin and Nemo and new friend Hank. This bright and colorful performance is heartwarming and inspiring.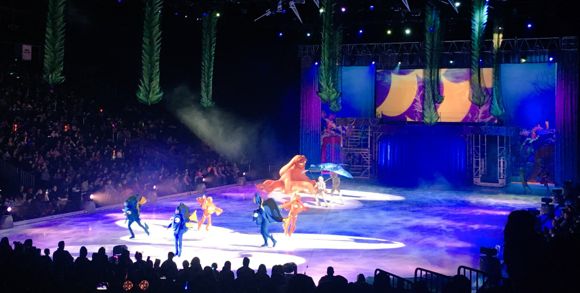 The Seven Dwarfs
This is the part my little one looks forward to at every Disney On Ice performance. He LOVES the Seven Dwarfs and grins from ear to ear as soon as they enter the ice. They may be tiny but they have huge hearts which help Snow White defeat the Evil Queen. I love watching them skate in unison as they take over the ice. It is a fun and uplifting moment.
Classic Love Stories
Everybody loves the classic Disney love stories, and they are well represented in Disney On Ice Follow Your Heart. Not only do we take a journey with Belle and the Beast as they find love, but we also see the amazing and inspiring personalities of the princesses such as Rapunzel, Merida, Mulan, Jasmine, Ariel and more. I especially loved when Ariel and Rapunzel performed while hanging high above the ice. It was a scene full of adventure, courage and bravery!

Frozen
Always a fan favorite is the Frozen part of the show. Our first Disney On Ice show was Frozen On Ice so we know this part well and have seen it at every show thus far; however, my kids (and I) still get excited. To be honest, I was singing louder than the kids in the audience. The energy in the room when Frozen began was better than any rock concert I have ever been too. It was very moving!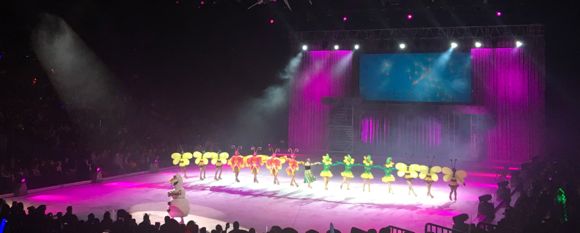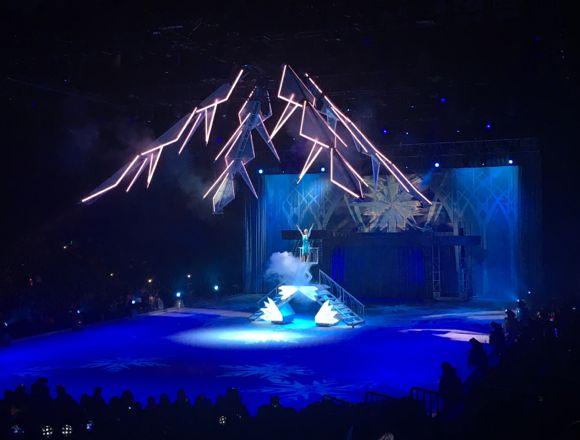 We had so much fun at Disney On Ice and cannot wait for the next performance! You can see Disney On Ice Follow Your Heart presented by Feld Entertainment at the Prudential Center through November 20 then at the Wells Fargo Center in Philadelphia December 23, 2016 – January 2, 2017. For more information and additional show dates and locations, visit the Disney On Ice website.