Sunshine at your fingertips!
Sunflowers are regal plants as they tower over us with their bright disposition.  Who can resist smiling when they see a sunflower?  Well, at Mommy University, we certainly can't which is why last year and this year we visited locations that offered sunflowers.
We have already discussed why sunflowers are beneficial to see and since New Jersey offers many amazing opportunities, we wanted to let you know about some of them. From tours to scavenger hunts, farms in the Garden State offer children wonderful experiences.  So, please take advantage of them. (Sunflowers have a short period of time that they can be appreciated so it is best to check with the location you plan to visit as their peak times might have passed.)
Mommy University Presents
Amazing Places to See Sunflowers in NJ
Donaldson Farm, Hackettstown
If you are looking for a relaxing tour of a sunflower farm that will entice you with educational facts and history of farming, then head over to Donaldson Farms.  Located in Warren County, the sunflowers are spread over 30 acres.  Tours are offered at optimal times for photography and guests receive farm fresh fruit and water. Children can also participate in a safari hunt for pollinators. In addition, Donaldson Farms is hosting a Pick and Paint-Your-Own-Sunflower Tour where you can, yes, paint a sunflower piece of art.  201 6 Update: Weather and crop condition permitting, tours will be held in late August through September.  It's always best to call ahead for current conditions at 908-852-9122.
Andersen Farms Sunflower Maze, Sparta
Although, Andersen Farms has been around for over a decade, in 2015 they opened their first Sunflower Maze which extends 10 acres.  In addition to the hidden items in the maze such as a "mouse in the house," children can also find letters and see if they can decode the scrambled message.  At the end of the maze, children receive a complimentary lollipop and can participate in finger painting the enormous sunflower mural.  Parents will enjoy the 10% off coupon they receive after completing the maze to purchase fresh produce at Andersen Farms.  There are plenty of photo props that will be fun for the kids (and adults) to pose in at Andersen Farms. 2016 Update: The season is now closed.
Liberty Farm's Sussex County Sunflower Maze, Sandyston
Liberty Farm has hosted the Sussex County Sunflower Maze for several years, but it has a new location in Sandyston this year. There is a kid's scavenger hunt where they are tasked with locating different items.  As well, there is a butterfly native pollinator meadow.  In the past, photographers have been invited to special hours on specific dates so check on their Facebook page.
2016 Update: Sussex County Sunflower Maze is open from 9am-6pm.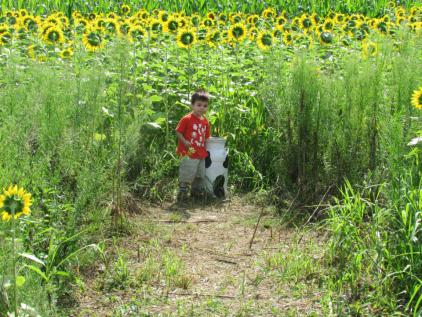 Blackburn Garden Center Sunflower Maze, Augusta
Blackburn Garden Center launched in 2015 their Sunflower Maze which includes a hayride through the fields of sunflowers.  It is located next to amazing places to eat like Rosaline's Bakery and Chatterbox, but it will also have your kids chattering about the cool flowers especially the one they picked before leaving. Blackburn Sunflower Maze is only open seven days a week from 12-7pm.
2016 Update: Blackburn has added three new fields of sunflowers this year!  There is a petting zoo as well as hayrides.  
Johnson's Locust Hall Farm, Jobstown
Johnson's Locust Hall Farm is impressive in the vast quantity of items they grow which does include pick your own sunflowers!  Once you are done picking sunflowers, your kids might want to indulge in the petting zoo or the free play area.  This is a farm that might be a full day excursion.
2016 Update: Sunflowers should be blooming around second week in September.  As always, we recommend contacting the location prior to visiting.
Alstede Farms, Chester
Alstede Farms not only offers pick your own for many fruits and vegetables they also contain petting zoo, farm activities and sunflowers! They have two opportunities for sunflowers: a maze and pick your own.  The sunflower maze is included with general admission and you can cut your own sunflowers which cost $1 each.
2016 Update: The Sunflower Maze is now cut for the year however you can still stop by to cut flowers.
Johnson's Corner Farm, Medford
Take a hayride out to cut your own sunflowers at Johnson's Corner Farm.  Not only can you pick your own flowers with the kids, but afterwards they can play in the Discovery Barnyard and Animal Farm.
2016 Update: Hayrides depart weekdays 10 am-1 pm and weekends 10 am-4 pm.
Duke Farms, Hillsborough
Duke Farms is unique from the previous suggestions as they have more diverse plant and nature offerings as well as educational opportunities.  After visiting the sunflowers, you can visit the Orchid Range.  The large area is a wonderful invitation for geocachers and self-guided tours.  Duke Farms also hosts family programs as well as professional development opportunities for educators.
2016 Update: We visited on August 20 and it appeared as though the sunflowers are now past peak.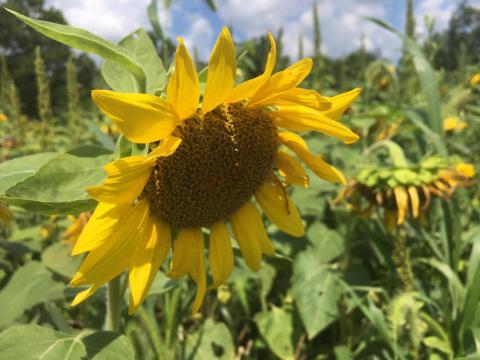 Brodhecker Farms
A working farm, Brodhecker Farms is one of the early bloomers for sunflowers and while there are no tours or mazes, this is a place that you can drive up to and marvel.  They may bring out a structure that allows visitors to look over the field. 2016 Update: The bloom is expected to last possibly until the second week of August however check on their Facebook page or contact them.
2016 Update: Brodhecker reports that the sunflowers are no longer in bloom.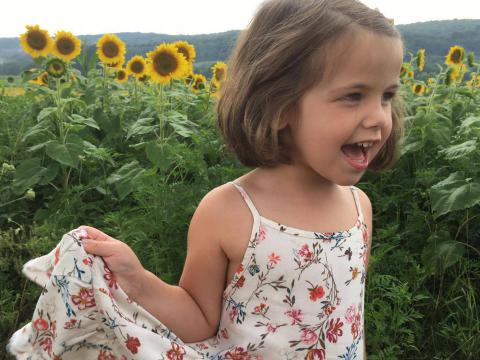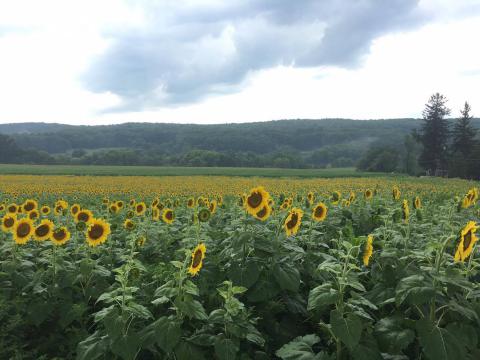 Tip: Be warned sunflowers attract butterflies and bees (a lot of bees). If there is an allergic reaction to bees, please note that sunflower farms are pretty expansive, so bring medication!
There are other locations in New Jersey to see sunflowers; however, we have compiled this list based on the ability to see sunflowers as well as educational activities that children may enjoy.  At Mommy University, we enjoy the hidden benefits of visiting sunflowers as well as supporting local businesses that are at the heart of our state which are farms!
You may also enjoy: