The sound of a train whistle always makes my children leap up and take notice.  The distinctive sounds of a train from the whistle to the wheels screeching to the chugging often gets kids excited for what's to come. It creates a sense of wonder and sparks the imagination. No wonder movies such as Polar Express and television shows such as Thomas the Train and the Dinosaur Train are so popular with little ones!
The Garden State offers many locations where children can see a train up close and personal.  What is more fun is that there are just as many places where your children can ride a train.  Once again at Mommy University, we are exploring opportunities to expose your children to fun experiences such as where they can ride a train.  Some of these locations are specifically designed to be train rides while others are pleasant surprises that you may not expect.
Mommy University Presents
10 Places Kids can Ride Trains in NJ
Whippany Railway Museum, Whippany
The Whippany Railway Museum is a volunteer run program and their restored trains include several rides throughout the year including the Santa Claus Express, the Easter Bunny Express, and other excursion trains.  We recently had the pleasure of riding in the restored Club Car for their 50th Anniversary celebration.  Inside the Museum is a small model train as well as a larger more spread out train model.  One of our favorite experiences is when the children could pull the string to blow the train whistle!  You can read our review here.
Black River & Western Railroad, Flemington and Ringoes
I thoroughly believe that a holiday train ride should be taken at least once in a child's lifetime. Not only does Black River & Western Railroad offer a North Pole Express ride it also offers the Candy Cane Unlimited and Victorian Christmas Special.  Another unique ride that is offered to train enthusiasts is Readin' Railroad Story Time. For this ride, each child is provided a book so they can read along during story time. Passengers will also enjoy a magic show, sing-a-long and more! In the fall, families can enjoy The Great Train Robbery, Triple Header Day and Pumpkin Trains. Daily excursion trains are also available so check their schedule!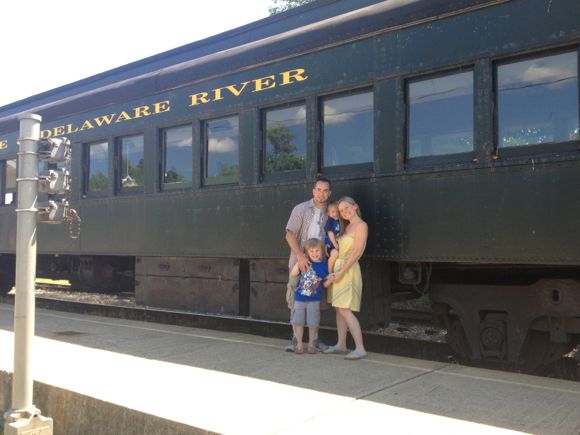 Delaware River Railroad Excursions, Phillipsburg
If you love Thomas, Dinosaur Train or Polar Express, then head to Phillipsburg for a fun experience for the entire family.  Throughout the year, the Delaware River Railroad Excursions offers lots of opportunities for themed rides such as the Corn Maze Train, Great Pumpkin Train and the new Knight Train. Families can also enjoy excursion trips such as the River Train and the Mine Train.  During the Polar Express, the whole town is supportive of the visitors and there are free trolley and bus rides from the parking lots.
Turtle Back Zoo, West Orange
One of our first stops at the Turtle Back Zoo (TBZ) includes a ride on their train which is over forty years old. The train takes guests through the woods and passed the lake making for a nice relaxing journey. In the fall, families can also enjoy spooky train rides which the kids really enjoy. The train ride is included with your admission fee!
Van Saun County Park, Paramus
Covering 146-acres of land, Van Saun County Park offers hours of fun for families. It boasts an amazing playground including a splash park, picnic areas, a carousel, a zoo on site and much more! For this article, however, we want to focus on the adorable train ride that gives visitors a firsthand look at the animals they can see if they enter the zoo. The train runs from April through the end of October and only costs $1.50/person!
Land of Make Believe, Hope
The Land of Make Believe is known for being a wonderful family amusement park, but did you know it also has its own train?  Yes, children can enjoy a train ride around the park on a Civil War Locomotive. It's a great way for the kids to see the park or just take a break from all the action. Train rides are included with admission!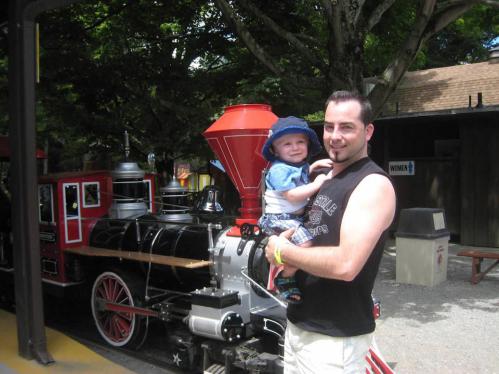 Wild West City, Stanhope
Cowboys and trains? You can find them both in Wild West City.  The narrow 1950's miniature train runs along three-quarters of a mile through the Wild West City Forest.  It is a fun and engaging ride that the entire family will love. Entry is required to ride the train, and the train ride is an additional $4/person.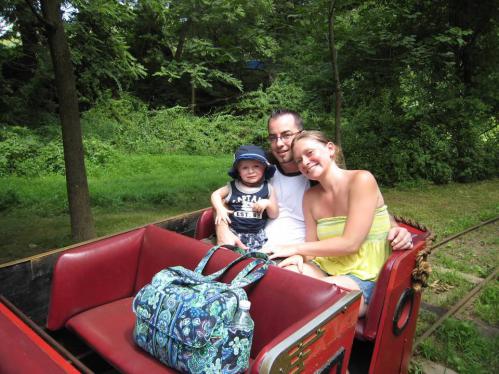 The Camden Children's Garden, Camden
We have featured this location as a place to see butterflies as well as dinosaurs, but did you know you can ride a train as well? Take a ride on the Arrow River Train the next time you are at The Camden Children's Garden for a great family adventure!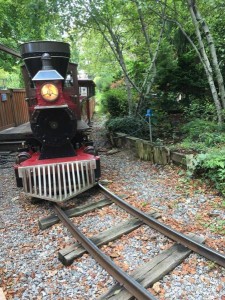 The Boardwalk
One of our favorite things to do at Jenkinson's Boardwalk is to ride the train! This antique-style train takes passengers around the perimeter of the kiddie rides area and offers gorgeous views of the ocean and boardwalk. Another fun train ride is offered at Ocean City Boardwalk. At Playland's Castaway Cove, families can enjoy a wide variety of amusement rides including a Classic Train with a gasoline powered engine. Passengers get a fun and relaxing ride around the amusement park to scope out their next ride or to just take in the sights one last time before heading home!
The New Jersey Museum of Transportation, Wall
In addition to their daily and weekend excursion trips, the New Jersey Museum of Transportation also offers train rides such as Haunted Express, Railroader's Weekend, Easter Express, Christmas Express and Civil War Encampment.  All train rides are very affordable costing under $10! Plus, children under the age of three are not  required to purchase tickets which is nice since this age typically appreciates a good train ride.  This is also a unique location for birthday parties just in case you were looking for a spot.
Bonus: NJ Transit
When I first realized that my son had a strong interest in trains, I consulted a train enthusiast who suggested that I take him for a ride on NJ Transit.  A train ride from one stop and back can open a child's eyes to the magic of local transportation.  As well, NJ Transit is an electric train which opens the door for children thinking about different types of trains.
Depending on the level of interest (or fascination) that your child has with trains, you may want to actively seek out a train ride such as Black River Railroad or just enjoy a train ride in an unexpected location such as Wild West City.  No matter what have a great time!
You may also enjoy: