Mommy University is excited to partner with New York Botanical Garden to bring you this exciting holiday giveaway!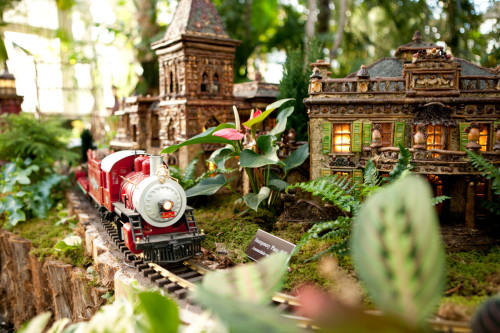 The skyline of Manhattan is dotted with towering buildings and iconic structures. We know them when we see them. The New York Botanical Garden has been re-imagining the Big Apple for 26 years in their own unique expression. Each holiday season, G-scale locomotives travel on the Brooklyn Bridge passing the Empire State Building and St. Bartholomew's Church. Upon closer inspection, you will notice that the skyscrapers are made of bark and the details may consist of seeds or leaves. The intersection of nature, engineering and art is on display at the Enid A. Haupt Conservatory.
Contrasting views of nature molded into modern structure next to metal trains against the backdrop of living plants creates a surreal destination. Children (and those young at heart) will marvel at 150 landmarks when this fantastical voyage launches on November 22 until January 15, 2018. This multi-sensory and immersive experience will "wow" your family as children will want to appreciate trains whizzing by and parents will be stunned by how Yankee Stadium has been recreated even if you are a Mets fan!
The Holiday Train Show is an annual tradition for some families and a bucket list item for others. In both instances, it enables families to enjoy time together while creating cherished family memories. In addition to identifying all the structures and natural objects used to create them along with following the trains, the NYBG also hosts additional events to enhance the trip.
Special Events at NYBG Holiday Train Show
Evergreen Express
November 18- January 21
In addition to admiring the model trains that travel across Manhattan's skyline, children can expand their imagination on a pretend train. They are encouraged to get outdoors to hike the winter trails to locate evergreen trees and shrubs. Families can warm up in the Discovery Center as they learn about evergreen plants and even make an evergreen swag bundle to decorate your home.
All Aboard with Thomas & Friends
December 30 – January 21, 2018
Can it get any better for train enthusiasts than a visit from the most famous tank engine? Stopping over from Sodor, Thomas and Driver Sam will be at NYBG to bring children on an engaging sing-along mini performance. Don't forget to have a professional photograph taken!

The New York Botanical Garden offers an opportunity for children to enhance their curiosity and interest in nature, and, with the addition of the train show, it encourages them to think about engineering, architecture and art. Now you can win your family 4 tickets to attend the Holiday Train Show through a partnership with Mommy University and NYBG! You can also save 20% on Select Weekday All-Garden Pass Tickets when you use code 9426 online at nybg.org*
*Valid only when you use code 9426 online at nybg.org. Valid for All-Garden Pass visits made from November 22, 2017–January 15, 2018. Not valid weekends from November 22–January 15 or December 18–January 1, 2018. Offer subject to availability. Orders are limited to 6 tickets. Not valid on Special Event tickets or group tours. Discount cannot be combined with any other promotional offer or previously purchased tickets. Discount may be modified or withdrawn without prior notice. Tickets are not refundable or exchangeable.
You can also watch this video from Thirteen on the Treasures of New York:

New York Botanical Garden is located at 2900 Southern Boulevard Bronx, NY 10458-5126
This giveaway has ended. Please check out our other brain boosting giveaways.

If you like this post, you might enjoy: