As a kid, I remember having the infamous turtle sandbox. I loved playing in it with my sister and making fun sand castles and burying toys. What I didn't know was that I was building and enhancing developmental and academic skills that would help lead to my future success in school!
In my article listing 10 ways to boost development at the beach, I discussed how building sand castles helps improve fine motor skills but there are so many more fun and exciting ways to play with sand besides just building. Since I am not the best sand castle creator in the world (I leave that task to my husband), I wanted to come up with other ways to utilize our sandbox. Almost every day last summer we opened the sandbox for a fun adventure. From treasure hunts to learning to write to fossil digs, we had a summer full of fun!
Since receiving the Little Tikes Treasure Hunt Sand and Water Table to review, I began thinking of more fun ways to use the sandbox. Many of the ideas I have come up with can be used in your sandbox AND on the beach. You can even throw some sand in a big bin in your house for exciting indoor sensory play. So have fun exploring all the fun sand has to offer this summer! (I included some Amazon affiliate links to make shopping faster and easier!)
5 Brain Boosting Ways to Use Your Sandbox
Treasure Hunt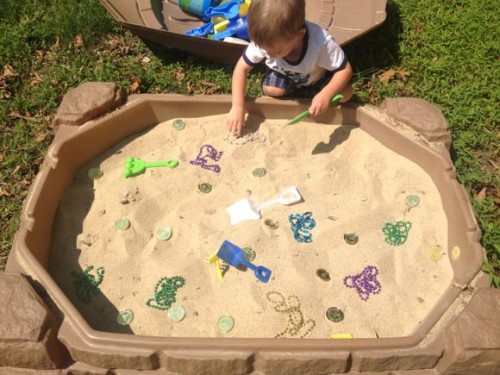 My kids LOVE going on treasure hunts in their sandbox. They pretend to be pirates searching for lost treasure. All you have to do is hide coins and beads in your sandbox, then let the fun begin. You can easily find coins at Party City or Oriental Tradings, but there are also a ton of options on Amazon. I also gave my kids a treasure box to use to collect all their coins and beads.

Drawing and Writing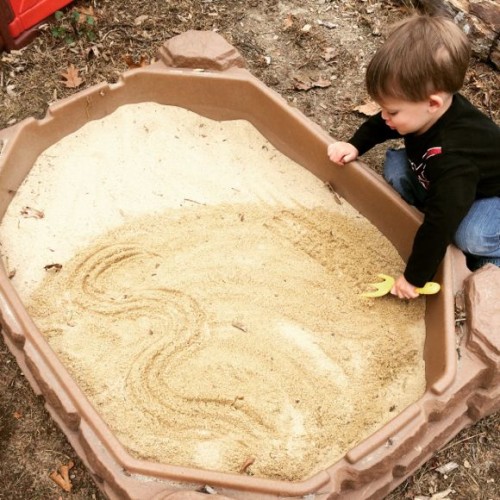 Sand is a wonderful sensory tool to use to help kids learn to write and draw. You can use a rake, stick or just your finger to make shapes, letters and numbers. Have the little ones trace your designs then learn to copy them. Older kids can practice writing their names along with other words. Sand is also a great place to practice the lost art of script!
Fossil Dig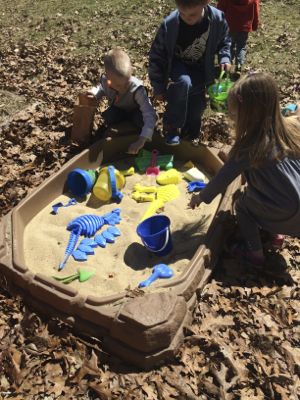 My kids love hiding and searching for buried dinosaurs and dinosaur bones in their sandbox. They also love pretending to be paleontologists by discovering fossils made from their dinosaur sand molds. Dinosaur Toobs make the perfect toys to bury in your sandbox as they are a good size to scoop up with a shovel.
Construction Zone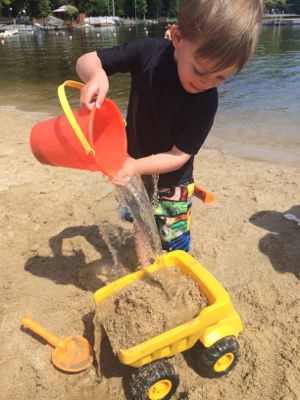 A sandbox is the perfect place to recreate a construction zone. Kids love playing with construction vehicles. They also love driving vehicles up and over hills as well as scooping up sand and dumping it out. Pick up some small construction trucks and add them to your sandbox then let your kids use their imagination. You can also bring larger construction vehicles to the beach to help build the sand castles or make mountains. Building a construction site in your sandbox is also a great way to get kids excited for an upcoming trip to Diggerland!
Gem Mining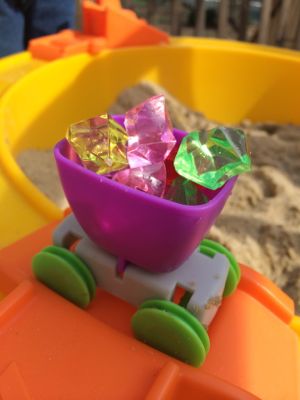 Along the same lines as the treasure hunt, you can have the kids go mining for gems. You can get really creative by using train cars and tracks to move the gems out of the sandbox. My kids had so much fun pretending they were the Seven Dwarfs looking for gems (they even sang the song as they worked). If you have a water table, you can use that to wash off the gems. While playing, add some academics by discussing the color, size, shape and texture of the gems.
Bonus:
Sensory Play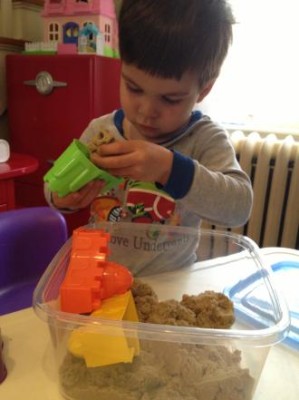 We can't talk about a sandbox without discussing sensory play. Sand is a wonderful sensory tool used by teachers and therapists. It helps kids learn by using all their senses. For children with developmental delays or sensory processing disorders, sandboxes can be a wonderful sensory play opportunity. If your child does not enjoy getting in a sandbox, scoop some of the sand into a bin or box and let them play with just their hands. Add some toys to increase the learning potential!
Have fun in the sand this summer whether it's in your backyard, in your living room or at the beach!
You may also enjoy: