One of our first hikes as a family brought us to Buttermilk Falls Natural Area located in Mendham, New Jersey. What emerged as a recommendation from one of our readers led to an interesting discovery, including there are two Buttermilk Falls in New Jersey! The second one, located in Sussex County, boasts of a stunning and tall waterfall. Misreading which one to go led to a wonderful adventure!
The picturesque area is a fascinating walk because it is not just one type of scenery. You will pass ponds filled with goldfish, rocky terrain, muddy terrain, cross over a bridge, and pass a stone fireplace all while breathing in the cool air produced from the waterfalls. I consider it is an easy to moderate walk that is two miles long but can easily be longer if you explore each trail. We began with the blue trail which started off muddy and took us past a small stream that later on became a babbling brook into a waterfall. After exploring, we looped around back to the beginning. Here are some activities we enjoyed on our hike!

3 Activities to Enjoy at Buttermilk Falls Natural Area
Admire the Wild …Goldfish
Along the blue trail, are two small ponds. In the larger one, you will notice bright spots of orange which are goldfish. The sign on the left titled "Mendham Waterworks" talks about the history of the area but the school of goldfish is still a mystery.  
Splash in a Swimming Hole
For locals, Buttermilk Falls Natural Area is a swimming hole. It is never recommended to go swimming in stagnant water, but by the waterfall is a small area or moving water. We didn't brave the water; however, we did see many folks in bathing suits ready to leap in.
Find History
The signage around Buttermilk Falls Natural Area expands on different historical features. While most are related to mine ores and geology, it is still quite interesting. It's a fun way for families to learn while hiking.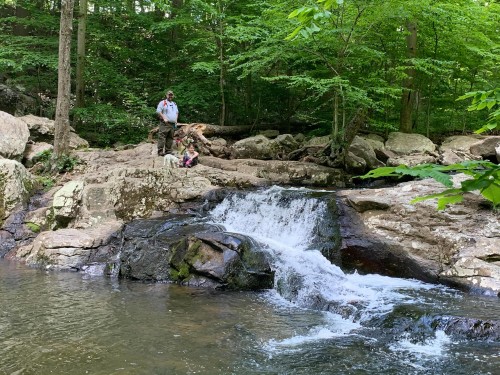 Things to Know
When we visited there was a small parking area (on Combs Hollow Road) that didn't seem to fit more than ten cars. There are other parking spaces that get you access at different points in the trails.

I didn't see restrooms so I recommend using the facilities before you arrive.

I did see a few picnic tables so you can bring food but remember to take it with you and remember that bears are in the area.

This space is dog friendly but they do need to be leashed. Please remember to take poop bags and remove any waste.

There is Buttermilk Falls in Sussex County which boasts of a larger waterfall. This post is about Buttermilk Falls Natural Area in Morris County. 

When we hiked, we came across a lot of poison ivy. It is good to review with your kids what it looks like and dress appropriately. I have read a few comments about ticks, so make sure to check afterwards.
 Buttermilk Falls Natural Area is located at 8 Combs Hollow Rd., Mendham, NJ.
Bonus: Mendham Creamery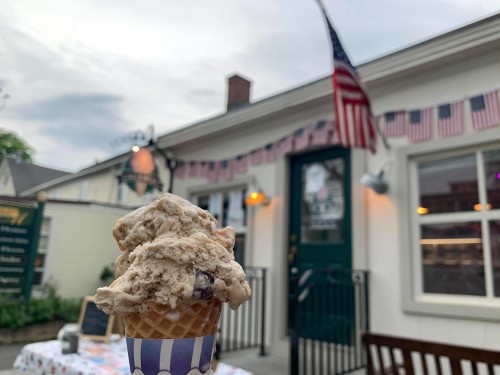 After each hike, our family enjoys a special treat. While the hike is a bonding experience, enjoying a cool scoop of ice cream celebrates the walk. After less than a ten minute car drive, you can treat the kids to ice cream at Mendham Creamery! I loved the Brown Butter Bourbon Truffle. This mom and pop ice cream shop has some fascinating custom flavors.
If you like this post, you might enjoy!