We are so excited to partner with the following brain boosting toy companies to bring you this year's Easter Basket Gift Guide: Peaceable Kingdom, Just Play, The Bridge Direct, ThinkFun, Faber Castell, Creativity for Kids, Fashion Angels, Crayola, Little Kids Inc., VTech, Playvisions and Brackitz.
At Mommy University, we believe that everything our children play with should enhance development and aid in positive academic growth. This Easter why not fill their baskets with fun and educational goodies the kids will not only love but learn from?
For this guide, we will provide 5 themed Easter basket ideas. Each theme will promote growth and development in certain areas. Under each theme we will provide several suggestions of what to put in your child's basket. Amazon affiliate links are included to help make your shopping experience easier. We believe there is something for everyone on this list. So have fun making a themed basket or mix and match different ideas! Either way you will be happy knowing you provided Easter goodies that will have a positive impact on your child's development and academic success.
5 Brain Boosting Themed Easter Baskets
Arts and Crafts
Our first basket will focus on our love of art. Introducing kids to art helps them enhance creativity, boost fine motor skills, increase visual-spatial awareness, and let's face it, it's fun! Here are some brain boosting arts and crafts suggestions for this basket:
Faber-Castell Neon Gel Crayons
Faber Castell makes a huge variety of art tools for your budding artist to express themselves including a diverse range of crayons. Gel Crayons are chubby which is perfect for little hands, and they glide easily on the paper which doesn't require as much force to put color on the pages. What also makes these crayons attractive is that they are easy to blend and they have a glowing light when used with a blacklight. They have just added 6 neon colors which is sold separately and fits easily into any artist's Easter Basket. Priced less than $11 on Amazon these crayons will be used thoroughly to create stunning art.
 Creativity for Kids Rock-a-Doodle Kit
Encourage children to explore their artistic talents with Rock-A-Doodle! In this kit from Creativity for Kids, young artists can create up to five animals by painting the included polished rocks. They will improve fine motor skills while simultaneously utilizing the eyes, felt, and fur to make unique characters. The finished animals can be added to a child's fairy garden, used for pretend play or you can read different books associated with them. Priced less than $12 on Amazon, this kit includes all the supplies needed to keep little ones busy!
Fashion Angels Magic Sequin Journal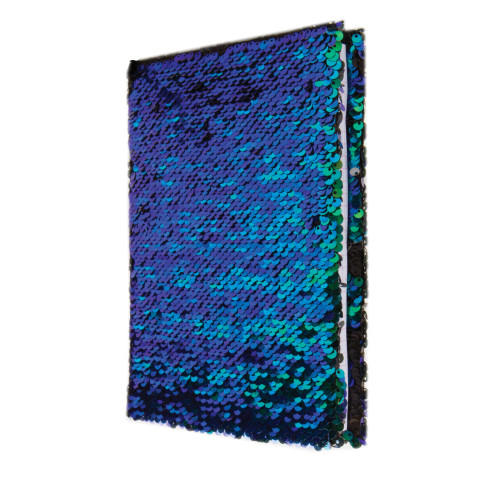 What a fun way to encourage your children to draw or write! While the Magic Sequin Journal, by Fashion Angels is brightly colored and fashionable, it is the most inviting experience if you have a sensory seeking child. As they run their fingers over the sequins they will enjoy the tactile experience which can be soothing. Don't be surprised if you find your children drawing their own patterns in the sequins. Available on Amazon for less than $13 this will be well appreciated.
Fashion Angels Metallic Pencils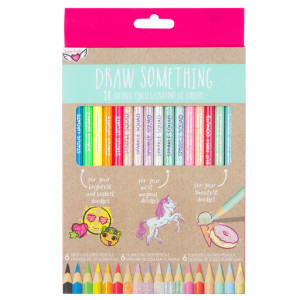 Colored pencils are a fabulous addition to anyone's Easter Basket.  The Fashion Angels Metallic Pencil set includes 18 different colors ranging from neon to pastels to scented which makes it perfect for coloring sheets, sketching or doodling.  Sold for less than $10 this set will be appreciated by the budding artist in your like to the family member who would just like to relax.  It can be paired with the Magic Sequin Journal for an increase in bright and bold fun.
Peaceable Kingdom Foil Art
Since children love stickers so much, you can now include kits that enable them to make their own cool stickers! Peaceable Kingdom has kits in a variety of themes where children can make up to 20 3D stickers with shimmering colors. For less than $7 on Amazon, this is a great set that will keep little hands occupied as they improve fine motor skills and boost creativity.
Crayola Twistable Colored Pencils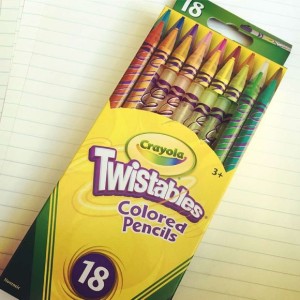 Available in packs of up to 25 pencils, these bright and bold pencils are perfect for your budding artist. No sharpening is needed as you just need to twist for more coloring fun. These pencils are perfect for adding to your child's pencil case this school year.  Twistables Colored Pencils can be found on Amazon in a variety of sets.
Creativity for Kids Animal Buttons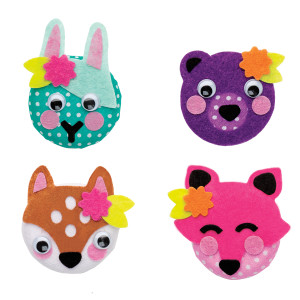 The brightly colored animal buttons scream that Spring is coming! Creativity for Kids has a new kit, Animal Buttons, where children can make their own animal buttons that can be worn adorning their clothes or backpacks. Priced less than $6 on Amazon, children will enjoy making these adorable accessories.
Fashion Angels Mini Fashion Design Sketchbook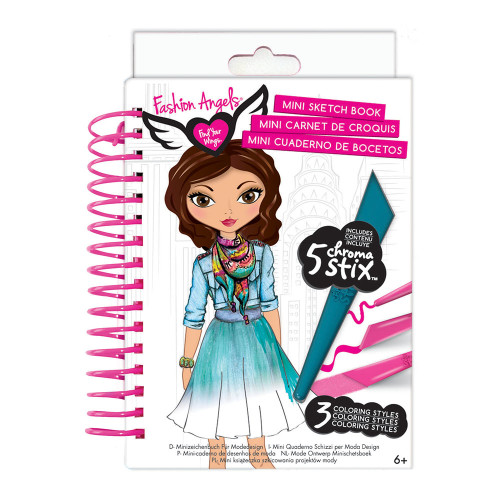 If you have a budding fashionista, artist, or doodler in your home than Fashion Angels has the Mini Fashion Design Sketchbook which contains many pages filled with outlines of mannequins that they can decorate!  All they need is their color pencils or markers to create their own designs that will pop off the page.  Available for less than $12 it is overflowing with pages but will fit nicely in your tween's stocking.
Little Kids Inc. Peeps Sidewalk Chalk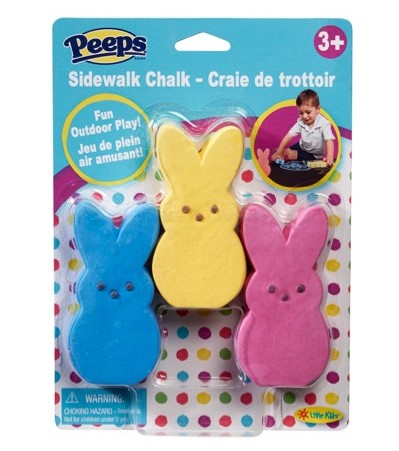 In the shape of the iconic PEEPS bunny, this chalk will offer kids hours of outdoor fun and learning. Their size makes them easy to hold for little one's, and the bold colors will spark creativity. PEEPS Bunny Sidewalk Chalk is the perfect addition to your Easter basket this year. It can be found on Amazon or you can enter to win your own here.
Creativity for Kids Corner Creature Bookmarks
New for 2017 are the Corner Creatures Bookmarks which combine a love of art as well as reading. Recommended for children ages 7 and older, with this kit young artists or passionate readers can make up to ten bookmarks that look like different animals. Priced less than $6 on Amazon, this kit is a great addition to your child's Easter Basket.
Crayola Washable Sidewalk Paint Sprayer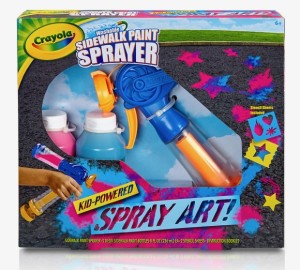 Encourage your kids to get outside and get creative this spring and summer with the new Washable Sidewalk Paint Sprayer. Kids can feel like real spray artists as they make their own unique creations right on their own driveway or sidewalk. The set comes with one sprayer, 2 pre-filled refillable paint cartridges and 2 stencils. The paint is washable making for easy clean up too! The set is under $15 on Amazon and the Crayola website.
Fashion Angels Tapeffiti's Mini Tubes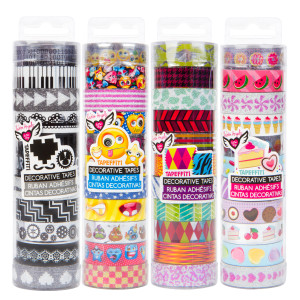 Tapeffiti from Fashion Angels encourages the inner artist to express themselves!  This mini adhesive tape can be used to adorn accessories, apparel, school supplies, and more.  There are four different themed sets: Sweet Treat Tapes, Emoji Tapes, Black and White Tapes, and Patterned Design Tapes.  Priced at $4.99 each which makes it perfect to slip into a stocking or buy all four!
Crayola Ultimate Sidewalk Chalk Collection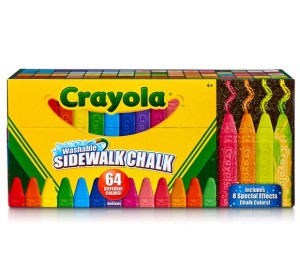 Every year I include sidewalk chalk in my kids' Easter Baskets. They are the perfect way to get the kids excited about going outside in the spring. I love this new 64 count Ultimate Washable Sidewalk Chalk set because it allows for hours of creative play. Kids can share the pack with their friends and siblings while encouraging a love of art and creativity. It comes with 56 regular colors along with special effects sticks (neon, tie dye, glitter and neon glitter). This set can be purchased on Amazon and the Crayola website.

Sensory Learning
Children learn best by engaging all their senses. This is especially true for little ones. Children with special needs also thrive on sensory based learning and discovery. In this themed basket, we have come up with some brain boosting suggestions to help stimulate all the senses:
Little Kids Inc. Bubbles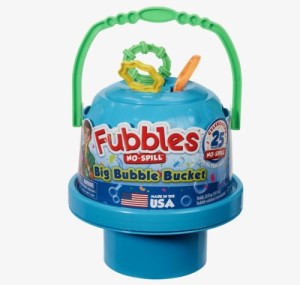 Did you know that bubbles are wonderful sensory-based learning tools that boost language development and visual scanning skills? Fubbles Bubbles are no-spill bubble containers that are perfect for spring and summer.  They come in mini, regular size and the bucket.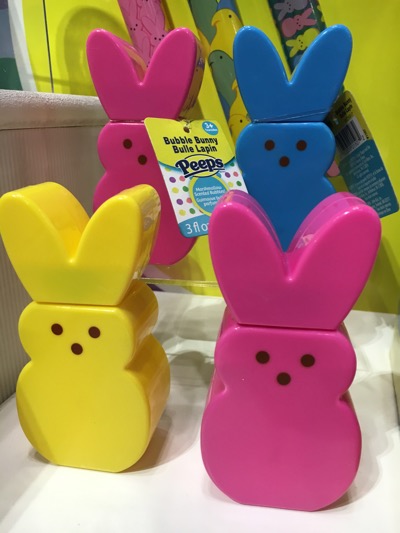 Little Kids Inc. also offers PEEPS Bubbles products which are perfect for your kids' Easter baskets. What kid wouldn't want a PEEP shaped bubble container that offers hours of fun? Did I mention it is marshmallow scented?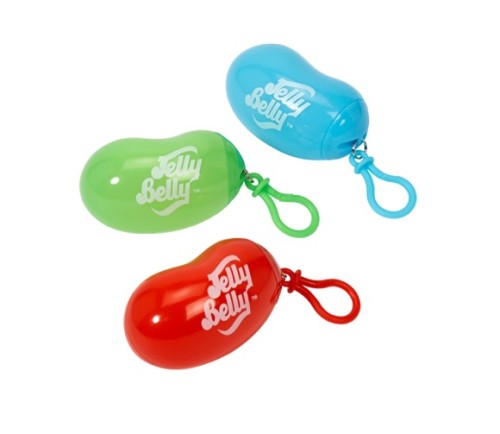 New this year is also the On-the-Go Jelly Belly bubbles that lets kids bring the sensory fun everywhere. Shaped like the iconic jelly bean, these scented bubbles engages all the senses while playing. Enter to win your own Jelly Belly Bubbles here.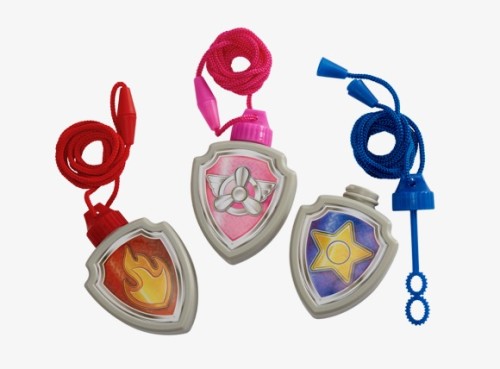 Do your kids love PAW Patrol? How about Shimmer and Shine? This Easter put a big smile on their faces by including the PAW Patrol Bubble Pup Tag and/or Shimmer and Shine Magic Bubble Necklace in their baskets. These on-the-go bubble holders offer opportunities for learning through play as kids engage in pretend play while enhancing oral motor skills!
Crayola Doodle Scents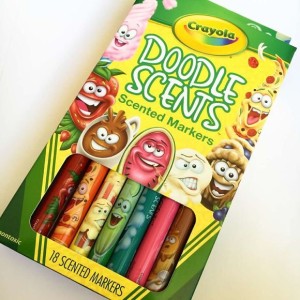 These adorable scented markers come in packs of 18 with unique smells such as pepperoni pizza, spice cake, brick oven and barn yard. Kids will love these markers so much they will be begging to draw, color and complete school projects. These amazing sensory learning tools are under $12 on Amazon.
Educational Insights Play Foam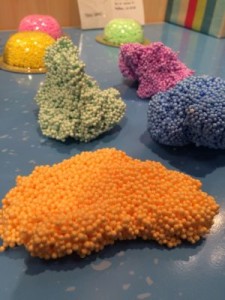 Educational Insights has developed a fun new play foam perfect for any sensory learning experience. Available in bright colors as well as in kits, Play Foam will allow for hours of learning through play. You can use it to learn letters and numbers, make fun creations or even stuff inside an Easter egg to make for a more exciting hunt experience!
Little Kids Inc. Grow a PEEP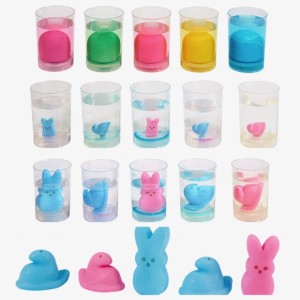 What kid wouldn't want to grow his own PEEP? Just add the egg to water and watch it hatch to reveal a bunny or a chick. Then replace the water with clean water and watch the PEEP grow. Not only is this a fun sensory experience, it also introduces kids to some scientific concepts. Grow a PEEPs can be found for under $20 for a pack of 4 on Amazon.
Play Dirt Bugs in a Jar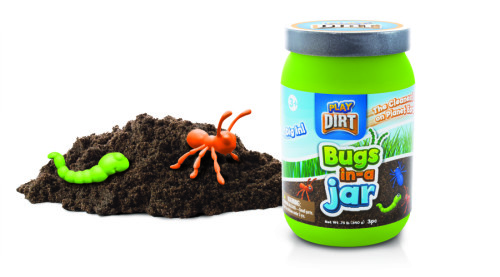 Children love to get dirty. They love to dig their fingers through dirt because it has such a rich tactile experience (and they also recognize it drives you a little crazy). They can now do that indoors with Playvisions Play Dirt which can be molded into different shapes. It is safe and non-toxic which means you don't have to worry about this product. Priced on Amazon at less than $13, the Bugs in a Jar is a perfect introduction to Play Dirt indoors when it can still be a little chilly for outdoor play!
VTech Sleepy Glow Bear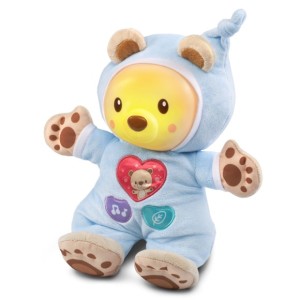 The soft glow, cuddly texture and comforting sounds of the Sleepy Glow Bear will offer just enough sensory input to help little ones rock themselves to sleep. The heart button also provides loving phrases, the music button provides over 40 lullaby melodies and the nature sound button gives children the comfort of sounds from the great outdoors. Offering comfort at night allows for a better night sleep but also gives kids more independence at bedtime.
Brush Buddies

Toothbrushes are great additions to include in the Easter Basket.  They help reinforce healthy habits but this is a great opportunity to include a special extra toothbrush.  For some children, toothbrushes provides feedback to children who need sensory feedback.  With Brush Buddies, you can pick up brushes that light up and have their favorite character such as Peppa Pig, Shopkins, and Emojis.  Prices vary as does styles on Amazon.

Academic/Cognitive Development
What would a Mommy University list be without academics and cognitive development? Cognitive development is so important and essential for academic success. Here are some brain boosting Easter basket ideas that help build cognitive skills such as spatial awareness, visual-discrimination and problem solving as well as help increase academic skills such as math, writing, reading and more.
Brackitz Driver Set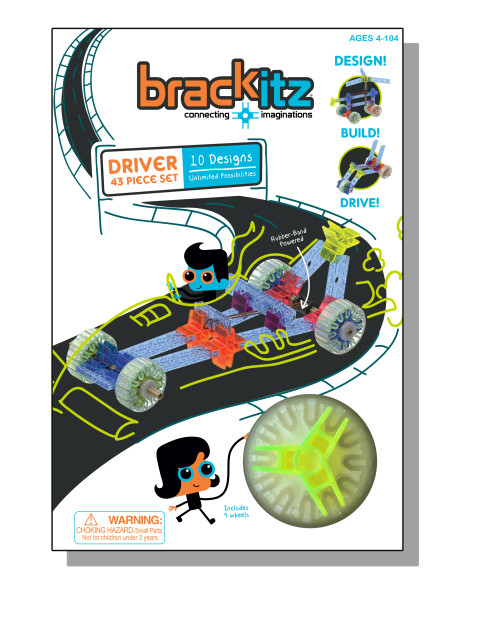 We are big fans of Brackitz at Mommy University and are super excited for the new Driver Set. With over 43 pieces, kids can build, create and play with a variety of unique vehicles. While building, kids enhance fine motor, problem solving and visual-spatial skills. It also promotes open-ended play. This set is under $25 on Amazon. You can also purchase the Expansion Set with even more cool driving parts for hours of building fun!
Peaceable Kingdom Reusable Sticker Tote!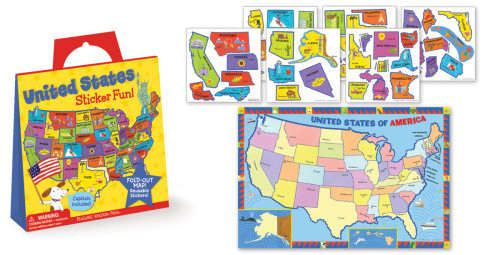 The reusable sticker totes from Peaceable Kingdom are compact which is perfect for not only the Easter Basket but also restaurants, road trip, or traveling on a plane.  The United States tote includes a map that folds where children can match the states to the map.  There are other varieties of these sets such as World Map, Zoo, and Ocean Animals.  Priced less than $10 on Amazon these will have a long lifespan outside the holiday season.
Rule Crazy by PF Shaggy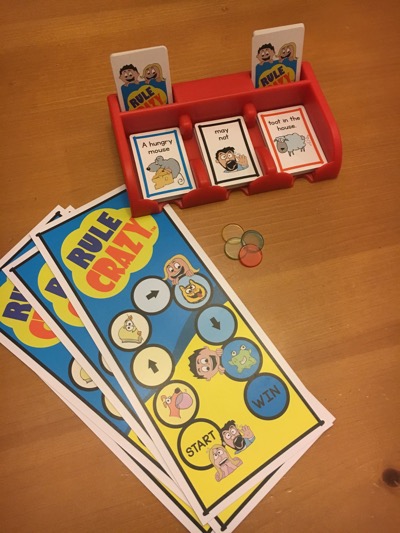 I am always looking for fun ways to encourage my kids to read as well as enhance comprehension. With Rule Crazy, players get to create silly sentences that make reading fun and easy. With over 15,000 possible sentence combinations, this game can be played for hours as well as over and over again with different results each time. While playing, kids are introduced to new vocabulary while also reinforcing sight words. Rule Crazy can be found on Amazon for under $25.
ThinkFun Fidgitz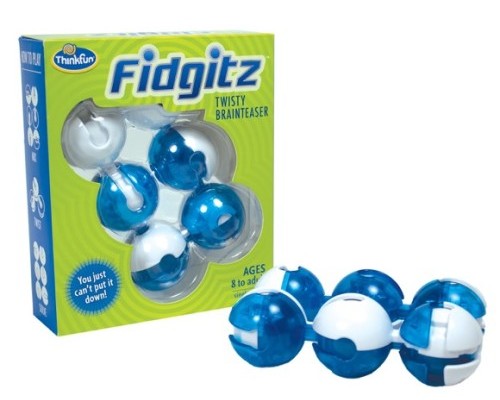 Fidgitz is a brain teaser that you will not be able to put down. Trust me! To play, just twist and turn the puzzle to make one side all blue and one side all white. This game not only enhances problem solving skills but it serves as a wonderful sensory tool. It is also perfect for kids with ADHD or sensory needs who need to move their hands in order to stay focused. Fidgitz is under $10 on Amazon.
VTech Go! Go! Smart Wheels Press & Release Vehicles
Kids loves anything they can vroom around the house especially little vehicles they can find in their Easter basket. This year, let your toddler and preschooler play, learn and grow with Go! Go! Smart Wheels Press & Release Vehicles. Kids will engage all their senses with the light-up buttons, music and sounds available on each vehicle. Kids can also press the button then watch the car vroom away. It helps teach kids about cause and effect while also helping them learn basic academic and enhance their language development. A variety of Go Go Smart vehicles can be found on Amazon.
Mindware Dig It Up! Dinosaur Eggs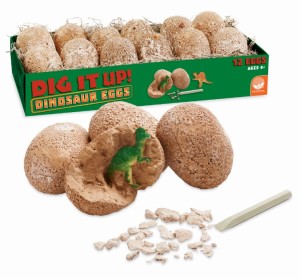 This is a great item to include in your budding paleontologist's Easter Basket! Mindware's Dig It Up! Dinosaur Eggs includes 12 eggs that your child will chisel out and discover a unique dinosaur in each egg.  After the dinosaur has been revealed, children can compare the dinosaur against the included guide to learn more about it.  Priced at less than $25 on Amazon, this Easter Basket feature will make your child roar with joy!
Shopkins Kinstructions Wave Mini Packs

If your kids love Shopkins, then they are going to love these mini Shopkins Kinstructions sets. Each set contains 30-60 pieces and accessories that kids use to build and create their own Shopkins world. The sets have mix-and-match figures and are comparable with all major construction brands. While building, kids are enhancing fine motor and visual skills. They imaginations are also sparked as pretend play is encouraged once the sets are built.

Game Time
Let's have some brain building fun this Easter with some amazing games. Games help enhance a variety of skills such as problem solving, cooperative play, spatial awareness, turn taking and more. Here are some games the kids will love this Easter.
Peaceable Kingdom Bunny Bedtime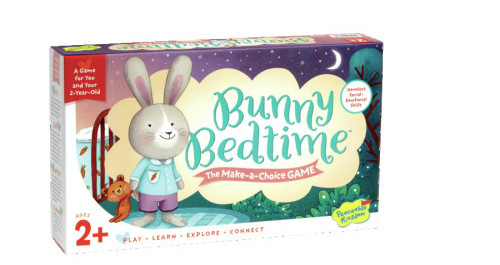 Toddlers can now help Bunny make decisions to get them to a happy and calm bedtime. Peaceable Kingdom is a leader in cooperative games that focus on learning skills while having fun. This is an early childhood game where your child helps bunny decide between different activities while reinforcing colors and shapes. Priced on Amazon for $18, this is a wonderful game for your child or you can enter in our giveaway!
Wonder Forge Eye Found It Hidden Picture Card Game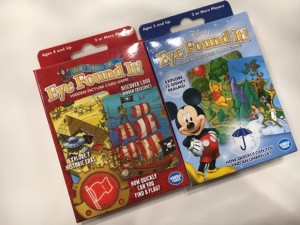 Wonder Forge has released a travel version of their well-known board games, Eye Found It. Kids will have a blast during any road trip as they search for the hidden pictures on the cards. These cards come in two styles: Journey Through Time and Disney.
Mindware Travel Qwirkle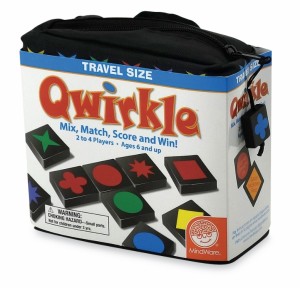 Qwirkle is a strategy game where everyone in the family can participate. Players match the 108 tiles by either color or shape earning points; however, creativity can garner higher points. The game allows for 2-4 players with the youngest recommended age being 6. The Travel Size Qwirkle not only fits in the Easter Basket but is a convenient size for road trips or day trips this summer. Sold for less than $15 on Amazon, it is a classic game that will keep everyone engaged.
Peaceable Kingdom Playing Cards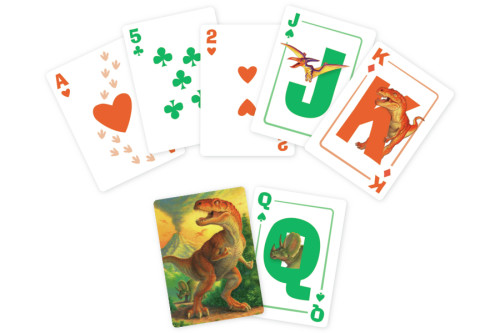 While playing cards may begin with simpler games of Go Fish, children quickly transform into playing solitaire and Gin Rummy. Peaceable Kingdom has diverse styles that may grab their attention because it has their favorite dinosaur or kittens. More importantly, the quality of the Playing Cards will last! In this instance though a budding paleontologist will enjoy identifying the dinosaurs on the cards!
North Star Games Happy Salmon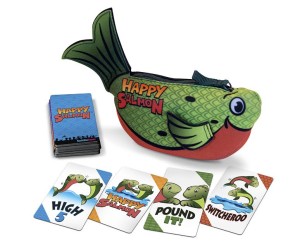 Compact but packed with lots of fun, Happy Salmon had us laughing within minutes!  Players have to match their cards with another player and act out the physical celebration.  It encourages quick thinking and has built-in celebrations as each match is made.  Everyone can participate in this game that we know will have you laughing.  It is designed for 3-6 players for ages 6 and up.  Priced on Amazon for less than $15 this fits nicely in your child's stocking.
ThinkFun Compose Yourself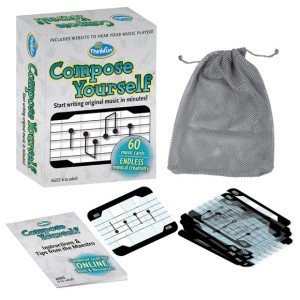 Have a budding musician in your house? Then Compose Yourself from ThinkFun is the game for you. Created by the famous composer and cellist, Maestro Philip Sheppard, this game comes with 60 transparent music cards that are used to compose unique pieces of music. To create a melody, kids choose 4 cards and line them up. Then they enter the card numbers (codes) in order on the website ComposeYourself.ThinkFun.com. Children will then hear their masterpiece played by a full symphony orchestra at Abbey Roads Studios. This game is perfect for encouraging a love of music while enhancing academic and visual skills. It is available for under $15 on Amazon.
Mini Arcade Games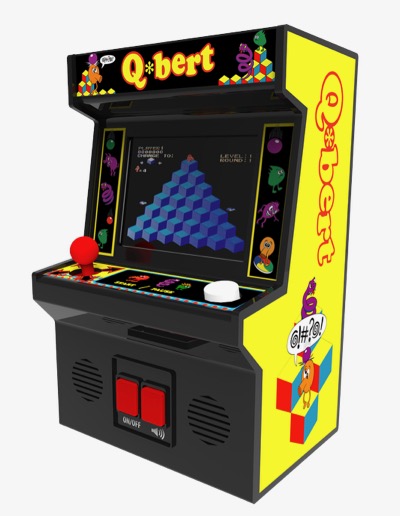 In the form of mini arcade games, the classics Q-Bert and Centipede are making a comeback thanks to The Bridge Direct! Joining their friends Pac-Man and Space Invaders, these two iconic games will bring big fun in a small package. While playing, kids will enhance visual-motor, problem solving and spatial awareness skills. Some friendly competition is also encouraged as family and friends can see who can get the top score!

Pretend Play
Encouraging kids to use their creativity and imagination has amazing developmental benefits. Not only do they enhance language development and story telling skills, kids also increase self-esteem and self-confidence. Here are some toys that will help encourage imaginary play this Easter.
Bears for Humanity Animal PALS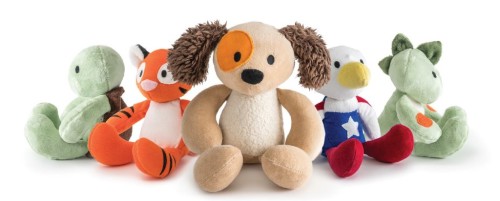 Open your child's heart and imagination with an animal made by Bears for Humanity.  These soft and delicate creatures will fly, hop, or run into your child's arms.  They have cats, sharks, eagles, to name a few.  Well made in the USA of organic material, what might appeal to you is that for each one sold another one is donated to a child in need.  Priced at $25 they can be purchased online or at Whole Foods.
Green Toys Airplane and Board Book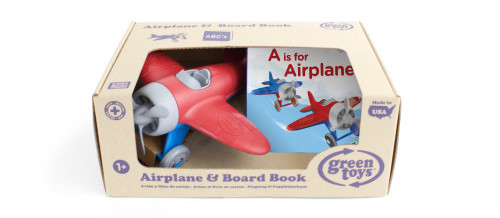 Green Toys produces high quality toys from recycled milk containers in the United States which makes their toys wonderful additions to the Easter Basket. We like the combination of the Airplane & Board Book as it encourages pretend play for young children while the accompanying board book introduces the alphabet through the perspective of the plane. Green Toys withstand the toughest of little hands and since they are printed with soy inks they are safe for your child! It is available on Amazon for under $25.
Great Pretenders Colour A Cape Spider Superhero Cape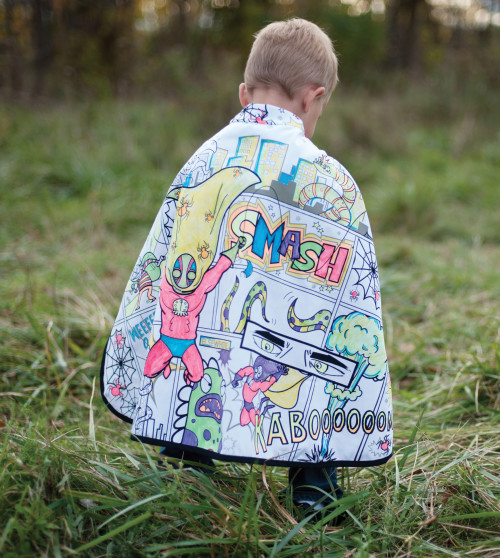 Great Pretenders makes stunning costumes that inspire imagination and creativity! We love when a toy fits in more than one category and the Colour a Cape line offers children the opportunity to express their inner artist and then to wear that art. The Spiderhero Superhero Cape can be colored using the included markers and then your son can pretend he is a caped crusader. Priced less than $25 on Amazon this will delight the child who finds in their basket. Great Pretenders has many varieties including: fairy, butterfly, princess, knight, and more.
Mini Lightsaber Tech Lab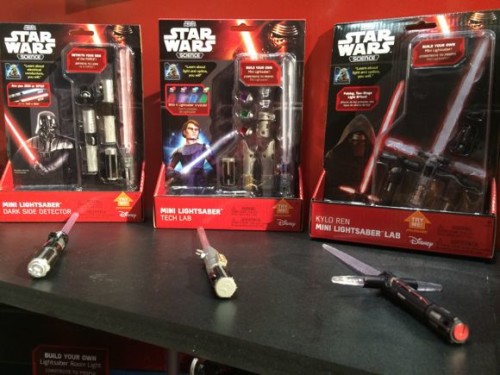 If you have a Star Wars fan in your household, then the Mini Lightsaber Lab is for you! This inventive toy invites children to make their own lightsabers while also learning about electronics. There are many options available such as the classic Darth Vader, Kylo Ren, and the recently released Rey version.
Sunny Days Entertainment Cupcake Surprise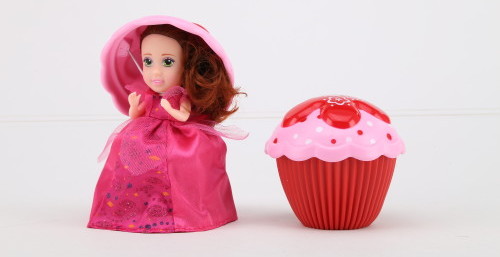 Cupcake Surprise includes more than one toy as in one form an adorable cupcake that transforms into a princess.  Not only will children enjoy changing the shape of the toy  but it also serves two forms of pretend play. Whether your child wants to play with the doll or the cupcake, in both forms it has a delicious scent! From strawberry to vanilla to grape, children ages 3 and older will squeal with glee when encountering in their Easter Basket. Priced for less than $13 on Amazon it is also available at Kmart.
MadBalls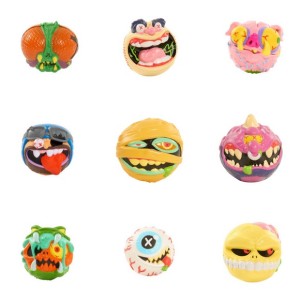 MadBalls are 3″ foam balls that became a classic toy back in 1985 but are making a comeback over 30 years later! Each ball is grossly detailed making it fun way to spark kids' imaginations and inspire pretend play. Playing also helps kids build fine and gross motor skills as they play catch, bounce it or simply toss it into a bucket across the room. A wide variety of can be found on Amazon.
PJ Masks Mini Vehicles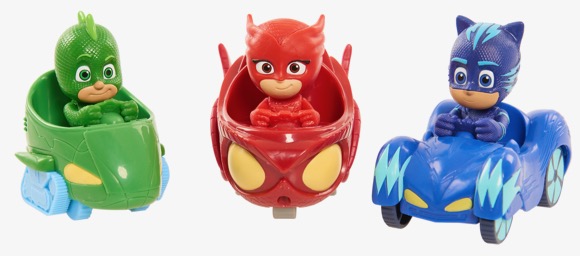 Your kids will love engaging in pretend play with the new mini Cat-Car, Gekko-Mobile and Owl Glider. Their small but chunky size makes them perfect for small hands allowing for hours of learning through play. You can buy them separately or in a set of 3 on Amazon.
I hope you have enjoyed our list of educational and exciting toys you can put in your child's Easter Basket!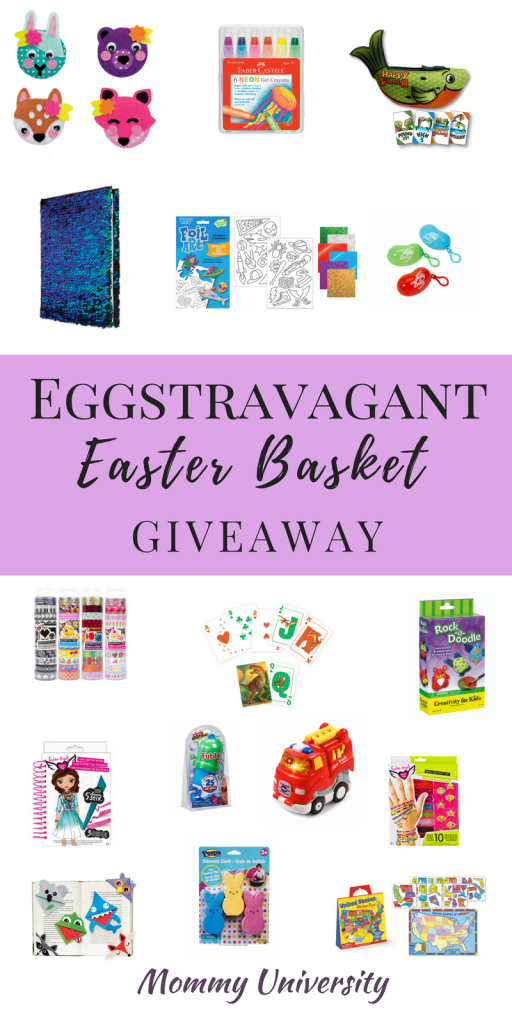 If you like this, you might like: