This is not a sponsored post but it does contain affiliate links.
My friend Colleen, from the recipe  blog Souffle Bombay, gathered a 15 of her fellow Philly Social Media Bloggers to once again share ideas for celebrating Easter!  That's right it's time once again for #AllThingsEaster!  
From a Fizzy Bunny Mimosa to Strawberry Lemon Cake, Sweet & Savory Pies, Fun Treats for Kids and even 10 Brain Boosting Egg Hunt Ideas, we've got you covered with eats, treats and ideas to celebrate! For even more ideas check out our collective post from last year that had 25 fabulous ideas for Easter breakfast, dinner, dessert, cocktails and even something unique to do with leftover Easter eggs.  Plus Easter basket ideas, Easter fun & printables!
If you love Pinterest as much as we do…check out our popular All Things Easter Pinterest Board…follow along!
Whether you celebrate Easter, Spring or just a sunny day in general, we hope your day is filled with good times, good friends, good food and memories in the making! To get the excitement started, let's start with fun new ways to plan an Easter Egg Hunt.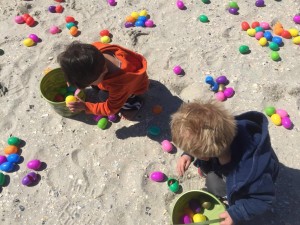 When you think Easter, you think Easter Egg Hunt! They are in almost every town, at the mall and even indoor play places. They are EVERYWHERE! This Easter, why not make your Easter Egg Hunt a little different and more exciting than the rest? Instead of using candy, stickers and tattoos (or even those little toys that moms end up throwing in the garbage), try something educational AND fun! At Mommy University, we are always looking for teachable moments, and an Easter Egg Hunt has so much potential! Here are 10 ideas we came up with that we know your kids will LOVE! Enjoy!
10 Brain Boosting Easter Egg Hunt Ideas
Puzzle Pieces
Find a puzzle the kids will love and place the empty box in their Easter Basket. Once they realize the pieces are missing, tell them that each piece is i an egg hidden around the house or outside. Once they find all the pieces, they can put the puzzle together. If you have siblings, they can work together to make the puzzle. This is great for problem solving, building visual skills and encouraging cooperative play! Crocodile Creek has beautiful puzzles you can use for this activity.
Dinosaurs
My boys love going on dinosaur hunts so why not incorporate that into an Easter egg hunt? Put binoculars and other safari gear in your child's Easter basket and tell the they are going on a dinosaur hunt. Dinosaurs such as those found in Safari Ltd. Toobs are perfect for hiding in Easter eggs! As for Safari gear, my boys love the Backyard Safari Binoculars, Mini Lantern and Cargo Vest. I also suggest using a a bug box instead of an Easter basket like the ones from Backyard Safari and Backyard Exploration.
Mr. Potato Head Parts
In your child's Easter basket this year put an unadorned Mr. Potato Head body. Then hide all the pieces in various sized eggs that are hidden around the house. The kids will have a blast finding all the body parts then making their own unique Mr. Potato Head. This toy is PERFECT for improving language development, eye-hand coordination and fine motor skills.
Magnetic Letters and Numbers
This Easter, try a new approach to gift giving. When the kids wake up, have them wake up to a new easel like the Mickey Mouse one from Delta Children. Then put magnetic letters and numbers in eggs and hide them around the house or outside. Once they find all the pieces, they can work together to spell words, create their own codes and solve math problems! I suggest the letters and numbers from Imaginarium and Educational Insights.
 
Farm Animals
The spring is a wonderful time to visit a farm and learn all about the birth of new animals. To help kids prepare for that visit and to learn about the baby animals, you can put farm animals like the ones found in Safari Ltd. Toobs in Easter eggs and hide them around the house or outside. Then, instead of a using an Easter basket, use a toy farm house for your kids to store all their new animals. If you use the Melissa & Doug Wooden Barn, you can hide the 7 toys this farm comes with!
Squigz
The fun new (and award winning) building toy Squigz is perfect for hiding in eggs this Easter. Place varied colored and sized Squigz in eggs and hide them around the house. Then have the kids make their own fun creations. It will keep them busy for hours! (Mini Squigz are coming soon so stay tuned!)
Toys That Grow in Water
A fun way to introduce kids to science is by using toys that grow when placed in water. These are also perfect for hiding in Easter Eggs. Kids will be so excited to watch their new "pets" grow during spring break. I recommend Magic Grow Capsules and Fun Express Growing Dinosaurs. Another option is to hide grow eggs such as Animal Planet Grow Eggs, GeoCentral Hatch'em Snake Egg and Hid 'Em and Hatch 'Em Eggs.
Seeds
When I think of Easter, I think of spring, the time for rebirth and growth. This Easter put flower pots and gardening tools such as the ones from Toysmith, Green Toys and Melissa & Doug. in your child's Easter basket. Then fill eggs with seed packets and hide them outside around the house. The kids will get excited about growing their own flowers and vegetables which will introduce them to the world of science!
Money (Real or Fake)
Every child loves getting money from the Tooth Fairy so why not have the Easter Bunny bring some too? Place coins in eggs and hide them around the house or outside. As the kids find each egg, they have to identify the coin and add up the amount. At the end, they have to add up all their money. They can also sort them by coins (for little ones you can focus on size instead of coin names). In their Easter baskets can be piggy paints that they can design themselves such as ones from Melissa & Doug and Creative Kids. Don't want to use real money? You purchase fake coins like the ones available through Educational Insights.
Lego Bricks
What kid doesn't love Lego bricks? This Easter, instead of using an Easter basket use a Lego Box and fill it with assorted bricks and kits. To make it more exciting, hide Lego bricks in Easter eggs and hide them around the house. The kids have to find certain pieces in order to complete the designs in the directions or to make their own. As stated in our article, The Benefits of Playing with Building Toys, toys like Lego bricks help build problem solving, fine motor and visual skills.

**Also check out our Play and Learn Easter Basket Gift Guide for fun and educational Easter gift options!
Looking for more Easter ideas, check out what my fellow bloggers have "cooking!"
Fun Easter Treats
Coconut Macaroon Egg Nests from The Farm Girl Gabs
Egg Shaped Marshmallow Krispie Treats from Souffle Bombay
Sunflower Butter Chocolate Easter Eggs from Courtney's Sweets
Peeps S'mores from Can't Google Everything
Easter Bunny Chow from Girl Gone Mom
Italian Easter Bread from A Grande Life
Delicious Easter Desserts
Strawberry Lemon Cake from A Turtles Life For Me
Carrot Poke Cake from It Is A Keeper
Italian Easter Pies: One sweet, one savory from Teaspoon of Spice
Gluten Free Carrot Cake with Homemade Cream Cheese Frosting from Momma Lew
White Chocolate Strawberry Cake Roll with Homemade Fudge Drizzle from We're Parents!?
Black Beans and Coconut Tarts – Frejon from Afropolitan Mom
Easter Cocktail
Fizzy Bunny Mimosa from O' Boy Organic
Leftovers Idea
Deviled Eggs & Ham Breakfast Sandwich from The Good Mama
Fun for Kids
Tie Dyed Easter Eggs from 4 Hats And Frugal