Transporting us back in time or encouraging us to imagine the future, museums are educational centers that inspire us. At Mommy University, we have boasted about the multiple benefits of bringing children to museums whether art, science, or history. After a recent visit to the Baltimore Museum of Art, however, I realized that there are strategies to engage children when visiting the museum.
Children who visit the museum become adults who visit museums. Yet, kids are still kids. They aren't born thinking museums are these cool spaces designed for their entertainment. Here are some ideas that encourage them to learn through play during their next museum visit!
Fun Ways to Engage Children When Visiting Museums
Scavenger Hunt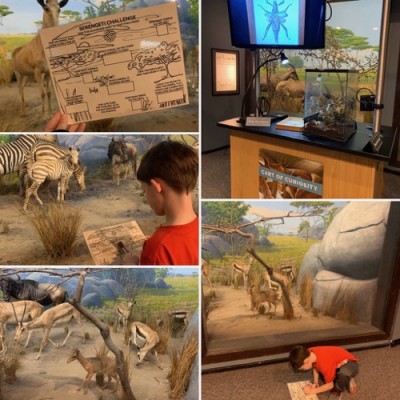 A great way to engage kids to have a scavenger hunt. You can challenge them to find animals, colors, flowers, or different objects. You can also invite children to brainstorm a list of items they might find inside the museum and see who can find the most on their list. Make it even more exciting by offering a prize for completion. Many museums even offer their own scavenger hunts or field guides so make sure to ask at the front desk.
Bring a Camera
Young children love imitating us and while most will not have a smartphone at a young age, you can equip them with an old smartphone, camera, or just pick up a disposable camera. For young kids the experience to photograph and print the photos may keep them engaged. They can even make a journal using the pictures they took.
Strike a Pose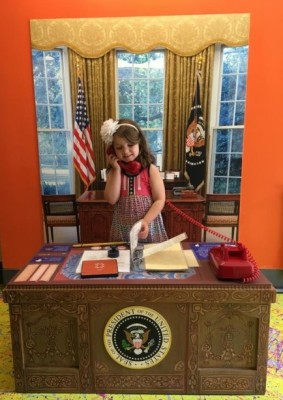 Many museums offer fun spaces to take pictures and immerse yourself in the exhibits. For example, when visiting the Grounds for Sculpture, an amazing sculptural garden in New Jersey, we immersed ourselves in the life size sculptural scenes by mimicking leaping dancers, pretending we were in the art, and imagining ourselves as part of the art using our bodies. Other museums allow kids to get inside an airplane or train, climb a wall, pretend to be a famous person, or even hangout with a super hero!
Take a Walk Outside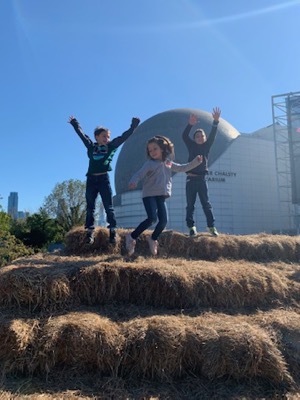 Many museums offer outdoor spaces to explore and enjoy. If a museum has an outdoor space, take a break from the indoor fun and get some fresh air. From dinosaur digs to sculpture gardens to playgrounds, museums have a unique variety of outdoor adventures and experiences the entire family can enjoy.
Play I Spy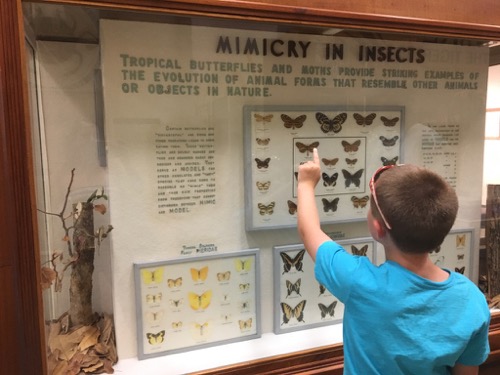 While I Spy usually involves identifying a color, while at a museum, you can change this game a little bit. You can describe a picture or animal in the gallery and see if they can find it in the exhibit. Make sure to take turns and let the kids play too. This helps build their language and reasoning skills!
Tell a Story
Ask children to find a painting or sculpture and tell its story. They can use their imagination to tell what they believe is happening. For older kids, you can use the painting or sculpture as a writing prompt. Ask them to write a fictional story using the object as their inspiration.
What's Your Favorite?
After exploring the museum, ask your kids to talk about their favorite piece of art, exhibit, or experience. They can even make a list of their Top 5 experiences. This is a fun way to talk about your day and share your interests as a family. We usually have this conversation as we are enjoying a delicious refreshment.
Little Artists
Have your child bring a notepad and pencil. They can draw their favorite artwork while there. This is also an activity that can be done at home afterwards especially if they use a camera to take pictures.
Catch a Workshop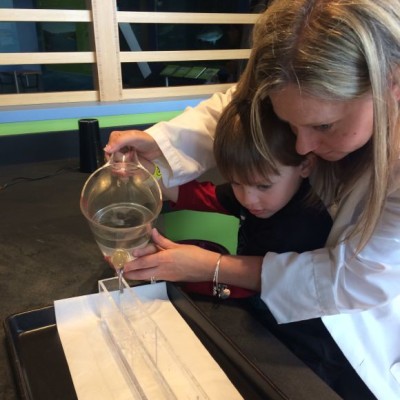 Check the schedule on the website or when you arrive at the museum to see if there is any special workshops or programs designed specifically for children. At The Montclair Art Museum their top floor has a space dedicated for children to engage in different activities appropriate for them while incorporating themes from their exhibits. Liberty Science Center also offers fun hands-on programs for the entire family.
Ask a Question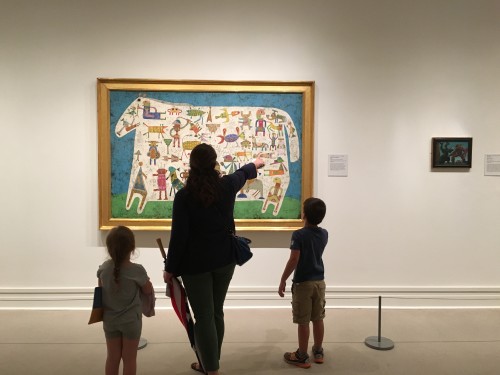 My favorite memory of a museum was watching a father engage his young son who was sitting in a stroller with questions about what he could see in a Bonnard painting at the Museum of Modern Art. Asking children open ended questions about what they think about the artwork or even identify what is in the work engages them and empowers their critical thinking skills.
What do you like about this picture?
What do you see in the picture?
What materials do you think they used to make this?
When looking at paintings or pieces with small children, ask them what they notice that is different from their childhood? Do the kids look happy, sad?
What is happening in the scene?
What do you think happened before the action in the painting?
What will happen after the action in the painting?
What might you see, hear, taste, smell, or feel if you were inside an artwork?
Stay Overnight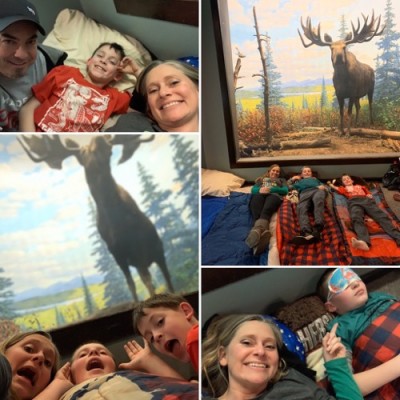 Did you know that most museums offer overnight adventures for families and scouts? Museum overnights offer a unique look inside the worlds of science and art as well as allow for even more learning adventures.
Treat Them
Museum gift shops are some of my favorite places to roam and pick up unique items. Reward good behavior with a small reward from the gift shop. At the Baltimore Museum of Art, I picked up my daughter an adorable eraser that looks like a paint palette and at the Montclair Art Museum they have these long twisted and colorful erasers. If the gift shop doesn't have a special item that appeals to them get them a little treat at the museum café.
If you like this post, you might enjoy!