We recently enjoyed our first Royal Caribbean cruise. It was a 7-night cruise aboard Allure of the Seas. When we first booked our vacation, I wasn't completely sold on the idea but from the moment we boarded I was in love. Allure of the Seas is the 3rd largest cruise ship in the world and holds over 6000 vacationers. It feels like a small city on the water. Even with 7 full days aboard this luxury liner, we still did not get to every adventure and experience they had to offer.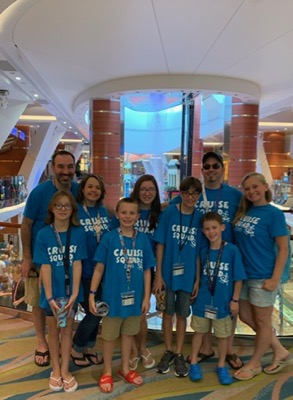 Allure of the Seas is packed with fun from the bow to the aft. I made it a point to see and do as much as I could but it is just impossible to see and do it all. That being said, there are some experiences, in my opinion, you just can't miss. In this post, I am going to share my list of MUST DO experiences on the Allure of the Seas. Actually, many of the items on this list can be transferred to ANY Royal Caribbean ship.
10 Must Do Experiences on Allure of the Seas
Watch the Sunrise and Sunset
One thing I try to do on every vacation is watch the sunrise, and a cruise was no exception. Whether it's from your balcony, the walking track or the top deck, watching the sunrise is something every cruiser should do at least once. It is incredible to see such beauty across the open sea.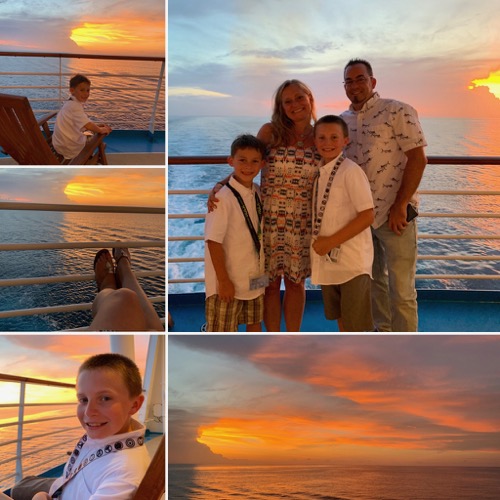 Sunsets over the ocean are like nothing I have ever seen which is why watching one is also on my list of MUST DOs. On Allure of the Seas, we watched the sunset from the chairs next to the walking track on Deck 5. It was absolutely breathtaking and an experience my entire family enjoyed together.
Take a Dip in the Pool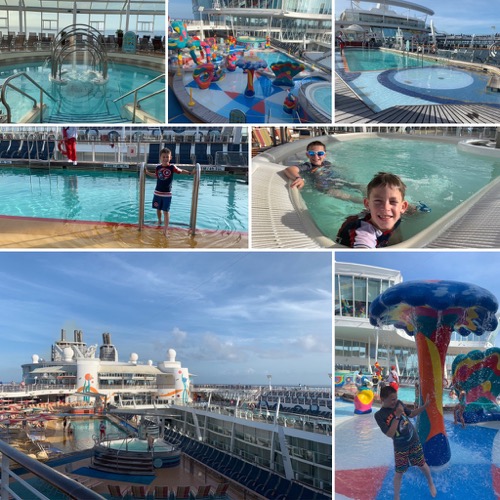 There are 5 pools on Allure of the Seas with one being an adult pool located in the Solarium. There are also countless hot tubs as well as an aqua park (splash pad) for kids and a whirlpool (my kids' favorite place on the boat). Take some time during your cruise to sit poolside with a delicious drink (I recommend a mai tai) and enjoy the sunshine. Then take a dip in the pool to cool off. If you want more excitement, join a game of pool volleyball or play some water games!
Play a Game of Trivia
Allure of the Seas is definitely not short on activities but the one I recommend the most for families is Trivia! Whether it's about Disney, the world, famous people, music or Harry Potter, the trivia games are a blast for the entire family. They are free to play and take place all week. We played both Harry Potter and Disney trivia. It was a tough competition but we came out victorious when testing our wizarding knowledge!
Enjoy a Show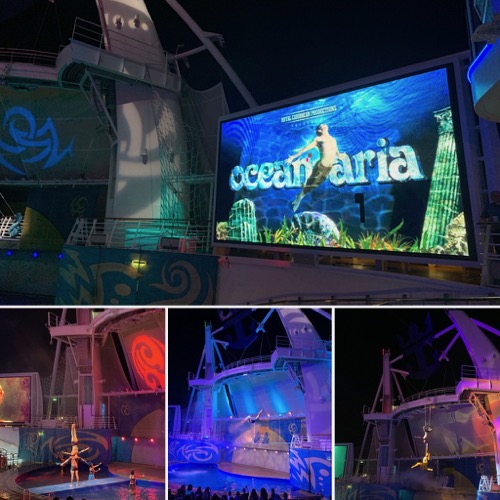 Allure of the Seas has so many incredible shows the entire family will love, and what' even better is that you can make your show reservations before you even board the ship! Weeks before we boarded, we reserved seats for some the best shows you can find on and off the ocean! Mamma Mia was an absolutely stunning production that had the entire audience singing and dancing while the Oceanaria water show had guests sitting on the edge of their seats in awe as they watched the high divers gracefully dive into the water. Guests will also love Ice Games, a fun and upbeat ice skating show, as well as Blue Planet, a whimsical show filled with acrobatics, powerful music and dance. Then there are all the live bands that are featured all week long at the bars, clubs, pool and even right in the Royal Promenade.
Go Zip Lining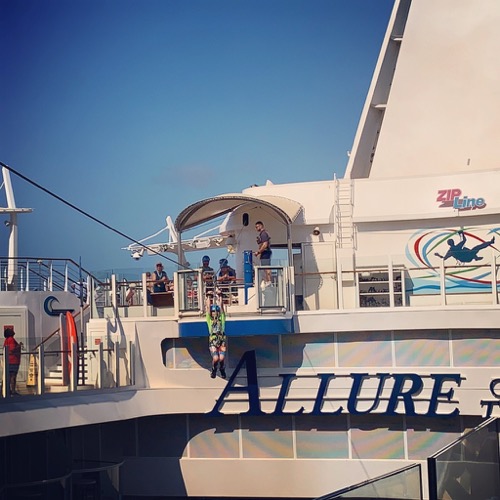 There are several adventures on Allure of the Seas including rock climbing and the FlowRider but the one that is a MUST DO, in my opinion, is the Zip Line! There is nothing like zipping over 9 decks with views of the Boardwalk below you! My son and I both did the zip line, and it was a highlight of our trip! (FYI: Closed toe shoes are required and riders must weigh at least 75 pounds.)
Enjoy a Spa Treatment
On almost every vacation, I try out the spa so my MUST DO before even getting on the boat was to get a spa treatment. On the first day, the spa offers a tour along with a raffle and special discounts. Then, throughout the week, there are daily specials and other events. I booked a 75-minute Swedish massage and loved every second of it.
Play Mini Golf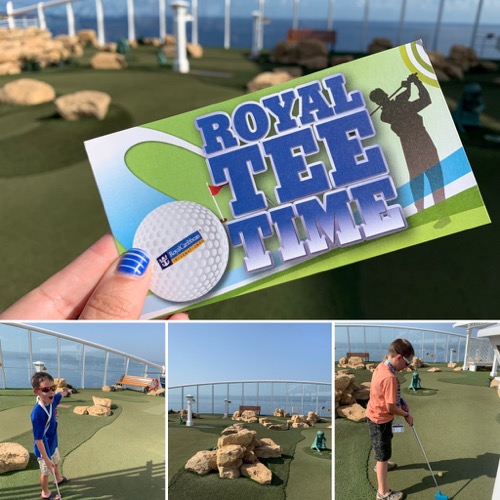 Morning, noon or night, mini golf is a great way to enjoy your time on Allure of the Seas. We played twice during our trip. I recommend going early in the morning or late in the day when the sun is not so hot. It is FREE to play with the balls and clubs located at the entrance to the course. Mini golf is not only a fun experience to enjoy as a family or with friends, but it also offers amazing views of the open sea or islands when at port.
Go Shopping
Allure of the Seas does not disappoint when it comes to shopping options! From Kate Spade to Michael Kors to Coach, there are bags for everyone to enjoy! Like watches? Then you will LOVE the selection on Allure of the Seas. Besides having a watch store on the ship, guests can also enjoy special watch sales on the Royal Promenade throughout the week including $10 watches (which was perfect for the kids). Want a souvenir? There are plenty but make sure to wait until the end of the week if you want a Royal Caribbean T-shirt because they go on sale for 2/$20!
Take a Stroll Through Central Park
My favorite part of the cruise ship was definitely Central Park! Morning, noon or night, Central Park is the perfect place to take a stroll, have a drink, relax or even go shopping. With several restaurants along the park, it is also a great place to enjoy a meal. What I loved the most was sitting on the comfy chairs with a drink and just taking in the views while getting the cool sea breeze on my face. It was heaven!
Take Lots of Pictures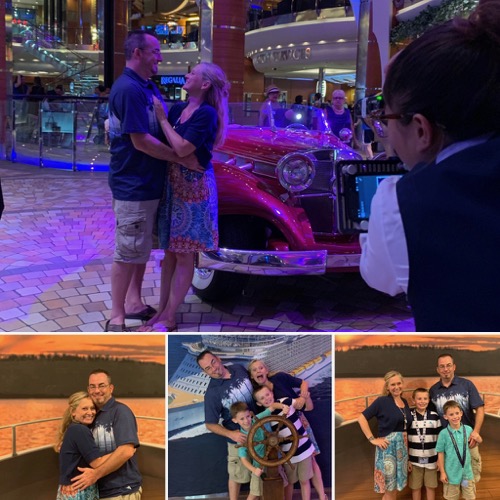 Allure of the Seas does not disappoint when it comes to photo opportunities. In addition to the stunning views from the top deck, professional photographers can be found in the evening along the Royal Promenade and outside your dining room. Although some pictures stations stay the same, some change offering different backdrops and even some props. We had so much fun taking pictures as a family and with our friends. Guests can purchase picture packages to hold onto these memories forever. We chose to get a photo book which we absolutely LOVE!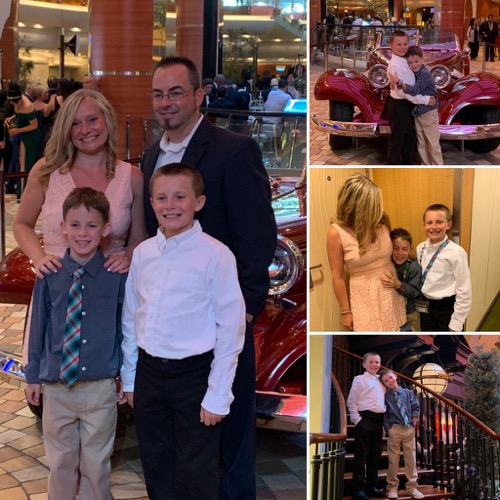 Although those are my top 10 MUST DO experiences, there are so many others to choose from like ice skating, rock climbing and taking a ride on the carousel. I can't wait for our next cruise so we can try even more exciting adventures and experiences! What adventure would you choose?
To learn more and to book your own Royal Caribbean cruise, visit the Royal Caribbean website!
You may also enjoy:
A video tour of the Mayan Chocolate Factory in Cozumel, Mexico. It is an excursion option through Royal Caribbean: