We are incredibly excited to partner with Little Bites to bring you a review and giveaway for their new Snackin' Bites!
My kids LOVE Entenmann's Little Bites muffins. In fact, we go through at least 3 boxes a week. We have them for breakfast and snack, at home and on the road. We even bring Little Bites with us on vacation! I am always looking for a delicious and healthy snack choice for my kids that is easy to have on-the-go so when we were invited to try Little Bites Snackin' Bites of course my answer was a resounding "YES!"
Like Little Bites muffins, Little Bites Snackin' Bites come in a box with 5 plastic pouches with each pouch having 6 mini bars. They come in two flavors: Strawberry and Apple Cinnamon. This delicious snack consists of a soft cereal crust filled with a yummy fruit filling. It is the perfect bite-sized snack for after school, in the car or after a soccer game. It also makes a wonderful addition to your breakfast.
Since 1999, families have trusted Little Bites to provide our children with treats they will love, and this new snack line is no exception. My boys loved them from the first bite, especially the apple cinnamon ones. We have already enjoyed them at a play, in the car and as an after school snack, and we can't wait to bring them camping, on road trips and to school for a midday snack. There are so many reasons to love the new Little Bites Snackin' Bites and here are just a few I have come up with:
3 Reasons You Will LOVE Little Bites Snackin' Bites
Healthy
As parents, we strive to provide our children with food that will help them grow and develop. We look for meals and snacks that are good sources of nutrition. We want snacks that don't have high fructose corn syrup but still offer a sweet experience for our kids. Little Bites Snackin' Bites are a perfect combination of comforting flavors and nutrition. With 5g of whole grains per serving and no high fructose corn syrup, Snackin' Bites are the perfect choice for snack time. They are also a wonderful source of fiber, calcium and Vitamin D and do not contain artificial flavors or preservatives. No wonder it really tastes like apples covered in cinnamon!
Easy
As a full-time working mom, I need easy! Do I cook meals for my kids and prepare homemade snacks? Of course, I do, but having a snack choice I can turn to that is easy and healthy is such a help (and lifesaver). The plastic pouches are easy to open so my 4 and 7 year olds can grab a bag themselves to open and enjoy. The bite-sized portions make them perfect for little hands and mouths so kids are able to eat independently. The portable and easy to open pouch also make them an easy snack at a play, movies or park. I can just toss the pouches in my purse and head out the door!
Perfect for Travel
The Little Bites Snackin' Bites are the perfect size for travel. They easily fit in a lunchbox, beach bag, pocket-book and sports bag making them wonderful for short and long trips. My family takes a lot of road trips so the Snackin' Bites will be perfect for eating in the car or at a rest stop. It is a fulfilling snack so it can hold kids over between stops as well. The travel size pouches also make them the perfect option for handing out after your child's baseball or soccer game (team moms, you know what I mean), enjoying while walking around the zoo or bringing to the playground for a quick energy boost.
Entenmann's Little Bites Snackin' Bites can be found at your local food store, but you can WIN 2 boxes right here! We have partnered with Little Bites to give away one box of each flavor for you to try. But that's not all! We are also giving away with it 5 Little Bites coupons valued at $5 each and one custom Little Bites Snackin' Bites USB portable charger ($10 value).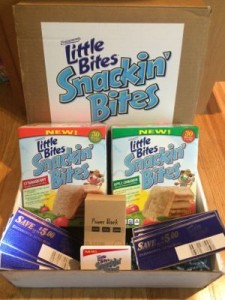 Here are the rules and conditions for this amazing giveaway:
Participants MUST live in the United States.
The winner will be chosen by Rafflecopter.
The contest will run from May 18, 2016 until 12am on May 29, 2016.
The winner will be announced on May 29, 2016.
The winners will receive the prize pack directly from Little Bites.
The winners must respond within 2 days or another winner will be chosen.
To enter, participants can earn entries by: visiting the Mommy University Facebook page (likes are appreciated but not required), following Mommy University on Twitter, sharing the contest with friends and commenting on this blog post by answering the required question. One FREE entry can also be given when this option is chosen.
No purchase is necessary to win.
Your chances of winning are dependent on the number of entries received.
Enter Here: a Rafflecopter giveaway