Looking for something fun and unique for your kids to do this summer? Do your kids love arts and crafts? Then you have to check out Camp Creativity at your local Michaels craft store. For the past 4 summers, I have been bringing my kids to the summer program at Michaels. Not only is it a fun way to encourage a love of art, it is also really affordable.
For those that don't know, Michaels has Saturday morning a Kids Club where kids can make unique artistic creations for only $2/child. The event takes place every Saturday of the month from 10am-12pm. In the summer, Michaels expands this program to weekday events. Every Monday, Wednesday and Friday from 10am-12pm, kids can get creative at Michaels summer camp. The camp costs $5/session or $12/3 sessions.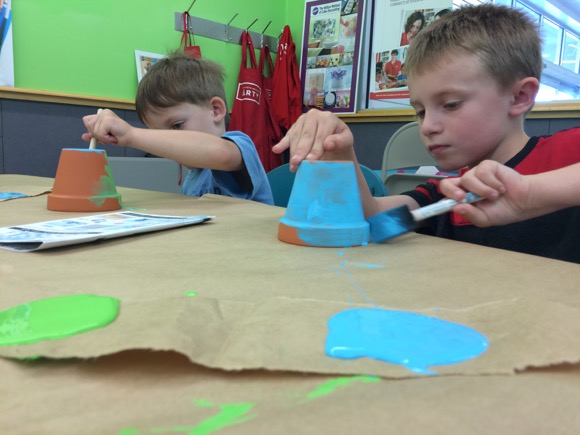 Each summer, Michaels offers a different theme for their camps. One year was a trip around the world while another was visiting museums all over the country. This year, I am SO excited about their theme! Any guesses what it is?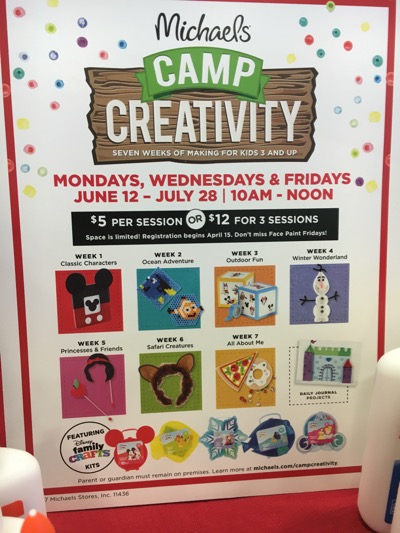 That's right! This year's Camp Creativity theme is DISNEY! Each week Michaels will take kids on a different magical art adventure. The crafts will get kids excited about art as well as improve developmental skills such as fine motor, visual-spatial and problem solving. Michaels Camp Creativity is also a fun way for kids to bond with parents, siblings, friends, grandparents or guardians. Sessions are recommended for children ages 3 and up, and children must be accompanies by an adult. (Note: Some crafts are harder than others and require parental involvement to make!)
Each session consists of 2 hands-on crafts. Kids also receive daily journals that are filled at each session with a fun themed drawing or painting. The journal makes for a wonderful keepsake at the end of the summer. In fact, we still have our books from past summers!
Michaels Camp Creativity 2017 Schedule
Week 1: Classic Characters – Kids will love making Mickey and Minnie themed crafts.
June 12 – Mickey and Minnie Perler Beads and Mouse Ears
June 14 – Mickey and Minnie frames and Pom Pom craft
June 16 – Mickey and Minnie Flower Pots and Play-Doh Creations
Week 2: Ocean Adventure – Kids will go under the sea with Nemo and friends.
June 19 – Nemo and Dory Perler Beads and masks
June 21 – Octopus pencil holder and Dory craft
June 23 – Under the Sea character pictures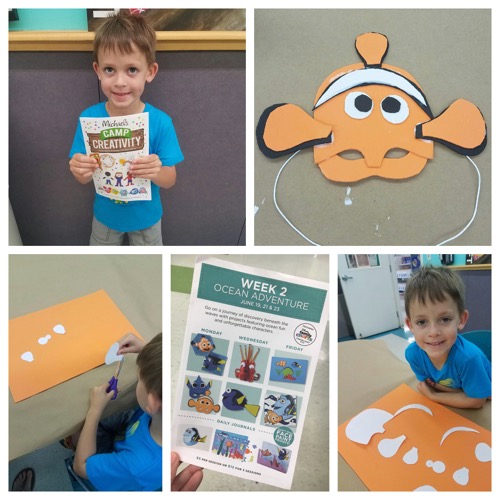 Week 3: Outdoor Fun – Kids will have fun making outdoor games with a Disney twist.
June 26 – Lion Guard craft and Disney character jumbo dice
June 28 – Airplanes
June 30 – Bird feeder and frisbees
Week 4: Winter Wonderland – Enjoy winter in summer with Olaf and friends.
July 3 – Perler Beads snowflakes and Olaf craft
July 5 – Olaf mask and snowflake
July 7 – Snowflake wands and Frozen diorama
Week 5: Princess and Friends – Crafts will bring your favorite characters to life.
July 10 – Perler Beads crowns and photo props
July 12 – Beauty and the Beast and princess crafts
July 14 – Octopus and Seven Dwarfs crafts
Week 6: Safari Creations – Go on an adventure with the Lion Guard and friends.
July 17 – Perler Beads paw print and binoculars
July 19 – Lion Guard painting and lion ears
July 21 – Animal puppets and paintings
Week 7: All About Me – Kids will create projects that tell their unique story.
July 24 – Home and Person crafts
July 26 – Make a pet and painting crafts
July 28 – Favorite food craft and toilet paper roll superheroes
To learn more, please visit your local Michaels or check out the website. Pre-registration is recommended as classes can fill up.
What week are you excited about?
You may also enjoy: