Updated for 2018!
Looking for something fun and unique for your kids to do this summer? Do your kids love arts and crafts? Then you have to check out Camp Creativity at your local Michaels craft store. For the past 5 summers, I have been bringing my kids to the summer program at Michaels. Not only is it a fun way to encourage a love of art, it is also really affordable.
For those that don't know, Michaels has Saturday morning a Kids Club where kids can make unique artistic creations for only $2 for children ages 3+ and $5 for children ages 6+. The event takes place every Saturday of the month from 10am-12pm. They also offer MAKEBreak events on select Saturdays and Sundays that are FREE! In the summer, Michaels expands their kid programs to weekday events. Every Monday, Wednesday and Friday from 10am-12pm, kids can get creative at Michaels summer camp. The camp costs the same as the Kids Club ($2-$5).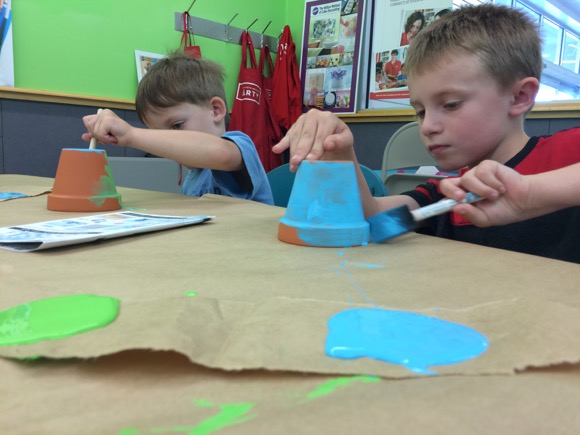 Each summer, Michaels offers a different theme for their camps. One year was a trip around the world while another was visiting museums all over the country, and last year it was Disney. This year, each week will focus on traditional camp activities. Each session consists of a hands-on craft along with a coloring page, and every Friday is SLIME DAY!
The crafts will get kids excited about art as well as improve developmental skills such as fine motor, visual-spatial and problem solving. Michaels Camp Creativity is also a fun way for kids to bond with parents, siblings, friends, grandparents or guardians. Sessions are recommended for children ages 3 and up, and children must be accompanied by an adult. (Note: Some crafts are harder than others and require parental involvement to make!)
Michaels Camp Creativity 2018 Schedule
Week 1: Friends Forever – Crafts will celebrate friendship and are designed to share with your BFF.
June 11 – Frame or Wood Craft
June 13 – Friendship Necklace or Bracelet
Week 2: Outdoor Adventures – Crafts will encourage kids to explore the outdoors.
June 18 – Flower Pot Craft
June 20 – Birdhouses
Week 3: Classic Camp Crafts – Kids will make traditional camp crafts.
June 25 – Yarn Craft
June 27 – Nature Painting
Week 4: Under the Stars – Crafts will encourage a love of the night sky.
July 2 – Constellation Craft
July 4 – Space Mobile
Week 5: Summer Souvenirs – Kids will make crafts to remember how fun summer was.
July 9 – Animal Keychains
July 11 – Summer Camp Pennant
Week 6: JAM-BOR-EE – Kids will make their own instruments.
July 16 – Shakers
July 18 – Rhythm Sticks or Bells
Week 7: Campfire Stories – Crafts will be all about telling stories.
July 23 – Puppets
July 25 – Journal
To learn more, please visit your local Michaels or check out the website. Pre-registration is recommended as classes can fill up.
What week are you excited about?
You may also enjoy: