Ever wonder what dinosaurs would look like in real life? How tall do you think they would be? Well now you can find out at Dino Safari A Drive Thru Adventure! Families can travel back in time millions of years in the comfort of their own car. With over 40 life-size animatronic dinosaurs, dino lovers of all ages will be in awe!
If you have a budding paleontologist in your house, then they are going to LOVE this prehistoric adventure! Guests will get up close and personal with some of the most amazing creatures that have EVER walked the Earth. While enjoying this incredible journey, guests will learn all about dinosaurs including how they moved, what they ate, where they lived, and so much more.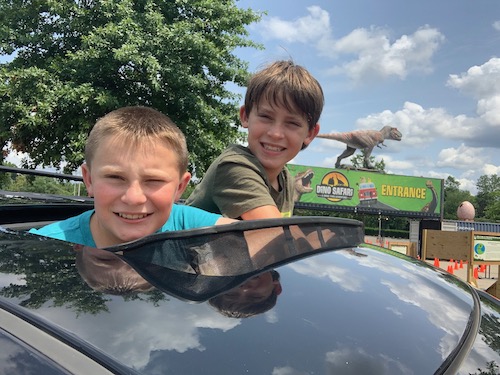 How It Works:
Paleontologist Dr. Gregory Erickson helped bring Dino Safari to life using fact-based, educational content intertwined with an exciting storyline. While driving through this amazing journey, guests are guided through the fictional Pangea National Park by an audio tour (available in both English and Spanish). The tour is located on the Dino Safari app that can be played on your device and through your car radio. A QR code for the app is provided upon arrival but it can also be downloaded ahead of time from their website.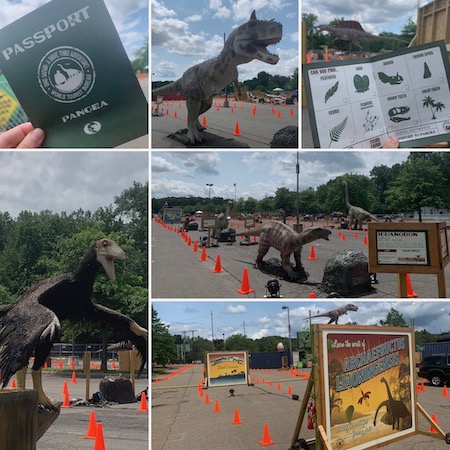 In addition, each child in the car is given a passport to Pangea that has 2 scavenger hunts and other fun activities inside. This allows for an even more exciting and interactive experience. My boys had so much fun looking for all the different items as we went along our journey. Each child is also given a plastic egg. At the end of the drive thru, children can throw the eggs into a sandbox that replicates a dino nest.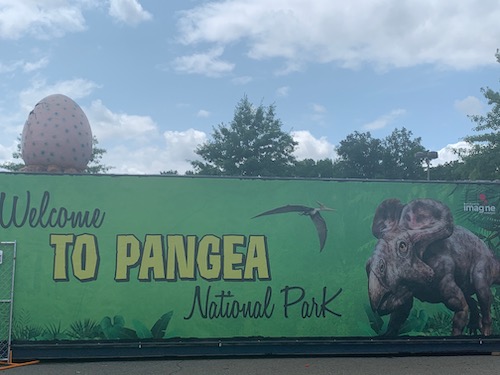 The journey is broken down by continents. Although Pangea was said to be one large landmass, Dino Safari teaches guests about what each continent would have been like as part of Pangea. It is a very eye-opening experience. For instance, did you know that during the time of Pangea most of Australia was underwater? As you go through each section, there are animatronic dinosaurs that lived on those continents. Of course there were the traditional ones we have all heard of, but I was excited to learn about dinos I had never heard of before. Here are some you can expect to see:
T. rex

Triceratops
Brachiosaurus
Pachycephalosaurus
Dakotaraptor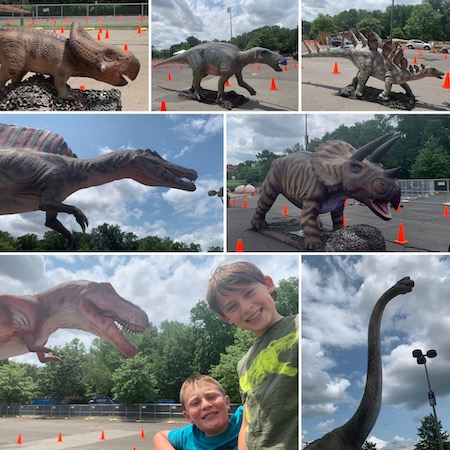 Minmi

Laellynasaura
Hadrosaur
Cryolophosaurus
Spinosaurus
Herrerasaurus
What You Need to Know:
Tickets are $49.95/car for up to 7 people, and $59.95 for large capacity vehicles.
The journey can take 40-60 minutes.
Dino Safari is NOT scary and appropriate for ALL ages.
Before arriving, be sure to watch the introductory video so you know what to expect. It is available in Spanish and English.
Advanced ticket purchases are highly encouraged; however, onsite ticket purchases can be made if there is availability.
The Dino Safari is rain or shine.
Guests are to remain in their vehicles at all times.
Mystery Bags can be purchased for more dino fun!
Dino Safari A Drive Thru Adventure will take place in 2 locations in New Jersey this summer:
July 10 – August 1:  Freehold Raceway Mall
July 16 – August 10: Westfield Garden State Plaza in Paramus
For more information, visit their website or Facebook page! We hope you have a roaring good time too!
You may also enjoy: