When we booked a trip to San Antonio, I wasn't sure what to expect. We were staying at my sister's in Friso, Texas for the week and decided to take a family road trip to see more of what Texas had to offer. San Antonio is about a 4.5 hour drive from the Dallas/Fort Worth area. It is a nice drive that takes you through Waco and Austin, both great stopping points. We even stopped at our first Buc-ee's which apparently is a really big deal in the South.
San Antonio is one of those places that no matter how much research you do, you have to visit it to truly understand it. There is so much to see, do, and explore, but until you are there, you won't really know what you want to do. I read a lot of articles about San Antonio with lists of things to do with kids, but it wasn't until we were there that we decided what to do. I know that sounds strange coming from me as I am known to be a planner, but San Antonio is definitely a city that can be an impromptu experience.
In this post, I wanted to put together a list of some fun things to do when traveling to San Antonio with kids. I also include some tips based on our experience. We stayed 2 nights at the Embassy Suites on the River Walk which I highly recommend. It was right on the river and within walking distance from all major attractions. It is important to note that San Antonio is hot. Not just hot, but HOT HOT! It rained while we were there which almost felt like a blessing since the rain cooled us off. The weather will be a factor in deciding on what you want to do so being flexible is important. Here are some of our favorite experiences, and ones we recommend on your next trip to San Antonio!
Fun Things to Do in San Antonio with Kids
Stay Somewhere Fun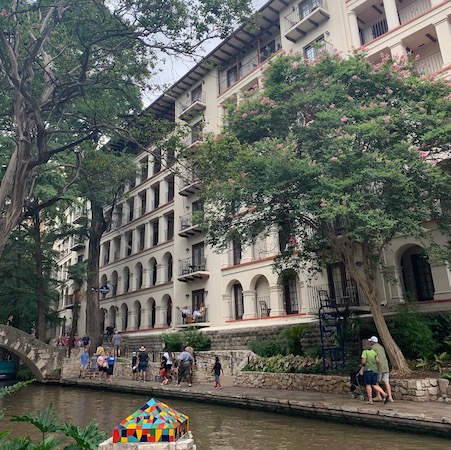 Many of the hotels and family friendly resorts in San Antonio were stunning, and there are plenty to choose from. As I mentioned above, we stayed at the Embassy Suites. The River Walk was directly outside our hotel which was amazing. The hotel also offered FREE breakfast, FREE Happy Hour, and a rooftop pool. As we walked The River Walk, we admired resorts in the heart of all the fun. If possible, I recommend staying as close to the action as possible. The further you move away from the center of The River Walk, the harder it will be for your family to explore the city highlights.
Explore The River Walk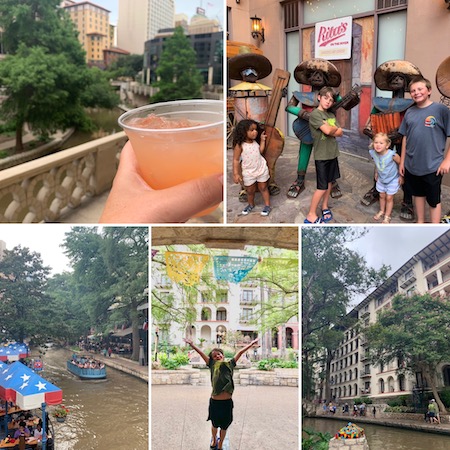 The best way to describe The River Walk is a mix of New Orleans and Epcot with a sprinkle of Vegas. Sounds fun right?! There are endless restaurants with amazing food including the touristy ones like Rainforest Cafe (which we ate at), Hard Rock and Bubba Gump, but I recommend trying a BBQ or Mexican place. We also tried an amazing Italian restaurant, Paesanos. There are strolling musicians, tons of souvenir shops, ice cream parlors, and, of course, places to get fun frozen drinks that you can enjoy while exploring. Did I mention it is open 24/7?! Walking over and under bridges while taking in the views and culture was amazing for my family. Make sure to check out the gorgeous trees and flowers too as they truly add to the ambiance.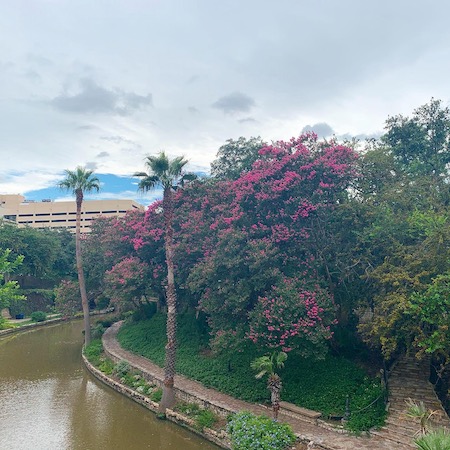 Visit a Museum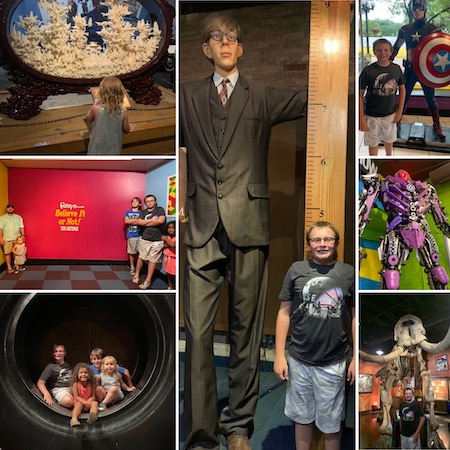 At Mommy University, we love museums. Well, we love any place that offers hands-on learning fun, and San Antonio has plenty of options. During our trip, we explored Ripleys Believe It or Not, which did not disappoint. There were so many exciting and unique exhibits to explore. Ripleys is a staple in San Antonio as they also offer Louis Tussaud's Waxworks, Ripley's 4D Moving Theater, Ripley's Haunted Adventure, and Guinness World Records. Other museums in the area include: Witte Museum, The DoSeum, The Buckhorn Saloon and Texas Ranger Museum, and San Antonio Museum of Art.
Enjoy a Delicious Meal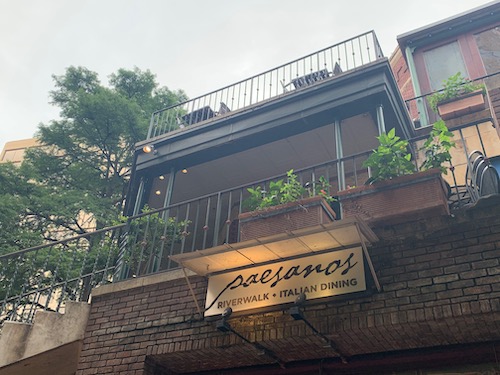 If you are a foodie, then San Antonio is the place for you! I was amazed by all the incredible options on and off The River Walk. We ended up eating at Rainforest Cafe (for the kids), Paesanos, and The County Line BBQ. On our next visit, I definitely want to try Iron Cactus and The Republic of Texas. Many offer seating right on the river which adds extra excitement to the experience.
Visit the Alamo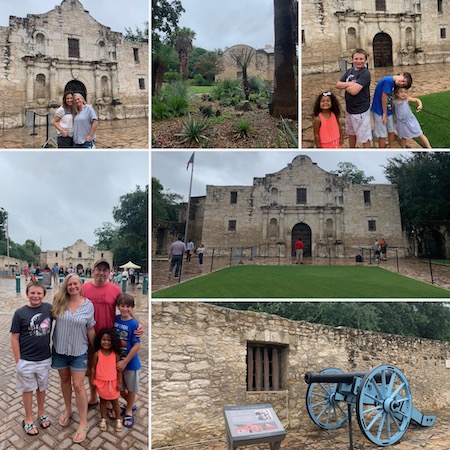 This was the highlight of my trip! Since seeing Pee Wee's Big Adventure as a kid, I have always wanted to visit The Alamo. It is such a huge piece of Texas and US History. The Alamo is located in the middle of the city. It is like time stood still in this one spot while the city was built up around it. The Alamo was walking distance from our hotel and The River Walk. Entrance to the grounds and building are FREE; however, a reservation is needed to enter the church. I have to admit that prior to visiting this historic landmark, I knew little about its importance. After visiting and reading the timeline, I am even more honored to have visited this amazing place.
Take a Boat Ride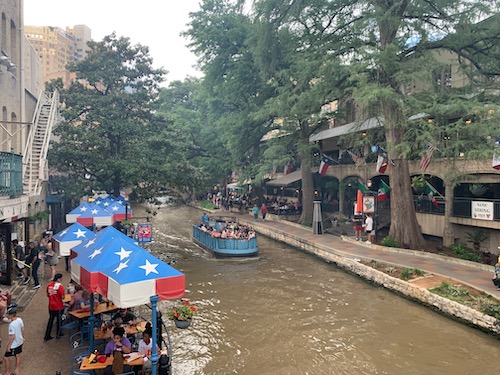 Experience The River Walk in a fun and unique way by taking a narrated boat ride with GO RIO! Ticket booths are located in 3 locations: Historia, River City Mall, and The Aztec (another MUST DO experience). Each ride takes guests on a 35 minute journey up and down the river where you will learn about the architecture, history, and culture of San Antonio. Due to the rain, we were unable to take a ride, but I am hoping we can do it on our next trip because it looked like so much fun!
Make Memories to Last a Lifetime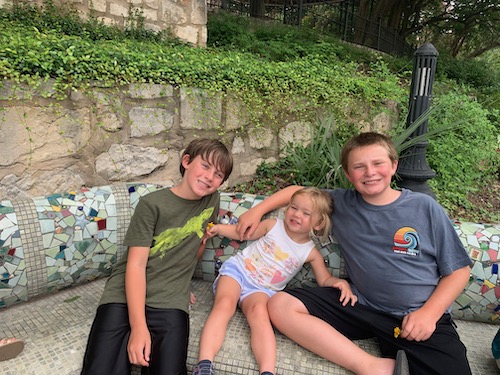 San Antonio was the first getaway we took as a family with my sister, brother-in-law, and nieces. While the kids could have just played in the hotel room all day and night making forts, playing hide-and-seek, and watching television, we truly enjoyed walking around the city and taking in its rich history and culture. We made so many memories to last a lifetime!
TIPS: 
If you have little kids, make sure to bring a stroller. There are a lot of people on The River Walk and not all sections next to the river have railings.

When researching hotels, be sure to look at the location. You will want to stay near the heart of the River Walk.
Make sure to book a reservation to tour the inside of The Alamo. Although it is FREE, reservations are still required.
If there is a restaurant you want to try, get there EARLY! During our trip, many did not take reservations so the wait lists were LONG.
Grab a map! Maps of tourist destinations are available at your hotel so make sure to grab one. I promise it will make your experience much easier.
I hope this helps you plan your next trip to San Antonio!
You may also enjoy: