On March 17, people all over the world will be celebrating the patron saint of Ireland, Saint Patrick. Synonymous with parades, delicious food, and everything green, Saint Patrick's Day is a day filled with excitement and fun traditions. Even though many events and parades have been canceled this year, that does not mean the fun has to end too. Here are some great ways to celebrate St. Patrick's Day with the kids at home!
Fun Ways to Celebrate St. Patrick's Day at Home
Have Your Own Parade
Just because many local parades have been canceled, that doesn't mean you can't have one of your own! Work together as a family to make your own parade at home. You can even include some close friends if you want. You can make your own floats out of cardboard boxes, wear Leprechaun hats, dress in green, and play some instruments (homemade or real).
Treasure Hunt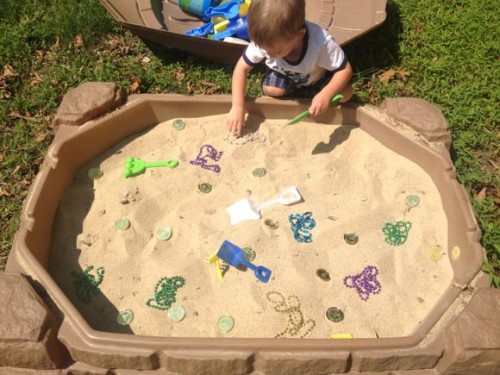 Those pesky Leprechauns have hidden coins and jewels all around the house and now the kids have to find them! Equip each child with their own Leprechaun pot to collect their gold hidden around the house. Make it even more fun by placing clues that the kids have to follow to find the pot of gold at the end of the rainbow. If it's a nice day, head outside for the hunt. You can even hide treasure in the sandbox like in the picture above!
Make a Mess
One of the things I love the most about working in an elementary school during St. Patrick's Day is watching how creative teachers are when celebrating this fun holiday. My favorite experience is when the preschool teachers would make a mess of the entire classroom and blame it on the Leprechaun. From flipped over chairs to Lego bricks all over the floor to books taken out of the bookshelves, those pesky Leprechauns always did a number on the classroom. They even left little green footprints on the tables and floor. Since many kids will not be able to experience this in school this year, why not create it at home? You can take the pillows off the couches and throw them on the floor, open all the drawers and cabinet doors, toilet paper the house, and leave little green footprints on the floor, table, and countertops!
Build a Leprechaun Trap
This is a fun activity for all ages! Building a Leprechaun trap helps encourage STEAM learning. Kids have to use problem solving skills, creativity, fine motor skills, and even spatial organization to make their traps. Plus, it's a lot of fun!
Learn About Ireland
It's fun to celebrate holidays like St. Patrick's Day but it is important for kids to understand why they are celebrating. This year, have your kids research Ireland and St. Patrick to find out what this holiday is all about. They can enjoy activities like making the flag of Ireland, making a diorama, creating a poster project, or even putting on a little play about the history of this special holiday.
Fun with Coins
This St. Patrick's Day, help your kids learn all about coins. For little ones, you can teach them all about pennies, nickels, dimes and quarters, while older kids can learn about coins all over the world. Make it even more exciting by taking a trip to a US Mint.
Skittles Experiment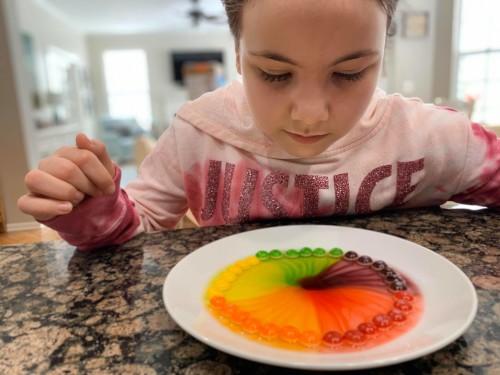 Have you ever tried the Skittles experiment? It is a fun way to encourage a love of science on St. Patrick's Day. All you need are skittles, a plate, and warm water. Have your kids arrange the Skittles on the plate in any design they want then add some warm water and watch the magic happen. Let the kids experiment with different patterns and designs to see what happens. 
Everything Green Scavenger Hunt
Little ones will LOVE this activity! On St. Patrick's Day (or any day leading up to the holiday), have your kids find objects all around the house that are the color green. You can make a list of objects to find or just set a timer for 5 minutes and tell them to find as many green items they can. It's a fun way to enhance color recognition while also getting them up and moving around the house!
Make a Sensory Bin
Sensory bins are a great way for kids to learn through play. A fun St. Patrick's Day sensory bin can include some of the following items:
Colored rice

Gold coins
Small characters and objects
Beads
Measuring cups and measuring spoons
Read, Read, Read
It wouldn't be a Mommy University themed activity post without including reading! There are so many fun books you can read with the kids or have the kids read themselves to learn about and celebrate St. Patrick's Day. Here are some I suggest:
Rainbow Crafts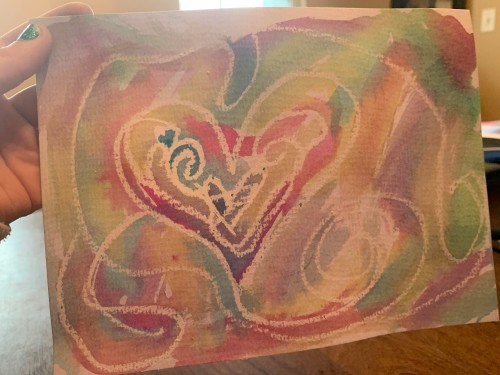 Kids LOVE crafts, especially ones where they get to be creative. Rainbow crafts are a perfect way to celebrate St. Patrick's Day. From paint to crayons to marshmallows to pipe cleaners to even using Fruit Loops, there are tons of fun and unique ways to make rainbows. 
You may also enjoy: