When most people think of balloons, they think of parties and celebrations but balloons can be used for so much more than just decorations! Did you know that some occupational therapists use balloons to help increase fine, visual, and gross motor skills? Teachers have also used balloons to increase academic skills, especially in the area of science. There are so many brain boosting ways to use balloons at home which is why I am so excited to partner with The Luxe Life Event Design to bring you this post.
For those that have not yet heard of The Luxe Life Event Design, they are an amazing event planning company that makes dreams come true all around the tri-state area. They are even making dreams come true right at home with Luxe Balloon Delivery. Luxe Balloon Bags are giant bags filled with quality balloons that can be delivered right to your front door! The balloons are air-filled so they won't float, and each bag comes with an activity guide.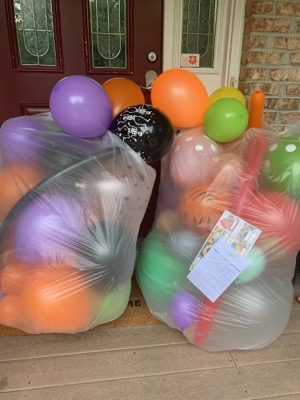 We recently received a balloon bag from Luxe Life Events that was packed with opportunities for learning through play. With over 30 balloons in a variety of shapes, sizes and colors, the play possibilities were endless. The balloon bag came with a guide listing activities but we also came up with some of our own ideas.
10 Brain Boosting Ways to Play with Balloons at Home
Balloon Sports
Get those bodies moving at home with some balloon sports! There are so many options like baseball, soccer, and hockey, but you can also let your kids make up their own games. My boys found 2 long balloons and engaged in a fencing battle. You can also use household items like spatulas to play balloon tennis. Get even more creative by making an obstacle course then have your kids make their way through while holding the balloon between their legs!
Don't Drop the Balloon
How long can you keep the balloon in the air? We have played this game before but we decided to make it a little more challenging. My son started with one balloon in the air but then I added another one and another one and so on. As more balloons were added, the harder it was to keep them up. This is a fun game siblings can play together too.
Balloon Hunt
This was my boys' favorite activity to do with the balloons. Our balloon bag came with 12 small balloons which I hid all around the house for them to find. There are several ways to play Balloon Hunt. The first person who finds the most balloons wins or the person who finds half of them the fastest wins. I also put numbers on all the balloons giving them point values. Then the person with the most points won. We played for hours!
Get Crafty
Balloons are known for being party decorations but they also make great seasonal decorations! The Luxe Life Event Design offers holiday/seasonal themed balloon bags that can spark the imagination of any child (or child at heart). We also received the Halloween themed bag which was filled with spooktacular fun. We loved decorating balloons like jack-o-lanterns and then placing them around the house.
Brighten a Friend's Day
It's always fun to spread some joy to friends and family! Have your kids decorate a balloon or 2 and then drop them off at a friend's house. This is a fun alternative to painting rocks. You can make it even more exciting by hiding some balloons around a friend's yard so they have to find them.
Color Matching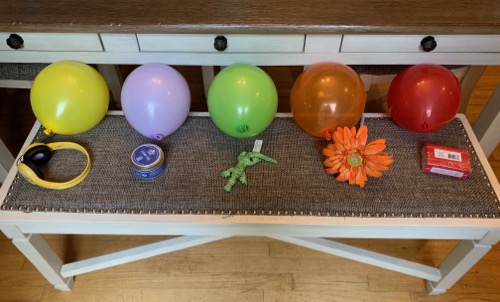 The balloon bag came with multi-colored medium sized balloons. I lined up 5 different colors and then told my son to find something in the house that matched each color. To make it more fun, I timed him so he could try to beat his time each time we played.
Sorting
As I mentioned above, the balloons come in a variety of sizes and colors. An easy but fun activity for younger kids is to sort the balloons. They can sort by size, color, or even shape. This is a great activity to help increase visual, problem solving, and basic math skills.
Sight Word Hunt
Learning sight words is a VERY important part of the learning to read process, and playing sight word games is always a great way to enhance kids' reading skills. There are several ways to play sight word games with balloons. First, write a sight word on each balloon. Then say a word aloud and have the child find the balloon with that word on it. Another way to play is to match the word on the balloon to a flash card. You can also throw a bunch of balloons in the air, and whichever ones they catch, they have to read aloud.
Math Facts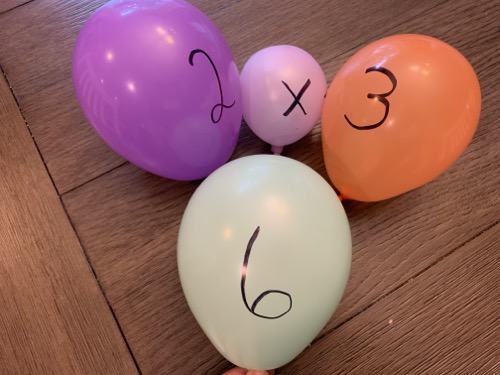 After seeing how fun it was to add up points during our balloon hunt game, I decided to take the math learning a step further. I took the smallest balloon and wrote the symbols for addition, subtraction, multiplication, and division around it. I then took the numbered balloons to make equations for my kids to solve. It turned into a fun competition too!
Just Play
Sometimes the best way for kids to learn is to just let them play! Imaginary and pretend play allows kids to build important cognitive skills. When my boys first opened the balloon bag, I let them come up with their own ways to play. It was fun watching them and seeing their creativity soar!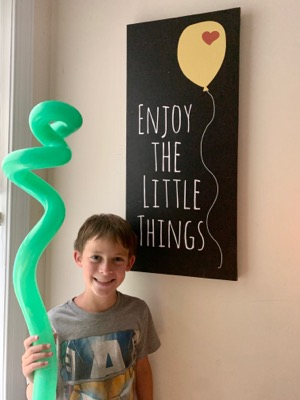 Want to order your own balloon bag filled with fun? Of course you do!! Mommy University is excited to share that The Luxe Life Event Design is offering an exclusive discount code for MU readers. Use the code LUXEMOMU at checkout for $10 off any order (balloon bags, custom back to school balloons, front door garlands, etc). Delivery is available for the following counties: Sussex, Morris, Essex, Bergen, Hudson, Passaic, Warren, and Union. Make sure to follow Mommy University on Facebook too because a spooktacular balloon giveaway is coming soon!!
You may also enjoy: