This school year, we are very excited to partner with amazing companies such as Faber Castell, Magformers, Thames & Kosmos, Creativity for Kids, Miniland, GuideDots, The UPside Delivered, and Little Global Citizens to bring you amazing back to school products that will get your kids excited about going back to school!
As educators we look forward to the start of a new school year because it offers our students so much opportunities. As parents, we embrace each new year with excitement and enthusiasm. This past year has been challenging for everyone. As the days countdown, there is a lot of uncertainty and questions we still don't have the answers. We do know, however, that we our the models for our children.  A new school year opens the door for new information to be absorbed and new skills to master.
Celebrate the year with new tools that empower them to focus and transition to this school year! We have put together a list of some awesome back to school items we know you and the kids will LOVE. In this guide, we have included items that will not only provide opportunities for academic success but will also support academic learning opportunities at home. We have included Amazon affiliate links to make your shopping experience easier and faster!
2020 Back to School Guide for Kids
Backpacks
Rockets of Awesome Backpacks and More! 
Let your kids show off their style with an awesome backpack from Rockets of Awesome! Available in 3 designs, Camo, Neon Pink and Neon Blue, these backpacks have plenty of space for books and even a laptop. They also have padded adjustable straps and a mesh pocket for a water bottle. What's even more amazing is you can also purchase patches to stick on the backpack. Backpacks and other accessories can be purchased on the Rockets of Awesome website.
Dolce Mouse Backpack with Neck Support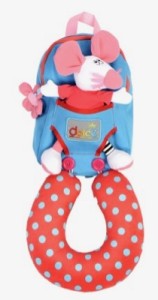 Is your little one heading off to preschool or day care for the first time this year? Then they will love this adorable Mouse Backpack from Dolce. The removable mouse offers various textures which is not only great for sensory learning and play but it is also a wonderful way to help little ones relax when nervous. The neck pillow is also removable and perfect for traveling to and from school especially if your little one is taking a bus. This adorable backpack is under $40 on the Magformers website.
Bixbee Backpacks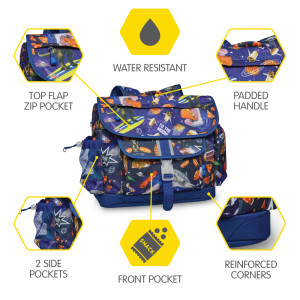 If your child dreams of flying, then give them wings this school year! If they dream of launching into outer space, then the Space Racer or Rocketflyer may be your child's style or they may prefer butterfly wings, but in either case there is a backpack for them. Not only does Bixbee have a phenomenal philosophy of One Here and One There, but they also make well designed and captivating backpacks. For each backpack purchase, Bixbee donates a schoolbag with supplies to a kid in need. If that doesn't grab you, then the design of a backpack resembling a fox or owl might. For older children, they have sparkly designs or camouflage in dinosaurs or sharks (see above). Backpacks can be found at affordable prices on Amazon.
BUILT NY Big Apple Buddies Backpack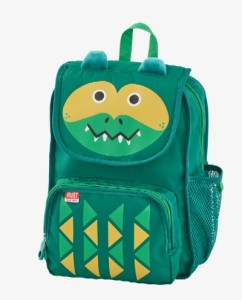 The little ones will love their adorable Big Apple Buddies Backpacks that come in a variety of playful designs like this alligator. This backpack offers tons of storage space as it has a roomy main compartment, zippered front pocket and side mesh pocket perfect for water bottles. The fabric is water-resistant polyester and is PVC and BPA free! Plus, it is affordable selling for under $20 on Amazon!
BUILT NY City Carryall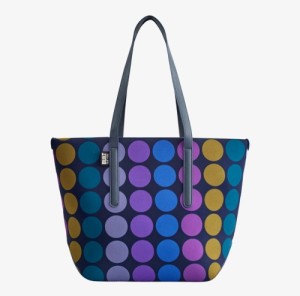 Looking for something a little different this school year? BUILT New York has stylish and durable bags perfect for moms, teachers and college students. They come in a variety of sizes and designs but I really like the City Carryall due to its larger size. It is perfect for carrying files, notebooks, books, electronic devices and more! There is also an inside pocket to store your keys, phone, wallet and more. The City Carryall is made from neoprene (wetsuit material) making it quite durable. It can purchased on Amazon.

Lunchboxes and Containers
Whiskware Snacking Containers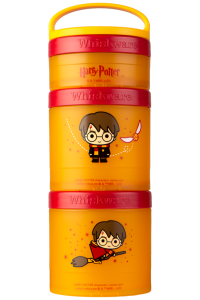 We love the feel of these stackable snacking containers that offer several compartments that kids can carry using the handle. Stack one section with goldfish, another with fruit and the the third with a yogurt to dip fruit! There are so many possibilities for this fun travel packs that reduces using plastic bags. Your kids will love the cool designs available that range from Harry Potter to Marvel to Star Wars to DC Universe.  Priced at $12.99 they are available at Whiskware website or on the Amazon website.
Fun Kins Lunchbox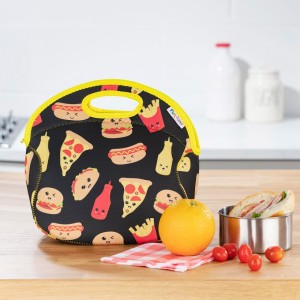 From adorable pizzas to sharks to mermaids, the Fun Kins lunch boxes or rather pouches are lightweight option for kids to bring their lunch to school.  Not only is not bulky or taking up space in the backpack, but it can also be easily cleaned.  Priced less than $23 dollars on Amazon, it is perfect addition for Back to School.
Bixbee Lunchbox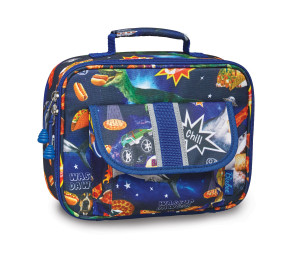 Besides making adorable, unique and stylish backpacks, Bixbee also makes lunch boxes that will make kids excited about going to school. From butterflies to zombies to camouflage to even monkeys in space suits, there is something for every style and interest. As fans of their backpacks, we appreciate that the lunchboxes can be partnered with a coordinated backpack. Conscious of the modern trends and what appeals to children, Bixbee knows how to make going back to school something to look forward to! Bixbee lunch boxes can be found on Amazon.
BUILT Gourmet Getaway Lunch Tote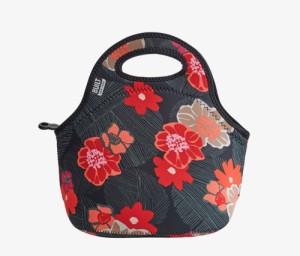 BUILT New York also offers stylish and durable lunch tote options for older kids, parents and teachers. The Gourmet Getaway Lunch Tote comes in a wide variety of designs to suit everyone's style. It is also insulated, made from neoprene (wetsuit material), has a zip closure, is machine washable and is PVC and vinyl free. Even better, it is stain resistant! This lunch tote is under $20 on Amazon.
Precidio Design Snack in the Box and Drink in the Box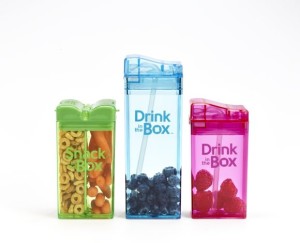 Your kids will LOVE to bring these innovative and unique snack and drink containers to school each day. Whether it is for lunch or snack, Precidio Design has created two amazing products that make packing snacks and drinks for school easy. The Drink in the Box is a reusable, easy to clean container that comes in 8oz and 12oz sizes. The Snack in the Box offers dual chambers so kids can have 2 healthy snack options. It is easy to open making it perfect for kids as young as preschool. Each product is BPA, BPS and Phthalate free and made from the nearly indestructible Tritan. They fit perfectly in your child's lunchbox and backpack and come in a variety of colors. You can purchase these products on Amazon.
Nalgene Lunch Box Buddy
Often times when you have a lunchbox, there are hinges or crevices to hold crumbs, but the Lunch Box Buddy has a simple design that makes it easy to use and clean. The top part of the lunch box can be taken off and used as a tray. The ice pack included is adjustable which allows you several ways to pack a lunch. The velcro sleeve makes it easy to be carried. Cleaning up is easy and the box is dishwasher safe and the sleeve can be thrown in the washing machine. On Amazon the Lunch Box Buddy is less than $25.
Nalgene 12 oz. Water Bottles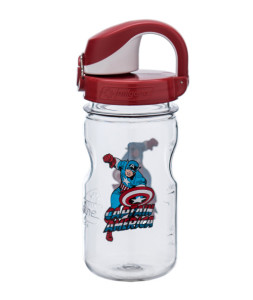 Every super hero needs to stay hydrated to tackle learning this school year which is why Nalgene has kids set up for success with these amazing 12 ounce water bottles. The lid has a latch that stops spills and is built for durability. The size of the water bottles is perfect for the lunch box or road trips! Your kids will love picking out their favorite Avenger and on Amazon the prices range but all stay under $11.
Pencil Case (Bixbee)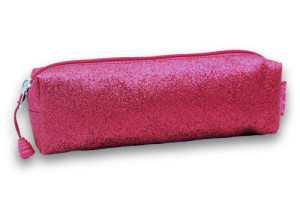 The popular company Bixbee has released pencil cases that coordinate with their Sparkilicious backpacks and lunchboxes as well as other collections.  If your child wants their school supplies to sparkle, check out the water resistant pouch for all the essential writing supplies.  If your child prefers their supplies be jaw-some look at their shark pencil cases.  Priced for less than $6 on the Bixbee website the pencil case will be a fun accessory for their desk.

School Supplies
Crayola Take Note!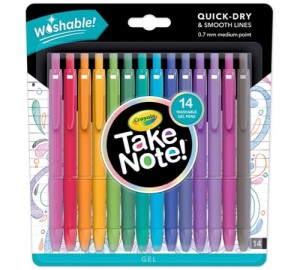 Every school year Crayola supplies are on the top of our list and this year is no exception! Their Take Note! line takes things to the next level. Recommended for ages 6 and up, the new Take Note! Washable Gel Pens and Erasable Highlighters are a perfect addition to your child's pencil case. The gel pens come in packs of 6 and 14 and are available in a variety of bold and bright colors. The pens feature a quick-dry formula and are streak-free.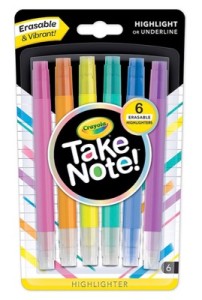 The Take Note! Erasable Highlighters will change the studying game as kids can boldly highlight important information but erase it if they make a mistake. It is perfect for kids just learning to perfect their reading and studying techniques. The highlighters come in 6 vibrant colors so they appeal to all learners! Other Take Note! products include dry erase markers, felt-tip pens and permanent markers. All products can be found on the Crayola website and Amazon.
Faber Castell DuoTip Washable Markers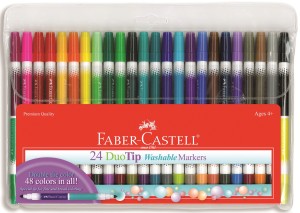 The DuoTip Washable Markers are a household favorite because they have bold and vibrant colors as well each marker has two colors. There are no strong odor or fumes from them and if your kids forget to return the caps dip them in water to rehydrate them. For less than $10 on Amazon it is recommended for children ages 4 and older.
Faber Castell Beeswax Crayons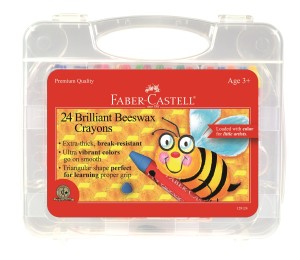 The Beeswax Crayons from Faber Castell boast not only bold and vibrant colors but are designed for young artists. They are triangular shape which works well for young children to learn proper grip (and they won't roll off the table). The 12 or 24 packs comes with a sturdy case that make them great to travel; however, most kids love how easy they are to use and how brilliant the colors are on their art projects. The 24 pack is priced less than $11 on Amazon and is recommended for children ages 3 and older.
Everyday Art Supplies from Crayola
Crayola continues to lead the pack in art and school supplies. My house is full of Crayola products just like classrooms across the country. Here are some everyday school supplies your kids can use in class and at home this year: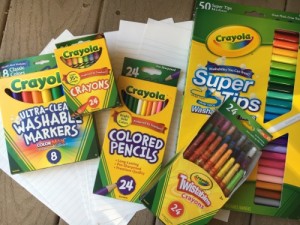 Ultra Clean Washable Markers Color Max: Let your kid's creativity shine without worrying about the mess with these new Ultra Clean Washable Markers. They come in classic, tropical, bold, multicultural and bright.
Colored Pencils: Available in a variety of pack sizes, these bright and bold pencils are perfect for your budding artist. With the Twistables Colored Pencils, no sharpening is needed as you just need to twist for more coloring fun. These pencils are perfect for adding to your child's pencil case this school year.
Twistables Crayons: Crayola is known for their amazing crayons. In fact, they are preferred by teachers! Crayola offers a wide variety of crayon options including ultra-clean washable crayons for your little messy artist. We especially love the new Twistable Crayons. No more broken crayon pieces all over your house this school year!
Super Tips Washable Markers: With these bold and vibrant markers, kids can draw thick and thin lines which inspires more creativity and imagination. They fit perfectly in pencil cases making them easy to transport to school. Plus, they are washable so don't worry about the new shirt or tablecloth!
Washable Dry Erase Crayon and Markers: Available in bright and bold colors, dry erase markers and crayons makes learning fun and easy. Kids can learn to write, draw pictures and solve math problems over and over again at school and at home. These are perfect for homeschool students as parents can use the Crayola Easel for lessons.
Faber-Castell World Colors
This school year, encourage your kids to embrace diversity and celebrate equality with the new World Colors EcoPencils from Faber-Castell. Available in sets of 15 and 27, the World Colors sets contain 3 blendable duo toned pencils that were developed by make-up artists. Little (and big) artists can blend the colors to make their own skintone and the skintone for their friends. The sets can be purchased on Amazon.

Accessories
Masks from Fun Kins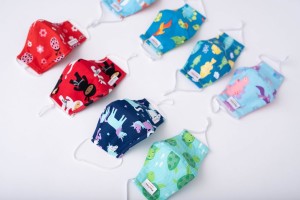 'Wearing a mask has become common place for our return to school this year and it is challenging to find high quality masks that fit the faces of little ones which is why I was thrilled that Fun Kins released washable masks. Designed for children ages 3-9 years old, it has two layers of fabric. My favorite part is the adustable ear loops.  Priced at $10 on Amazon, your kids will love the fun and bright patterns while you will enjoy the added layer of safety.
Mabel's Labels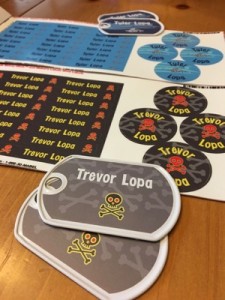 Don't let your child's lunch box, soccer jersey or baseball mitt go missing again! Mabel's Labels offers unique customized labels that can be used on anything this school year! The labels are not only waterproof but also dishwasher and microwave safe. The labels come in a wide variety of designs, colors and sizes with packages available for multiple uses. They even offer medical labels and tags. I let my boys pick out their labels to make them more personal to them, and we cannot wait to use them this school year. Learn more by visiting their website.
Pre-Writing Basic Patterns Stencils (Miniland)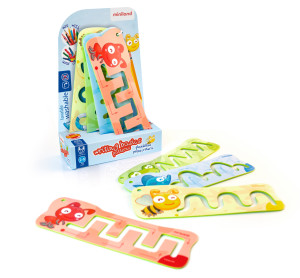 Your preschooler is developing their hand strength and getting prepared to write but sometimes a little assistance helps. Miniland's Pre-Writing Basic Pattern Stencils are great as your child can use crayons, pencils, chalk or even finger paints and the best part? It can be used over and over again extending it's lifespan in your home. Priced for less than $15 on Amazon, this is wonderful for little hands.

Sensory Tools
Sensy Band (Mindware)

I absolutely LOVE the Sensory Genius line from MindWare especially the Sensy Band. The band offers tactile input as it has soft silicone bristles on both sides. The band can be used in a variety of ways to provide tactile input, decrease anxiety and increase focus. It can be "slapped" onto your wrist, unrolled and rolled back up, left open on a desk and worn on your wrist. The Sensy Band is under $6 on the MindWare website.
Stretchy Strings (MindWare)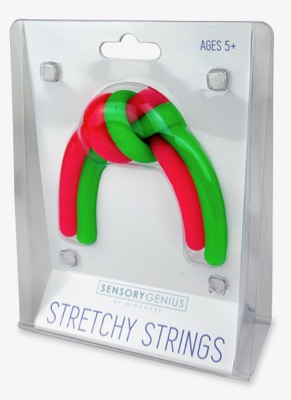 Part of the Sensory Genius collection, Stretchy Bands are wonderful sensory/fidget tools that can help keep kids and focused and regulated. Each set comes with too brightly colored bands that are 3 feet long. They can be stretched, twisted, wrapped, twirled and any other way you want to use them. They are squishy and soft too allowing for tactile input. Stretchy Strings can be found on the MindWare website for under $6.
Putty Scents (Mindware)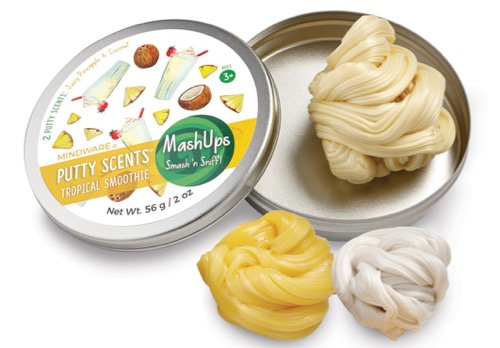 MindWare has released a collection that engages all the senses! Putty Scents come in tins in a variety of sizes and scents. Each one offers tactile sensory input and can enhance fine motor skills. Kids will really love the mash-ups which allow them to mash two different scents together such as Peanut Butter & Jelly and Tropical Smoothie. The trio of scented tins are $11 while the mash-ups are $10 on the MindWare website.
Pencil Pushers (MindWare)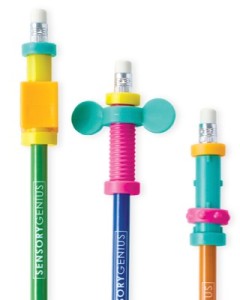 If your kid fidgets in school or at home while doing homework, then Pencil Pushers is for you! Each set comes with 3 brightly colored pencil toppers that offer tactile input and opportunities to fidget. Each Pencil Pusher also encourages fine motor manipulation which helps enhance skills in that area. Pencil Pushers can be purchased for under $5 on the MindWare website.
Creativity for Kids Sequin Pets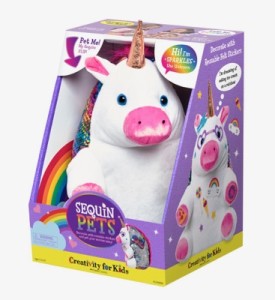 We are big fans of the Sequin Pets from Creativity for Kids. Each pet offers a multi-sensory experience that kids enjoy like movable sequins, soft texture and weighted bottom. Sequin Pets are perfect for kids who require tactile input during the day in order to decrease anxiety and overstimulation. Sparkles the Unicorn is the larger version while there are several options for the minis such as Twinkles the Elephant, Dazzle the Dinosaur and Hope the Hippo. Sparkles is under $20 on Amazon while the minis are under $10.

Learning Toys and Kits
Ooze Labs: Colorful Crystal Lab (Thames & Kosmos)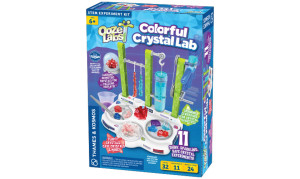 It is never too soon to encourage the budding scientist in your home. The Colorful Crystal Lab enables children ages six and older to investigate the natural beauty of crystals.  Your child will be able to build their own crystal in a petri dish by evaporation or by cooling a supersaturated solution. The lab set is part of the Ooze Lab series which can connect to other sets like Chemistry Station, Soap and Bath Bomb Lab, and Alien Slime Lab. Priced on Amazon for less than $30 this will make science fun and interesting.
Tilebox Rainbow 20Pc Set (Magformers)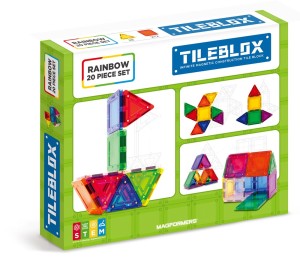 Building toys help a child with fine motor skills as well as developing their imagination. Tilebox also helps young minds with color identification and shape recognition. This magnetic building toy is designed for children 3 and older and is perfect for open ended play. Don't be surprised if your child keeps returning to play with this toy repeatedly as each time they create something new. Priced on Amazon for under $40, it is a great addition to learning and fun.
Stick-O Basic 10Pc Set (Magformers)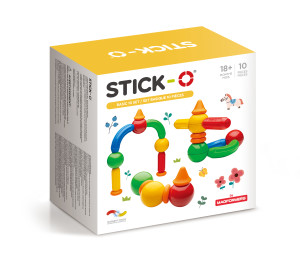 Keeping toddlers busy is challenging, however when you have the write building toy that enables them to create and transform this task is much easier. Magformers has released the Stick-O Basic set which won't frustrate little hands as they can easily connect using the magnets. The best part? There are not a lot of rules associated with this toy as toddlers will develop their own fun. It helps build critical thinking skills and STEM education, as well as fine motor skills. Priced for less than $15 on Amazon, this is a great toy to have in your home!
Kids First Crystals, Rocks, and Minerals (Thames & Kosmos)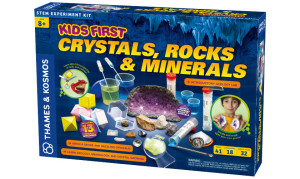 This school year will totally rock! Children are curious about the earth and science which is why the Kids First Crystals, Rocks and Mineral set is a wonderful complement to science education. If your kids have enjoyed breaking a geode, imagine how excited they will be to make their own geode! With 18 experiments they can learn about minerals, geologic rock cycle, and more. Priced on Amazon for less than $35, children ages 8 and older will appreciate this fascinating study.
Big Gem Diamond Painting Kit (Creativity for Kids)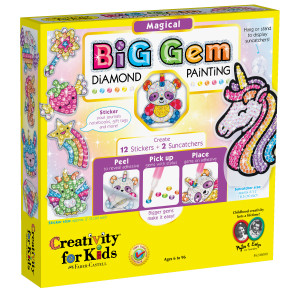 Creativity for Kids encourages a love of art and the Big Gem Diamond Painting Kit does just that! Children are equipped with a wand that they dip in wax and stick gems to decorate stickers and suncatchers. It promotes fine motor skills as well as creativity. Priced on Amazon for under $15, this set will have little hands busy while having fun!
ABC Monster (Miniland)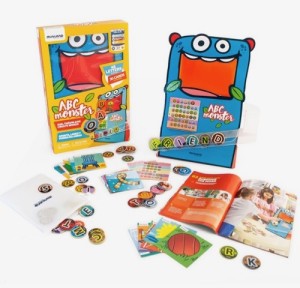 Are you looking for a fun new way to encourage a love of reading? ABC Monster helps kids enhance letter recognition, spelling, blending and reading all while having fun. To play, kids throw letter discs into the monster's mouth. The discs then slide down a channel to form words in the order in which they were thrown. ABC Monster is a multi-sensory game that builds academic and motor skills. It can be purchased on Amazon for under $30.

Social Emotional Learning
Emotiblocks (Miniland)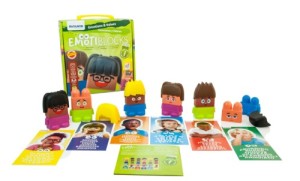 Emotiblocks helps teach children ages 2-6 years old to better understand and express emotions at school and at home. The set comes with 18 interchangeable pieces, activity cards and a teaching guide. There are over 100 possible combinations allowing for endless learning through play. Emotiblocks help enhance social, emotional, language and motor skills all while having fun. The set is priced under $20 on Amazon.
Mindful Kids (Miniland)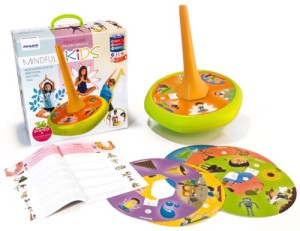 Mindful Kids is a wonderful game for children ages 2-7 years old to help enhance self-awareness. While playing, children are also increasing motor skills, coordination, vocabulary and social skills. Mindful Kids is a great way to get kids ready for school in the morning or to wind down before bed. Teachers and counselors will also love this game! It offers 36 mindfulness activities using 4 themes: conscious breathing, muscle relaxation, yoga and meditation. Mindful Kids can be purchased at Michaels and Amazon for under $30.
For more SEL games, check out the post below!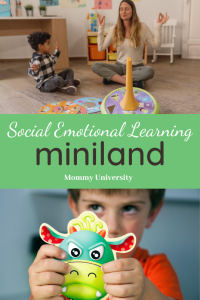 Subscription Boxes
Owlcrate Jr.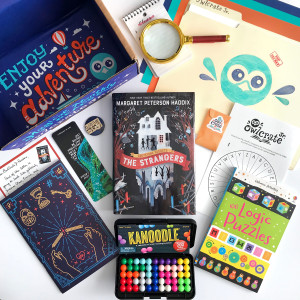 Do you want to encourage your child to be a lifelong reader? OwlCrate Jr. is a subscription service that not only includes a hardcovered book but it also contains 4-6 goodies and activities to promote a love of learning. Children will receive an exclusive letter from the author and a collectible monthly sticker. Pricing begins at $27.99 it is designed for children ages 8-12 which makes it perfect for gift giving or to boost learning at home!
eat2explore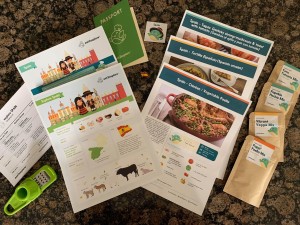 The concept of eat2explore promotes learning of other cultures through food! Each month kids can receive an explorer box which includes: 3 recipe cards, a flag pin, country sticker, essential spices, activity sheet, and a collectible. To start a subscription, you choose an adventure which is deciding if you want to explore by country, continent or the world. You will have to buy the fresh ingredients but they will provide the shopping list. Each month your children will collect a sticker to add to their passport as they travel the world through taste. If you pick a monthly subscription, it is $24.95; however, expanding to the 12 month subscription reduces the price to $21.21 each month. You can read our review on eat2explore here!
Little Global Citizens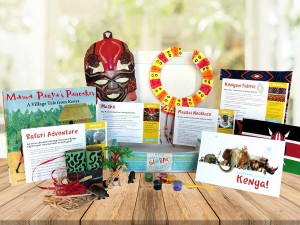 At a time when it is critical to develop an appreciation of different cultures, Little Global Citizens is a subscription service that promotes that introduces children to different countries and cultures found around the world. Within each box are guides, crafts, screen-free activities, recipes, language skills and more!  Highlight in the box will various cultural events significant to that country. Little Global Citizens empowers young minds to embrace cultures by engaging their curiosity.  Priced at $39.95 this subscription service is a wonderful complement to learning at home.
Guide Dots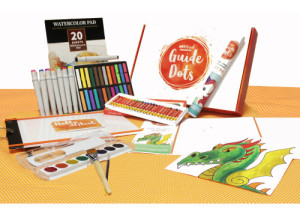 Do you have a child who is doodling on their own or their favorite subject is art in school? Guide Dots might be the subscription box to keep their skills sharp and their hobby advancing to the next level. With strategically placed dots and online instruction, kids will be making masterpieces you will want to frame. The subscription begins with the Guide Dots Starter Kit that includes full size art supplies and covers the first three months at $89.99 and the following monthly rates range depending on the duration (3, 6, 12 month).
The UPside Delivered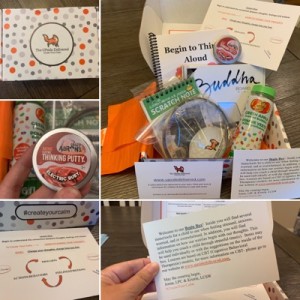 Using cognitive behavioral therapy techniques, The UPside Delivered subscription box program offers tools, advice, and tips to help kids cope with stress and anxiety at home. I absolutely LOVE this concept since so many kids are dealing with uncomfortable emotions right now that they don't always know how to express or handle. The tools found in the UPside Delivered boxes help kids understand the connection between their thoughts, feelings, and actions which allow them to develop better coping skills. There are a variety of subscription box options as well as specialty boxes like the Begin Box (pictured above), Back to School, and the COVID Coping Box. Please visit their website to purchase your box today!


You may also enjoy: