One of my fondest memories from traveling to Paris was tasting amazing food from breakfast to dinner! From the rich and tender beef bourguignon to the light café éclair, I became a Francophile in a three-day stopover in the city of lights. Fresh flavors and ingredients are unique to each country tying into cultural identity. While getting a stamp in a passport is a symbol of travel, for me, I love arriving home dreaming of a favorite dish I encountered. Now families can travel the world with eat2explore and not leave their kitchen!
eat2explore was established by Roweena Scherer who recalls the valuable memories of cooking with her family when she became a parent. This unique cooking company wants to bring the value of family bonding over healthy food to families all over. As families take time out of their hectic schedules to prepare a meal together, they are creating memories that will transform attitudes about cooking into examples of love.
What appealed to me about eat2explore is the global element emphasized in the kits. Families can choose to explore a country (1-3 countries), continent (4 countries), or explore the world (12 countries) with their subscription. Choosing one month costs $24.95; however, if you opt for a four month subscription the price reduces to $22.46/month and an annual subscription is only $21.21/month.  ncluded in each box are three recipe cards, shopping list, educational activity sheets, essential spice/sauce or grain mixes, country explorer brochures, a fun cooking tool and collectibles. Benefits of the eat2explore program focus around the pillars of family, food, travel and education.
Benefits of eat2explore Subscription
Focus on Family
When kids cook in the kitchen, they are creating memories they will cherish. For younger children, you will want to supervise them in the kitchen, but even better is the experience of cooking together. With eat2explore recipes there are three ratings on each step to let you know if it is a step that is suitable for younger chefs, older chefs, or oldest chefs/adults. Admittedly, this is was the first time my daughter peeled potatoes while making the Spanish Tortilla from Spain and she was laughing the entire time as she chatted about a project she wants to do. Creating meals together encourages kids to cook again as well as have fun together.
Experiment with Food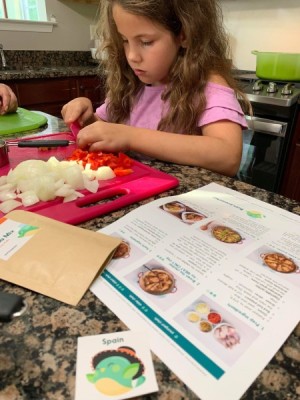 Our family gets bored of the same recipes so what appealed to us about the eat2explore box was that there are three new recipes to enjoy. Included in each box is a shopping list for fresh ingredients as well as packets of seasonings. When we made the Chicken Paella, it was an instant hit but we also were inspired to make the recipe again with some modifications.  Children are more likely to eat the food they make and so getting them cooking expands their culinary taste.
Enjoy Travel
One of the core values of eat2explore is the idea of travel! Included in each subscription box is a flag pin and a sticker representing the country of the box. The sticker can be added to their passport and they can document the month and year they made each recipe from that box. The recipes included are culinary dishes from that country. Essentially your children are developing an appreciation of the culture from another country through food.
Enrich Education
While we currently can't afford to travel to Spain this year, eat2explore exposes children to the culture of this country. Included in the package are country explorer brochures to learn about the country and activities where children can even practice vocabulary. In addition to the cultural education, children are learning fun facts about food, measurements, and science. Creating dinner together offers children the opportunity to learn through cooking!
While our travel plans, like most people, have been heavily impacted by recent events we can pick up a box from eat2explore and travel to Peru, Japan, or another global destination! My children are enjoying cooking together as they increase their confidence using a knife to cut vegetables, measuring ingredients, and learning their way around a stove. As a parent, I love that they are trying new foods and experiences that has them step outside their comfort zone. As we dance along to music from Gipsy Kings, our dinner was a delicious success.  Buen provecho!
If you enjoy this, you might enjoy!