Checkmate!
Are you stuck at home due to snow or rainy (or just a pandemic)? Now is a great time to pull out some board games and put them back in rotation. If you have started remote learning at home, adding board games into the routine will assist with breaking up the day without the guilt of screen time. It will also help reinforce educational values. Children learn so much from playing a board game. They develop critical thinking skills, deductive reasoning and social skills. They also enhance their ability to calculate math as well as grow their vocabulary. If you want more details on the benefits of playing games, check out our post on Benefits of Family Game Night.
To get you started on your family game night adventure, we have put together a list of some our favorite games. This list is in no means exhaustive, and we will be adding to it as we find more exciting games to play. We have included Amazon affiliate links to make shopping quick and easy!
Mommy University's Favorite Games
Alphabet Bingo by Peaceable Kingdom
A great method for children to identify their letters is to use board games! The Alphabet Bingo set consists of six double-sided game boards (easy=green, red=hard), 26 alphabet tokens, 72 chips, and one game bag. The included instructions are wonderful since there are multiple ways to play this game which challenge your preschooler. It made understanding letters engaging for the children, and it is definitely a game that has been pulled out multiple times. Priced at $14.99 on Amazon this is the perfect game for children ages 4 and older to add to your family game night or as a gift.
Miniland Monster ABC Game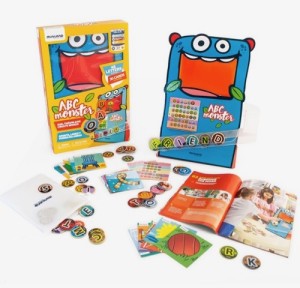 Are you looking for a fun new way to encourage a love of reading? ABC Monster helps kids enhance letter recognition, spelling, blending and reading all while having fun. To play, kids throw letter discs into the monster's mouth. The discs then slide down a channel to form words in the order in which they were thrown. ABC Monster is a multi-sensory game that builds academic and motor skills. It can be purchased on Amazon for under $40.
Blue Plate Scramble by Peaceable Kingdom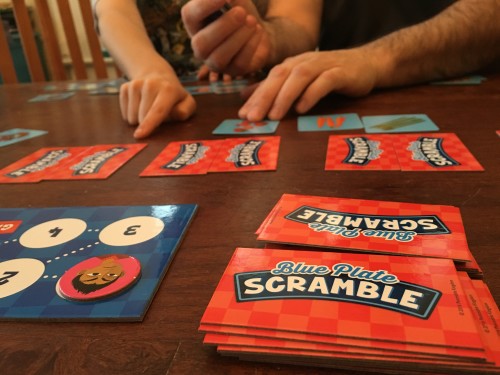 At the Blue Plate Diner, the plates served to customers contain some unusual food combinations. Players are invited to have 30 seconds to memorize the plates ordered then they flip the cards and have another thirty seconds to find the matching plates. The goal is to work together so that every customer is satisfied with their orders; however, if you reach five angry customers you have lost the game. There are 36 plate tiles, 36 food cards, 1 score board, 30 second timer and 5 customer tokens. Since this is a cooperative game it was easy to include additional players. It is great for language development as we talked about foods the kids hadn't tried yet as well as shared decision-making. Priced on Amazon at $15.99, this memory game designed for ages 5 and older.
Bellz by Spin Master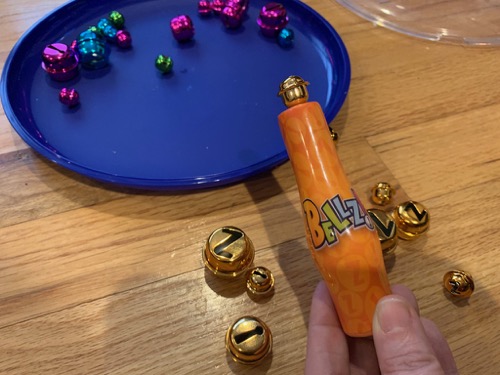 Bellz is a simple game to learn the rules, but challenging to win as players are tasked with collecting the most amount of bells. With three different sized bells, each player is assigned a color. The player to collect the first ten is the winner! This game is great for hand eye coordination and fine motor skills. It is available for less than $15 on Amazon.
Bunny Peek-A-Boo by SmartGames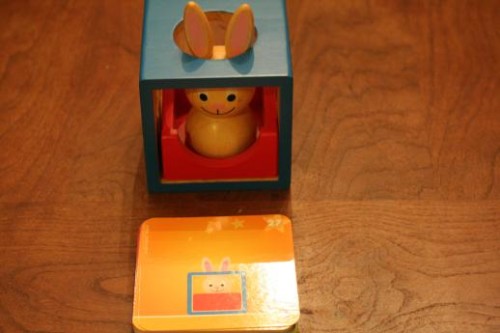 The purpose of this game is to duplicate the image on the card with the physical pieces.  While it may sound simple, SmartGames designs their games so that there are four levels of difficulty so that the player is consistently challenged. Bunny Peek-A-Boo is a strategic game that offers children many opportunities to challenge themselves. It is recommended for children two years and older. You can purchase your own Bunny Peek-a-Boo for $29.99 on amazon.
Cat Crimes by ThinkFun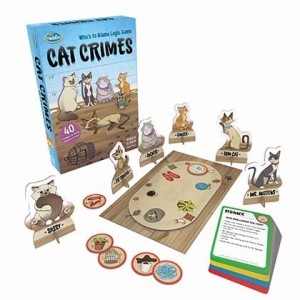 If your family loves cats, then you will love this interactive game from ThinkFun. Players have to figure out which sneaky cat was responsible for the crime. This game enhances problem solving, critical thinking and reasoning skills. It also helps children build important focus and attention skills. This game is recommended for ages 8 and up, and can be found on Amazon for under $13.
Chrono Bomb by PlayMonster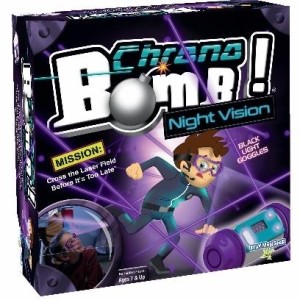 If your kids are like mine, then they love trying out those cool laser mazes where they crawl under and climb over lasers scattered throughout a dark room. Well, now with Chrono Bomb Night Vision, kids ages 7 and up can create their own laser maze right at home! Using a 37-foot string and clamps, players can make a laser field to creep and crawl through. Kids wear UV goggles to illuminate the string creating a laser beam affect. Since the maze is created using a string not actual lasers, Chrono Bomb can also be played during the day. This is an awesome game to help enhance fine and gross motor skills as well as problem solving, spatial awareness, visual scanning and critical thinking. Chrono Bomb is under $20 on Amazon.
Dirty Pig Card Game by North Star Games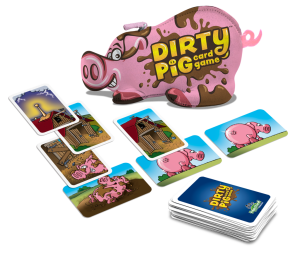 Get your pig dirty!  In this easy and engaging family card game, the goal is quite simple that your pigs want to be dirty.  This games takes minutes to learn as it is easy to get your pigs dirty but the challenge is keeping them that way.  Your opponents will use action cards to make your pig clean.  Designed for children ages 6 and older it invites 2-6 players.  Priced on Amazon for less than $20 this game travels well in an adorable pouch which makes it great for family game night or road trips!
Eye Found It Hidden Picture Games by Wonder Forge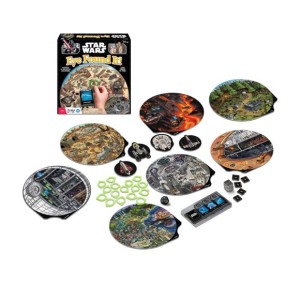 I love Eye Found It Games. They enhance visual scanning, problem solving, spatial awareness and visual discrimination skills. It also helps improve social skills such as turn taking. The Journey Through Time Eye Found It game also enhances academic knowledge especially in the area of history. There are different versions that can appeal to the Star Wars fan, the Disney lover, and more! This fun and educational game that is recommended for children three and older.  It can be purchased on Amazon where price varies by version!
Full Circle by Play Monster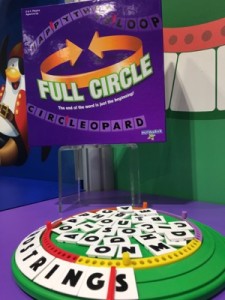 This exciting game will have the entire family learning together while having fun! Players have to spell words along the rim of the board using the provided letters. Each player has to build off of the last player's word. The player who earns the most points wins! This is a fun game of strategy that also strengthens spelling skills and vocabulary. This game is recommended for ages 8 and up but if your little one wants to play too, let them! You can find Full Circle on Amazon for under $20.
Funky Chicken by North Star Games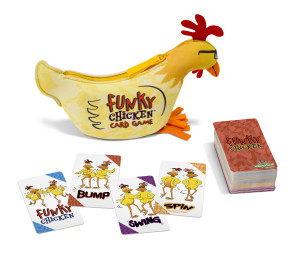 Funky Chicken is part of the Happy Planet series games from North Star Games that encourages the whole family to get involved and move their body while laughing. Cards invite players to perform different dance moves and it's easy to get individuals of different levels involved. Recommended for ages 6 and up, each game lasts about two minutes so this game moves at a pace that keeps everyone's attention. Funky Chicken can be purchased for under $20 on Amazon.
Giggle Wiggle by Goliath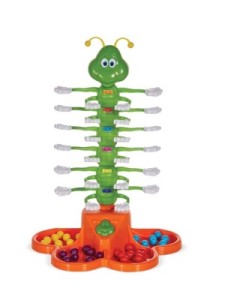 Giggle Wiggle is a fun and engaging game kids of all ages will LOVE! Players race to see who can get their marbles to the top of the tower first but be careful because the caterpillar wiggles to the music so your marbles can fall at any moment. This is a great game to enhance color recognition, fine motor control, motor planning, visual-motor integration, patience and problem solving skills. Giggle Wiggle is recommended for ages 4 and up. It can be found on Amazon for less than $10 and at your local toy store.
Happy Salmon by North Star Games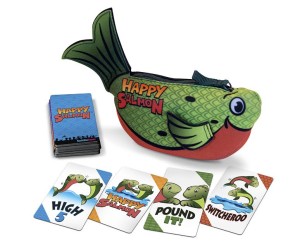 Compact but packed with lots of fun, Happy Salmon had us laughing within minutes!  Players have to match their cards with another player and act out the physical celebration.  It encourages quick thinking and has built-in celebrations as each match is made. Everyone can participate in this game that we know will have you laughing.  It is designed for 3-6 players for ages 6 and up. Priced on Amazon for less than $15 this is a great price for a wonderful game.
Harry Potter Pictopia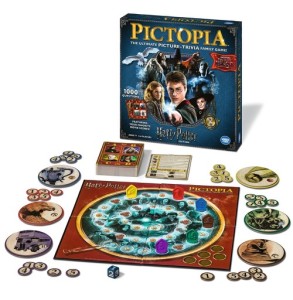 Test your Harry Potter knowledge while playing Pictopia: Harry Potter Edition! With over 1000 picture trivia questions about objects, beasts and characters featured in Harry Potter and Fantastic Beasts, this is the perfect game for the ultimate Potterhead. Pictopia is a game of both competition and teamwork making it the perfect option for family game night. It is recommended for ages 7 and up and can have 2-6 players. Pictopia: Harry Potter Edition is available for under $20 on Amazon.
The Logo Game by PlayMonster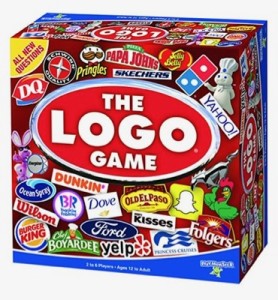 Test your knowledge of everyday Logos and symbols with this fun game from PlayMonster. With 1600 new questions on 400 cards, The Logo Game will test your visual skills and long term memory. You will also learn some interesting facts along the way. The Logo Game is perfect for family game night! It is recommended for ages 12 and up and can be purchased for under $25 on Amazon.
Pop the Pig by Goliath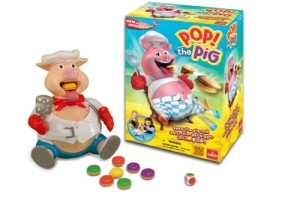 To play Pop the Pig, kids roll the die then choose a hamburger based on the color they roll. Each hamburger has a number on the bottom. The players put the hamburger in the pig's mouth then pump his head as many times as the number found on the burger. When the pig gets too full, he pops! This game is great way to teach color recognition, number recognition and one-to-one correspondence. Kids also improve their pincer grasp as the pick up the burgers and build muscle strength when the pump the pig's head. Pop the Pig is recommended for children 4 years and older.  It is available for under $23 on Amazon.
Q-bitz by MindWare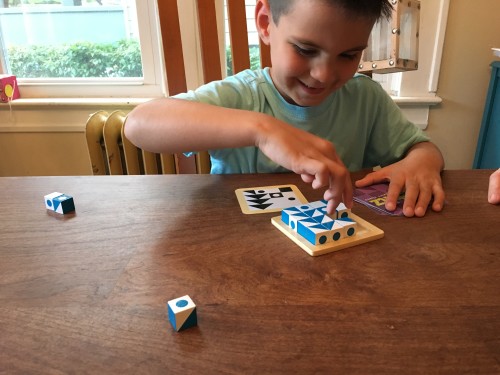 I love games that challenge your memory as well as visual dexterity which is why Q-bitz has become popular in our household. Players are given an image that they are challenged to recreate using 16 different cubes. On each side of the cube is a different pattern. What I appreciate about this game is the various methods to play the game and that it can be played individually or within a group. Included in the game are 4 trays with 4 different colored cubes that accommodates up to four players as well as up to 16 challenges. Q-bitz encourages children to learn while playing as they improve their spatial recognition and organizational skills.  Priced on Amazon for less than $20, it works well with children ages 8 and older.
Qwirkle by MindWare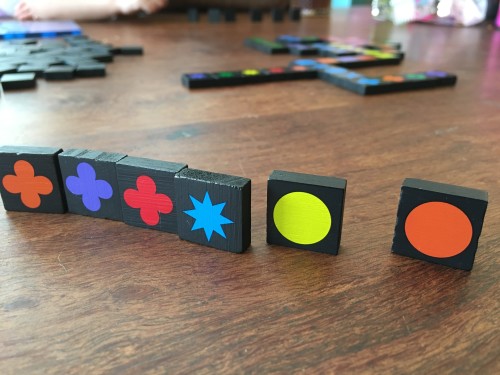 Qwirkle has existed for a long time and there is a good reason this game is perfect for young children. It encourages us to think about problem solving skills and strategy. It is recommended for children ages six and older, as players are given chips in various colors and shapes. The goal is to match as many of the chips either by color or shape. Qwirkle received the Parents' Choice Gold Award for its simple and straightforward design that yields wonderful learning opportunities. It is priced on Amazon for less than $25.
Three Little Piggies by SmartGames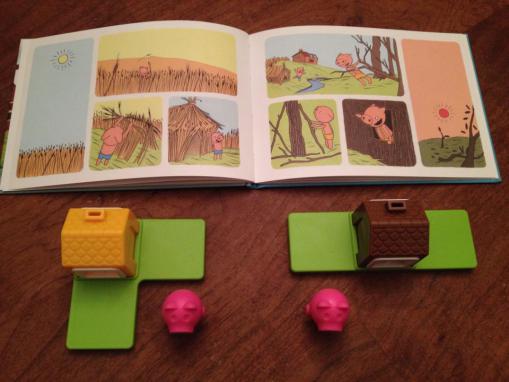 SmartGames puts together some fun and mentally challenging games for children to adults.  The Three Little Piggies game includes a book so that story telling can be incorporated with the game which is ideal for children ages 3-6 years old.  It includes 48 challenges which translates into hours of fun! This game also opens the door for cooperative play as well as developing problem solving skills. Read our Three Little Piggies review here. You can purchase this amazing game for under $30 on Amazon.
Twangled by MindWare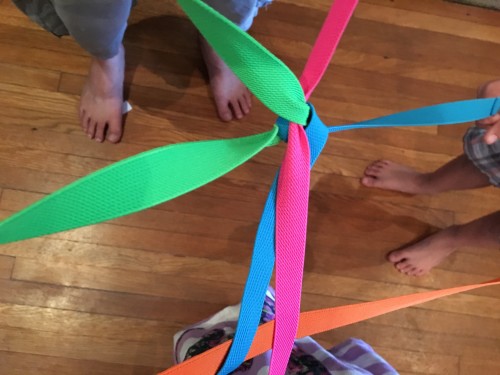 Twangled has been one of the easiest games to understand, but also one of the most difficult games to solve. This game requires all players to work together. After each player picks a different color band, the group forms a circle holding the end of the band of the person next to them. Each player kicks the spinner which directs them to go Over or Under and the specific color band. After each individual has two turns, the group is now Twangled! Now the group works together through problem solving and effective communication skills to become untangled. We laughed the entire time we played this game. Since there is a lot of movement we believe this is also a wonderful game on a rainy day or snow day. Priced on Amazon for less than $25, it can have up to 8 players and is recommended for kids 6 and older.
Disney Villainous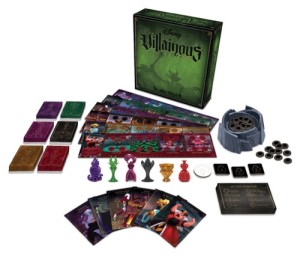 Disney families everywhere will LOVE playing Disney Villainous from Wonder Forge! This fun game of strategy features 6 of your favorite villains (Maleficent, Ursula, Jafar, Captain Hook, Queen of Hearts and Prince John) along with Fate Deck cards that feature beloved characters like Ariel, Peter Pan and Robin Hood. Villainous can be played with up to 6 people and is recommended for ages 10 and up. Players must use strategic thinking and problem solving to make sure their villain completes their objective. Disney Villainous is available for under $35 on Amazon.
Where's Olaf by Wonderforge

Kids will have a blast playing this hide-and-seek game with friends and family. Playing Where's Olaf? will enhance deductive reasoning, problem solving, language and social skills all while having fun. Players have to ask questions to find out where Olaf is hiding before the time runs out. It's fun for entire family! Where's Olaf? is under $30 on Amazon.
Wordspiel by Set Enterprises
If you are looking for a fun game to help build a young child's vocabulary, then Wordspiel is the perfect game for you. Each player receives ten cards with a letter on each card. After the first player builds a word using their cards, the other players have to use the last letter as the first letter of their word. It will make you think of and learn new words as well as laugh! Sold on Amazon for less than $12, it is great for children ages 8-12 years old.
Yoga Spinner by ThinkFun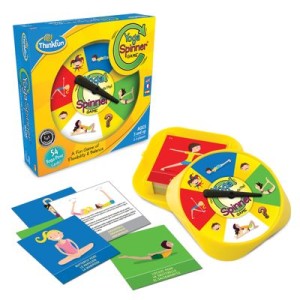 Help kids build balance, coordination, flexibility and motor planning with the Yoga Spinner from ThinkFun. Kids ages 5 and up will love recreating Yoga positions while having fun with family and friends. Not only will they strengthen their bodies but also their minds. It also encourages teamwork while encouraging healthy physical activity. ThinFun Yoga Spinner is under $12 on Amazon.
Mindful Kids by Miniland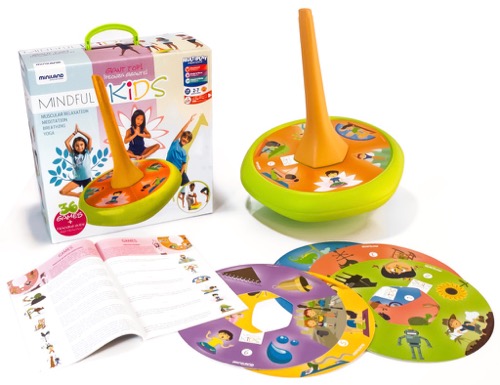 Mindful Kids is a wonderful game for children ages 2-7 years old to help enhance self-awareness. While playing, children are also increasing motor skills, coordination, vocabulary and social skills. Mindful Kids is a great way to get kids ready for learning in the morning or to wind down before bed. It offers 36 mindfulness activities using 4 themes: conscious breathing, muscle relaxation, yoga and meditation. Mindful Kids can be purchased at Michaels and Amazon for under $50.
Meltdown by PlayMonster
We absolutely LOVE this game in our house. It's an easy game to play but offers hours of fun and learning. To play, you set up a glob of slime on the top of the container. Then place a plastic piece on top of the slime. Players take turns placing blocks on the plastic piece. As the slime moves, the blocks begin to topple. The first person to safely put all their blocks on top WINS! This game is great for enhancing fine motor, motor planning, problem solving, and spatial awareness skills. Meltdown can be found on Amazon for under $10.
Harry Potter Triwizard Game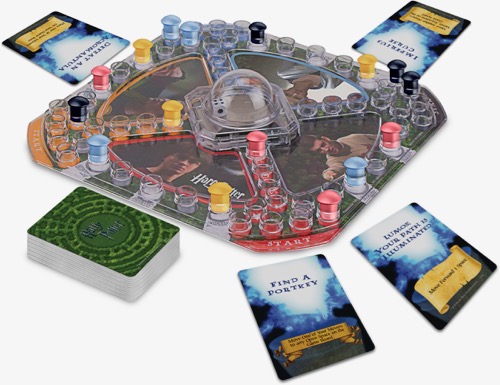 My boys absolutely LOVE this game and would play it every day if they could. It is an easy game to play but each time you play there can be a different outcome or winner which makes it fun and exciting for kids. Players have to make their way around the maze to win the Triwizard Cup. The 48 maze cards correspond to the movies so it is a fun way to bring the story to life. This game is recommended for ages 5 and up and can be played with 2-4 players. The Triwizard game is available on Amazon for under $10.
The Memory Palace Game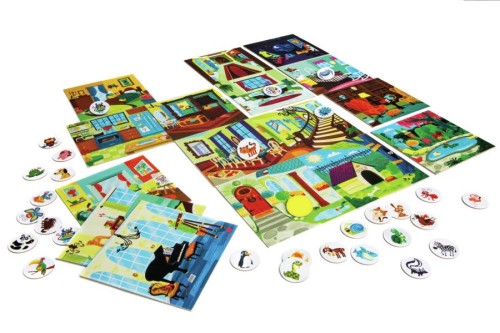 The Memory Palace Game offers a fun and unique way to enhance skills such as visual and auditory memory, vocabulary, storytelling and comprehension. When playing The Memory Palace Game, players have fun using their imaginations by creating silly stories using 27 different animal tokens. Players have to then remember each story in the order it was told. It's a fun game night experience for the entire family. Memory Palace is under $20 on Amazon.
What is your favorite game to play with your family?
You may also enjoy: