Who said a pool is just for swimming and splashing?
As you know, at Mommy University we are always looking for ways to incorporate learning into activities we do with our kids. We also look for easy and affordable activities that moms and dads can do right at home. After coming up with 5 ways to use a sandbox, I started thinking about what else we could use in a different way this summer. That's when it came to me…kiddie pools!
Many people have small kiddie pools. You may have even thought about throwing yours in the trash because it has a small hole or it's just time to upgrade. Don't do it! After getting creative at home and seeing cool ideas while out exploring, I have come up with 5 ways you can use your kiddie pool to add some more fun and excitement to your summer. Some activities you can even do year round which means gone are the days of shoving the plastic pool in the shed! (Affiliate links are included to make it easier for your adventures to begin!)
Brain Boosting Ways to Use a Kiddie Pool
Fishing Pond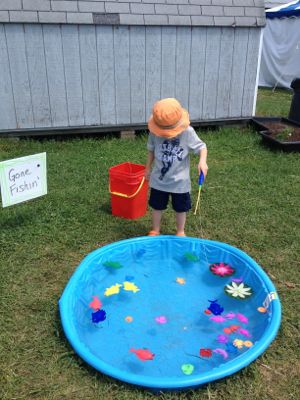 This is an activity I am sure you have seen at summer carnivals and fairs. All you have to do is fill your pool with water and add plastic fish. Then have the kids go "fishing." You can buy a set like the Magnetic Fishing Playset from Lakeshore Learning Materials and a John Deere Electronic Fishing Pole, or you can get small fishing nets like the Melissa & Doug Happy Giddy Bug Net or POOF Dive Pets Fishing Net and have the kids practice scooping fish (and other aquatic toys) out of the pool. Want to make it more academic? Write letters on the fish then have the kids make words with the fish they caught. You can also have them fish for all the letters that make up their name.
Sandbox
After seeing a small kiddie pool on sale at Toys R Us for only $5, I thought, "Wow that would make an awesome sandbox." Although I LOVE traditional sandboxes, making your own out of old kiddie pool or one that costs just $5 can be just as amazing. All you have to do is fill the pool with sand and add toys. It's that easy. I suggest getting a large piece of wood or a tarp to cover it at night so animals don't get in it.
Ball Pit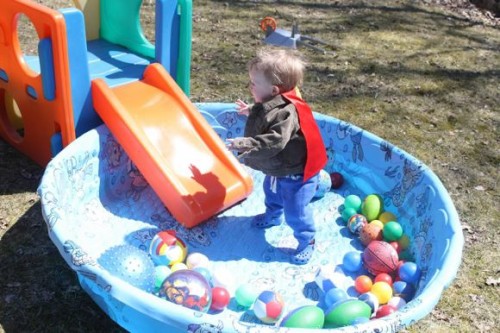 For my son's 4th birthday party, I set up a "superhero training ground" in my backyard (a.k.a. glorified obstacle course). I wanted to use what I already had at home so I took all the balls we had in the house and threw them in our kiddie pool. It was too cold for swimming so why not use it for something else? I then had a slide going into the pool. The kids had so much fun sliding into the ball pit. It's a great sensory experience as well. You can get a pack with 50 or more balls on Amazon.
Boat Races
A fun activity to do with the kids is to make your own boat. There are so many varieties from kits like Make Your Own Wooden Sailboat from Baker Ross to making your own using wine corks and rubber bands. I suggest searching Pinterest for some fun ideas and examples. Once your boat is created, place it in the pool. See how it does when you make waves and when you blow wind at it through a straw. You can also invite friends over and have race! To add some science into the mix, collect data on what characteristics makes a boat faster, steadier and stronger.
Container Garden
While I was developing this list, I thought how cool it would be to turn a kiddie pool into a large container garden. After checking google, apparently this was not a new idea, but seeing that it has been done before made me feel more confident in suggesting it. I also became inspired to try it myself so I took my mom's old kiddie pool (the same one that is on sale at Toys R Us for $5) to create my own garden with my kids. We will add dirt and vegetable seeds and then watch as our garden grows!  Growing a garden with your child offers so many benefits and this is an easy to encourage them to develop a green thumb.
Bonus: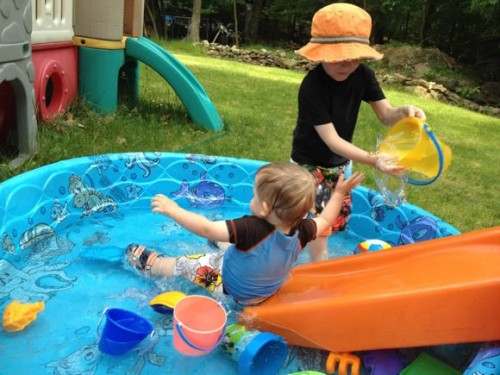 Are your kids getting tired of the small pool? To make it more exciting add a slide. You know, the small plastic slide they are also tired of playing with. Once you put these two "boring" things together, you have created hours of new play opportunities!
So there you have it, 5 fun ways to use your kiddie pool! Have fun!
You may also like: