"A person should set his goals as early as he can and devote all his energy and talent to getting there. With enough effort, he may achieve it all." ~ Walt Disney
My son's dream is to be a Disney Imagineer when he grows up. We have watched the Imagineering Story over and over on Disney+, and we have talked about what themed areas or parks we would want to build. That is why I was beyond excited when I found out that Disney teamed up with Khan Academy to bring the most magical online learning program EVER!
Imagineering in a Box offers a behind the scenes look into the magical world of Disney and imagineering. Through each of the lessons, students will learn concepts in architecture, design, landscape, digital art and so much more. Disney fans will also learn how their favorite theme parks were designed and brought to life!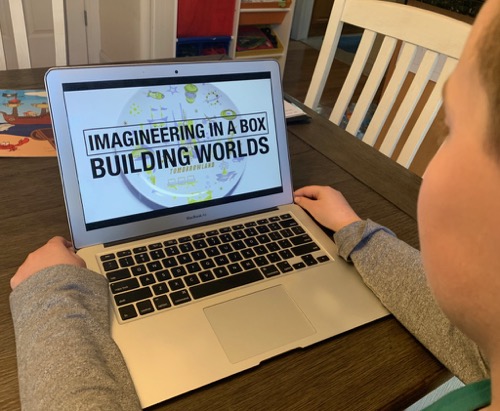 What is Imagineering?
It's hard to explain the importance of this program without explaining what Imagineering is. Imagineering refers to the Walt Disney Research and Development department. It consists of a complex group of creative individuals that design and build all of the Disney theme parks, resorts, cruise ships, attractions and more all over the world. Walt Disney put together this unique group of artists and scientists in order to develop Disneyland and all the parks and attractions that followed. According to Imagineering in a Box, Imagineering is a "collection of diverse disciplines coming together." This includes engineers, costume designers, digital sculptors, carpenters, mechanics, comedians, painters, color specialists, architects, mathematicians, song writers…okay, you get the point. In short, Imagineers are MAGICAL people that bring happiness to the lives of millions of people around the world!
How It Works:
To start, just go to https://www.khanacademy.org/humanities/hass-storytelling/imagineering-in-a-box/. You can go at your own pace and complete each lesson/exercise at your leisure. You can rewatch each section as well making it perfect for all types of learners. In addition, there are closed captions on each video for those that prefer to keep the volume off or are hearing impaired.
Imagineering in a Box offers 3 Lessons: Creating Worlds, Designing Attractions and Bringing Characters to Life. Within each lesson are videos with project-based exercises that go along with the videos. For example, for one of the exercises within the Creating Worlds Lesson, my son had to draw a map of his own themed land. He also learned all about choosing the right landscape and plant life as well as picking a color pallete. Some exercises even offer quick and easy quizzes or questions to make sure the student is understanding the concept being discussed.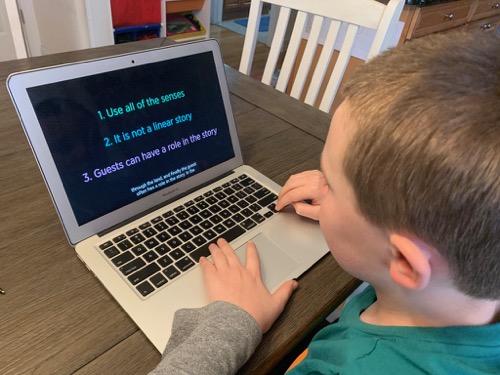 Each video is narrated by Imagineers Dawson Dill and Margaret Kerrison. It also features interviews with other amazing Disney Imagineers. If you watched the Imagineering Story on Disney+, then many of the faces will be familiar to you. Imagineering in a Box is student-driven; however, it does offer an Educator's Guide as well.
Benefits of Imagineering in a Box
Get Excited About Learning
 "I have long felt that the way to keep children out of trouble is to keep them interested in things." ~ Walt Disney
Sometimes it's hard to get kids excited about learning. Finding an interest can motivate a child to not only learn but to truly engage in the learning process. Imagineering in a Box is the perfect learning experience for kids who love Disney as well as for those that want to design and create when they grow up. The program is challenging but fun at the same time!
Encourages Imagination
"Disneyland will never be completed. It will continue to grow as long as there is imagination left in the world." ~ Walt Disney.
Imagineering is created from the words imagination and engineering. Walt Disney loved tapping into the imagination of all that worked with him and for him. One's imagination can be very powerful, especially when it is used to invoke happiness, joy and laughter. Imagineering a Box helps kids tap into their own imagination and create things they never dreamed of before.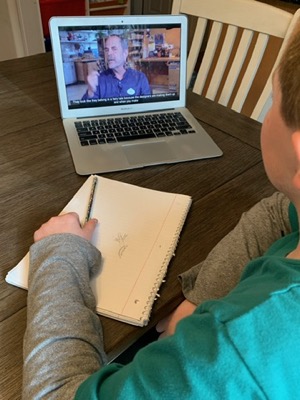 Enhances an Understanding of STEAM Concepts
 "You can dream, create, design and build the most wonderful place in the world, but it requires people to make the dream a reality." ~ Walt Disney
Now, let's look at the engineering part of imagineering. Imagineering in a Box teaches students all about science, technology, engineering, art and math. Kids can learn about architecture and design, sound engineering, botany, culinary arts, physics and so much more. It's amazing how much science is used to create Disney theme parks!
Engages All the Senses
"Imagineers tell stories using all our senses." ~ Josh, Imagineer
Sound, smell, sight, taste, touch…Imagineering in a Box encourages students to delve into each of the senses when creating their themed land. Students learn how to choose the right architecture and colors, find the right music, decide on the perfect food and more. Since my son has also expressed an interest in being a chef, the lesson on choosing themed food for his park was perfect for him!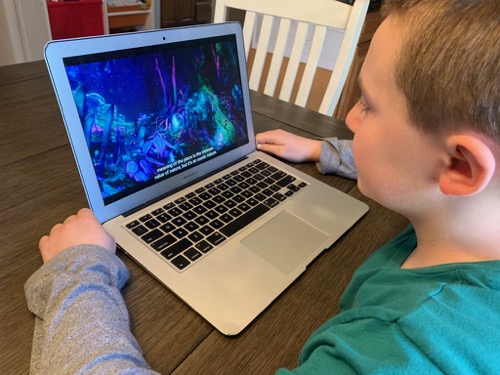 There are so many reasons to LOVE Imagineering in a Box. Please follow the MU Facebook and Instagram pages as I will be sharing my son's journey with this incredible program. If you like this program, you may also enjoy Pixar in a Box!
You may also enjoy: