No Passport Needed Today!
At Mommy University we have advocated for children to visit museums at a young age because of the numerous benefits; however, social distancing is the new phrase of the day. We are all taking steps needed to stay safe and healthy but that means we miss out on so many adventures and experiences, or do we? 
Did you always want to see the artwork of Salvador Dali but visiting Spain is not an option? Maybe you just want to take a quick trip to the numerous museums of New York City like the MOMA or the Met? Even better what are your thoughts on visiting the moon? Museums and other learning facilities are offering FREE virtual tours, videos and experiences that can be enjoyed right from your own home. From online story time to virtual tours to livestreaming performances and animal webcams, here is a list of what you can enjoy:
Educational Virtual Field Trips
Museum Virtual Tours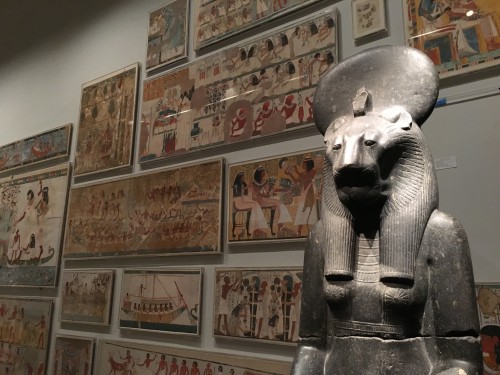 Smithsonian's Air and Space Museum, Washington DC
The iconic Air and Space Museum has the machines that have defied gravity taking us to the skies and outer space. It is a delight for children to visit so take them on a virtual tour that enables them to see cool means of transportation.
British Museum, London England
At the heart of London is the British Museum which allows visitors to tour the Great Court. This unique visual perspective will highlight different artifacts in the museum.
The Field Museum, Chicago
The Field Museum has opened its collection to the public online where children can look at photos of animals and insects, fossils and meteorites and more! As well, The Field Museum has a really cool YouTube, The Brain Scoop, channel filled with scientific concepts in ten minute clips such as exploring how birds inspire builders or what do fossils tell us about climate change.
The J. Paul Getty Museum, Los Angeles
Referred to as The Getty, this well known art museum located in Los Angeles has artwork from 8th Century to architecture to gardens.  
Guggenheim Museum, New York
The Guggenheim has an architecture that is immediately recognized which is what makes this virtual tour so fun! The Street View feature lets virtual tourists click through the famous spiral staircase. As well, you can visit several online collections.
The Louvre, Paris
One of the most famous museums, The Louvre, hasn't closed its doors as you can visit this museum online with its virtual tours. It features some of the most important and popular exhibits. You can walk through using 360-degree look at the museum. 
The Metropolitan Museum of Art, New York City
We love The Met which is so massive it may take days to see every exhibit. With over two million works of fine art, you can now tour this iconic museum and enjoy a large collection of online exhibits.
Museum of Modern Art (MOMA), New York City
Modern art captures children's imagination and the Museum of Modern Art (MOMA) has not only fantastic traveling exhibits but it has a stunning permanent collection.
Musée d'Orsay, Paris France
Monet, Cezanne and Gauguin…famous artists who artwork is housed at the Musée d'Orsay. Take a quick trip to Paris this afternoon to observe famous work from French artists.
NASA, Houston Texas
The Space Center in Houston offers FREE virtual tours with an animated roboto named Audima as your guide. This is a great option for kids who are fascinated by outer space and engineering.
Smithsonian National Museum of Natural History, Washington D.C.
One of the most visited museums, the National Museum of Natural History offers a diverse range of exhibits which are now available in an online virtual tour. Click through the Hall of Mammals, Insect Zoo, Egyptian exhibit, Hall of Geology, Gems, and Minerals! There is so much to see here!
National Museum of the United States Air Force, Dayton
The official museum of the United States Air Force, located in Ohio, houses a large collection of military weapons and aircrafts. The virtual tours include aircrafts from World War II, Vietnam and the Korean War.
National Museum of Modern and Contemporary Art, Seoul Korea
Visit one of Korea's most popular museums, National Museum of Modern and Contemporary Art, from your sofa!  Click through six floors of contemporary art from this country as well as around the world.
National Women's History Museum, Alexandria Virginia
Through online exhibits that focus on the role of women in American history, the National Women's History Museum has a goal to inspire, empower and shape the future.  
Van Gogh Museum, Amsterdam
Visit the largest collection of artworks by Vincent Van Gogh by enjoying a virtual tour of this location which has over 200 paintings, 500 drawings, and more! The Van Gogh Museum is a Dutch art museum dedicated to Van Gogh and his contemporaries.
Google Art Project
If you have enjoyed exploring some of the museums we have included in this post, then definitely check out the Google Art Project which is an ongoing program that offers virtual tours to more museums!  Do you want to visit an Insect Museum in Asia or how about art museums in Brasil, Puerto Rico, and throughout Europe? Visit Google Arts and Culture website for more incredible 360 degree videos!
Performing Arts Livestreams
Alvin Ailey All Access
As performances are postponed, take this opportunity to explore the stunning performances that made Alvin Ailey a household name.  Ailey for All will offer videos of different performances.  Don't forget to check their social media for lessons on dance styles you can learn at home.  Remember #TheShowMustGoOn
Metropolitan Opera House
While we are saddened by the closing of theatres, The Metropolitan Opera House has found a unique way to entertain its fans while simultaneously introducing a whole new audience to this classic music that has withstood the test of time. Starting on March 16, the Met Opera has been streaming "Live in HD" series through its website.  The daily stream begins at 7:30pm and will be available for 20 hours.
Vienna State Opera
Expose children to rich culture from the comfort of their home as the Vienna State Opera opens is virtual doors to listen to the Opera. They can watch live events from tv or mobile devices which requires the Vienna State Opera Live App.  All performances are available for 72 hours after it has been live streamed. 
Animal Encounters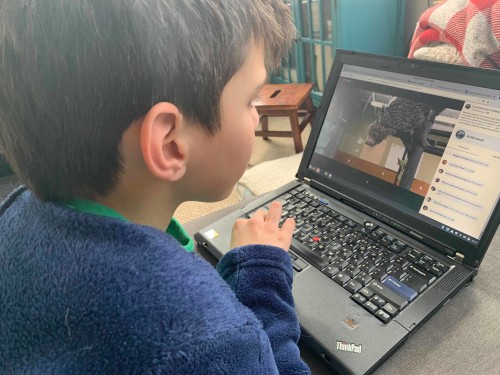 American Dairy Association Virtual Tours
Mooove along to The American Dairy Association which offers virtual tours to several different farms with the topics based on age.
Cape May County Zoo
Each day at 11:30am the Cape May County Zoo will be going LIVE on Facebook! This virtual tour will feature different animals.  Share your at home projects inspired by this tour with #CMCZooSchool.
Cincinnati Zoo
Each day at 3pm, the Cincinnati Zoo will feature a different resident in a virtual animal encounter. This Facebook LIVE allows observers to ask questions and learn more about the animals and their needs. Their YouTube channels is also filled with plenty of fun videos in case you miss the live including clips of our favorite Fiona the Hippo.
Mystic Aquarium
It is the goal of Mystic Aquarium to go LIVE each day on Facebook! We love Mystic, check our review here. If you haven't been definitely add to your bucket list after social distancing is over.
ZooAmerica
Throughout the week, ZooAmerica offers videos on Facebook highlighting various animals. It is both fun and educational.
For more animal encounters, click on the picture below: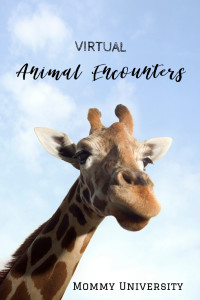 Live Educational Lessons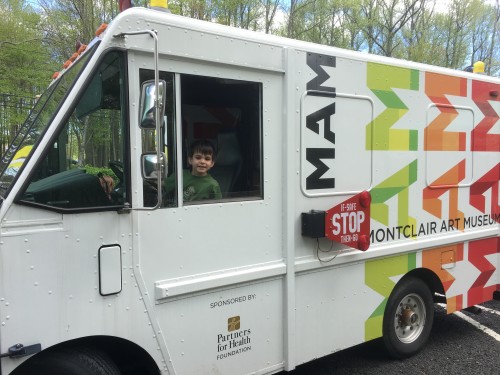 Globe Theatre Streaming Shakespeare
The South Bank's Globe Theatre may have temporarily closed its doors but they also acquired the recordings of many of the theatre's recordings of various Shakespeare adaptations. From Jonathan Pryce to to Ellie Kendrick, you can cross the pond to England from the comfort of your home.
Mo Willems
Whether it's the Pigeon or the adventures of Elephant and Piggie, Mo Willems is a favorite author amongst many children. On the Kennedy Center website, budding artists can find videos like Democracy Doodle and Lunch Doodles!
Reef Relief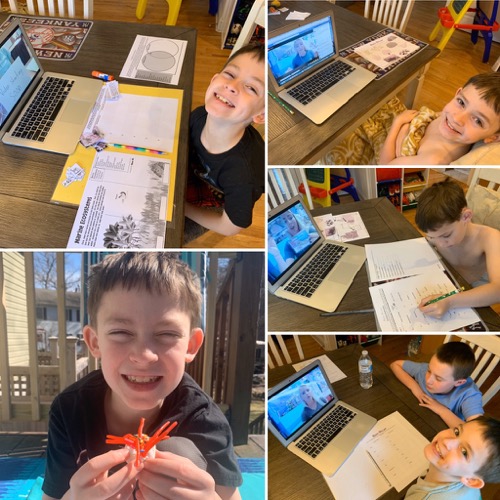 Our favorite LIVE virtual lessons was the Marine Science classes hosted by Reef Relief. For each lesson, Reef Relief offered worksheets and fun activities such as experiments and crafts to enhance the lesson. My boys learned about mangroves, coral reefs, sharks, manatees and much more!  Although the program is no longer live, the video lessons can be found on Youtube. For more information, click here!
Unique Locations
Coral Reefs of Palau
Children can learn about the importance of the Coral Reef as well as how it supports the various characters that rely on this system.
Deserts and Grassland of Africa
Take a field trip to the grasslands and deserts of Africa on this educational tour.
Discovery Virtual Field Trip
This database of virtual field trips is FREE!  You can filter by category to find some hands on learning experiences all compiled by the Discovery Education.
Google Earth
We always dream of traveling the world, but it's not always possible and that's why Google Earth takes on a fun element!  You can look online to find locations you are reading about in stories or history.
If you feel virtually scanning the globe is limiting check out the Moon!  You can take tours of landing sites, view 3D models of landed spacecraft and zoom into 360 degree photos to see astronauts' footprints.  
The Great Wall of China
Over 2,000 years old stretching over 3,000 miles the Great Wall of China can now be explored through this virtual tour.
Mars
While Matt Damon may not have enjoyed this planet, you can enjoy from the comfort of your home. Using the Mars Rover to explore the surface this is a great field trip!
Virtual Story Time Readings*
For an extensive list of virtual and live streamed story times, click here!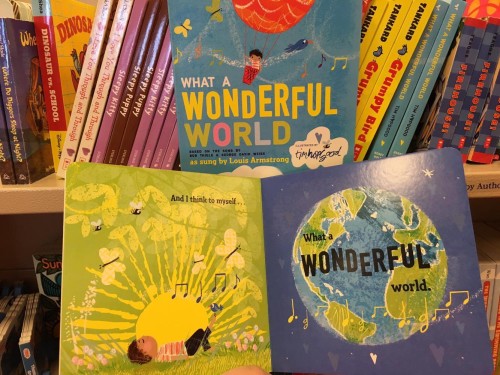 Have an astronaut read to your child
Astronauts on the International Space Station have been making story time videos for years and this is a fun way to open the topic about space and STEM topics! (You can even follow along to see where the ISS is flying over.)
Have a celebrity read to your child
If you need a few minutes or a quick break from story time, check out Storyline Online where various celebrities are reading different children's stories. From Dule Hill to Kristen Bell, you might be surprised by the variety of books.
For more story times, click on the picture below!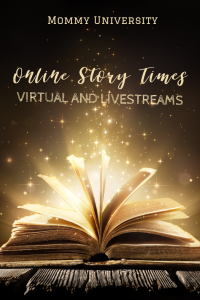 Animal Live Cameras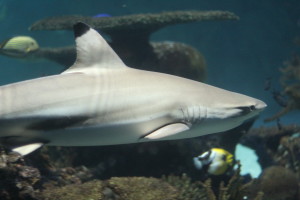 For my family, we regularly visit zoos and aquariums. This is another source of immense developmental and educational growth for children. Since we don't know the length of time social distancing will take place, here are some links of animal web cams for your or your child's enjoyment. If you haven't been to The National Aquarium you can now put on the relaxing view of the Pacific Coral Reef.
The Georgia Aquarium Beluga Whale Webcam
The Georgia Aquarium Jelly Webcam
The Georgia Aquarium Underwater Puffin Webcam
The Georgia Aquarium Ocean Voyager Webcam
The Georgia Aquarium Indo-Pacific Webcam
The Houston Zoo Giraffe Webcam
The Houston Zoo Gorilla Webcam
The Houston Zoo Elephant Webcam
The Houston Zoo Leafcutter Ant Webcam
The Houston Zoo Chimpanzee Webcam
Liberty Science Center Mole Rat Webcam
Liberty Science Center Tamarins Webcam
The Monterey Bay Aquarium Webcams
The National Aquarium Blacktip Reef Live Cam
The National Aquarium Pacific Coral Reef Live Cam
Ripley's Aquarium of the Smokies Penguin Cam
Ripley's Aquarium of Canada Shark Cam
Ripley's Aquarium of Myrtle Beach Penguin Cam
Smithsonian's National Zoo Webcams
Mommy University Tours
Mommy University has traveled all over the country and has captured some of these experiences on video. Here are some of our tours that you may enjoy while learning at home!
Buttermilk Falls at Stokes State Forest
Six Flags Great Adventure Wild Safari Drive Thru
National Aquarium in Baltimore
Mayan Cacao Company in Cozumel, Mexico
Terrapin Nesting Project in LBI
Medieval Times Show Highlights
Festival of Fantasy Parade in Disney World
Ripley's Aquarium in Myrtle Beach
As we find more virtual tours and experiences, we will add them to the list so make sure to bookmark this page! Know of more virtual learning fun? Share them in the comments section below!
You may also enjoy: