When you think about fall, I am sure you think pumpkin spice, Halloween costumes and changing leaves…BUT I am here to make sure you add Hershey, PA to your list! Every fall, Hershey, PA transforms into a spooktacular Halloween experience you can't miss. Visiting Hershey, PA during the fall season is a MUST DO experience for individuals of all ages. Although Hershey is a great family travel destination, it is also great for couples, scout groups, reunions, weddings and more!
During the fall season (October 1-November 1), Hershey offers a wide variety of adventures at locations scattered around the town. From Hersheypark in the Dark to themed chocolate lab classes at The Hershey Story Museum to Creatures in the Night at ZooAmerica, there is something for everyone to enjoy!
Ultimate Guide to Fall Fun in Hershey, PA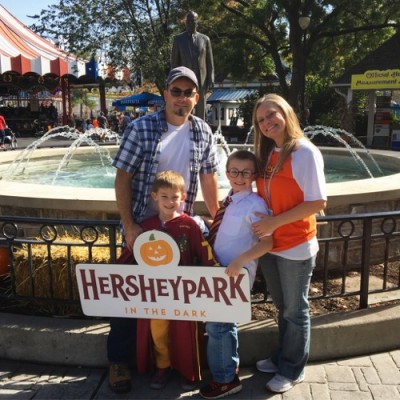 Activities at Hersheypark
During the fall, Hersheypark in the Dark is a MUST DO experience for families! It is a not-so-scary spooktacular event that takes place over 5 weekends, October 2 – November 1. Here is what you can expect:
Treatville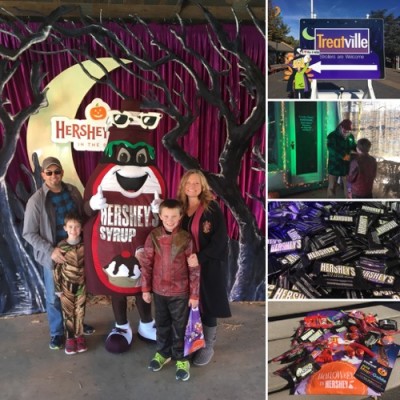 Guests up to 12 years old are invited to go trick-or-treating throughout Hersheypark. Come dressed in your favorite costume and walk through Treatville to collect some of the most delicious Hershey's candy. The trick-or-treat trail offers 13 stations throughout the park, Hershey's Chocolate World and ZooAmerica. Each child is provided a bag to collect the candy making it easier to carry all that loot around the park. Treatville is included with park admission.
Ride a Coaster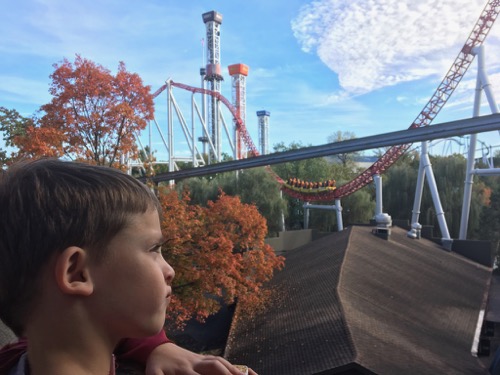 Yes, roller coasters will be open during Hersheypark in the Dark including the new Candymonium. What's even spookier is that during the last hour of operation each night the 3 wooden coasters will run with the lights OUT. How awesome is that?! Also, Laff Trakk, the indoor coaster, will transform into a Halloween adventure.
Singing Jack-o-Lanterns
Make sure to check out the singing jack-o-lanterns located on the hill near the Wildcat. The pumpkins are perfectly choreographed to light up during classic Halloween songs. There is also a large lit up jack-o-lantern face that "sings" each song. This is one of our favorite stops during Hersheypark in the Dark!
Our Friends of the Sea
In the fall, guests can still enjoy an amazing show at the Aquatheatre featuring California sea lions and Atlantic Harbor Seals. Following the show, for an additional fee, guests can feed the animals and/or take a photo with one of the animal stars.
Activities at ZooAmerica
Creatures in the Night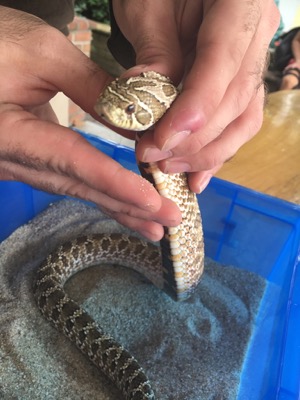 Pack those flashlights and head over to ZooAmerica for a night filled with thrills and chills! On select nights, guests can explore the zoo in the dark. This gives guests a firsthand look at how the animals behave at night. Admission to ZooAmerica is included with your ticket to Hersheypark.
Activities at Hershey Story Museum
Tastings: Chocolates from around the World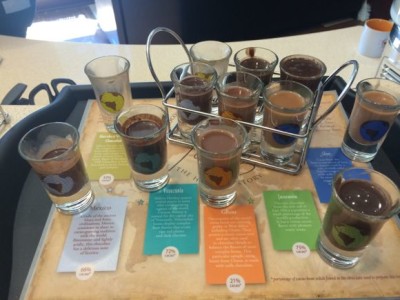 For a nominal fee, visitors at the Hershey Story Museum can enjoy warm drinking chocolates from around the world. Each one offers its own unique flavor. Tastings offers a wonderful multi-sensory learning experience.
Chocolate Lab Classes
This fall, have fun making (and eating) a delicious Halloween themed treat at Hershey Story Museum. Each class is about 45 minutes long and is offered to individuals 4 years old and up. For each class, participants will make a delicious treat to take home. Each budding chef will also learn facts about chocolate and gain important cooking skills. Tickets must be purchased in advance and classes take place throughout the day. Some Halloween themed treats include chocolate cobwebs, batty bar and spooky bark.
Activities at Hershey Gardens
The Hershey Gardens offers 23-acres of natural beauty including an amazing Butterfly Atrium. If you stay at the Hotel Hershey or Hershey Lodge, you are provided FREE tickets to the Gardens.
Pumpkin Glow
If you love jack-o-lanterns, then this is the event for you! On October 24, 25 , 31 and November 1 from 9am-5pm, guests can explore over 100 magnificently carved and painted pumpkins. Kids are invited to arrive in costume, and each child will receive a pre-filled bag of candy. Guests will also enjoy food trucks, performances, a scavenger hunt, and more!
Bonsai: Living Art of the Susquehanna Bonsai Club
Provided by the Susquehanna Bonsai Club, the Bonsai exhibit will highlight the beauty and magnificence of these unique trees. The exhibit is available daily October 7 – 31, and it is included with admission.
Activities at Chocolate World
In addition to its traditional experiences like the Chocolate Tour, Create Your Own Candy Bar, 4D Chocolate Movie and Chocolate Tastings, Hershey's Chocolate World offers exciting seasonal activities as well!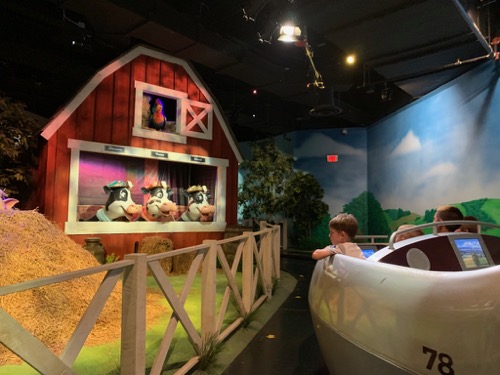 Trick or Treat Trolley Tour
During the Halloween Season, make sure to get tickets for the Trick or Treat Trolley Tour. Departing from Hershey's Chocolate World, the trolley takes guests through the town of Hershey while explaining its rich history. This is a family-friendly, interactive experience that everyone will LOVE. Plus, each rider will receive some sweet treats!
Trick or Treating
After you explore Treatville in Hersheypark, make sure to head over to Chocolate World to enjoy 3 spooktacular stations. Children 12 and under are invited to enjoy this trick or treating adventure. Make sure to pick up a Bucket List card so you can check off each treat spot as you find them! Trick or Treating is available October 2 – November 1.
Activities at the Resorts
Hersheypark Camping Resort:
Hersheypark Camping Resort offers cabins, tent sites and RV sites. With 2 playgrounds, family games and activities, horseshoes, crafts and more, it is the ultimate camping experience!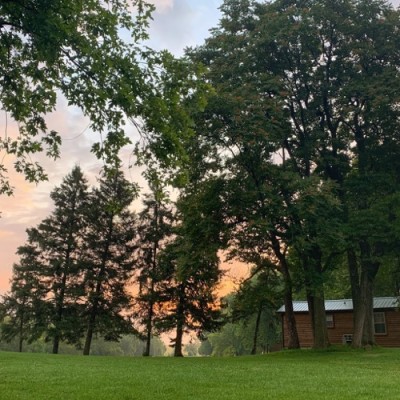 Site Decorating Contest
Do you think you have the scariest campsite? Well put your skills to the test at Hersheypark Camping Resort. During the Halloween Season, guests can decorate their campsite, cabin or RV and enter into their decorating contest to win sweet prizes.
Arts and Crafts
Fun Halloween themed craft activities like pumpkin decoarating are available throughout the day for camping resort guests. The crafts are FREE and make for a great break from hiking, eating candy and riding coasters.
Special Events
Make sure to check the activity schedule when you check-in to the Hersheypark Camping Resort because they offer fun special events throughout your stay. Some experiences include magic shows, character meet and greets, ZooAmerica shows, costume contest and more! They will also be offering trick or treating!
Hotel Hershey: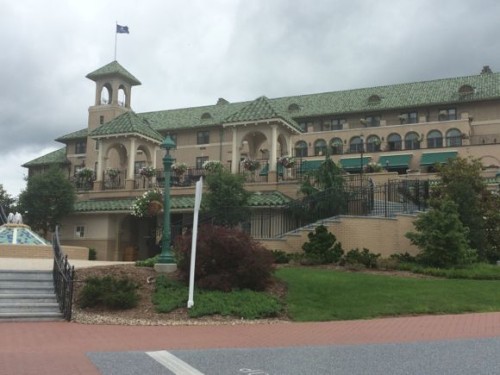 Hiking
Get out and enjoy the fresh fall air by exploring the hiking paths around The Hotel Hershey. The paved paths range from ¼ mile to 3 miles.
Falconry Experience
On Saturdays and Sundays in the fall, guests can book an incredible Falconry Experience for $65/adult and $25/child (under 12). Non-resort guests can also book an experience for a slightly higher adult rate. Participants will see flight and a simulated hunt demonstration as well as have the opportunity to have a falcon land on their hand!
Tours
From April through November, guests of The Hotel Hershey can enjoy an incredible segway tour around the resort. While exploring the grounds, guests will learn about the hotel's rich history and its importance to the town of Hershey. Historical tours cost $69/person while off-road tours are $79/person.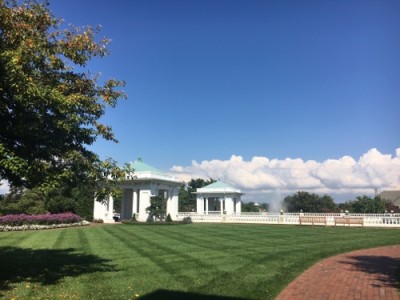 The Hotel Hershey also offers guests a FREE walking tour that is available year round. The Historic Tour of the Hotel takes place on select mornings and is run by knowledgeable hotel staff. During my last stay at The Hotel Hershey, I enjoyed an incredible tour of the hotel where I learned some interesting facts about the building and its grounds.
Special Activities
Throughout your stay at The Hotel Hershey, guests can enjoy sweet activities. These include games, contests, chocolate BINGO, putting course, s'mores roast and much more. Guests can also enjoy Glow Putt on Friday and Saturday nights. This activity is an additional fee. Plus, don't forget to check out the Cozy Craft Corner in the Activity Room for fun crafts (additional fee of $5).
Hershey Outfitters
If you love the outdoors, then you have to check out the amazing adventures offered by Hershey Outfitters. Located right on the grounds of The Hotel Hershey are unforgettable outdoor experiences like a ropes course, zipline, segway tours and trail geocaching. Other adventures include kayaking, fly fishing, archery tag and trapshooting.
Hershey Lodge:
Splash Around at Hershey Water Works
Before, in between and/or after all that Hersheypark fun, take some time to swim, splash and play at Hershey Water Works, a unique indoor water play area at the Hershey Lodge. It is only available for resort guests so make sure to book your stay now!
Mini Golf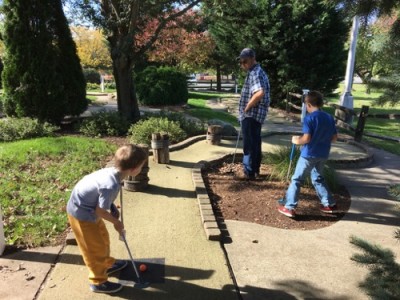 Did you know that there is a mini golf course right on property at the Hershey Lodge ? During the warm summer months, save some time to enjoy a round of golf with your family and friends. It's FREE for resort guests!
Roast Marshmallows
Located right in front of the resort is a large fire pit perfect for roasting marshmallows on a nice summer night. Families can purchase s'mores kits at the Cocoa Beanery or bring their own.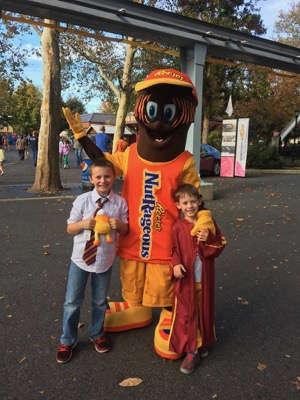 I bet you had no idea there were so many amazing summer activities available in Hershey, PA! Now you can see why we visit every year. Families can stay at one of the 3 Hershey resorts. Check out their sweet packages here:
You may also enjoy: