Where myth and reality becomes an adventure!

As a child of the 80's, Lisa Frank adorned everyone's notebooks with her rainbow styled imagery including dolphins! These mystic creatures have held the fascination of many children with their eternal smile, nodding heads and bubbling personality. Florida has been a haven for many animals including dolphins, turtles and manatees. The ecosystems located here enable unique and wonderful animals to thrive. As frequent visitors to South East Florida, we were excited to travel to Central Florida to explore new adventures.
While it is exciting to take a thrill ride on a roller coaster or visit an updated attraction, there is an absolute delight when you can get outdoors to observe a creature that is elusive and charismatic such as the manatee or dolphin. While you can look at manatees from an observation deck in Titusville minutes from the Kennedy Space Center, gliding on a kayak enables you to interact with nature while respecting their habitat and their individual space.
When we found out that BK Adventure, a popular kayak and bicycling company, offers tours where you can engage with nature, it quickly became a must do experience this summer especially the Dolphin & Manatee Tour. The BK Adventure Guides undergo extensive training yet remain calm, funny and informative throughout the tour. We began our activity with fastening safety vests as they checked in with us to identify our skill level and any concerns. As a group, we reviewed how to maneuver the kayak before we launched into the estuary! The irony was our tour was the hottest day in Florida and honestly the humidity and the heat of the sun didn't bother us as we glided through the water because it was a serene trip led by professionals. Here are some amazing reasons you should consider the Dolphin & Manatee Tour!
A Review of the Dolphin & Manatee Tour with BK Adventure
Observe Animals
While there are animals that are easy to identify such as a pelican sitting on a sign post, other animals are difficult to locate without the assistance of the BK Adventure Guides. Our group consisted of two Guides who were consistently checking on the group. On the way to find manatees, our Guide, Clay, clarified how to properly interact with these creatures as well as pointing out a dolphin pod in the ocean.
Our original stop had no manatees yet we saw the flipper of an animal (the estuary has salt and fresh water) and pelicans. While they cannot guarantee you will see specific creatures, the BK Adventure Guides do a fabulous job scouting spots to visit so we embarked to a second spot.
After a few minutes, little bumps could be seen popping up as well as a circular impression of where the manatees submerged. Our adventure became a seek and find as the manatees moved around us. Sadly, one of the manatees had large white stripes (click our video) and we learned that is a wound from boats that travel in the estuary. I loved how BK Adventure Guides gently reminded us how to respect the aquatic creatures.
Engage Yours Senses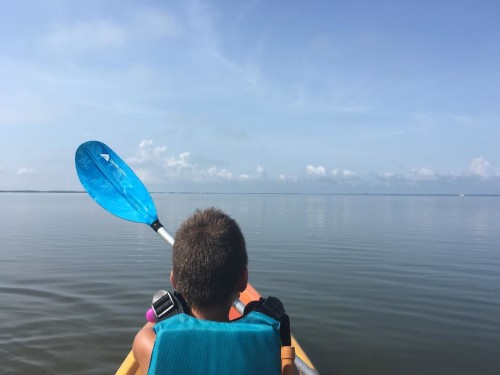 Getting outdoors is not always pretty or clean. If you exert energy you will sweat. Unlike observing manatees in an aquarium, taking the Dolphin & Manatee Tour you are going to get in their habitat. The beauty of this activity is that you are engaging your senses. Smelling the environment of the brackish water to the touch of the water and sand, your body is absorbing all this information. My family is fascinated with marine animals from sharks to whales to manatees. The opportunity to explore their habitat expands our understanding of what they need to survive. All of your senses will be captivated in this experience.
Get Outdoors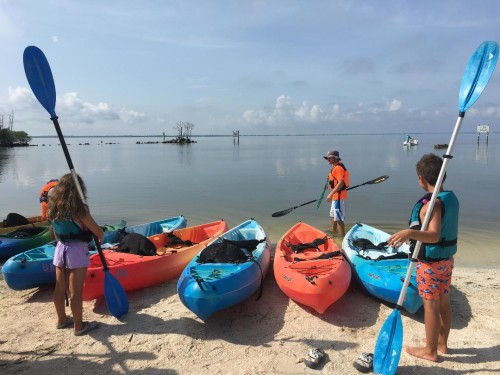 I don't know if Florida can ever be defined as cold; however, it is certainly hot and sticky in August. When you walk out the door at 8am and your body immediately begins to sweat, it is a sure sign that there is no break from the heat. Despite it being the hottest day during on our tour, we splashed some water on ourselves and quickly that discomfort slipped away with the excitement of what we would encounter.
Kayaking doesn't require extensive training, making it a wonderful activity to get outdoors and closer to nature. The estuary has a unique environment that is a combination of fresh and salt water which is how so many creatures can appear and thus is its own form of positive reinforcement to keep paddling.
Create a Family Memory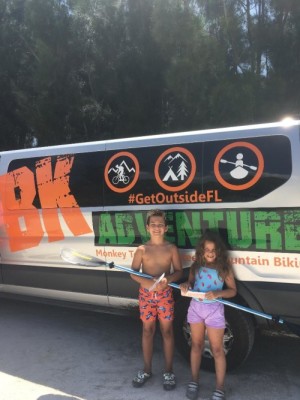 We could have opted to visit a theme park; however, this experience has results and moments that can't be recreated. My son catching the splash of a mystery creature (possibly a shark or dolphin) or my daughter squealing as she put her fingers in the water thinking she touched a rock and it was actually a manatee are memories they will always cherish.
As we paddled back to our stop, my kids asked about the mythology of mermaids. Manatees often referred to as "sea cows" are long considered the inspiration for mermaids. On that sunny afternoon, we met the myth and reality of these beautiful creatures.
BK Adventure not only offers Dolphin & Manatee Kayak Tour which is perfect for families with small children but also other kayak tours including Silver Springs Monkey Tour in Clear Kayaks, Orlando Kayaking Tour, and the popular Bioluminescence Kayaking Tours (check their website as there are several options). If you want to get a little closer to nature with your feet on the ground or rather the pedals, they also have Fat Tire Bike Tour – Space Coast or the Mountain Bike Hike – Orlando. The staff is friendly, well trained and knowledgeable while respecting the nature that surrounds them.
To learn more and to make reservations visit BK Adventure!
If you like this post, you might enjoy: