It's a sport, a hobby, a profession, a skill! So what am I talking about? Fishing of course!
Fishing is an activity that crosses all gender, cultural and economic lines. Once you are on the dock, in the boat or on the bank of the river, it doesn't matter who you are or where you came from. All that matters is the catch. The feeling of the line pulling, the adrenaline rushing as you reel in your catch and the exhilaration and pride felt when you see your victory. For some it's about catching the biggest fish, for others it's about catching the most rare sea creature and for others it's all about quantity. Whatever the preference, fishing is a sport that will stand the test of time.
According to Wikipedia, fishing dates back over 40,000 years ago! Its importance can be found in history books for cultures and empires around the world. Fishing is still a vital part of our lives and our economy today. In fact, Wikipedia states that there are 38 million fishermen and fish farmers today! Whether you see it as a sport, profession or hobby, fishing will continue to be around for centuries to come.
10 Benefits of Fishing with Kids
Builds Confidence
As kids build their skills and become more successful, they build their self-confidence. This also leads to a stronger self-concept and greater independence. As kids see they can be successful in fishing, they carry that confidence over to other parts of their lives like school, sports and even developing friendships.
Enhances Motor Planning
Fishing involves a great deal of motor planning. Kids have to decide how to cast, when to let go, when to reel in and more. They have to carefully plan out their movements and make sure they work in harmony so they not only catch a fish, they don't break the line or the pole!
Improves Coordination
It also takes balance and coordination to fish. If fishing on a boat, you have to stand carefully so you don't fall in the water. You also need balance when reeling in your catch because if you lose your footing, you may also lose your catch! When fishing, it is also important to coordinate all the motor movements so they work together for a successful catch.
Teaches Perseverance
Fishing takes determination, hard work and perseverance. You can't give up after only a few minutes. Fishermen spend hours waiting for the perfect catch. Fishing teaches children to keep trying when they don't succeed. This leads to a greater work ethic which is needed to be successful in school and their future career.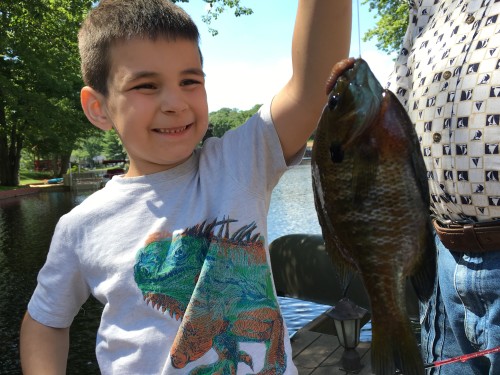 Increases Independence
As kids build their skills in fishing, they become more confident which leads to greater independence. Once kids understand the safety measures involved in fishing, they can engage in this activity with little to no help from their parents. My friend's son will fish for hours off his dock by himself even though he is only 7 years old. This is due to his skill level and confidence!
Become Part of a Community
Many see fishing as an individual sport but what many don't realize is that there are wonderful communities and groups centered around fishing. For example, at Lake Hopatcong there is a Knee Deep Club for fishing enthusiasts of all ages. There are also fishing derbies that bring people together to celebrate this passion. In fact, my son just participated in his first fishing derby with his Cub Scout pack. It was a fun day for the kids and their parents!
Teaches Patience
Let's be honest, fishing can be frustrating for the person that lacks patience! It can take minutes to catch a fish but it can also take hours or even all day before you catch one. This helps children learn the art of patience. This is a skill needed for school, sports and life!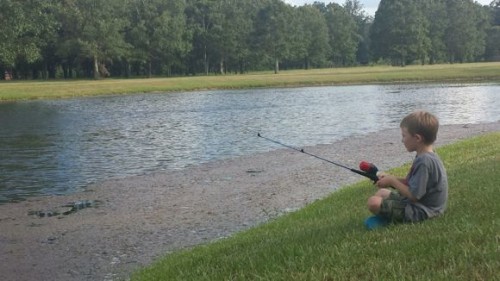 Encourages an Appreciation of Nature
Getting outdoors helps kids appreciate and understand nature. It teaches them the importance of taking care of the environment including the fish they catch. Kids can put away all the electronic devices and just take in the scenery and fresh air. This can also lead to a healthier lifestyle!
Promotes Family Bonding
Fishing really brings friends and families together. From fishing day trips to big fishing weekends, this amazing sport has the power to bring people together to have fun, bond and learn. I love watching my husband fish with our boys. He has fun teaching them about fishing, and they love spending time with their dad!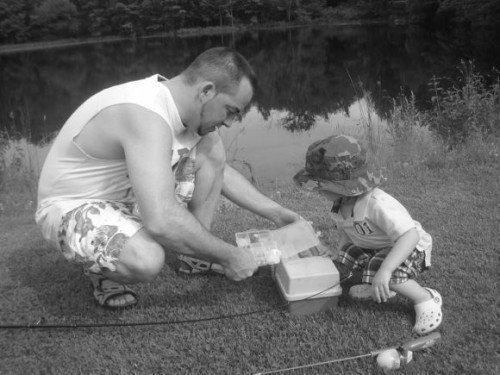 Encourages a Healthy Lifestyle
Fishing has been known to be a wonderful stress reliever as well as a great way to relax. It can also been seen as a great form of exercise. It also strengthens your mind by requiring the use of visual-spatial and problem solving skills. In addition, preparing your catch of the day for dinner can lead to healthier eating habits. By putting all of these thing together, fishing can lead to a healthier you!
If you like this post, you might like: