Before deciding on a family vacation, I always ask myself, "Is there enough for the kids to do?" We all know that cruise ships have amazing bars, a fun casino, great shows and more, but what do they offer kids? While most cruise ships offer kids clubs or a babysitting service, parents are really looking for more. We want our kids to enjoy fun adventures that keep them busy and happy!
When my husband and friends booked Allure of the Seas for our next family vacation, I was skeptical at first because I was not sure there would be enough for them to do. Although it looked like there was a lot, I wasn't sure if my children would qualify for all the experiences or if they would even want to try them. BUT as soon as we boarded the ship, all my worries went overboard! There was so much for my boys to see, do and explore on Allure of the Seas. I knew it would be an amazing week! In this post, I put together a list of experiences younger passengers would enjoy.
Fun Experiences for Little Kids on Allure of the Seas
Explore Adventure Ocean (Kids Club)
On the first day you board Allure of the Seas, make sure to sign the kids up for Adventure Ocean. They don't have to go every day or all day, but it is a great option for keeping them entertained and busy. Adventure Ocean breaks kids into groups based on age: Aquanauts (3-5), Explorers (6-8) and Voyagers (9-11). There is also a Teen Club but it is located on a different area of the ship. Throughout the day, kids participate in various activities as well as have use of the other exciting rooms like the Science Lab, Imagination Studio and Movie Theater. Adventure Ocean is open 9am-12pm, 2pm-5pm and 7pm-10pm. There is a fee of $7/hour 10pm-2am. (FYI: Kids MUST stay with their age groups. Even if they are siblings, they cannot cross age groups. This is one of the reasons we did not utilize the kids club as often as we had hoped.)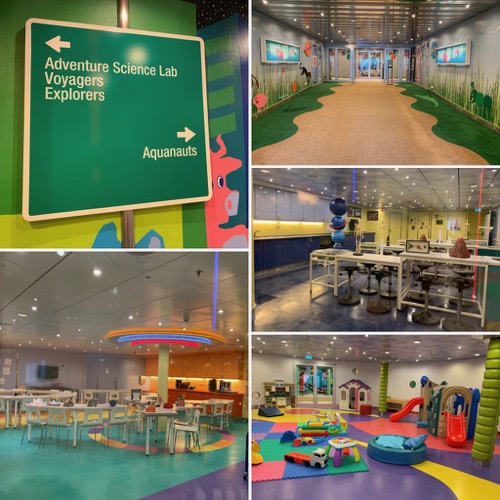 It is important to note that Allure of the Seas will be undergoing some MAJOR upgrades that will include completely transforming Adventure Ocean (May 2020). According to the website, kids will be able to choose their own adventure and will be able to move from room to room at their own leisure. New rooms will include a climbable Play Place, a Workshop offering tinker time, a space called the Hangout and more.  The NEW Adventure Ocean will accommodate children ages 6 months to 12 years old.
Ride the Carousel
Located on The Boardwalk is an absolutely gorgeous carousel hand-crafted by Carousel Works! It is FREE to ride and open to all ages. Before going for a ride, make sure to check out the wooden horses in the entryway. They show the amazing progression of how these magnificent horses were created. The carousel includes 11 horses as well as various animals such as a zebra, giraffe and lion.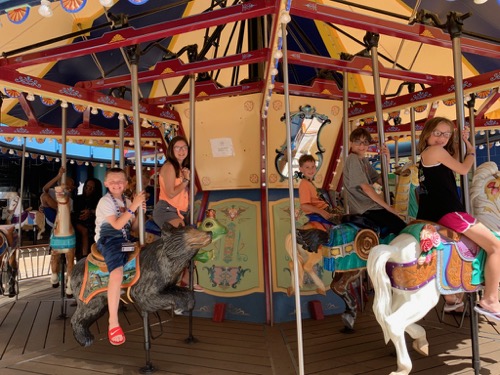 Build Your Own Stuffed Animal
For an extra fee, your kids can make their very own stuffed animal to treasure forever! Located on The Boardwalk near the Carousel, Pets at Sea offers a fun experience for children of all ages. Guests choose the animal they want then it gets stuffed right in front of you. It makes for a great souvenir.
Splash Around at H2O Zone
In addition to the 4 pools, little ones will LOVE the H2O Zone. It is a fun splash pad/sprayground that offers hours of fun. There are climbable sculptures, geysers, water cannons and more. H2O Zone is not only a great place to play, it is also a wonderful place to make new friends while onboard Allure of the Seas. For even more added fun, next to the H2O Zone, families can also take a dip in the family pool or swim in circles in the whirlpool!
Visit the Arcade
Allure of the Seas offers not just one but 3 arcades for kids (and kids at heart) to enjoy. One arcade is located by the Kids Club, one is on The Boardwalk and the largest one is found on Deck 15. Each arcade offers fun games such as skee ball, air hockey, video games and more. Of course, my boys (and husband) loved playing the claw games the MOST! Players can also earn tickets that can be exchanged for prizes. (TIP: The games are not cheap so make sure to put a cap on your children's sea cards to they don't over spend! We learned the hard way.)
Play a Game
Located on The Boardwalk is fun beanbag toss game that everyone can enjoy! It is next to the bar so parents can enjoy a drink while the kids play. Also, located on the wall next to the beanbag toss game are 3 games that work through the Royal Caribbean app. Splish Splash Soak, Duck Duck Bear and Go-Go Gopher are fun games that can keep kids busy for hours!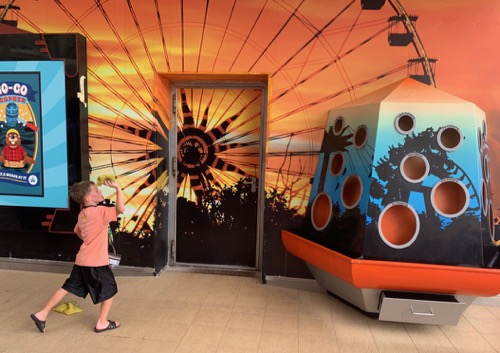 Go Ice Skating
Can you believe there is an ice skating rink right on the cruise ship? Besides watching an amazing ice show, guests can skate for FREE throughout their cruise. It is open to all ages but you must wear long pants to skate. This is a great break from the sun or a fun way to spend a rainy day at sea.
Watch a Movie
Throughout the week, Allure of the Seas offers a wide variety of movies to watch, and there are 2 locations for kids to enjoy a movie during your cruise. Adventure Ocean Theater is an indoor theater located within the Kids Club area. Not only can families watch movies here all week, but kids can also star in shows such as the Circus Show and Talent Show.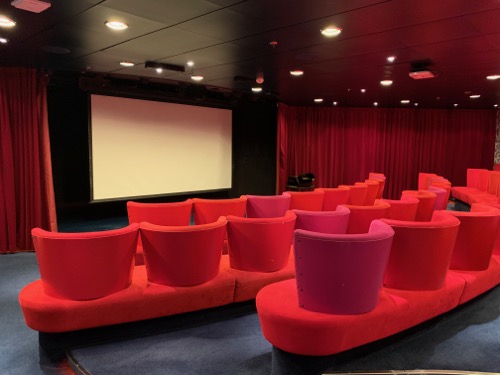 The AquaTheater also offers outdoor movies throughout the cruise. Guests can watch them from the seats, the bar or even their room (if you have a verandah Boardwalk room. My boys LOVED watching both Marvel and DC Comics movies!
Mini Golf
Morning, noon or night, mini golf is a great way to enjoy your time on Allure of the Seas. We played twice during our trip. I recommend going early in the morning or late in the day when the sun is not so hot. It is FREE to play with the balls and clubs located at the entrance to the course. Mini golf is not only a fun experience to enjoy as a family or with friends, but it also offers amazing views of the open sea or islands when at port.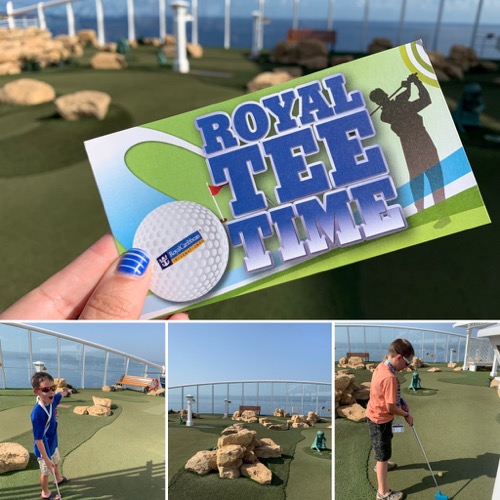 To learn more about these and other fun experiences on Royal Caribbean's Allure of the Seas, please visit their website!
You may also enjoy: