We are so excited to partner with the following brain boosting toy companies to bring you this year's Easter Basket Gift Guide: Crayola, Faber-Castell, Little Kids Inc., Goliath Games, WowWee, Just Play, Skyrocket, Pressman Toys, Basic Fun, MindWare, Jakks and Bulls i Toys.
At Mommy University, we believe that everything our children play with should enhance development and aid in positive academic growth. This Easter why not fill their baskets with fun and educational goodies the kids will not only love but learn from?
For this guide, we will provide 5 themed Easter basket ideas. Each theme will promote growth and development in certain areas. Under each theme we will provide several suggestions of what to put in your child's basket. Amazon affiliate links are included to help make your shopping experience easier. We believe there is something for everyone on this list. So have fun making a themed basket or mix and match different ideas! Either way you will be happy knowing you provided Easter goodies that will have a positive impact on your child's development and academic success.
5 Brain Boosting Themed Easter Baskets
Arts and Crafts
Our first basket will focus on our love of art. Introducing kids to art helps them enhance creativity, boost fine motor skills, increase visual-spatial awareness, and let's face it, it's fun! Here are some brain boosting arts and crafts suggestions for this basket:
Crayola Sidewalk Chalk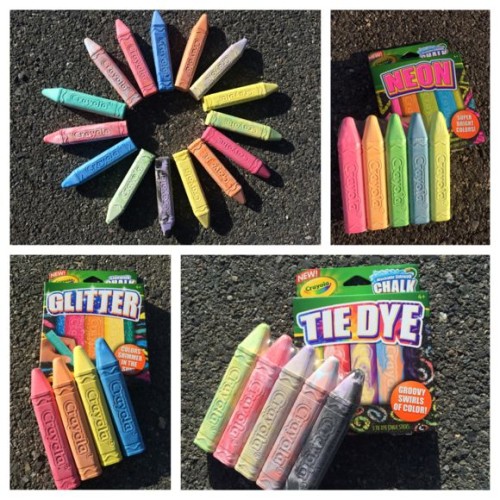 Sidewalk chalk offers so many benefits such as enhancing fine motor skills, increasing academic knowledge and encouraging an appreciation of art. This season, explore the benefits of sidewalk chalk with your children by using the Crayola line, Special Effects! It takes everyday chalk and adds even more spark and creativity. Available in Tie Dye, Neon, Glitter and Color Core, this chalk will offer new and unique ways to color and create! Neon, Glitter and Tie Dye can all be found on the Crayola website and Amazon.
Crayola Color Wonder Coloring Pads and Markers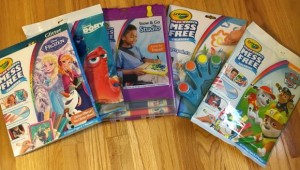 Crayola Color Wonder is art magic. Color Wonder markers, can only be seen on special Color Wonder paper, and when used on anything else, it will be clear! How cool is that? The tips of the markers appear white or clear but once it touches the special paper, the color magically appears. Kids see it at as a magic trick every time they color, create and paint! This Easter give your kids Color Wonder Pads and Markers. Each set comes with 18 coloring pages and 5 markers. They come in a variety of styles including PAW Patrol and Peppa Pig! Color Wonder products can be found on the Crayola website and Amazon.
Art Supplies (Faber Castell)

One of my favorite items to include in my children's Easter baskets are new art supplies!  Just like Spring, opening a new marker is a new beginning for creative expression.  Faber Castell produces high quality supplies for artists as well for the youngest painters and illustrators in your home.  There are so many kits and sets that fit perfectly in the Easter Basket.  The GRIP EcoPencils are triangular shape with little dots that enable a stronger grip so for a child in elementary school this would be a wonderful addition.  The DuoTip markers are a favorite as two colors are on each marker.  When the markers lose color, you simply dip them in water to rehydrate.  The GRIP pencils are priced at $12 on Amazon, while the DuoTip markers are priced less than $10.
Cuddly Kitten (Creativity for Kids)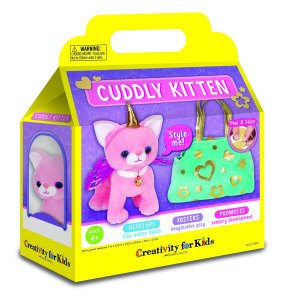 The Cuddly Kitten offers young children the "ah" factor as they develop fine motor skills, build imaginative play and promoting sensory development. Children can decorate the carrier as well as their new kitten! It is a mess free toy that will keep kids engaged four hours. Even better, they can pack and take with them when visiting the grandparents. Priced at $20 on Amazon, the Cuddly Kitten is purrfect!
Fingerblings (WowWee)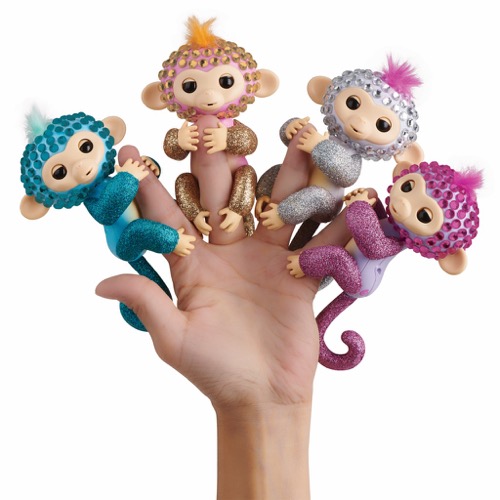 New from Fingerlings is FingerBLINGS! Available in 4 glittery colors, Fingerbling monkeys come with gem sticker strips that kids can apply to create their own unique Fingerling. Just like other Fingerlings, Fingerblings respond to motion, touch and sound. These adorable creatures are available on Amazon for under $15.
PEEPS Sidewalk Chalk (Little Kids Inc.)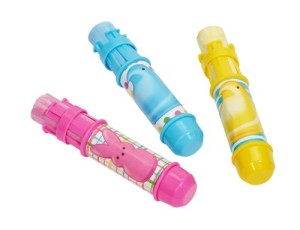 PEEPS sidewalk chalk will offer kids hours of outdoor fun and learning. Their size makes them easy to hold for little one's, and the bold colors will spark creativity. PEEPS Sidewalk Chalk is the perfect addition to your Easter basket this year. It can be found on Amazon.
Mash'ems Wear'ems (Basic Fun)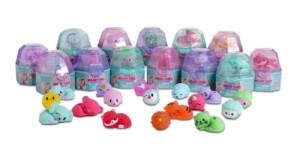 Let your kids show off their unique style with Mash'ems Wear'ems! Each mini jewelry box contains 2 Wear'ems, one you can see and one that is a surprise. There are 24 to collect and each one can be worn as a ring, or hair tie or they can be used to adorn backpacks, pencil boxes and more! Mash'ems Wear'ems are recommended for ages 4 and up.
Crayola Palm-Grasp Crayons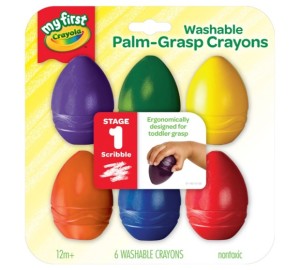 Encouraging children to color starting at a young age helps them build important fine and visual motor skills while encouraging creativity. Small hands need the right tools to make coloring fun and easy. These egg-shaped palm-grasp crayons are perfect for little hands that are just learning to explore their creative side. They are the perfect alternative for candy Easter eggs too! These crayons can be found on the Crayola website and Amazon.
Creeping Bugs & Spiders Glow in the Dark Jean Tats Pack (Peaceable Kingdom)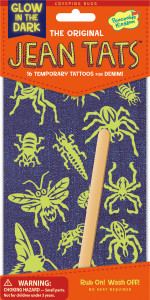 Children can get creative by adding tattoos to their own clothing with these engaging themed kits. The Creeping Bugs & Spiders will certainly appeal to a young boy as it glows in the dark and has various insects. Peaceable Kingdom also has many different styles that will appeal to your child such as unicorns, pirates or kitties. The possibilities are endless. Priced for less than $2 on MindWare, the Jean Tats Packs will be a great addition to the basket.

Sensory Learning
Children learn best by engaging all their senses. This is especially true for little ones. Children with special needs also thrive on sensory based learning and discovery. In this themed basket, we have come up with some brain boosting suggestions to help stimulate all the senses:
Harry Potter and Marvel Mash'Ems (Basic Fun)
Mash'em, squish'em or squeeze'em, whichever way you choose to play with them, Mash'Ems will offer kids a unique sensory play experience. They are soft, water filled characters that offer tactile feedback. They also make for a great fidget! Harry Potter Mash'Ems come in 6 unique characters while Marvel offers 4. Each come in a blind capsule so you never know who you will get! Mash'Ems are recommended for ages 4 and up and sell for under $5 at Walmart, Target and Amazon.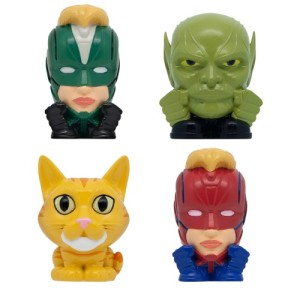 Drop Dots (KESS)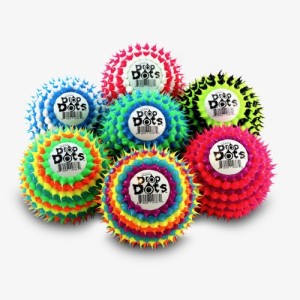 Drop Dots are bright and colorful bounce balls that offer a sensory twist! They have a spikey texture offering tactile input. The spikes also help kids better grip the ball making them easier to throw and catch. Drop Dots can be played with inside and outside but also make for great sensory fidgets when doing school work. Drop Dots can be purchased at Target, Kmart, Party City and Amazon.
Sensy Band (Mindware)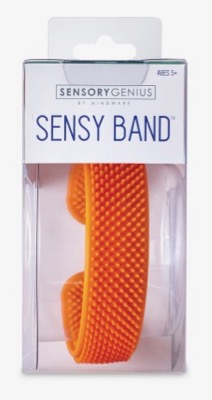 I absolutely LOVE the Sensory Genius line from MindWare especially the Sensy Band. The band offers tactile input as it has soft silicone bristles on both sides. The band can be used in a variety of ways to provide tactile input, decrease anxiety and increase focus. It can be "slapped" onto your wrist, unrolled and rolled back up, left open on a desk and worn on your wrist. The Sensy Band is under $6 on the MindWare website.
Little Kids Inc. Bubbles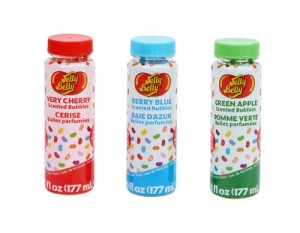 Did you know that bubbles are wonderful sensory-based learning tools that boost language development and visual scanning skills? Fubbles Bubbles are no-spill bubble containers that are perfect for spring and summer.  They come in mini, regular size and the bucket. Little Kids Inc. also offers PEEPS Bubbles products which are perfect for your kids' Easter baskets. On-the-Go Jelly Belly bubbles are another great Easter gift that lets kids bring the sensory fun everywhere. Shaped like the iconic jelly bean, these scented bubbles engages all the senses while playing. Kids can also engage all their senses with scented Jelly Belly bubbles that come in 6 ounce bottles. They can be found in cherry, berry and green apple.
MindWare Fidjigami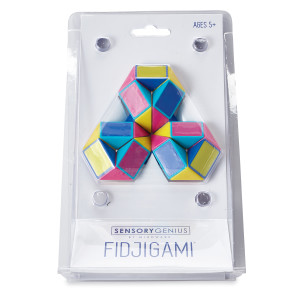 If you have a child with extra energy that does well when they can move their hands, then Fidjigami is the perfect addition for your child's basket. It is fully articulated, so they can move the brightly colored polygons in different shapes and designs. It helps build dexterity and promotes problem solving skills. Priced less than $6 on MindWare's website, this will be a popular item.
Crayola Silly Putty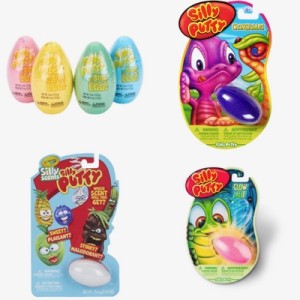 Instead of chocolate or plastic eggs this Easter, surprise the kids with Silly Putty Bigg Eggs from Crayola! Kids will have blast engaging all their senses as they play with this super stretchy, super fun putty. Crayola Silly Putty provides great tactile input while also encouraging pretend and creative play. The putty never dries out so it allows for hours of fun. Crayola Silly Putty comes in a variety of colors, scents and sizes and sells for under $7 on the Crayola website and Amazon!
Magformers' Dolce Spring Bunny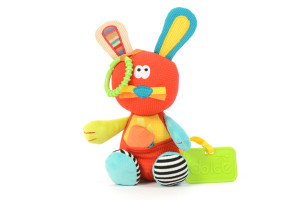 The Dolce Spring Bunny is not only perfectly themed for an Easter Basket but also for promoting a baby's developmental growth by encouraging their curiosity. From the various textures of its body to the rattle bell to the attached Dolce teether, there are plenty of ways to engage your baby's senses. Priced at $14.99, the Dolce collection has expanded to include chicken, dinosaur, cat and even an aardvark.
Relevant Play Mad Mattr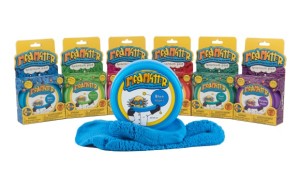 We were so excited to be introduced to Mad Mattr, a sensory toy that offers MESS FREE sensory play and learning. Mad Mattr is really soft, non-toxic, gluten-free, wheat-free and NEVER dries out! It comes in a variety of package sizes and colors. You can also purchase additional tools to make even more designs. Kids can play for hours molding their own creations! To learn more and purchase Mad Mattr, visit the Relevant Play website. You can also order Mad Mattr on Amazon.
Stretchy Strings (MindWare)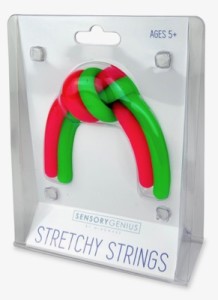 Part of the Sensory Genius collection, Stretchy Bands are wonderful sensory/fidget tools that can help keep kids and focused and regulated. Each set comes with too brightly colored bands that are 3 feet long. They can be stretched, twisted, wrapped, twirled and any other way you want to use them. They are squishy and soft too allowing for tactile input. Stretchy Strings can be found on the MindWare website for under $6.
Putty Scents (Mindware)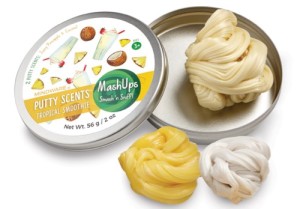 MindWare has released a collection that engages all the senses! Putty Scents come in tins in a variety of sizes and scents. Each one offers tactile sensory input and can enhance fine motor skills. Kids will really love the mash-ups which allow them to mash two different scents together such as Peanut Butter & Jelly and Tropical Smoothie. The trio of scented tins are $11 while the mash-ups are $10 on the MindWare website.

Academic/Cognitive Development
What would a Mommy University list be without academics and cognitive development? Cognitive development is so important and essential for academic success. Here are some brain boosting Easter basket ideas that help build cognitive skills such as spatial awareness, visual-discrimination and problem solving as well as help increase academic skills such as math, writing, reading and more.
UNTAMED Mad Lab Minis (WowWee)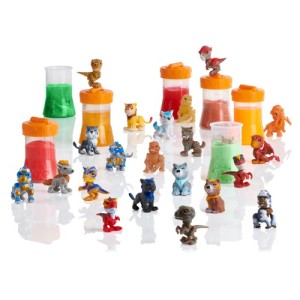 The creators of Fingerlings have created something even more exciting this year! UNTAMED Mad Lab Minis offer a fun introduction to science while also encouraging pretend and imaginary play. Each Mad Lab Mini vial contains a different DNA compound that varies in texture and color. The compound will tell you what type of creature will be inside. Then find your creature within the compound. The fun isn't over yet though! Each creature can be mutated by swapping their heads and bodies to create your own Mad Lab hybrids! There are endless opportunities for fun and learning! UNTAMED Mad Lab Minis can be purchased at Walmart, Best Buy and Amazon.
STEMulators Amber or Gem Soap (MindWare)
MindWare offers a fun way for kids to experiment while getting clean! The STEMulators kits encourage a love of science and their soap sets focus on academic learning while making soap. If your child is fascinated with fossils then include the Amber Soap kit. Other children may prefer to make their own diamonds with the Gem Soap. In both children are learning scientific concepts. Priced less than $10, the STEMulators are perfect to stimulate a child's imagination.
Brainstem Skele-Tube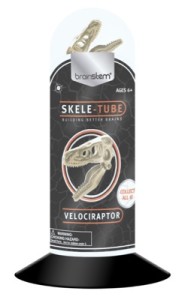 If your kids love dinosaurs, then they are really going to love these miniature dinosaur skeleton model sets. Each tube comes with everything you need to make a 4-inch tall replica of your favorite dinosaur. With 6 extinct dinosaur skeletons available, your little paleontologist will be able to build and collect some incredible creatures! Each set also comes with a fact sheet for even more learning fun! Skele-Tubes are available on Amazon for under $15.
Ooshies Pencil Toppers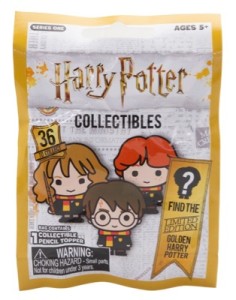 Get your kids excited about writing with the adorable Ooshie Pencil Toppers! They come in a variety of designs including DC Comics, Harry Potter, Marvel, Disney and more! The squishy texture makes Ooshies great fidgets helping kids stay focused in school. Ooshies can be found at your local stores and on Amazon.
Mayka Toy Block Tape
Build, create and play this spring with this innovative design. Mayka Toy Block Tape makes building possibilities endless as kids can adhere the tape to any surface for hours of imaginative play with their favorite building toys. The tape is compatible with LEGO and other construction bricks making it a versatile toy. You can cut the tape to meet your needs and the adhesive backing is reusable meaning it can be used in a variety of settings. Mayka Toy Block Tape comes in 3 sizes and 10 difference colors. You can buy them in packs on Amazon.
Dig It Up! Single Mineral Egg (MindWare)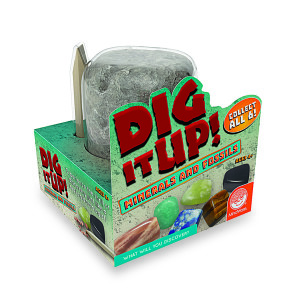 A favorite toy in our household is the The MindWare's Dig It Up! Egg series which is not only a sensory activity but also exposes young children to academic information.  Children chisel out a themed item, such as a fossil or mineral.  While they do have kits that  include 12 eggs, they recently began releasing Single Egg. Dig It Up! comes in a variety of designs including Wild Animals, Big Bugs, Fossils & Minerals, Dinosaurs and Fairies. Priced at $5 on MindWare website, this Easter Basket feature will be a wonderful learning experience.
Pencil Pushers (MindWare)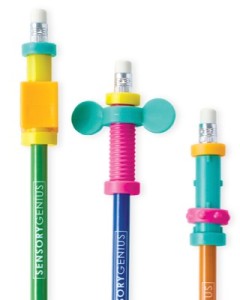 If your kid fidgets in school or at home while doing homework, then Pencil Pushers is for you! Each set comes with 3 brightly colored pencil toppers that offer tactile input and opportunities to fidget. Each Pencil Pusher also encourages fine motor manipulation which helps enhance skills in that area. Pencil Pushers can be purchased for under $5 on the MindWare website.

Game Time
Let's have some brain building fun this Easter with some amazing games. Games help enhance a variety of skills such as problem solving, cooperative play, spatial awareness, turn taking and more. Here are some games the kids will love this Easter.
Goliath Jumping Jack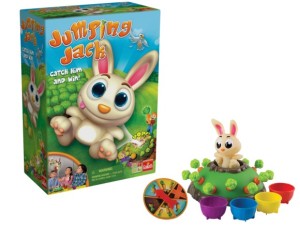 How cute is this game? It is perfect to celebrate Easter too! Jumping Jack is recommended for ages 4+ and can be played with 2-4 people. Each player spins the spinner to see how many carrots they have to pull from Jack's bunny hill. One carrot will make Jack jump but no one knows which carrot that will be making the game new and exciting each time you play! This is a fun game that helps enhance fine and visual motor skills as well as cause and effect. Jumping Jack can be purchased on Amazon for under $20.
North Star Games Funky Chicken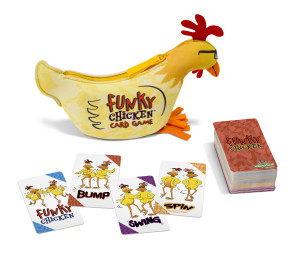 Funky Chicken is part of the Happy Planet series games from North Star Games that encourages the whole family to get involved and move their body while laughing. Cards invite players to perform different dance moves and it's easy to get individuals of different levels involved. Recommended for ages 6 and up, each game lasts about two minutes so this game moves at a pace that keeps everyone's attention. Funky Chicken can be purchased for under $20 on Amazon.
Goliath Giggle Wiggle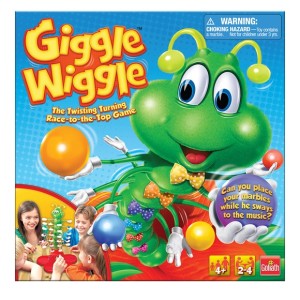 Giggle Wiggle is a fun and engaging game kids will LOVE! Players race to see who can get their marbles to the top of the tower first but be careful because the caterpillar wiggles to the music so your marbles can fall at any moment. This is a great game to enhance color recognition, fine motor skills, visual-motor integration, patience and problem solving skills. Giggle Wiggle is recommended for ages 4 and up. It can be found on Amazon and your local toy store.
 North Star Games Wits & Wagers Family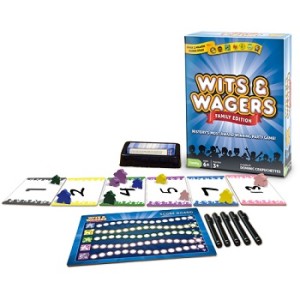 Wits & Wagers Family is not just a gift for the children who receive it in their Easter Basket but also their families!  It is a game that invites everyone to play in this trivia game where yes children can beat their parents.  After a question is asked, everyone writes down their guess.  Each player places down a meeple next to the person they think answered correctly.  This is based on the popular game but created so that everyone can play.  It is designed for 3 or more players for ages 6 and up. Priced on Amazon for less than $20 this fits nicely in your child's basket.
Charades for Kids: Travel Size (Pressman)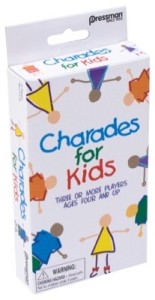 Charades has been a beloved game for generations! It allows kids to enhance comprehension skills, build self-esteem, increase motor skills and improve academic knowledge. That's why we love Charades for Kids from Pressman Toys. It is a great introduction to the game of charades for little ones. The set comes with 150 cards that contain both pictures and words which helps enhance reading skills. There are 3 levels of play making it the perfect game for the entire family. Charades for Kids can be purchased on Amazon for under $6.

Pretend Play
Encouraging kids to use their creativity and imagination has amazing developmental benefits. Not only do they enhance language development and story telling skills, kids also increase self-esteem and self-confidence. Here are some toys that will help encourage imaginary play this Easter.
Little Lucky Lunchbox (Basic Fun)
Little Lucky Lunchbox offers an adorable spin on blind boxes! Each mini lunchbox comes with 2 Foodie Friends, 1 Little Foodie, 1 sticker and 1 Collector Guide. Each Foodie Friend also has another surprise hidden inside! Little Lucky Lunchboxes are perfect for collecting and trading with friends. Kids can also engage in hours of pretend and imaginary play with their new Foodie Friends! Little Lucky Lunchbox is recommended for ages 4 and up and can be found on Amazon and your local toy store.
Pomsie Poos (Skyrocket)
Give your kids their own little pet that they can take anywhere and everywhere! Pomsie Poos are adorable plush animals that have a long tail that can wrap around anything. There are 12 animals to choose from each with a heart-shaped clasp so kids can attach them to backpacks and clothes as well. Pomsie Poos are recommended for ages 3 and up and can be purchased at Walmart and Amazon!
Mon Premier Poupon Sweet Heart (Corolle)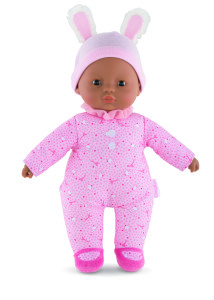 If you are looking to add a showcase piece to the Easter Basket, I would consider Corolle.  They will adore the gentle fabric and vanilla scent of the Corolle collection.  For children 9 months and older, this doll offers so many opportunities for pretend play where children imagine themselves to be the parent.  With her rabbit ears on her hat, this doll would be make a great centerpiece of the basket priced at $29 on Amazon.
Harry Potter Die-Cast Collectible Wands (Jakks Pacific)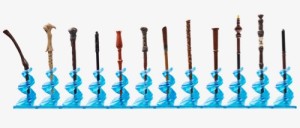 These mini wands are the PERFECT addition to any Harry Potter fan's Easter Basket! My boys absolutely LOVE their wands and have them displayed in their Harry Potter themed bedroom. Each blind box comes with one wand and a stand. The wand is only 4 inches long but is full of beauty and detail. There are 12 wands in all that can be collected including Newt Scamander from Fantastic Beasts! Each box is under $10 and can be purchased at a variety of retailers as well as Amazon.
Flutter Friends (Just Play)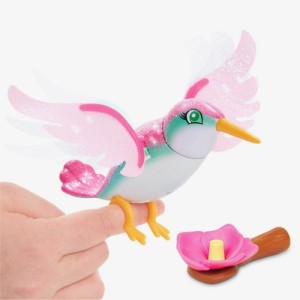 This Easter give your child their own hummingbird, stuffed hummingbird that is! Just Play has released an adorable life-like toy that encourages never-ending pretend and imaginary play. When your child pets their Flutter Friend, they unlock over 40 realistic hummingbird sounds. It will also open its wings and interact with other Flutter Friends. Each bird comes with a flower feeder as well. Flutter Friends can be purchased Target, Walmart and Amazon.
Grumblies Miniacs (Skyrocket)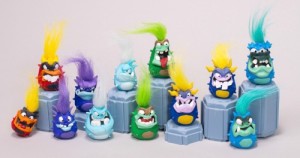 Grumblies are silly characters with lively facial expressions and wild hair. These popular characters are now available in a miniature version making them perfect for your child's Easter basket! There are 12 styles that come in blind bags. Grumblies Miniacs fit perfectly at then end of a pencil so kids can keep their friend close while doing homework. Grumblies Miniacs are recommended for ages 5 and up and can be purchased for under $4!
Narwhal Fingerlings (WowWee)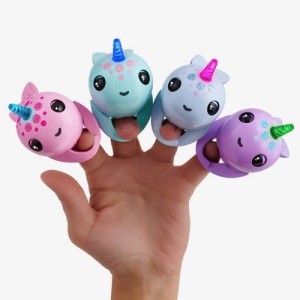 These adorable new Fingerlings will have little ones engaging in pretend play for hours! Fingerlings Light Up Narwhals have a special mood horn that lights up in different colors depending on your mood when you're holding it. It also comes with kiss Tech which means he/she can detect your cheek and will give you a kiss! How cute is that?! Narwhals come in 4 colors: purple, turquoise, blue and pink, and they are under $15 on Amazon and local stores such as Walmart.
Captain Marvel Mission Patch and Coin Box (bulls i toy)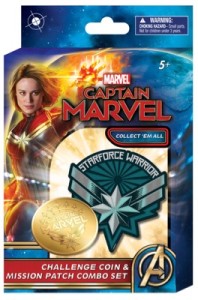 Captain Marvel is latest addition to the Marvel movie franchise, and she has quickly become a favorite among Marvel fans especially little fans! Show off your love of Captain Marvel by collecting mission patches and challenge coins. There are 8 in all! Kids can adorn their backpacks, jackets or clothes with the patches and then pretend to be Captain Marvel on a mission to save the world! Each set is under $8 on Amazon!
Plush Animals (Steiff)
When we think of Easter, we imagine the soft textures associated with bunnies and lambs which is why the fuzzy animals of Steiff will make young children smile. Made in Germany, these compact and cuddly characters will make parents happy since they are machine washable. Priced on Amazon for less than $17, make sure you have your camera ready to capture the moment they hug the Fuzzy Lamb or Stuffed Bunny Rabbit.
Harry Potter Mini Playsets (Jakks)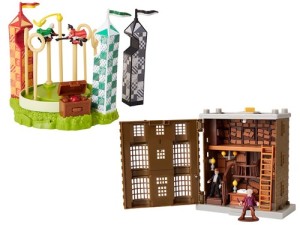 My kids are going to go crazy for these adorable Harry Potter Mini Playsets from Jakks. Potter fans can create endless magical adventures while playing alone or with fellow wizards. There are 3 sets available: Hogwarts Great Hall, Quidditch and Ollivander's Wand Shop. Each set comes with accessories that add to fun! These sets are under $20 (Great Hall is under $40) making them perfect for Easter, birthdays or just everyday Harry Potter fun! Learn more on the Jakks website.
 Babibunny (Corolle)
A sweet addition to a young child's Easter Basket, is the Babibunny from Corolle.  With all the signature trademarks of Corolle from the soft fabric to the pleasant vanilla scent, this is actually as 12 inch nightlight.  Appealing to the various senses, this toy is also machine washable (after you remove the battery casing).  With her bunny ears on, the Babibunny is all prepared for Easter! Priced less than $40 on Amazon, this will definitely make the showcase of a basket.
Mini Tins (Bulls i Toy)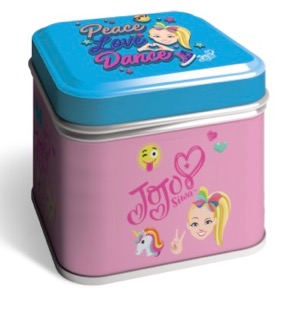 You never know what you are going to get in your new Mini Tin! You can choose from Marvel Emoji, L.O.L. and JoJo, and each tin is filled with themed surprises. Kids can get a variety of fun art supplies or accessories such as stickers, magnets, charms, mini posters and more! After opening, the mini tin can then be used to store the surprises and other accessories such as make-up, stickers, hair bands and more!
I hope you have enjoyed our list of educational and exciting toys you can put in your child's Easter Basket!