My son is obsessed with Marvel! He has watched a Marvel movie almost every day since schools have closed. He even goes to bed in his Marvel themed room with Disney+ on and a Marvel movie playing. As a result, we have done a lot of Marvel themed activities at home since he was little. From making superhero gear to playing to dress up to making a superhero training ground in the backyard, we have done a lot of fun activities all inspired by Marvel, and I thought it was the perfect time to share some my ideas with you! (I have also included Amazon affiliate links to make planning and shopping easier!)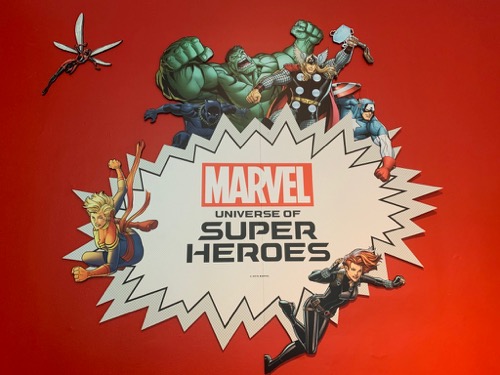 Out of the World Marvel Activities for Kids 
Marvel Movie Marathon
If you haven't seen any of the Marvel movies yet, then make sure you plan a movie marathon. I recommend watching them in order so you can follow along with the Marvel timeline. Pop some popcorn, make a blanket fort and enjoy a day of superhero excitement! Check out the order in this graphic we found on Pinterest: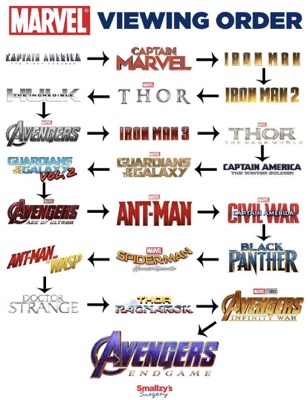 Make Your Own Superhero Gear
Although it is fun to buy your kids capes, shields, hammers and other superhero gear, it can be even more fun to make it yourself. My boys are BIG Avengers fans so we decided to make Captain America's shield and Thor's hammer. Each was easy to make and we used items we already had in the house.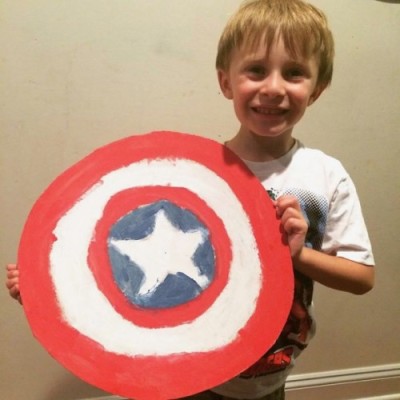 Captain America's Shield: To make the shield, we used the cardboard circle that comes with frozen pizza. You can also cut out a circle from a delivery pizza box. My son then painted it the appropriate colors. It was that easy!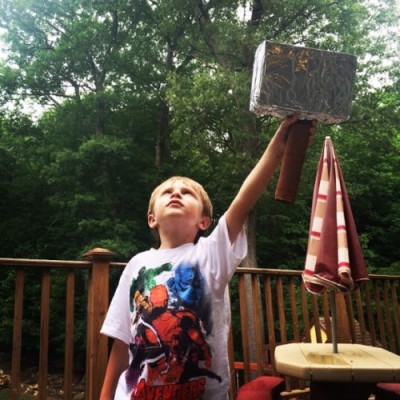 Thor's hammer: This craft was also easy to make. We used a paper towel roll, shoebox and tin foil. My son painted the paper towel roll brown then my husband cut a hole in the shoebox to insert the roll. We then covered the box in tin foil. Easy right?
Make a Cape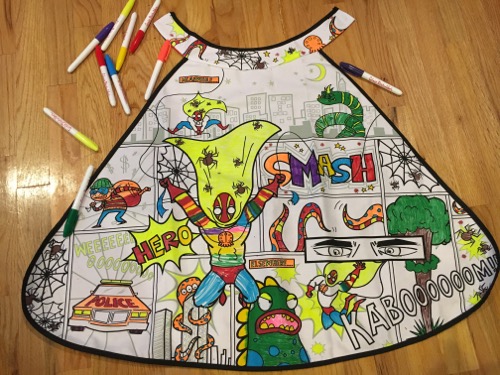 In addition to the shield and hammer above, kids can also make superhero capes! Pinterest has some fun ideas like using old t-shirts but you can also use Colour-a-Cape from Great Pretenders! Colour-A-Cape offers a unique coloring experience. There are no rules, patterns to follow or directions. Kids just color! Each cape comes with a set of vibrant markers perfect for coloring on fabric. Plus, the capes are reversible for even more pretend play fun. There are so many reasons to love Colour-A-Cape, and you can read our review to see why! Colour-a-Cape can be found for less than $25 on Amazon.
Dress Up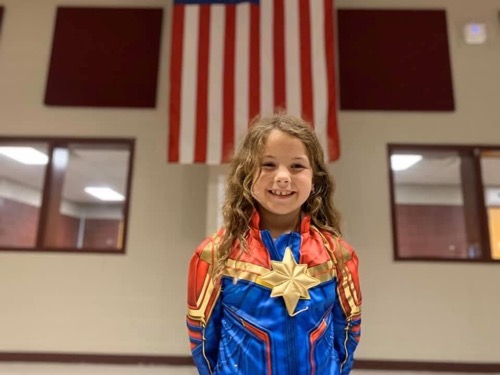 The most fun way to celebrate Marvel Day is to BE a superhero. My boys have so many costumes that they love changing in and out of and being different characters. You can even use the items mentioned above! From Iron Man to Spiderman to Captain America to the Hulk, my kids love dressing up and engaging in pretend play which is a great way to enhance language and creative thinking skills. Make it even more exciting by inviting friends over to play too! You can also do a superhero mash-up by combining different costumes to make the ultimate superhero!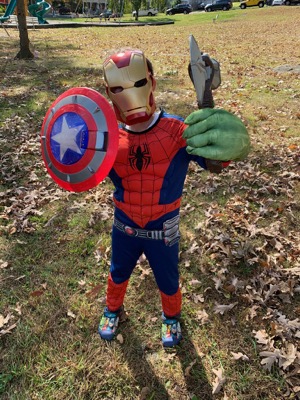 Read Comic Books
Marvel Day is the perfect time to introduce your kids to the world of comic books! Believe it or not, some kids don't even know that the Marvel movies are based off of iconic comic books. You can order some on Amazon or take out your old collection from your childhood.
Make Your Own Comic Book
After introducing your kids to Marvel (or any superhero) comic books, have them create their own. This is a fun way to enhance writing and reading skills while also encouraging creativity and imagination. Writing a comic book also helps kids understand theme, main idea and sequencing. You can find comic book template pages on our Pinterest board!
Make a Superhero Training Ground
Get out those hula hoops, tricycles and pool noodles because you are going to make a Superhero Training Ground right in your own backyard. Based on age, skill and ability, you and your kids can create an amazing obstacle course filled with fun and excitement. You can use your backyard play sets like slides and climbing structures as well as purchase additional items to add to it like an outdoor Ninja course. You can make it even more fun by adding water features!
Create a Photo Booth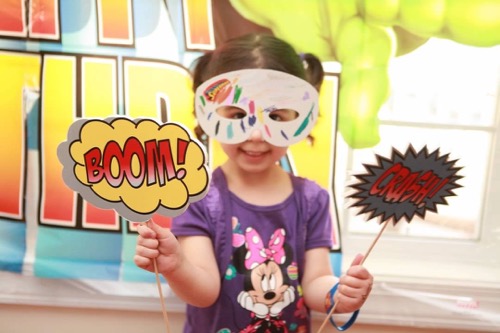 Get silly by making a fun superhero photo booth. You can get dressed up or just wear capes and masks while holding up handmade signs. We did this for my son's 5th birthday and it was a huge hit!! We also made a fun booth during our Halloween Party for Cub Scouts. We just hung up plastic backdrops and used fun signs. I even joined the fun!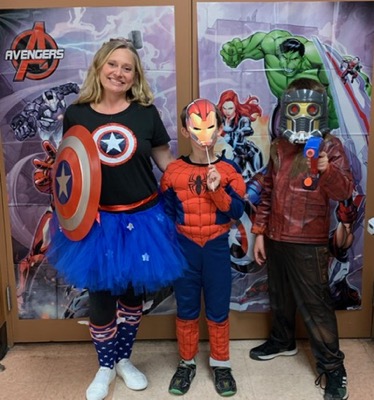 Play Marvel Trivia
This is a fun way to get the entire family involved. You can create your own trivia questions or you can play Marvel Pictopia. You can also download the Houseparty app that offers Superhero trivia for FREE!
Play Games
There are so many fun Marvel games that kids will love to play during Marvel Day. Here are some of our favorites!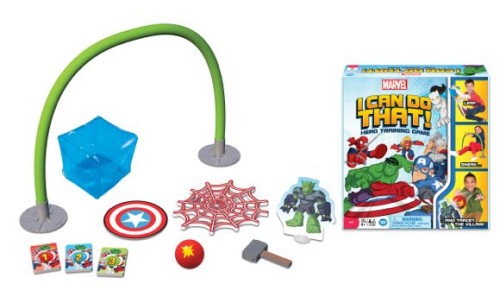 Paint Infinity Stones
Take painting rocks to the next level by painting Infinity Stones. You can paint rocks the color of each stone then hide them around your yard. Create a scavenger hunt with clues so the kids have to find them in order to save the universe. You can also give a stone to each one of your friends as symbol of unity and friendship.
Build, Create, Play
Did you know that many Marvel superheroes as well as other important characters were scientists too? To celebrate their love of STEAM (science, technology, engineering, art, and math), encourage your kids to design their own innovative superhero hero tool that might just save the world (or the universe) one day. Kids can draw or sketch their ideas first then try to build it using whatever they have at home like LEGO bricks, K'Nex, water bottles, toilet paper rolls, lights, and more.
Grow a Groot
Did you know that you can grow your own Groot? Well, sort of. My boys absolutely loved the Grow a Groot set from Uncle Milton. They had so much fun planting the seeds and then watching the plants grow each day. Read our review to learn more! Grow a Groot can be found on Amazon for under $20!
Study Space
Since most epic superhero battles and stories take place in space, why not study space during Marvel Day? Kids can learn all about our galaxy as well as other galaxies and planets. They can also learn all about space travel, and talk about how they think superheroes are able to travel through space so easily. Another fun activity is to have your child create their own planet. He/she can name it, determine its landscape, choose a language, design buildings and so on. If they are really creative and artistic, they can even draw or build their own planet! Designing their own spacecraft is another fun activity that involves the use of STEAM concepts.
Read, Read, Read
A themed day from Mommy University is NEVER complete without reading! Besides reading comic books, there are tons of Marvel books out there for every Marvel fan. Here are a few to get you started!
There are some of our favorite Marvel Activities for Kids. What are some you have done at home? Share them in the comments section below and we might add them to our post!
You may also enjoy: