Mommy University is excited to partner with Faber Castell to bring you this exciting holiday giveaway!
While some children appreciate the details associated with fine art like drawing or coloring, there are others that love to dig their fingers into their artwork. Faber Castell recognizes that some artists need a hands-on approach to their creations and thus the Do Art Pottery Studio allows children to make their own three-dimensional designs.
The Pottery Studio consists of a pottery wheel, 3 pounds of air dry clay, apron, six-piece tool set, table cover, 12 pots of paint, glaze, sponge, two paintbrushes and an illustrated instruction booklet. The kit promotes children to develop an appreciation of sculptures and pottery as well as a better understanding of its history. The illustrated booklet empowers children to actively work on the Pottery Studio; however, some adult supervision may be needed especially during its initial use. Faber Castell considers many different factors when designing their art products. For example, the clay is synthetic so it will not contain bacteria or microbes.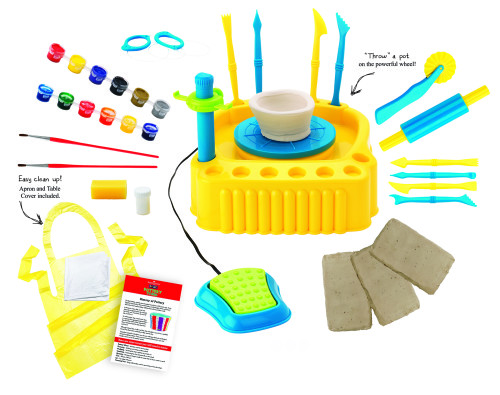 Designed for children ages 8-12 years old, they will be able to dig in and hone in on this creative outlet. While it is messy (it is a pottery studio), it also easy to clean up after children dig into their projects. It is also easy to use and a wonderful introduction to this specific art. Whether they start with pinch pots or explore figurines, they will be able to use their hands in this multi-sensory activity to make objects.
This giveaway has ended. Please check out our other brain boosting giveaways.

If you like this post, you might enjoy: