When we think of holidays our minds drift to the smells and sounds that emerge from the kitchen. Our birthdays and fondest memories include what favorite dish a relative makes or how we sneak leftovers late in the night. Cooking is a cherished tradition we all share which is one of the reasons bringing our children into the kitchen is a common theme in families.
Cooking, however, is not just about celebrations. We compiled a post on the Benefits of Cooking with Kids, and what it teaches children is vast and all encompassing. It teaches them about health, math, science, and more! As a parent, I love that kids who cook in the kitchen are more likely to try and eat foods. If you are seeking a strategy to encourage a love of cooking, take advantage of a cooking kit! There are options where ingredients are included as well as ones that promote healthy eating. Many even offer subscription boxes. Here is our list of awesome cooking kits for kids!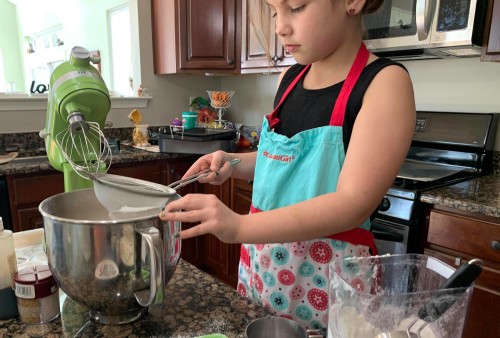 Baking & Cooking Kits for Kids
Baketivity
Baketivity focuses on baking kits with premeasured ingredients included in each themed box and a shopping list. If your children have been asking to make cinnamon rolls or pudding pops, you can order those individual boxes. In the packages will be kid friendly instructions (lots of graphics) as well as educational games that can be played as the items are baking. If you want, you can order a subscription for your budding baker where each month they will receive a package that introduces new skills. The monthly subscription is $32.99 and prices range to the 12 month subscription costing $25.95 each month. Baketivity also lists on the shopping link boxes that focus on cooking with Master Chef!
Cooking's Cool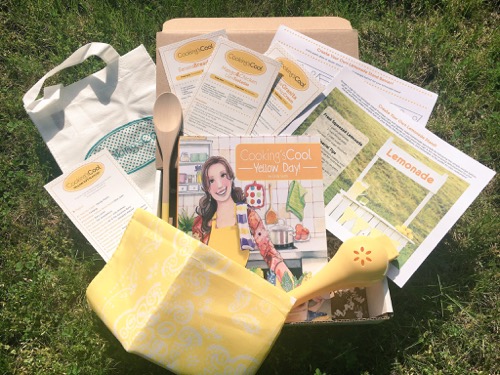 If you are looking for a tool to teach kids that cooking is cool then check out this company which offers seasonal cooking kits! Each year the recipes included will change, but each kit, priced at $25.95, will always include: three recipes with accompanying story, kitchen tools, spotify playlist, shopping list and tote, and learning activities. They also offer color themed kits which is another unusual take on the cooking kits. Check out our review on these fun kits that we have tried!
Curious Chef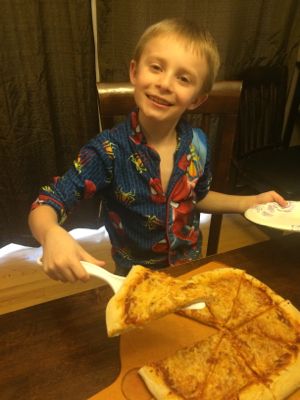 Let kids explore their curiosity and creativity! Curious Chef offers various kid friendly cooking and baking supplies to get children in the kitchen (and the garden). The tools are designed for their small hands with large fonts and serrated knife edges. If you are looking for a gift set, take a look at their pizza kits or even their pie kits. You can also read about our experiences with Curious Chef here!
eat2explore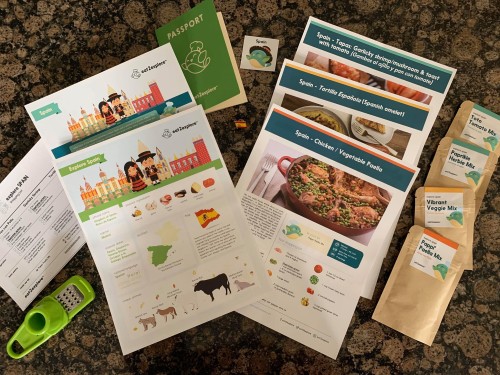 As someone who has loved traveling different parts of the world, I love the concept of eat2explore which promotes learning of other cultures through food! Each month kids can receive an explorer box which includes: 3 recipe cards, a flag pin, country sticker, essential spices, activity sheet, and a collectible. To start a subscription, you choose an adventure which is deciding if you want to explore by country, continent or the world. You will have to buy the fresh ingredients but they will provide the shopping list. Each month your children will collect a sticker to add to their passport as they travel the world through taste. If you pick a monthly subscription, it is $24.95; however, expanding to the 12 month subscription reduces the price to $21.21 each month. You can read our review on eat2explore here!
Foodstir
As you are reviewing different cooking kits, each has their own unique benefits. FoodStir is a great option especially if you are looking for cooking sets that are organic non-GMO kits that boast of natural decorations. Foodstir has boxes every other month that redefines delicious treats while still being healthy. This junk-free bakery is about bringing food, flavor and fun all together. For Foodstir, you can chose the 1 month subscriptions at $25.99 (without shipping) and 3 month subscription with free shipping at $100.
Harlow's Harvest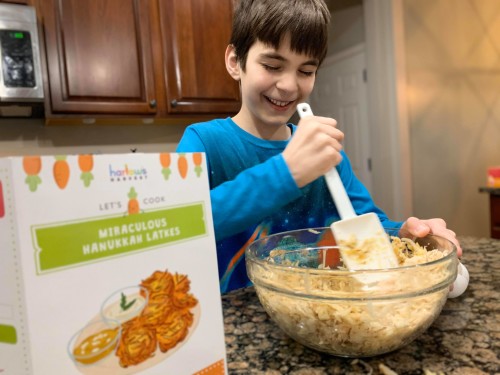 Harlow's Harvest not only promotes children, ages 4-15, learning kitchen skills but in their monthly subscription boxes, they also bring in other related subjects like budgeting, nutrition and stem. Included in each monthly themed box are several recipes, shopping list, kitchen tool designed for smaller hands, kitchen science project, budgeting skills for the store, and a collectible pin for the apron. Monthly subscriptions are $23 a month. The six and twelve month subscriptions include an apron and the price ranges from $21-19 a month with full payment up front.  You can read more details about Harlow's Harvest in our review by clicking here.
KidStir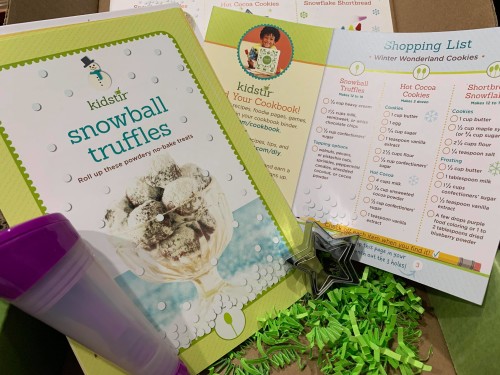 Each kit of Kidstir focuses on food and fun! Designed for children ages 5-12, the kits will teach children kitchen skills they will pay attention to seasonal ingredients and special occasions. They will include three recipes with step by step photographs, a printed shopping list, learning activities and two kitchen tools. Children will enjoy collecting the recipes to put in the Kidstir binder which is a gift for families that purchase the twelve month subscription. If you pick the monthly subscription, it will cost $24.99; however, if you chose the twelve month subscription the price drops to $19.99.
Little Sous
Do you want to make meal time fun? Little Sous organizes their cooking kits into monthly themes that can be ordered through their monthly subscription. You can order by the month for $24.99 or over 3, 6, or 12 month subscriptions with the price lowering to $22.99. With the 12 month subscription, it includes a bonus opinel knife set. Included in the set is a high quality tool (or nonperishable item), cooking lesson, recipe guides, and activities.
Raddish Kids
Raddish Kids knows that kids who cook will be kids who try and enjoy new foods. They offer subscription boxes that revolve around a monthly theme that has 3 recipe guides, 1 quality kitchen tool and a kitchen project as well as talking prompts to encourage kids to have fun conversations. The box will include a grocery list in addition to the one that will be emailed in advance. The length of the subscription will impact the price. If you order one month, it will cost $24; however, the yearly subscription costs $20 a month. The 6 month and 12 month subscriptions will include a free apron which is the perfect place for them to adorn with the patch they receive each month.
Sweetology
Do you want to explore your inner artist as you splash buttercream on cupcakes to make them look like a rocket or outer space? Sweetology offers decorating kits that are organized by themes like holidays, fashionista or even puppies. The box arrives with cupcakes (or cookies) already baked and includes all the icing and edible accessories to decorate. You can order an individual box at $39.99 or indulge in the subscription boxes which can be shipped by season, holiday or monthly at $29.99 for each box.
Veggie Buds Club
If you have a child that loves veggies (and yes they do exist) or a child that resists them, then Veggie Buds Club might be what your family needs. This subscription box set highlights a vegetable each month with kid friendly recipes, crafts, and activities. Kids will definitely try the vegetable and may even love it. The subscription boxes range in price from $9.99 for the ebook option to $29.99 for the subscription box, Veggie Buds Club Box, you will receive the specialty craft supplies and growing supplies.
Young Chefs Club
Designed for children ages 5 and older, America's Test Kitchen compiles monthly themed boxes that includes recipes, hands on experiment cards, and a make your way challenge in the Young Chefs Club. The box will also include either a kitchen tool or special ingredient. While this box does not include all the ingredients you will need, they will email you prior to the arrival of the box a shopping list so then when it does land at your doorstep you have all the ingredients. This is a subscription service where members will have access to a digital library of recipes, activities and videos. The subscription box ranges from monthly at $24.99 to twelve month subscriptions at $19.99.
If you like this post, you might like!