You Don't Need to Pack Your Bags to Visit Sodor!

There are few ambassadors to children's literature and television programming that have withstood the test of time like the jovial and hard-working Thomas the Tank Engine. The original TV series featured model trains with the voice of The Beatles' Ringo Starr narrating his adventures across the island of Sodor. Children have flocked to this iconic train for decades which is easy to understand since he has qualities they identify in themselves. We have ridden with Thomas through train rides and we have read stories about him but now he has arrived in Jersey City!
Liberty Science Center has brought Knapford Station to the fourth floor enabling children ages 2-8 vast opportunities to learn through play. As much as my children have transitioned away from Thomas, as soon as they saw all the engaging activities they were throwing on a Conductor hat and running around hitting all the hot spots of this exhibit. They immediately remembered how much fun Thomas is and appreciated several key spaces we would like to highlight.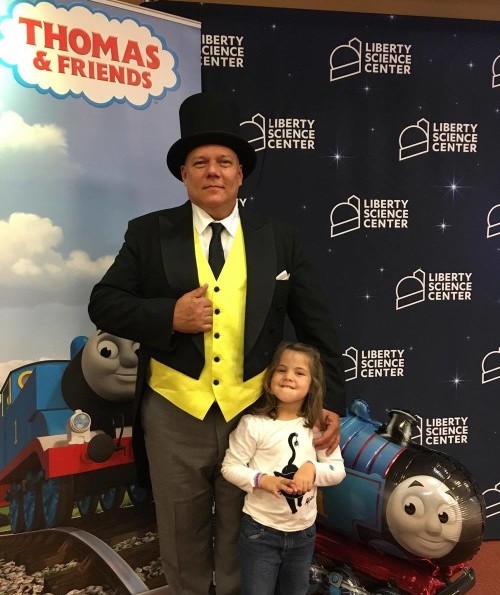 5 Activities Children Will Love At
Thomas & Friends: Explore the Rails Exhibit
Massive Train Table
Immediately when you walk into the Explore the Rails exhibit the first thing you and your child will notice is one massive table that consumes a large footprint of the exhibit. This table is the ultimate train engineer's dream to imagine themselves visiting Sodor. There is a huge variety of trains available which is why there might have been over twenty children playing at this table simultaneously. The different stations, paths and partnerships offer plenty of variety for children to play here for a good length of time.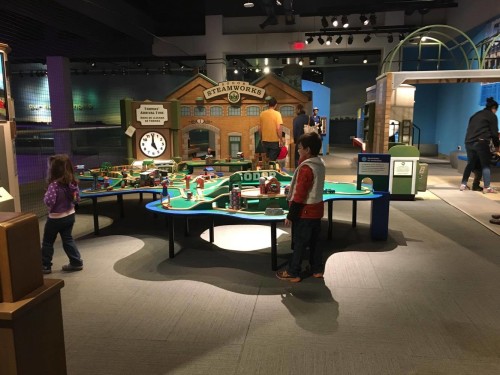 All Aboard!
As a parent you may love taking a photo of your little one in front of the large-scale Thomas Model, but your child will be thrilled that they can climb aboard Sodor's Number One engine. They will be able to explore the inner workings of the engine which helps to refine physical abilities such as hand-eye coordination.
Every Part Has a Purpose
One of our favorite trains on Sodor is Percy but he seems to have a problem. Actually, he has a few problems which your children can help solve. At this station in the exhibit, children can remove train parts and exchange them for other pieces.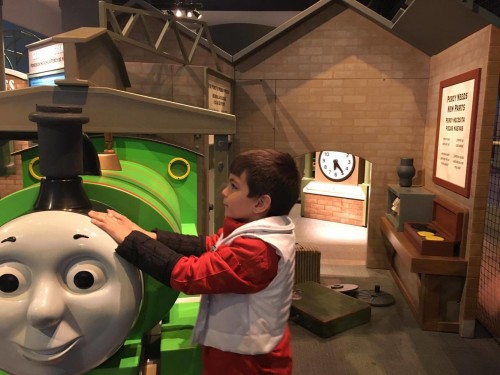 Tickets, Get Out Your Tickets
My children loved playing at the ticket booth. They can even put on a Conductor hat and jacket for some pretend play as they sold tickets to several places such as: Knapford Station, Ulfstead Castle, Vicarstown and Brendham. Children can practice basic math skills with physical money from Sodor. As well, they can plan out the trip using the map on the wall.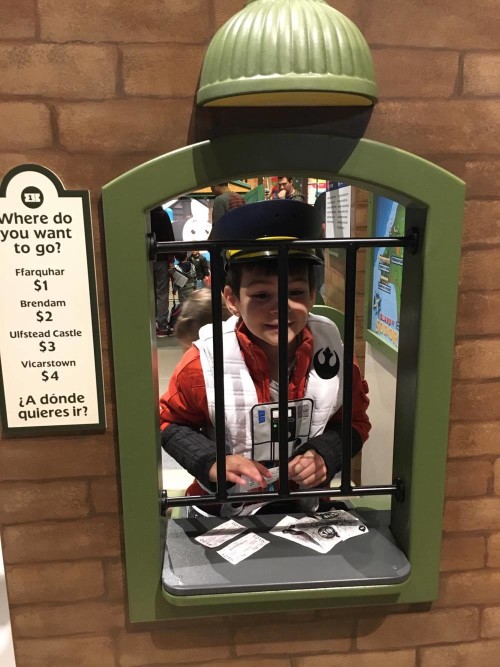 Pack Your Bags!
Enthusiastically, my children threw luggage on the train from the loading dock. (I hope they will bring home this much energy when it is time to clean their rooms.) Children will have to use visual spatial skills as well as problem solving skills to load suitcases and crates of produce within limited spaces.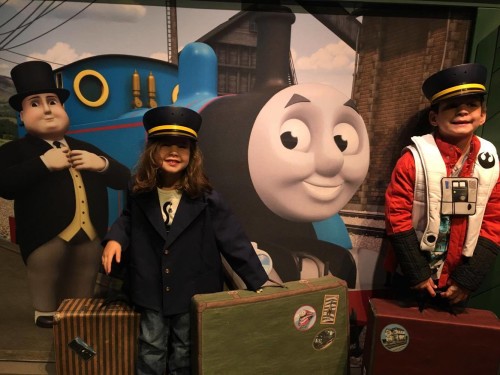 While these are a few spots to visit at the Thomas & Friends: Explore the Rails exhibit, there are more to enjoy. Young children can be exposed to building trains while preschoolers can practice telling time with Tick Tock, Fix the Clock and parents will enjoy having kids take a photo Sir Topham Hatt which can be emailed to you or posted to social media. Thomas & Friends is open now until May 13, 2018 which is included in general admission. Tickets are $21.75 for adults, $18.75 for seniors 62+, and $17.75 for children ages 2-12. Museum members and children under age 2 are FREE. Liberty Science Center is open in the fall and winter Tuesday-Sundays (closed on Mondays) except on holidays.
Want to win tickets to explore this amazing exhibit! Of course you do! We are so excited to partner with Liberty Science Center to give away 4 tickets to see Thomas & Friends!
Here are the rules and conditions for this amazing giveaway:
Participants MUST live in the United States.
The winner will be chosen by Rafflecopter.
The contest will run from October 4, 2017 through 12am on October 18, 2017.
The winner will be announced on October 18, 2017.
The winner will receive 4 Tickets to Liberty Science Center directly from Mommy University.
The winners must respond within 1 day or another winner will be chosen.
To enter, participants can earn entries by: visiting the Mommy University Facebook page (likes are appreciated but not required), following Mommy University on Twitter, sharing the contest with friends, providing an email address and commenting on this blog post by answering the required question.
No purchase is necessary to win.
Your chances of winning are dependent on the number of entries received.
Enter here: a Rafflecopter giveaway

If you like this post, you might like: