Even though I have 2 boys at home, the movie Moana is a favorite in our house. My 5-year old can sing every word to every song and loves playing with his Moana toys and reading Moana books. We even waited in line for 45 minutes at Disney World to meet Moana! It's a movie that individuals young and old, male and female can relate to. It's about following your dreams with getting through some obstacles along the way.
We were recently invited to a Moana themed birthday party that was AMAZING! My sister-in-law and her family out did themselves with fun themed activities for the kids. It was so much fun that I felt I had to share them with you! Here are some Moana activities from her Disney party along with a few I came up with based on the adventures in the movie. Enjoy!
Moana Activities for Kids
Learn to Hula Dance
One of my favorite scenes in Moana is when Moana is giving a hula lesson to the kids on the island and one little boy gives her "the eye." If you haven't seen this part make sure to look for it next time! To celebrate the Polynesian culture, have your kids learn to hula dance. Take them to a class or put on a YouTube video. Make it even more fun by wearing grass skirts and leis.
Make Your Own Kakamora
My boys LOVE the scene with the Kakamoras. They especially love looking for the one that looks like Baymax. Have you seen it yet? For your Moana day, have the kids make their own Kakamoras. They can be done in a variety of ways with each one being unique. Here are a few ideas:
Paper bag
Paper plate
Plastic coconut cup
Real coconut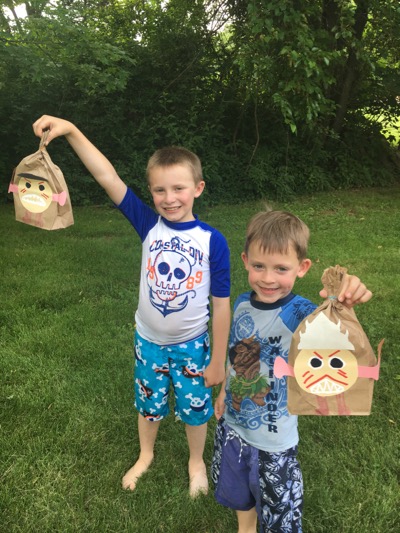 Knock Over the Kakamora
Once you have made your Kakamoras, the kids can enjoy a fun game of knocking them over. Set them up on buckets, chairs or even tree stumps. Then have the kids throw a ball to knock them over. Make it even more challenging by using a water gun or nerf gun. Water balloons can also make it a fun activity for a hot summer day.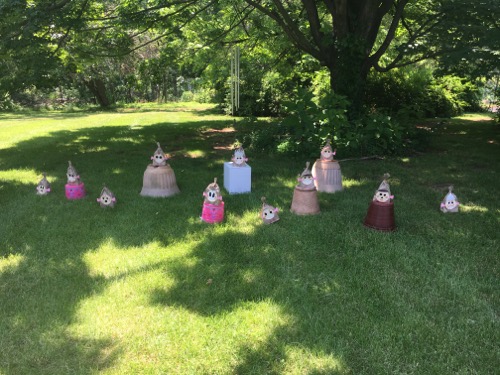 Jell-O Ocean Snacks
At my neice's party, they made the cutest Jell-O snacks. They filled a plastic cup with blue Jell-O then put crushed graham crackers on top for sand and made a boat out of a chocolate wafer cookie. It's something the entire family can make together then enjoy eating when done! Here is more on how to make it from the Jersey Momma.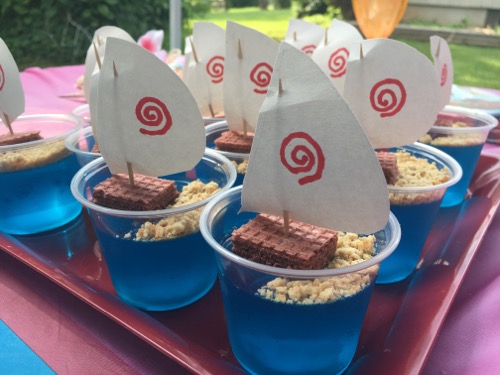 Another fun and easy Jell-O snack is to make the blue Jell-O in a cup then add swedish fish to make a fishbowl. It's easy and delicious!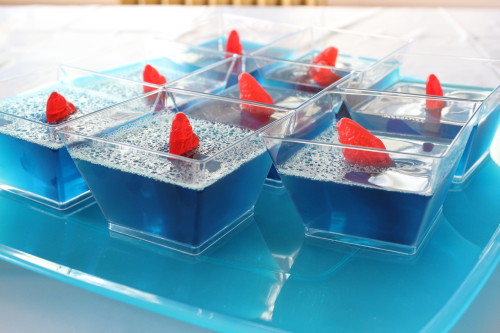 Make Your Own Crab Crafts
Turn that old sandbox into a crab for a day! My sister-in-law used blue and yellow tablecloths draped over her sandbox to make Tomatoa. She added glitter and beads to make it "shiny." Don't have a sandbox? Have the kids make a crab out of paper plates or even paint some large rocks. They can make them unique by adding anything shiny on top like gems, jewels, glitter and stickers.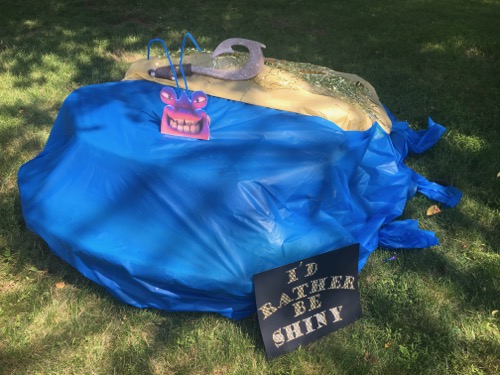 Make a Volcano
A fun way to incorporate science into your Moana day is by making a volcano. This project is very easy to do and can be made with materials you already have at home. All you need is baking soda, vinegar, a cup, play-doh and red food coloring (optional). Shape the play-doh around the cup to look like a volcano. You can even add some toys like plastic palm trees, kinetic sand and rocks. Put the baking soda (and food coloring) in the cup then add some vinegar and watch it "explode."
Collect Shells
Live near the beach? Take a trip on Moana day and collect some shells. The kids can then sort them by size to add some learning to the fun. You can also try to figure out what animal the shell came from. Once home with your collection, turn them into works of art like a necklace. You can also paint them or glue them to a picture frame!
Ocean Slime
What kid doesn't love slime? On Moana day you can make some blue slime and just let them play. You can also add glitter and shells to make it more fun. Another way to play is by adding the heart of the ocean that the kids have to find in the slime.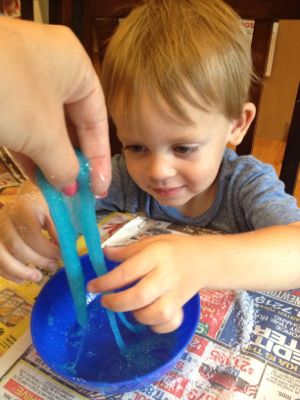 Read, Read, Read
For every themed day, we like to incorporate reading into the fun! Take a trip to the library and pick out some books about the movie as well as ones that teach the kids about Polynesian culture. It is a fun way to encourage a love of reading. Here are some books you may enjoy (the list contains affiliate links):
I hope you have a fun time planning your Moana Day!
You may also enjoy: