As the leaves change colors in New Jersey, we often times think that the period for amusement parks is coming to a close but Six Flags Great Adventure presents a whole new world for families as Fright Fest returns every September. The park is transformed from bright and colorful to spine-chilling. The family friendly environment, however, remains during the daytime which is a wonderful time for families, especially those with young children, to explore and have fun. In fact, Great Adventure has designed lots of programs perfect for kids ages 12 and under such as The Skeletones, Spooky Kooky Magic Show and The Safari Off Road Adventure.
When night arrives, there is an eerie chill as character actors creep through the park dressed as the undead and demons. Fright Night is designed for the older crowd that doesn't scare easily and it can be quite intimidating since the make up is so realistic. As guests for a Media Day, we were able to preview some of the festivities of day time as well as the monstertainment at night. Here are a few of the activities we enjoyed at Great Adventure!
Mommy University Presents
A Spooktacular Guide to Fright Fest at Six Flags Great Adventure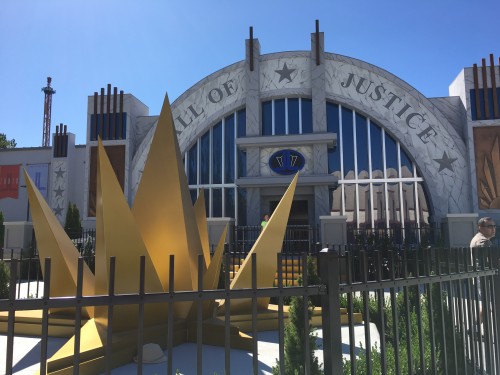 Thrills by Day (Family Friendly)
Trick or Treat Trail
Children can walk around the Trick or Treat Trail where they will see Halloween decorations, get a treat and meet a new friend. The massive pumpkin is one way that leads you to this space. As the kids walk around, they will delight in seeing towering pumpkin figures and inflatable creatures. Each visitor receives a small bag filled with candy but most kids are thrilled to meet Looney Tunes characters!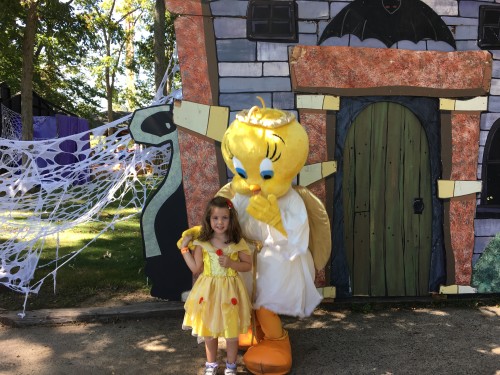 Spooktacular Dance Party
In front of the Blood Fountain several times during Fright Fest on weekends, young children can do the Monster Mash! Led by characters in friendly costumes, they encourage dancing to music that complements this season. My daughter and another preschooler loved dancing in the street.
Sea Lion Demonstrations
The Sea Lion Demonstrations are wonderful for little ones, and it takes place several times during the day. They will learn why Sea Lions are identified as mammals as well as watch how the trainers interact with these fun creatures.
Step into your Imagination
Since my daughter wore her princess costume, we realized that a ride on the teacups transported her to a different world. She was now picturing herself in a fable. There are so many opportunities for children to just pretend and since children under age 12 are allowed to wear costumes, take advantage! If you have a pirate take them on the Buccaneer, a Knight can ride on the carousel, and future superheroes will love a Battle for Metropolis!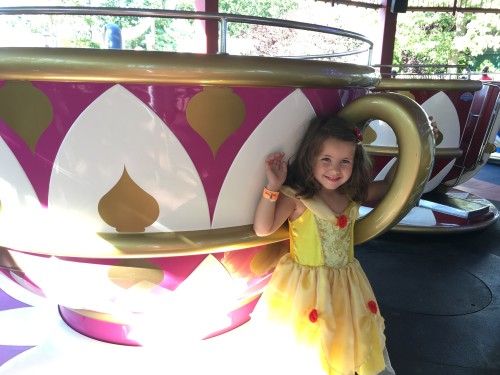 Fright Night (12 and older)
Children and those who scare easily may want to leave before Fright Night goes into full swing. Our children are younger and since we prepared them by watching videos (see ours below), we decided that if the kids became scared or hesitated we would leave. After the Arrival Parade, we watched a few of the shows but opted for my husband to visit the really scary activities. Here are some of the Fright Night activities we enjoyed:
The Arrival Parade
It all begins when "they" arrive. Ghouls, zombies, demons and other characters that have yet to be named. The Arrival Parade begins at 6pm signaling to all that Fright Night has begun. We completed the Ferris Wheel within minutes of the parade starting so it was easy to see the path of the parade as the crowds form a tunnel for them to walk. Some of these creatures will startle you with surprising sounds that keep you on your toes.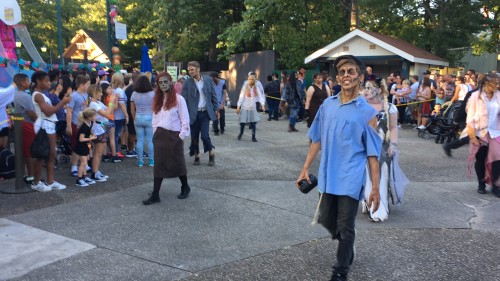 Unleashed
Our last activity was to watch the Unleashed performance which is new for 2017 at Six Flags Great Adventure. While the show was only twenty minutes, every second is spectacular. The music is rock, the costumes are steam punk and it is all gravity defying showmanship. We left Fright Night stunned and impressed with the sheer theatrics. Don't miss this show!
Corvyx
The YouTube sensation is now performing at Fright Fest. The music is electronic reinterpretations of popular hits with a haunting sound. We loved listening to "Sweet Dreams" and "Zombie." The performance is only twenty minutes and on weekends is offered a few times each night.
Monstertainment by Night
A lot of the unique shows and activities take place at night thus increasing the scare factor. Fright Fest has brought back its popular Cell Block 6 and Dead Man's Party as well as added new must see experiences. You can explore the Cemetary to seek out The Lady of the Lake or walk through the smoky Wicked Woods to find out creatures inspired from folklore and fables.  Admittedly, my husband was startled when he went through the woods.  Added this year, Ignite will be a show of spinning and illusion. The shows and experiences are spread throughout the park where you will encounter the spirits, zombies and demons hiding in shadows.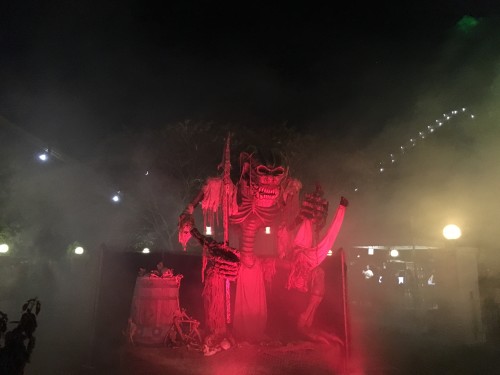 Fright Fest takes place from September 16 – October 31 and features more than 25 shows and activities which will appeal to the young or older family members. From 11am-6pm, it is thrills by day which offer family friendly shows and activities that complement the rides. When dusk arrives, enjoy Fright Night if you dare. Although we arrived at the opening and left late into the night, it was impossible for us to enjoy the numerous experiences with our little ones. Six Flags Great Adventure has compiled a multi sensory experience that will leave you amazed!
Check out our day (into night) at Fright Fest!
If you like this post, you might like: