Buckets of Fun for Everyone!
Located in West Berlin, Diggerland USA offers families family fun in this unique construction themed amusement park. What I found most appealing about this premier destination, however, is that this park is not about roller coasters, rather the rides provide distinctive sensory experiences. While this may seem like an unusual discussion, it is actually quite relevant at Mommy University. There are children that are thirsty for sensory experiences. If you have a child that needs to touch things or everything as well as enjoys strong pressure, then Diggerland has a lot of options that your child may enjoy! By the same token, there are children who may be a little hesitant or avoid specific sensory experiences and Diggerland also meets these children's needs through their program Special Abilities Night at Diggerland (SAND). Let's review both of these options.
Mommy University Explores
Sensory Experiences at Diggerland
Spindizzy
If there is one ride my daughter will continuously ride it is Spindizzy. After two years of waiting, this summer she is at the exact height to ride this beast of a machine. An oversized digger lifts eight individuals in the scoop and spins them in a circular motion and then reverses the spin. This ride feels like the pressure astronauts endure when they spin. Children need to be 42" to ride with an adult.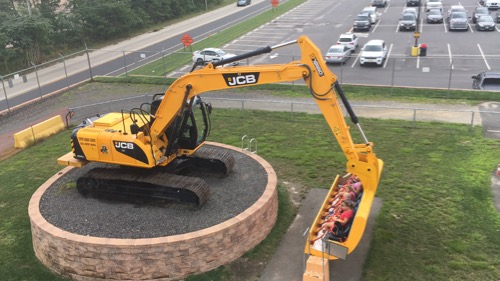 Greased Beast
While the Greased Beast may take a little time to load the riders on this large garbage truck, it is well worth the wait! It seats 13 people, and each person needs to meet the 42" height requirement. Once seated, you will be buckled in because you will be treated like rubbish! Actually, the bed of the truck will lift you 34 feet in the air so you can actually feel the sensation of being inside a garbage truck. Your hands and feet will be hanging out as you are secured in your seat.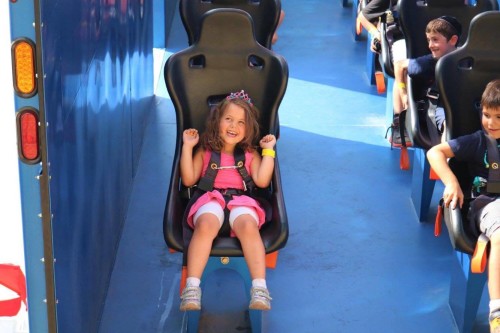 Ground Shuttle
The Ground Shuttle is my personal favorite ride as you board a Telescopic Handler which lifts you 6.5 feet in the air with a dozen other riders. This vehicle takes you on a ride that has this interesting sensation as you feel like the machine will topple over especially when you make turns. To ride on the Ground Shuttle children need to be a minimum of 36" to ride with an adult or guardian.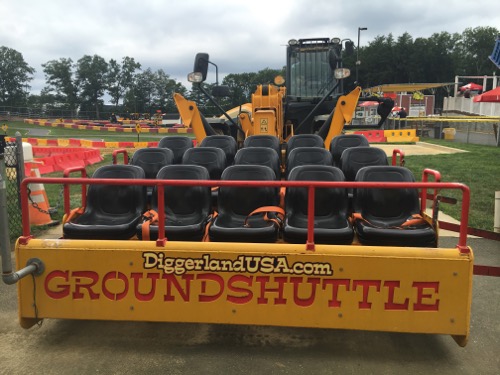 Rock Wall
If you have a child that has a lot of energy then the rock wall will definitely challenge them! Five individuals will have five minutes to climb to the top of 32 foot building. Children do need to be 42" in height to take on this task.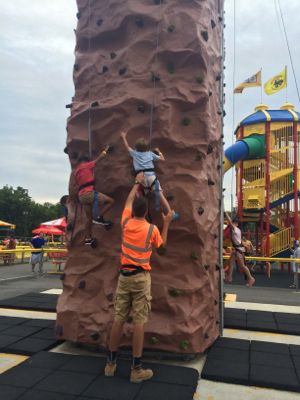 Duck Race
While this is not a ride, all children can participate in the Duck Race. Children can pick a rubber duck and use the water pump to propel their duck to win. I wanted to feature this particular experience because it is accessible to young children who may not meet the requirements for other rides.
SAND
The Special Abilities Night at Diggerland takes place several times throughout the season when the park is open to families with individual who have special needs. The park is not open to the general public, and the tickets are limited so it is recommended to purchase them in advance. It is an open and inviting environment. This special program enables those who may feel overwhelmed with large crowds and noises to enjoy this wonderful location. If you have a family member with special needs and are interested in this event you can read about our experience here!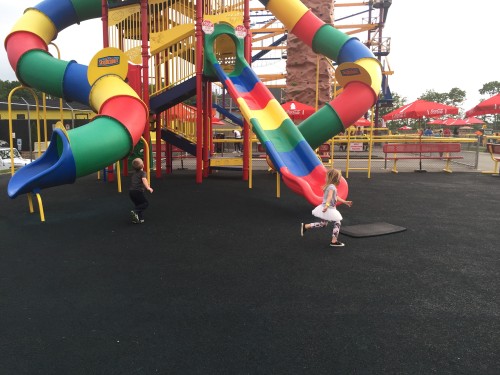 These are a few of the rides that my sensory seeking kids have immensely enjoyed and keep returning to. The Diggerland rides and vehicles provide the body with different sensory feedback. After visiting Diggerland for three years, I personally appreciate that they change the layout of the park each year and are consistently looking for experiences that change your perception.
Take an even closer look at Diggerland by watching our YouTube video:
WIN Tickets to Diggerland USA
If Diggerland sounds like a place you want your family to experience, you can now win 4 tickets! We are so excited to partner with Diggerland USA to give one lucky winner 4 tickets to this amazing amusement park!
Here are the rules and conditions for this giveaway:
Participants MUST live in the United States.
The winner will be chosen by Rafflecopter.
The contest will run from August 27, 2017 through 12am on September 8, 2017.
The winner will be announced on September 8, 2017.
The winner will receive 4 passes to visit Diggerland via mail from Mommy University.
The winner must respond within 1 day or another winner will be chosen.
To enter, participants can earn entries by: visiting the Mommy University Facebook page (likes are appreciated but not required), following Mommy University on Twitter, sharing the contest with friends, sharing another Diggerland post, liking and/or sharing our Diggerland YouTube video and commenting on this blog post by answering the required question.
No purchase is necessary to win.
Your chances of winning are dependent on the number of entries received.
Enter here: a Rafflecopter giveaway
If you like this post, you might like: