"Football is like life. It requires perseverance, self-denial, hard work, sacrifice, dedication, and respect for authority." – Vince Lombardi
I am a soccer, baseball, basketball, wrestling and, most recently, a football mom! My son decided that he wanted to try out football this year. Even though I was really nervous, I signed him up and we are now officially Warriors! One of the reasons I agreed to join the world of football was because I know this iconic American sport has so many benefits. In this post, I am excited to share some of the amazing social, emotional, motor and over life skills benefits football offers children!
10 Benefits of Playing Football
Encourages a Healthy Lifestyle
Athletes must be physically and mentally fit in order to achieve success. This means they must engage in a healthy lifestyle. Football players learn to eat nutritious meals, exercise and respect their bodies. Developing a routine of healthy living will hopefully stay with them throughout their lives.
Enhances Gross Motor Skills
Football requires a great deal of physical strength and agility. From the moment a child starts playing, they are building important gross motor skills and core strength. This also helps enhance balance, coordination and motor planning. This not only makes them physically fit and ready to play football, it also allows them to be ready for other sports like wrestling, soccer and baseball!
Builds Problem Solving Skills
Even when players go into a play with a plan, anything can happen to change the outcome. When playing football, players need to think quick on their feet and problem solve based on what happens on the field. At my son's first flag football game, he was supposed to run the ball down the field; however, he was blocked by the other team so he quickly changed directions and attempted to weave through the crowd. With each play, kids learn to find solutions in the moment.
Encourages Teamwork
"I got a lot of the greatest values in life from playing sports, from playing football – teamwork, sportsmanship, my work ethic, resiliency, dedication – I got it all by being on a team." – Jon Gruden
No matter how you look at it, football is a team sport. Each player may have their own position, but if they don't work as a team they can't win. Playing football teaches kids the importance of teamwork. Players learn to not only cooperate but support and, even more importantly, defend each other on and off the field.
Boosts Self-Confidence
Whether you win or lose, playing football is an amazing way to build confidence in children. As they start to run faster, throw farther and get stronger, players are building self-confidence and self-esteem. They begin to believe in themselves which trickles over to other areas like school and friendships.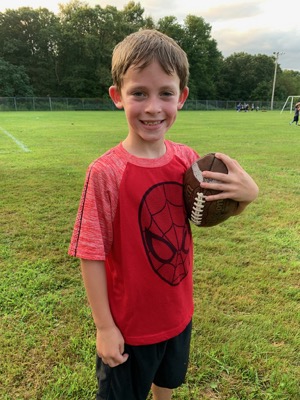 Improves Memory
There is a lot to learn and remember when playing football. As a newby, I am still trying to remember the names of all the positions! Players have to not only remember plays but perform them. This helps enhance working memory.  Playing football also helps children build both short term and long term memory which are needed for academic success.
Teaches Perseverance
"Losing doesn't make me want to quit, it makes me want to FIGHT that much HARDER!" – Bear Bryant, University of Alabama
Football players never give up! They push through the pain, sweat and tears to reach their potential. Playing football teaches kids to never give up no matter how difficult something may be. They learn to persevere which is a skill they carry over into school and life!
Builds Friendships
Ever hear someone refer to their friends as their sports family? Well that's what happens when you play an intense sport like football. Players and parents spend so much time together that bonds are formed and friendships are made that go beyond traditional friendships. Players often feel like a family which also creates an amazing support system. These are bonds that can last a lifetime!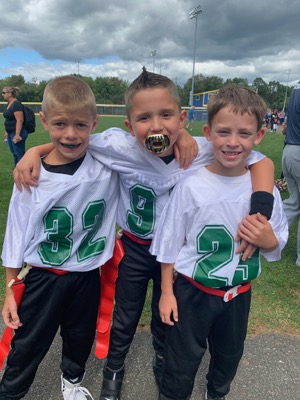 Enhances Concentration
A player cannot go into a practice, game or play distracted or lacking focus because they will get hurt or at the very least end up with a fumbled play. Football players must concentrate from the moment their cleats hit the field. They have to learn how to focus their mind on one thing, football.
Teaches the Importance of Respect
Players learn real fast that respect is rule #1 when playing football. Respect for your coach, respect for your team, respect for your opponent and, most off all, respect for the game. There is no room for big egos or arrogance on a football field. This respect carries over to home, school and life!
Tell us in the comment section below why you LOVE football!
You may also enjoy: