Pennsylvania State University is a massively large university spread over 20 campuses; however, University Park is the biggest campus and is host to the NCAA Division 1 sports like football and basketball. This institution is well-known for many things like their meteorology, engineering and nursing schools as well as their success in sports. You might head to Penn State to watch a football game which can seat over 100,000 people in their stadium or for a college tour to see if this impressive school is a good fit for your child.
If you are traveling with young children, a stadium sport might be overwhelming for them and a tour may not provide enough engagement for this age; however, that doesn't mean that they need to be miss out on fun activities. There are plenty of interactive and educational activities that will expose your child to a new experience in this area. We wanted to highlight a few spaces that help keep young minds engaged!
Mommy University Presents
5 Must Do Experiences at Penn State with Little Kids
Discovery Space of Central Pennsylvania
We love visiting children's museums especially outside of our home state.  The Discovery Space is a small space but it packs in a lot of learning through play experiences. The museum is open a few days of the week and at $6 per person we felt this is a good location to add to your list especially if it is raining and need an indoor space. Discovery Space is also a member of the ASTC Passport Program so if you are a member of a participating children's museum you may be eligible for a discounted admission. We were informed that they will soon be relocating to a larger space so check their website for hours and location.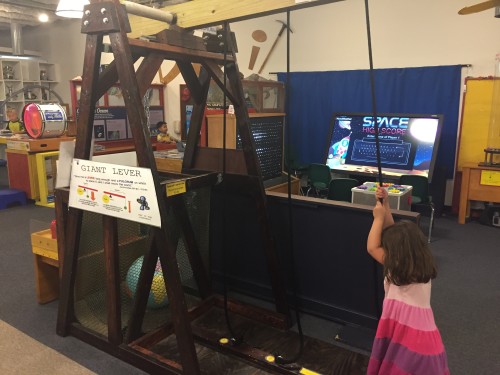 Arboretum at Penn State
Right by Beaver Stadium and Berkey Creamery, the Arboretum at Penn State is a tranquil space that you can walk to or drive to as they have their own parking lot. There is a lot of direct sunlight so it is overflowing with beautiful flowers; however, it was the children's space that was absolutely impressive. Unlike other arboretums, there is a decent sized space available for young children. Designed to be interactive, we found my kids wanted to stay and play. The Arboretum is open from dusk to dawn, and while there may be volunteers on hand during limited hours during the day for interactive activities, it is not necessary for them to be on-site during your visit. It is also FREE which fits everyone's budget.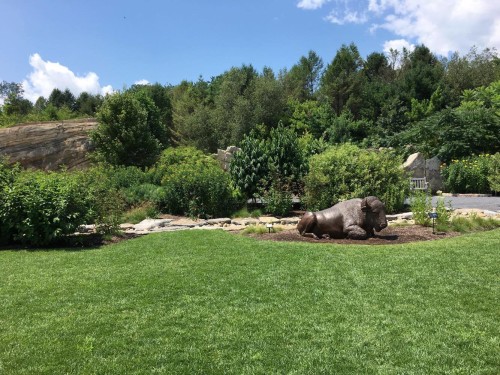 Earth Sciences and Mineral Museum
On University Park campus, there are several FREE museums that are open to the public. When we visited several were closed for summer renovations; however, Earth Science and Mineral Museum was open and perfect for my children. On display are dinosaur fossils, examples of meteorites and even a breakdown of coal.  Children can also learn about tornadoes with a large size machine by adjusting the dials. My children didn't want to leave the sandbox filled with kinetic sand that they could maneuver and learn about topography as a computer projected different landscapes. Place your hand over the sand and watch it rain thus changing the terrain.  If your child is not fascinated by rocks, minerals and dinosaurs here are the other museums you can bring them: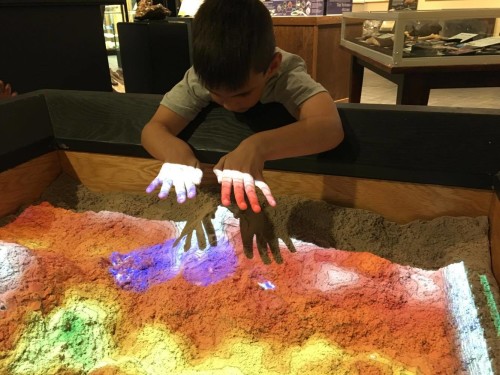 Shraver's Creek Nature Center
Located 12 miles from the University Park campus, Shraver's Creek Nature Center offers stunning hikes through hillsides, marshlands and woodlands. Your family may be attracted to the nature programs they organize for young learners. In 2018, the center will open a state of the art sustainable 3,200 square foot Visitor Center that includes classrooms and exhibit spaces. Until then, the Visitor Center and Raptor Center are closed until this new space opens. In the meantime, the trails are open for visitors.
Berkey Creamery
With a history integrated with Penn State itself, a trip to the iconic Berkey Creamery is a must do culinary experience. The Creamery has 100 ice cream flavors with usually 20 in rotation. Everyone stops here for ice cream and there is a legitimate reason why: it is divine! You pick one flavor (there is no mixing), and after paying you let them know which flavor.  Also, there is only one size. If you will be visiting Penn State regularly, I suggest you pick up the passport for a nominal cost to track testing the flavors. We loved the Peach Paterno and Arboretum Breeze.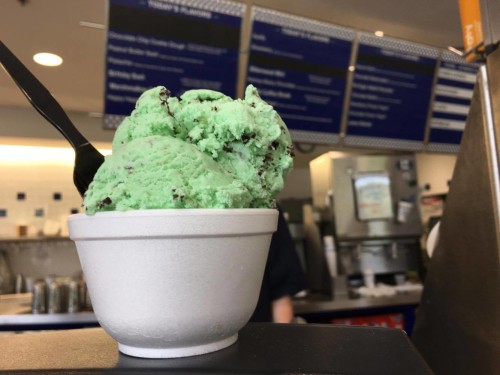 Most of the locations we listed are associated with Penn State University, aside from the Discovery Space, so exploring them helps children become familiar with one facet of the college environment which is promoting curiosity!
You may also enjoy: