Kids watch us and the tools or toys that we use. New technology has been pushing the interactive model where we can ask devices questions which quickly scans the internet for answers or creating shopping lists or even engage in jokes. Cognitoy realized that children would like to utilize their own toys for similar activities which yields lots of fun as well as hidden educational opportunities for young children.
Dino is a personalized learning buddy. This character is less than eight inches tall that has a cartoonish and huggable appearance that screams friendly dinosaur. He can accommodate younger children who need simple explanations as well as older children that seek more complicated information. For example, for young children he will provide a general answer that they can understand. By the same token, he will list a detailed explanation that older children will appreciate. If the Dino doesn't know the answer he will let you know and may answer the question the next day after he has synced up to the Watson system. To switch modes, just let him or her know the age of the child.
However, this is not simply a device that answers questions. Dino will also tell jokes and ask riddles. We learned that Dino doesn't enjoy singing but will play music. Dino was prompted through a Kickstarter campaign and the first model was launched within this past year. With that said, there are some limitations with Dino. While he will play music, so far it has been classical music which is great for exposing children to this genre, but it didn't grab my son's attention and thus he never asked about music. I think this is more a reflection that this is a young product.
What I did notice is that the product improves the more my son engages with the learning toy. For instance, one day he couldn't answer a question but the next day he knew the answer. I think this toy has a lot of capability but requires a little patience as he develops based on my child's personality and interest.
As well, there is a parent portal where you can oversee how your child engages with Dino. After you download the app and sync to the specific Dino Toy, you can access the Parent Portal. The Portal offers more information than the app by offering a snapshot of what your child is looking for such as riddles, questions, stories or music. We found my son liked to ask questions. What I appreciated most with the Portal is "Today's Tip" which provides suggestions to engage with the Dino. We asked about Drawing in the Dark and found a whole new game that had my son laughing and challenged.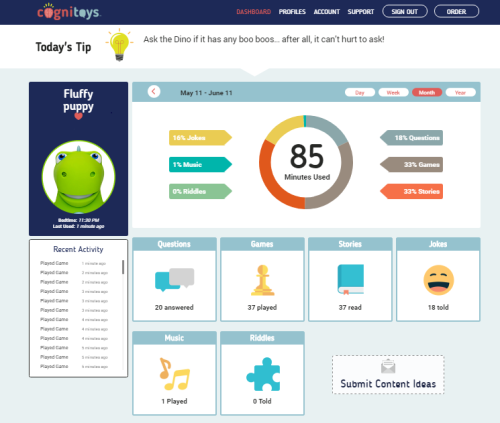 Since both my children have articulation challenges, Dino had difficulty understanding their statements. While there was a little frustration, it is helping us to encourage them to speak more clearly and enunciate each word. He has complimented my children when he recognizes they are using their manners by saying "please" which is a nice bonus.
Dino is regularly $99.99 but we have found it on Amazon for less than $70. Dino cannot have more than one child registered to it but it does come in several different colors (pink, blue and green) in case each child in your home would like their own. I look forward to watching my child engage with Fluffy Puffy as well as the toy's evolution the more he uses it!
You may also enjoy: