I have actually lost count on how many years or how many kids workshops we have attended at Home Depot but I can tell you it has been a family tradition for some time. It started as a fun way to spend time with my kids and has slowly evolved into a way for my kids to learn important developmental skills as well as get together with friends. In fact, it has recently changed from a morning with family to a morning with friends especially my son's Cub Scout den.
For those that don't know, Home Depot offers FREE (yes I said FREE) workshops for kids the first Saturday of every month. It takes place from 9am-12pm (or until supplies last). Each Home Depot offers their own unique experience. Some may have popcorn and juice for the kids while others may have cookies and a balloon artist. Some workshops are held inside while, on a nice day, you may find the class set up outside. Each adventure is new and different which makes us come back again and again.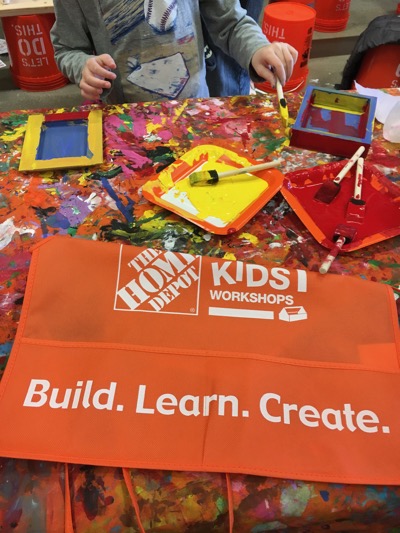 Whether it is a box, pencil holder or gift for Mother's Day, Home Depot offers experiences that help kids build, create, learn AND play! Besides collecting endless pins which the kids earn for each build and making projects that line my house, Home Depot Kids Workshops offer opportunities for growth and development. That is why Mommy University wants to highlight the amazing benefits of attending one (or all) of their building events.
10 Benefits of Home Depot Kids Workshops
Promotes Family Bonding
When we first started attending Home Depot Kids Workshops, it was to set aside some time as a family. It was to ensure that at least one Saturday a month we would work together on a special project. Since then, it has evolved to include more families allowing everyone to bond and get to know each other on another level. We all work together to help with projects, and the kids compliment each other on a job well done. Not only do we bond as a family, my kids are also building friendships and confidence!
Encourages Social Interactions
As I mentioned above, our visits to Home Depot Kids Workshops now include friends such as my son's Cub Scout den. The boys love working together to make the projects and help each other understand the directions and construct the designs. While there, they also make new friends and talk about where they are from. I love that these workshops help kids build important social skills which is needed in school, work and life!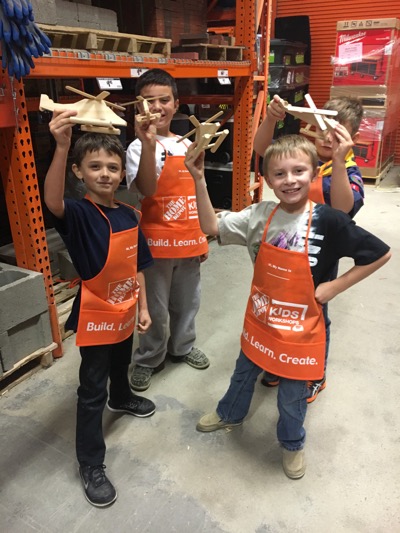 Enhances Fine Motor Skills
Each and every Home Depot project requires fine motor control, strength and manipulation. You have to hold the wood in just the right place, the nails have to go in the designated holes and the hammer has to land just right. All of these tasks help kids enhance fine motor skills. Each month I have seen my kids fine motor abilities increase to the point where my 5-year-old can now hammer in all the nails by himself (with my guidance of course).
Teaches Kids to Follow Directions
Each Home Depot Kids Workshop kit comes with written and visual directions. This allows everyone to understand how to make the project. Although, I have to admit, I have messed up my fair share of projects, I believe this is a wonderful way to teach kids to follow written instructions. It shows them how to follow the steps in order and understand what happens if they don't.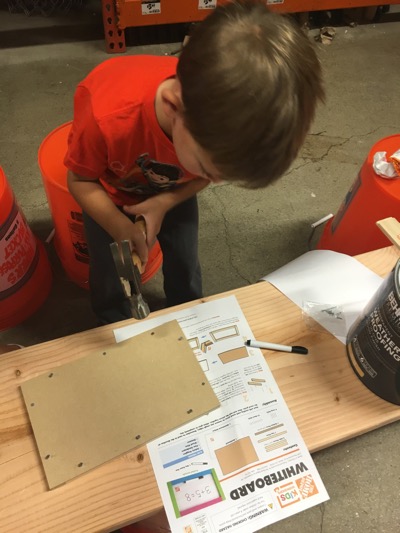 Builds Problem Solving Skills
So what happens if you don't follow the directions exactly? That is a problem the kids (and parents) need to figure out. When a build does not come out perfectly, it becomes a teachable moment in problem solving. We have to look back and see where we went wrong and how we can fix it. Sometimes we can't fix it which turns the experience into a lesson on acceptance (or how to stop tantrums in the middle of a store).
Enhances Spatial Awareness
As kids get stronger with their motor skills, they start to develop other skills such as spatial awareness and visual-perceptual organization. At first, parents will align all the pieces and ask the kids to hammer, but as they get older, kids will begin making the projects independently. This teaches them to visually scan each piece of material and properly line them up. This takes patience, attention to detail and a good understanding spatial organization.
Sparks Creativity
At the end of each workshop, kids are able to paint their creations. Home Depot sets up a work station for the kids with a variety of paint colors for kids to make their projects unique to their personalities. My boys LOVE this part as they get to make their projects look different from each other. As a parent, I love watching their creativity sparked as they decide which colors to use and exactly where they want each color to go. They even mix colors to get the color they are looking for. This part of the project has evolved from throwing any color on the wood to being very strategic about what the end result will look like.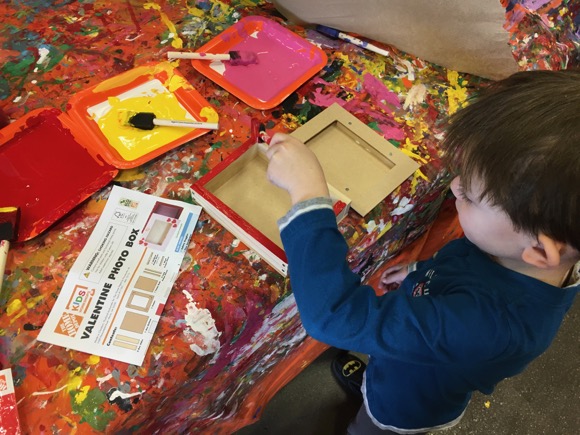 Increases Visual-Motor Coordination
I know I already spoke about motor skills and spatial skills, but putting those things together is another skill needed to be successful in school and life. Your child may be able to hold the hammer and put the nail in the designated hole, but if they can't make contact with the hammer to the nail then the project can't get completed. Being able to see what you need to do, then have your brain tell your hands to do it takes hard work and practice. This skill is needed for writing, typing and larger construction tasks in the future.
Promotes Focus and Attention
Let's face it, kids don't always have the best focus and attention, but it is amazing to see crowds of children at Home Depot working carefully on a project and listening to directions (well at least some directions). Each workshop, your child's attention will increase as they understand what is expected. If a child is particularly excited about a build, they will work even harder to stay focused and complete the project.
Increases Independence
I had mentioned that I attend Home Depot Kids Workshops regularly. As a result, my kids have become more and more independent with building their projects. Their independence builds each week (pun intended). Kids start by helping parents build but paint independently. Then they can start laying out what is needed for the project. When strong enough, let them hammer in all the nails. Eventually, they will be ready to build on their own which builds confidence! (Children will ALWAYS need your guidance so never leave them unattended during a workshop.)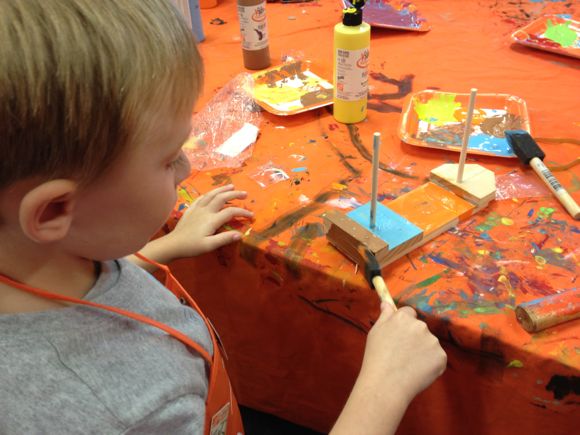 Now you can clearly see why we LOVE Home Depot Kids Workshops so much! Remember, they take place the first Saturday of every month. Visit your local Home Depot for more information. Here is an exclusive look at this year's upcoming schedule:
February – Heart String Art
March – Binoculars
April – Recycling Truck
May – Mirrored Vanity
June – Tool Bench
July – Soccer Game
August – Locker
September – Crane
October – Fire Truck
November – Battleship and Elf Ornament
December – Santa's Cookie Tray
January 2021 – ATM Bank
Register HERE!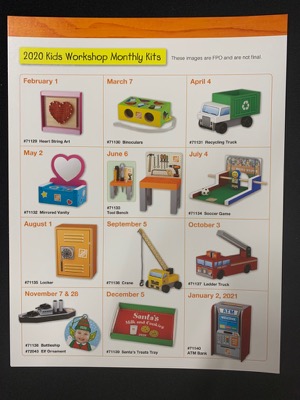 You may also enjoy: