Mommy University is so excited to partner with The Franklin Institute to bring you on a prehistoric adventure through Jurassic World along with offering an amazing ticket giveaway.
We are all about dinosaurs in my house. From toys to games to books, you name it, we have it. We also watch Jurassic Park or Jurassic World almost every week. That is why when we heard about the opening of Jurassic World at The Franklin Institute in Philadelphia, we knew we had to go!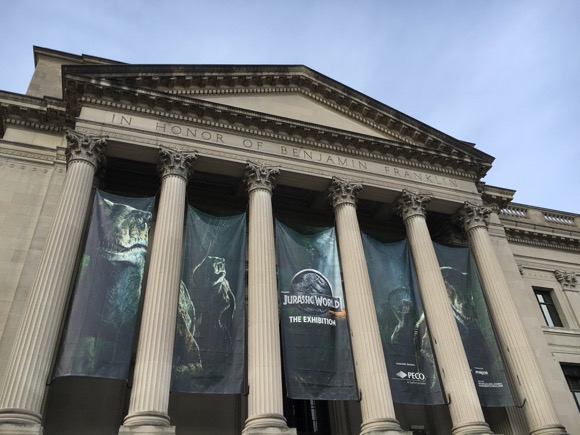 Now I knew Jurassic World: The Exhibition was going to be an amazing prehistoric adventure but I had no idea how interactive and life-like it would really be. I was in awe from start to finish. It was as if we truly stepped into the theme park we watched a hundred times on television. Open now through April 23, 2017, Jurassic World The Exhibition will blow your mind.
Guests begin their journey by embarking on a boat ride to Isla Nublar. During the "ride" guests are shown a video about Jurassic World and what to expect. It's a fun way to build the excitement and anticipation. Once the door opens, you are transported to another world. After looking at the map, we walked through the iconic Jurassic World gates and our unforgettable adventure began.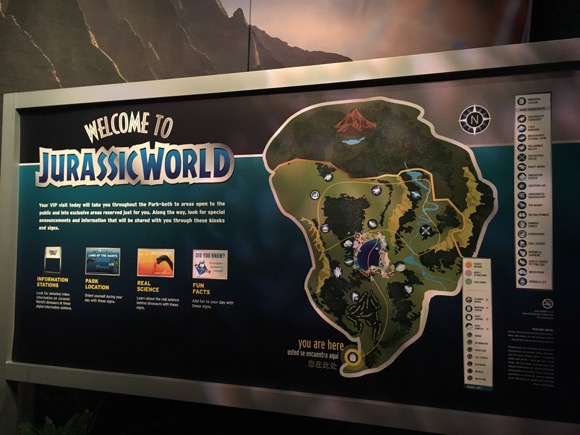 Our first encounter was breathtaking as we were greeted by a giant Brachiosaurus. You have to look up to see this magnificent creature move its long neck and head across the room. He was so incredibly life-like that it makes you really pause and look at every detail. A screen in front of the creature shares information all about him to enhance the learning experience.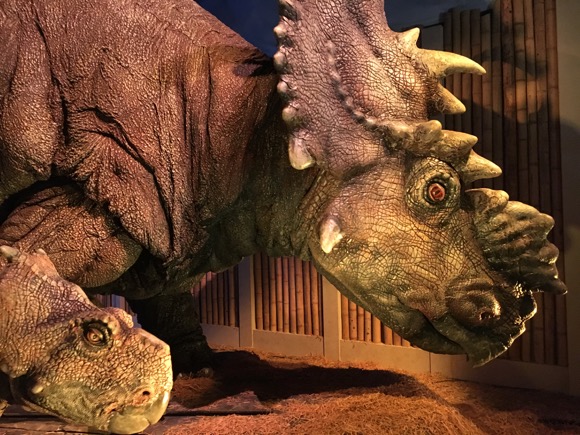 Guests then make their way down the hall to meet the Gentle Giants which, again, took my breath away. The mommy and baby Pachyrhinosaurus, which resemble Triceratops, moved their heads and legs in a life-like manner. This room also offers plenty of hands-on learning experiences from listening to dinosaur roars to feeling dinosaur skin to even feeling dinosaur poop. Okay, it's not real poop but I imagine that is what it would feel like if it was!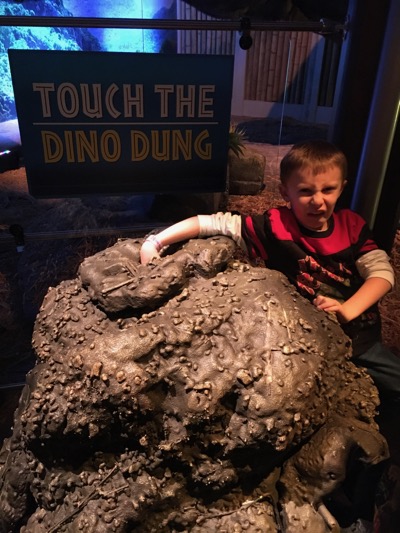 Around the next corner, guests will enter a lab where they will learn all about how the dinosaurs in Jurassic World were made. There is a wall full of amber from around the world. Look closely and you will see prehistoric bugs preserved inside! You will also learn how the blood from the insect is extracted to gather DNA. Then check out the interactive DNA screen where you are able to choose from a touch menu to learn all about DNA. What a fun way to learn about science. Other fun and interactive stations in this room teach guests about egg hatching. There is even an egg incubator along with baby dinosaurs.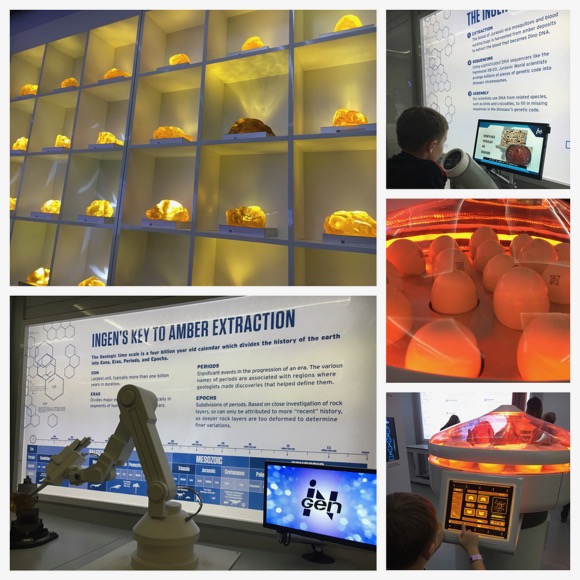 After exploring this room, guests are brought out to see the raptor cage. As a "real" raptor rushes up to the bars, don't be surprised if you take a jump backwards. Your little ones may be a little scared too. The raptor was so life-like as it moved about the room and made its distinct raptor sound. After our hearts stopped racing, we were brought to Tyrannosaurus Rex Kingdom. As if the raptors weren't scary enough, here comes an escaped T-Rex to make your heart start racing again. It was massive in size including it's very big and scary teeth. Don't worry the steel bars will protect you!
Your journey continues in the next room as you walk along side a magnificent Stegosaurus. The Information Station offers interesting insight on this amazing creature which enhances the learning experience. Be careful where you walk, however, because you may find another escaped Jurassic World dinosaur. The last learning adventure at Jurassic World: The Exhibition is the Innovation Center that is full of hands-on experiences the entire family will love. From dino quizzes to puzzles to etchings to interactive touch screens, there is so much dinosaur fun to be had.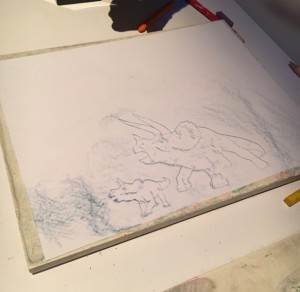 Jurassic World: The Exhibition is a jaw-dropping, breathtaking and exciting adventure like I have never experienced before. This exhibit allowed my family to be truly immersed into the world of dinosaurs. "Walking" among these magnificent creatures was an opportunity to really understand this prehistoric time. The hands-on learning experiences and interactive adventures make the exhibit perfect for kids (and adults) who really want to learn all about dinosaurs. It's not only a wonderful family day, but also great for Scout groups, school trips and supplementing a home schooling lesson.
Jurassic World: The Exhibition is open daily from 9:30am-5pm with evening hours (5pm-8pm) also available. Tickets (with general admission) cost $34.95/adult and $29.95/child but use promo code JWMOMB* to receive $5.00 off up to 4 adult, daytime tickets to Jurassic World: The Exhibition. To redeem the code, contact us 215-448-1200 or visit fi.edu.
*$5 off Daytime Adult Admission tickets to Jurassic World: The Exhibition. Limit 4 tickets per person. Includes General Admission to The Franklin Institute. Cannot be combined with any other offer or discount. Upgrades available on-site for IMAX and 3D Theater. Redeemable online or over the phone. Processing fees apply when ordering tickets in advance. Excludes holidays. Valid through 4/9/17.
Get a sneak peek at all the action in our Youtube video:
Want to win your own tickets to see Jurassic World: The Exhibition? Of course you do! We are excited to partner with The Franklin Institute to offer a 4-ticket giveaway to step back in time. Guests will also be able to explore the other fascinating exhibits the museum has to offer.
Here are the rules and conditions for this amazing giveaway:
Participants MUST live in the United States.
The winner will be chosen by Rafflecopter.
The contest will run from January 15, 2017 through 12am on February 1, 2017.
The winner will be announced on February 1, 2017.
The winner will receive the 4 tickets from Mommy University via mail.
The winner must respond within 2 days or another winner will be chosen.
To enter, participants can earn entries by: visiting the Mommy University Facebook page (likes are appreciated but not required), following Mommy University on Twitter, sharing the contest with friends, providing an email address, commenting on this blog post by answering the required question, watching our Youtube video and reading an additional MU post about The Franklin.
No purchase is necessary to win.
Your chances of winning are dependent on the number of entries received.
Enter here: a Rafflecopter giveaway