Our favorite monkey is celebrating his 75th birthday! Mommy University was recently invited to attend a special event at Liberty Science Center (LSC) organized by Jersey Mom Blogs. LSC's most recent exhibit, Curious George: Let's Get Curious, provides an amazing space for children with beautiful illustrations to investigate and explore. They can become "little scientists" for a day and learn through their natural curiosity.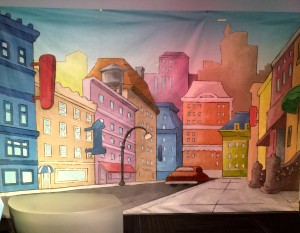 Mommy University Presents
Learning Activities Your Kids Will Enjoy at
Curious George: Let's Get Curious!
DESIGN A BUILDING

During this activity, your child can pretend to be an architect or an engineer. They are encouraged to draw different designs with a stencil while developing their fine motor skills. After drawing their building, they then turn around to the next activity which requires them to pick up large square blocks and insert it through a machine or stack blocks and then knock them all down. The best part for me was hearing my child laugh as each block hit the ground.
SHOPPING AT THE GROCERY STORE
Besides being adorable, the grocery store station promotes math skills such as sorting by size, shape or color. It also encourages each child to weigh their produce on the scale and develop number recognition as they play on the cash register.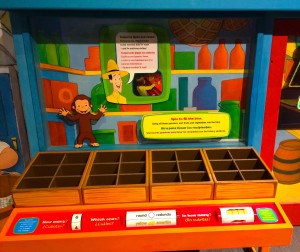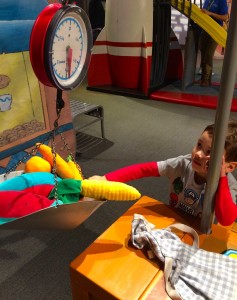 THE SPACESHIP
Imaginative and pretend play promotes turn taking and communication skills. At this station, each child can pretend to be an astronaut. They can practice going up the stairs, which develops gross motor skills, and once they are ready to land their ship, each child can go down a large slide.
PARENT FAVORITE:  CREATORS OF CURIOUS GEORGE
Did you know that the creators of Curious George were married in 1935, fled from Adolph Hitler's soldiers in 1940, and after a long journey reached New York City with a story about a monkey named Fifi who's name then became Curious George? Towards the back of this exhibit you will get a history lesson on the life of both Hans Rey and Margret Waldstein and their difficult journey to the United States. It is a great space to spark conversations with your kids about history!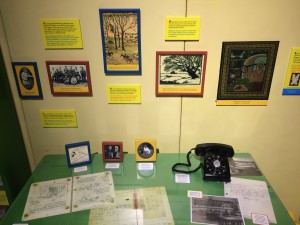 Curious George: Let's Get Curious! is open from now until January 8, 2017 at Liberty Science Center which is located at 222 Jersey City Blvd., Jersey City, NJ 07305. Fall hours are Tuesday through Friday 9:00am-4:00pm and Saturday through Sunday 9:00am-5:30pm.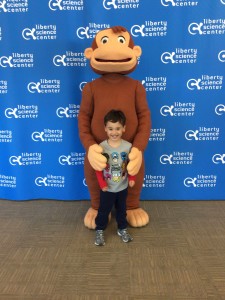 You can also meet Curious George himself on the following dates: October 1, November 11, November 25, December 28 and December 29. For more information please visit the Liberty Science Center website. How will your kids get curious at LSC?
If you like this post, you might like: