Hersheypark offers endless summer fun for all ages. From the roller coasters to water slides to strolling musical acts, there is something for everyone to enjoy. All this fun and excitement can be exhausting, however, so Hersheypark has come up with a wonderful way to relax and recoup before the next round of sweet adventures. Located in The Boardwalk is the Beach Club which offers daily cabana rentals. Each cabana offers a great space to take a break from the action and unwind with family and friends. We were provided a cabana from Hersheypark during our last trip in order share our amazing experience with you!
My family has rented a cabana 4 out of our last 5 visits, and we would never visit in the summer without one again. The cabana has made each vacation easier and more comfortable. Since guests can use their cabana and its amenities for the length of time The Boardwalk is open during the day, it becomes a great place to escape the hot sun and the hustle and bustle of the park.
Each Hersheypark cabana offers the following:
A beach towel for each guest
Beach bag
Suntan lotion
Table with 4 chairs
2 towel-covered lounge chairs
2 small chairs (perfect for kids)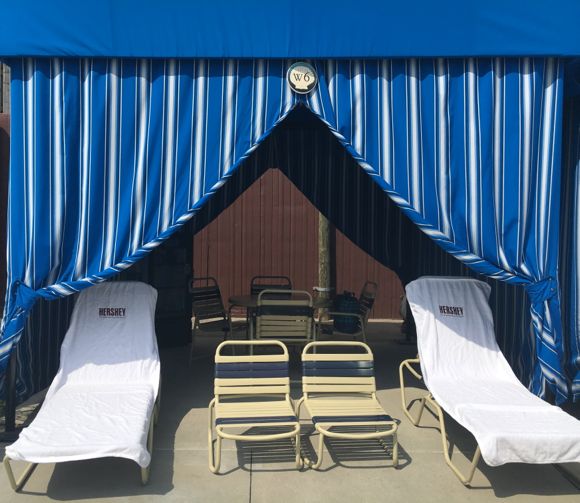 Refillable cup for each guest
Complimentary fountain soda (including pink lemonade)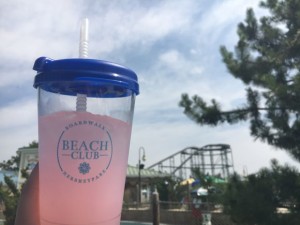 Refrigerator
Complimentary locker use
Access to changing rooms and restrooms
Private entrance to lazy river
Walk-up and waitress service to the exclusive Cabana Grill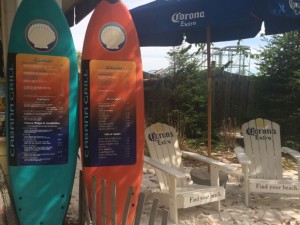 Besides everything the cabana comes with inside, there are many more reasons it is a must do summer experience in Hersheypark. The cabana offers a wonderful space to relax and unwind, but what else does it offer families? I have put together a list of some of the reasons we LOVE the Hersheypark cabana.
Amazing Reasons to Get the Hersheypark Cabana
Easy Access to the Lazy River
Cabana guests get a private entrance and exit to the Intercoastal Waterway (lazy river). No more waiting on long lines on a hot summer day to cool off. Guests of the cabana can grab a tube and walk right on for a relaxing and refreshing ride around The Boardwalk! It is an adventure the entire family can enjoy!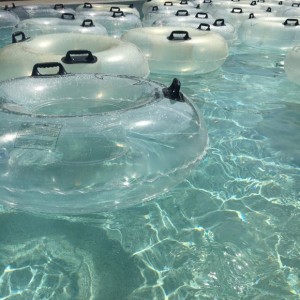 Time for Family Bonding
What I love about the cabana is that it allows for quality time with family. We enjoy sitting around the table, talking and laughing. My kids love spending time with their grandparents which then allows my husband and I to sneak away to ride a coaster or two! It is also a great space to enjoy lunch together that can be purchased from the Cabana Grill, exclusive to cabana guests.
Perfect for Naptime
Each year we have had a cabana, my kids have taken midday naps inside. Whether it is in their stroller or on a lounge chair, the cabana offers ample shade perfect for naptime. Letting my kids nap for an hour or 2 gives them more energy to enjoy more of the park and allows us to stay longer in the day. This year, my stepdad even enjoyed a midday nap in the comfort of the cabana.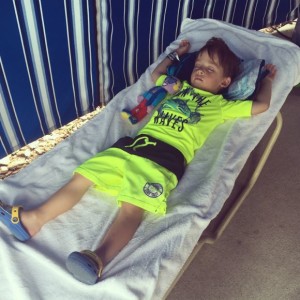 Never Go Thirsty
Besides the 12 bottles of water provided in the fridge, each guest also gets a souvenir cup that can be filled all day at drink stations. With a variety of Pepsi products to choose from, families can stay hydrated all day. We would even fill up our cups and take them with us when we explored the park. Want something with more of a kick? Guests can order a drink from the Beach Club bar like a daiquiri or pina colada.
Have a little one? The cabana is perfect for babies and new moms. Having a fridge is a lifesaver. When my son was a baby I was able to keep his formula and baby food cold in the fridge all day. It made the experience much easier and more enjoyable. The cabana is also a comfortable and private space to breastfeed. The curtains close providing private time for you and your baby. Pumping? Just store your milk in the fridge.
Great View
Some of the best views in Hersheypark can be found at the Beach Club. I love watching the roller coasters and seeing the smiling faces of the families that go by on the lazy river. My favorite view, however, is catching the sunset from the bridge. It is a magical sight that I just could not get enough of during my last trip.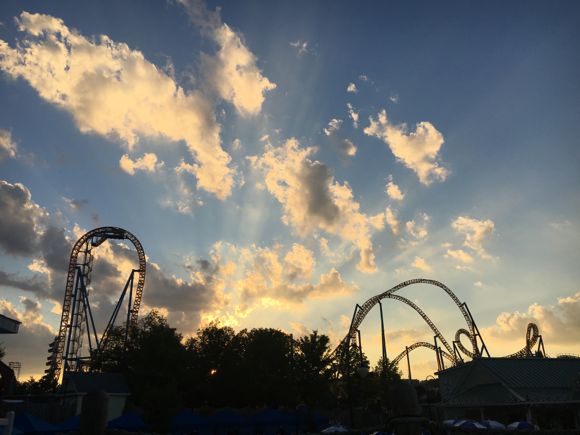 As you can see, there are plenty of reasons to rent a cabana during your next sweet summer adventure at Hersheypark! How will you enjoy the cabana?
Hersheypark cabanas are available Memorial Day weekend through Labor Day. They start at $285 (plus tax) for 4 guests. Each additional guest (up to 3 more) is $32. To book a cabana, call 717-508-1959 or visit their online reservation center.
*In full disclosure, we were provided a cabana rental for the day but all opinions expressed are completely my own.
You may also enjoy: