Since my first son was around 18 months old, we have been taking family vacations at Hersheypark. We have stayed at all 3 Hershey resorts as well as several other very nice hotels in the area. We have also experienced Hershey during 3 out of 4 seasons (we still need to check out springtime in Hershey). During each visit not only do we have an amazing time, we also learn new ways to make our experience even more exciting and successful.
When traveling with kids, vacations can sometimes become more of a chore than a break. I am always looking for ways to make my travel experience fun without the stress. With our many family adventures, I have learned a few tricks along the way and I would love to share them with you! In this article, I will focus on the sweetest place on Earth, Hersheypark!
10 Tips for Visiting Hersheypark with Kids
Bring a Stroller
Even if your kids have been out of a stroller for a little while now, I still recommend bringing one. Hersheypark offers a lot of space for exploring which means a lot of walking. There are also hills which can be very tiring at any age. If you don't want to end up carrying your child on your back all day then I highly recommend bringing a stroller.
Pack Extra Clothes
Let's face it, kids are messy. Besides all the chocolate your kids will get on their clothes, they may also get wet or, let's be honest, have an accident. Instead of having to buy a new outfit, make sure you bring extra clothes with you to the park. Packing a bathing suit is also a great idea because no child can pass up The Boardwalk!
Get a Cabana
If you are visiting during the summer, I highly recommend renting a cabana for the day. This provides a wonderful place to relax, eat and unwind especially if you are visiting with young children or even grandparents. The cabana also provides easy access to the lazy river which means no waiting on a long line to cool off and relax. The cabana also has chairs, a table, refrigerator (perfect for storing baby bottles and baby food if you need to), refillable soda cups, towels (you can keep), water and more!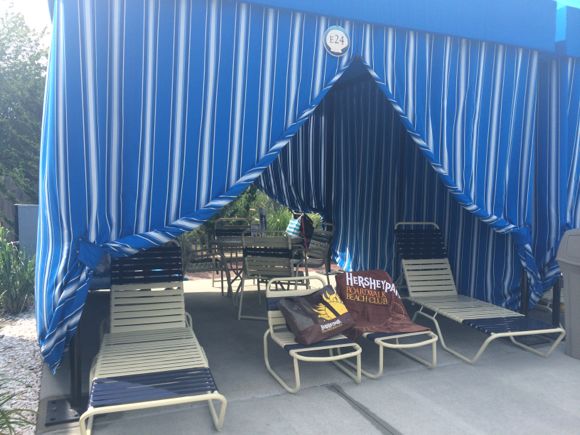 Wear Comfortable Shoes
When you visit Hersheypark, you will be doing a lot of walking. This includes going up and down hills and waiting in line. I highly recommend wearing comfortable shoes to explore the park. If visiting the water park or going on any water rides, you may want to also bring water shoes or flip-flops. Wet sneakers are never any fun!
Purchase a Refillable Cup/Mug
No matter what season you visit, I definitely recommend purchasing a refillable mug. Not only does it make a great souvenir, it also saves you money on beverages. I especially love getting the mug during Christmas because part of the proceeds go to the local children's hospital.
Check Out a Show
Families often visit amusement parks and get so caught up with the rides that they miss the amazing theatrical performances that are available. Hersheypark offers some of the most entertaining performances around! Not only are these shows a wonderful performing arts experience, they are also offer a break from the heat (or cold if visiting in the winter) and time to sit down and relax as a family. Guests can enjoy sit down shows such as Dance, Dance, Dance America and Our Friends from the Sea or even strolling entertainment like The Hersheypark Band and Choc-a-Fellas.
Use the Hersheypark App
Before visiting, definitely download the Hersheypark app on your phone. This app provides a map of the park, wait times, show times and much more. Checking the app regularly can help you save time on planning and waiting which leaves more time for playing!
Stay at a Hershey Resort
Staying at Hershey Resort has so many amazing advantages. From discount park tickets to free transportation to FREE chocolate on your pillow, the Hershey resorts offer a sweet experience every family will love. We have stayed at all three resorts, and each one offers something different and unique. The Hotel Hershey is a combination of elegance and charm with family friendly experiences and programs. The Hershey Lodge offers a warm and inviting resort experience perfect for little kids. They are even opening up a new indoor water park! The Hersheypark Camping Resort is a truly sweet camping experience. Whether you use a tent, bring a trailer or rent a cabin, families will love staying at and exploring the campgrounds while they are not exploring the park. Did I mention if you stay at any of the resorts, you get to enter the park an hour before opening? How cool is that?!
Take Advantage of the Preview
Did you know that with your Hersheypark ticket you can visit the park the night before your full day visit? Families can enter the park 2.5-3 hours before closing the night before their visit. This is the perfect time to map out your plan for the next day. If you are like my husband and I, it is also a perfect time to get someone to watch the kids so you can ride all the roller coasters. I find the lines are the shortest first thing in the morning and late at night!
Leave Time to Explore Zoo America
When you visit Hersheypark, admission to Zoo America is free! Don't miss this great opportunity so make sure you leave room for it in your schedule. It does not take that long to walk through the zoo, and it offers a nice break from the hustle and bustle of the park. Plus, guests will love learning about the animals native to America.
I hope these tips will help make your trip to Hersheypark even sweeter!
You may also enjoy:
5 Educational Experiences in Hershey, PA
5 Brain Boosting Reasons to Visit Hersheypark