While my son is a "just the facts" child, my daughter is fascinated with unicorns, fairies, and dragons.  I love my daughter's imagination and thus I want to encourage her to look at the world through a magical lens because there will be enough people in this world who will try to stop her.
Within the floor of Jacob Javitts Center, toy companies also promote the fascination and allure of the magical world.  From your child dressing up in a fairy costume to crafts that promote a love of reading, there are lots of toys that will inspire your little one! At Toy Fair 2016, we saw the magical realm appear in many toy company displays and sets which inspire young minds to imagine the world differently than it exists. Here is a list of some of our favorite collections and toys.
Mommy University Presents
5 Toys that Will Inspire Magic
Go! Go! Smart Friends® Twinkle the Magical Unicorn™ (Vtech)
Vtech is expanding its successful Go! Go! Smart Friends line to the realm of fairy tales and one of the most impressive toys was Twinkle the Magical Unicorn.  Designed for children ages 1.5-5 years old, this toy not only introduces cause and effect but also encourages fine motor skills.  Twinkle can walk, flap her wings, and loves to snack on her carrot.  Admittedly, I had a great time playing with Twinkle at Toy Fair and for young children who are thinking about fairies, princesses, and the mythical creatures this is a fun and educational addition in your home.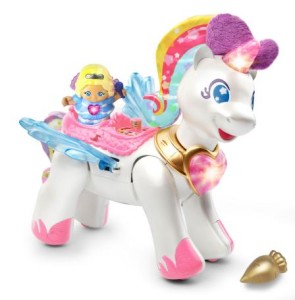 Color Me Cape (The Great Pretenders)
Children don't require many props to catapult their imagination, and sometimes it is a simple twist on a classic item such as the Color Me Cape by The Great Pretenders that sparks the creativity. Children are invited to decorate their own cape by coloring it, and what we love is that they have capes that encourage children to imagine themselves as a Knight, Superhero, Butterfly or Fairy.  This toy also promotes artistic appreciation as much as pretend play for your little dreamer.
Irish Fairy Door (Irish Fairy Door)
One child can be introduced to the world of magic by holding a magic key to their Irish Fairy Door.  Included with the door and key, is a rental lease agreement, fairy notepad, and a welcome guide.  Children can also register the name of their fairy to further enhance this experience with stories and play ideas.  It is amazing how one simple idea can transform a child's world with a fairy door.  As we usher in spring, a Fairy Door can be used in the home, in the garden, or to help a child transition to a new home.
Once Upon a Craft (Educational Insights)
As EI Insiders, we love to review toys from this innovative company which is soon launching Once Upon a Craft.  This new line merges fairy tales with craft projects.  It takes favorite stories that you have read and turns them into art projects that promote creativity and fine motor skills. The final project then becomes a toy that they can play with.  I think this is a great idea especially for those children that dream about fairy tales.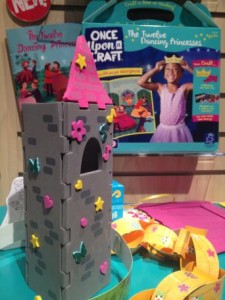 Dragon Figurines (Safari Ltd.)
Whether dragons existed or not, the lure behind them inspired literature, movies, and even the idea of possibility. We are big fans of How to Train a Dragon and Old McDonald Had a Dragon which means dragons are becoming a fixture in our home. They are also becoming increasingly more popular especially at Safari Ltd. which has launched several new dragon figurines. They even have a TOOB dedicated to these mythical creatures.  We had a great time playing with Grumpy Dragon and Happy Dragon but there are many options for your dragon loving child.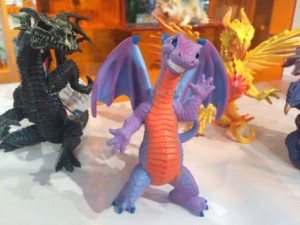 I hope we have inspired you to sprinkle a little magic into your child's play experience!
You may also enjoy:
5 Toys that Inspire Kids to Tinker