Please Make the trip to Please Touch, you will not be disappointed!
Entering Memorial Hall is impressive for the first time visitor especially since the Please Touch Museum (PTM) has taken residence since 2008. Established in 1976, the Please Touch focuses on inviting children to play and learn. The massive space is filled with permanent exhibits that engage children on several layers that are not immediately recognized. While children are climbing through the trolley, adding apples to a tree in Fairy Tales, or going food shopping at the store, they are absorbing information and learning.
As strong believers in learning through play, Mommy University was thrilled to be guests of PTM. We spent almost five hours one Sunday exploring the various spaces, and we still did not see and explore all that exists. One strong theme that I noticed is how each set up at Please Touch offers several layers of educational and developmental learning for children. With the meticulous design of Please Touch coupled with their temporary exhibits as well as special programs, it is easy to see that each time a child returns they will have a new experience.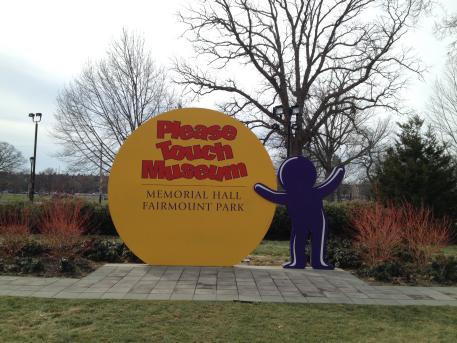 Mommy University Presents
5 Spaces With Layers of Learning at Please Touch Museum
River Adventures: Water Works
Towering over a river filled with ships are fluffy clouds and a rainbow where children can watch boats travel downstream. While children are running around this space, they are learning about levies and tides. The cloud that rains into the river grabs your attention and starts a conversation about weather. It's a wonderful sensory learning experience that introduces kids to the world of science.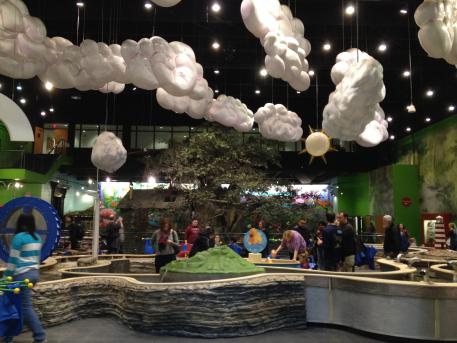 Waterworks is also filled with assorted foam pieces that children can assemble into different ships. I wasn't expecting the building toys to be present here which was a pleasant addition. It was a fun way to encourage children to tinker and attempt different boat formations.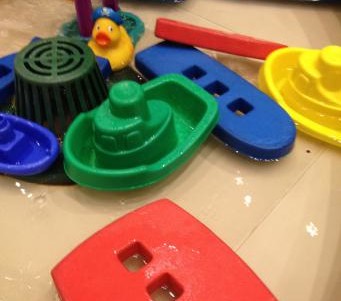 In the center of the space is Ducky Pond which is great for younger kids to be involved as their ducks travel in water. This offers a great tactile experience as well as enhances their understanding of how things float and move in water.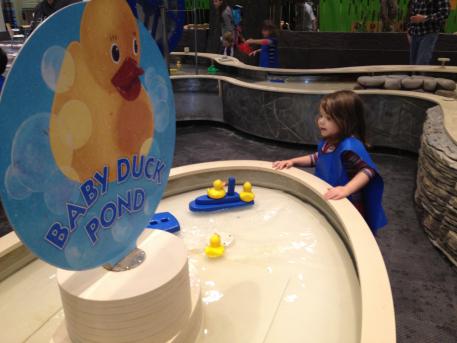 Wonderland : Alice's Adventures
If your children are fans of Alice in Wonderland, then taking a stroll through Alice's Adventures will be a magical experience. In this space, children can host a tea party alongside the Mad Hatter or paint white roses red on hedges lining the entrance. The imagination, pretend worlds and creativity are the focus of this amazing space!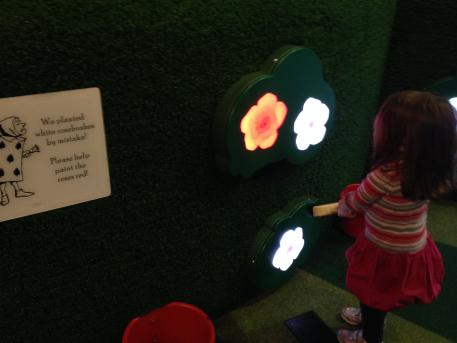 The other section of Alice's Adventures includes a surreal maze that has children exploring different types of illusions which absolutely relate to Alice's journey through Wonderland. All of these activities invite questions, promote language skills and boost critical thinking skills. You will find your kids asking questions such as, "Why do the flowers need to be painted red?"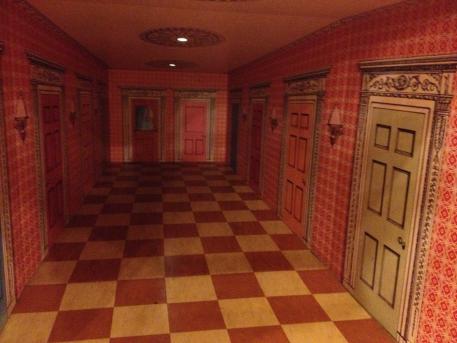 Wonderland: Fairy Tales
Since Please Touch focuses its exhibits for children 7 years and younger, they have also created Toddler Zones for younger children that are still gaining their ground. Fairy Tales is one of the spaces for children 3 years and younger; however, the reason I love this particular space is that the background here is on stories that children have heard and know. They can hang mittens for The Three Little Kittens, play with Rumpelstiltzkin, or ride in the SS Tom Beckett with the Owl and the Pussycat.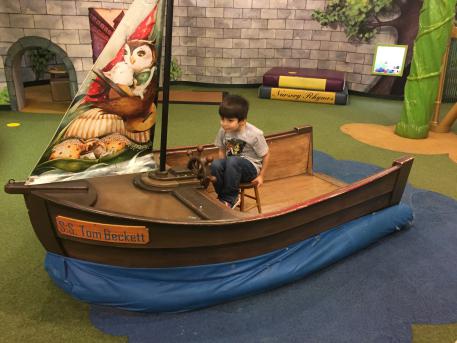 With each corner children are improving their motor skills, coordination and spatial awareness all through imaginary play. When toddlers fall in love with this space, it brings a deeper connection when parents read them the Fairy Tales that they imagined themselves in at Please Touch.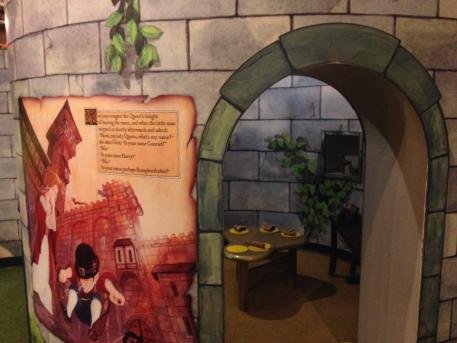 Carousel House: Imagination Playground
Outside the historical Dentzel Carousel, the Imagination Playground is overflowing with big blue blocks in different shapes that interlock which invites children to play and learn on several layers. During our visit, we saw a fort and paths, yet with these pieces children can manipulate the oversized blocks to build whatever their minds can imagine. These building toys require muscles to move so gross motor skills as well as spatial awareness are being enhanced. I like this space as a parent because it provides the opportunity for families to build together which promotes family bonding. On the other hand, if you need to sit back and relax, you can let your child develop independence through their creative play.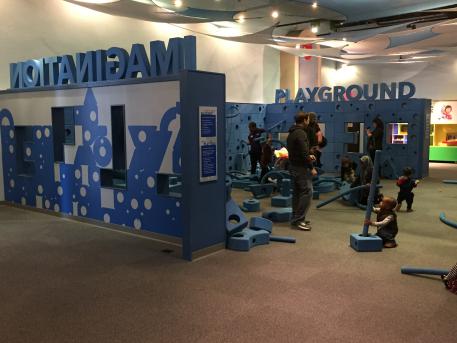 Roadside Attractions
It is difficult to discern our favorite activity at Roadside Attractions. How do you choose between moving a mini digger to looking inside a car? The Please Touch Garage has several stations where children can pretend to drive a car, look under the hood of a car, and even a station of mini cars where children can swap out the wheels and accessories.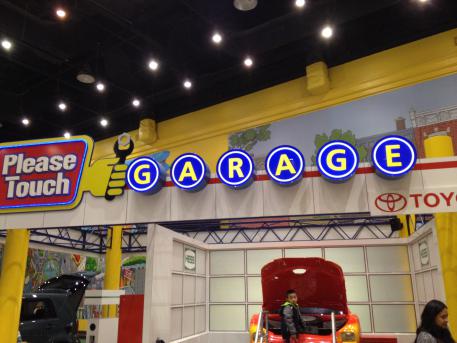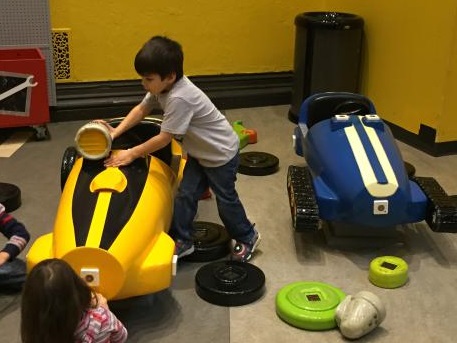 I think one of the popular activities is boarding on the SEPTA bus which is a real bus!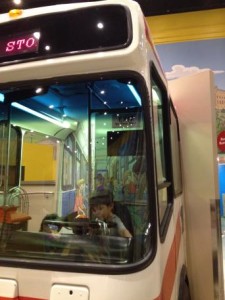 Children and parents can also put up their feet at City Park where they can order some (pretend) food and enjoy the scenery. My personal favorite item, The Tree of Life mural, is located here. I love how this bold art statement is filled with abstract shapes, but more so I love that children can maneuver pieces at the bottom of the mural and thus create art as well. Gross motor skills meets imaginative thinking? I love it.
It was difficult to select which five spaces to highlight but these were the ones our children spent the most significant amount of time. I can easily see that on the next trip my children will be captivated with other areas like the Shoprite Supermarket, Front Step (another fabulous Toddler Zone), and Rocket Room.  The opportunities for children are numerous, and each visit to Please Touch will always be unique because they have infused several layers of learning that engages young minds!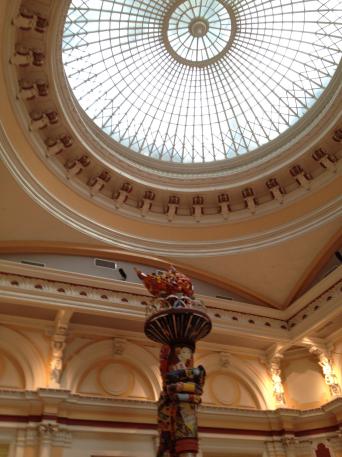 Please Touch Museum is located at 4231 Avenue Of The Republic Ave, Philadelphia, PA 19131
*In full disclosure, we were provided passes to the Please Touch Museum in exchange for our honest review.
You may also enjoy: