Children are fascinated by the massive size and power that trains represent; however, when scaled down to a miniature size that interest does not diminish. Children (and adults) are mesmerized by watching the trains circle the tracks as they listen to the wheels and whistles of the engines. When children have the opportunity to press buttons to cause different reactions they seek out all the possibilities of what might happen. Model trains are fun which is why there are so many spaces that invite children to observe, engage, and learn!
While we may not know our O-gauge from our G-Scale, we certainly love the care, detail, and passion that goes into the meticulous and complicated model railroad displays available in New Jersey. We have visited a few of these spaces and look forward to visiting them all one day!
Mommy University Presents
Amazing Places to See Model Trains in NJ
Northlandz, Flemington
New Jersey has many things to boast including the largest model trains! Over eight miles of track there are 100 model trains to admire in this phenomenal space that is worth the trek. Over 35 years old, Northlandz has been attracting train enthusiasts from all over the state to appreciate the complicated landscape scenes and meticulous details in each display. A family can easily spend two hours in this space, but make sure to bring your binoculars and telephoto lens to capture all the tiny details. An added bonus is the real train ride available right outside the building!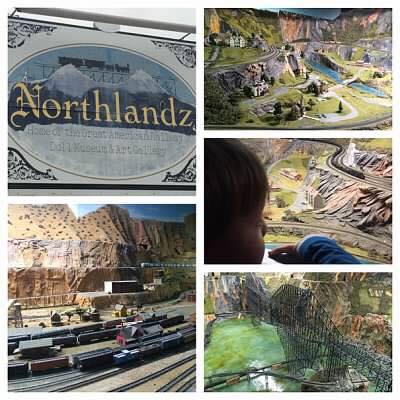 Friar Mountain Model Railroad Museum, Sparta
A family created and owned model railroad museum with several displays that change each year and even season, the Friar Mountain Model Railroad  Museum takes each visitor through a trip in New Jersey history. Open on weekends, this museum might be the perfect visit for a young train enthusiast (and yes they have Thomas the Tank Engine).
Whippany Railway Museum, Whippany
The Whippany Railway Museum is a volunteer run program, and their restored trains include several rides throughout the year including the Santa Claus Express, the Easter Bunny Express, and other excursion trains. There are two model trains which can be found at the Museum. The first model inside is a large operating O-gauge model train layout that has plenty of buttons for kids to press and cause reactions. The second has G-scale model trains running on the outdoor layout which runs weather permitting. Don't be surprised if your children want to run after the trains! Since I am not opposed to my children running around in fresh air, I find this to be a fun activity!
Morris Museum, Morristown
The Morris Museum has a small train exhibit located on the second floor which is near their Dinosaur exhibit. This room contains a smaller train model that is always a mandatory stop for our family. The model train is a small space but has a couple of benches which is nice when parents need a break but kids are still going. Around the holidays, Morris Museum is a mandatory for us as they bring out a massive model train display with interactive lights.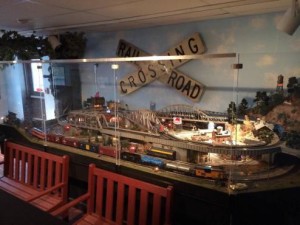 InfoAge Museum, Wall
InfoAge contains many exhibit spaces that range from vintage computers to a spaces that hosts the New Jersey Shripwreck Museum. However, what appeals to us is the one operated by the Garden State Central Model Railroad Club. Originally housed in Asbury Park, they made the move to Wall and are still updating the complicated recreations of train lines that run New Jersey and Pennsylvania. For a minor cost, you will have access to all of the exhibit spaces at InfoAge!
NJ 4-H Fairs and Events
The 4-H Youth Development Program aligns perfectly with Mommy University's mission as it focuses on learning by doing. Kids engage in a variety of hands-on activities in order to grow and learn. One of the many programs they offer is learning to create model trains. Local 4-H centers often hold model train exhibits made by 4-H members. Families can also explore amazing model train exhibits at 4-H Fairs which take place in each county every summer.
Bonus: Choo Choo Barn, Strasburg, Pennsylvania
If the idea of 1,700 square feet of train layout thrills you than the Choo Choo Barn might be the space for you! Located in Strasburg, near other train attractions, there are over 20 operating trains and over 150 hand-built animated figures that will entrance you. The details of the Choo Choo Barn are stunning and impressive. As well, they have Sensory Friendly hours once a month.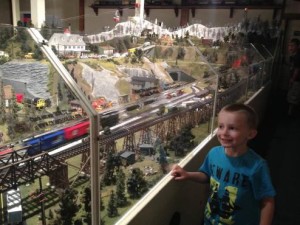 If you like this post, you might like: