The costumes and props used in this post were provided by Oriental Trading. Games were provided by Pressman Toys.
My boys (and I) are HUGE Harry Potter fans. They love watching the movies and they were both Harry Potter one year for Halloween. My son even decorated his room with a Harry Potter theme! I love using what they have a passion for to encourage learning. With Harry Potter there are so many opportunities to create brain boosting activities that everyone will love. These activities are not only fun for a day at home with friends and family, but they are also perfect for a birthday party, scout meeting, homeschool lesson enhancement and a Universal Orland0 Resort Countdown. Here are some we have enjoyed! I have included Amazon affiliate links to make planning easier!
Harry Potter Activities for Kids
Get Sorted
For my son's Harry Potter birthday party, we kicked things off my sorting everyone into their Hogwarts House. Each guest sat on a stool in front of everyone and put on the hat. We used the Talking Sorting Hat that randomly chose a house for each child. It was an activity that everyone LOVED!
Create Your Own Spells
My boys are fascinated with magic and often run around the house with their wands "casting" spells. To help turn this into a learning experience, I decided to have the boys create their own spells. We started by making our own spell books. We used simple composition notebooks then adorned them using glitter glue. Next, the boys created their own spells and wrote them in the book. This activity not only used creativity and imagination, but it also enhanced language, reading and writing skills!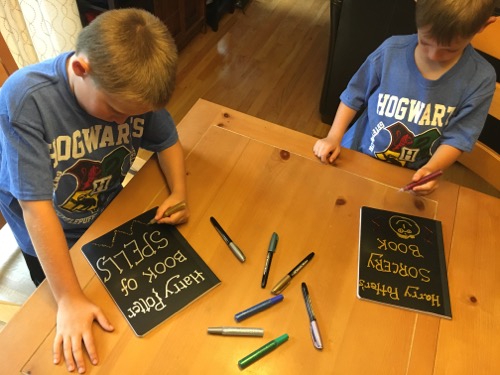 Have a Potions Class
Making potions can be as easy or as complicated as you would like. Pinterest has some amazing ideas for fun science experiments that can be used to replicate potions. A simple idea is to use baking soda, vinegar and food coloring. Add some feathers, small plastic skulls or bones, googley eyes and more to make it even more spooktacular. You can then have the kids write down their potions in their spell books along with what the potion does.
Make Your Own Wand
What's a spell without a wand? You can purchase your own at Universal Orlando Resort or through Oriental Trading or Amazon but you can also make your own. Pinterest offers many variations from easy to complex but we decided to create our own. First, my boys each found the perfect stick outside to decorate. Next, they added pipe cleaners for some color and a hand grip. Last, they added glitter glue for some sparkle. We had so much fun with this activity that we made them for my son's Harry Potter birthday party too! Each guest made a wand that was unique to them!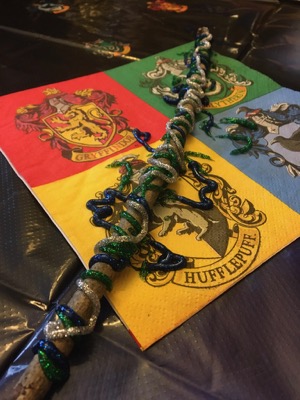 Play a Game of Quidditch
My little one's favorite part of Harry Potter is Quidditch. He loves watching the players whiz around on their broomsticks to score points for their team. Why not create your own version of Quidditch at home? You can get creative by using wood and hula hoops to create the goals. The outfit, broom and golden snitch can be purchased on the Oriental Trading website or Amazon.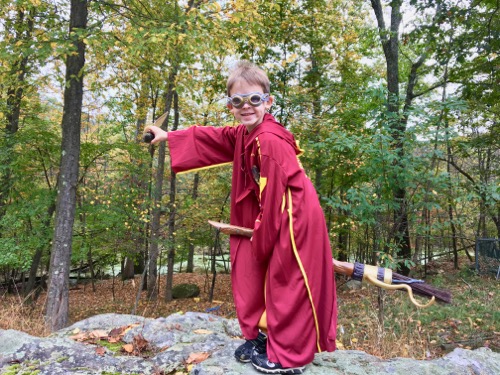 Learn to Play Chess
A popular game in the Harry Potter series is Wizard Chess. You can purchase this game but the game pieces don't come to life (thank goodness). You can also just learn how to play regular chess. This is a fun way to build problem solving, critical thinking and visual perceptual skills.
Harry Potter Game Night
Not into chess? No problem! There are some amazing Harry Potter games to choose from. My boys absolutely LOVE the Triwizard Game from Pressman Toys and would play it every day if they could. It is an easy game to play but each time you play there can be a different outcome or winner which makes it fun and exciting for kids. Players have to make their way around the maze to win the Triwizard Cup. The 48 maze cards correspond to the movies so it is a fun way to bring the story to life. This game is recommended for ages 5 and up and can be played with 2-4 players.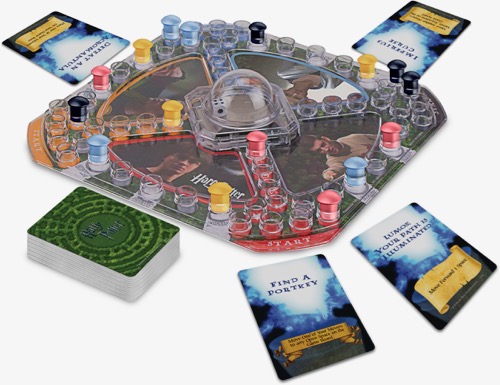 Another fun game is Magical Beasts. It is the perfect choice if you are planning to watch the Fantastic Beasts movie! In this fun and exciting game, players must capture the magical beasts that have escaped Hogwarts. The unique swinging game board adds to the fun. Harry Potter Magical Beasts is recommended for ages 8 and up and can be played with 2-4 wizards. It can be purchased for under $15 on Amazon.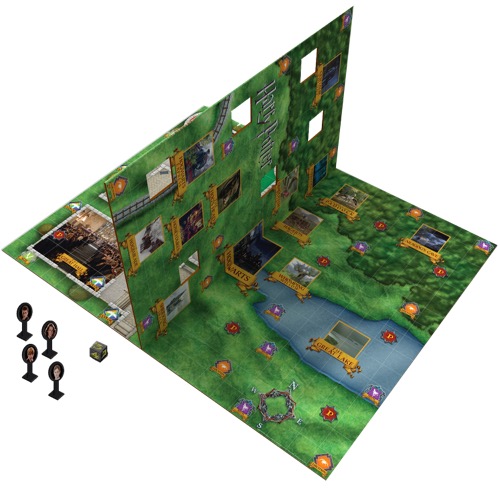 Read, Read, Read
A great way to start any Harry Potter day is to read. I personally love the illustrated versions for kids. The pictures help kids grasp the story a little more and it can spark conversations.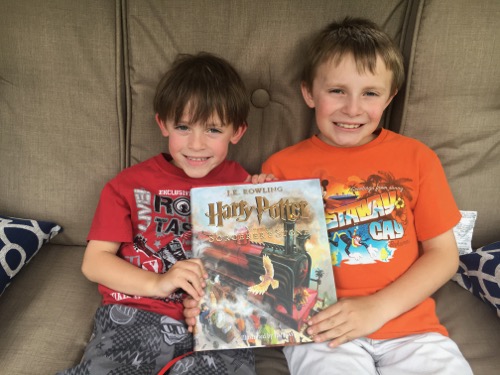 Movie Marathon
Even though we have the collection on DVD and on DVR, we watch Harry Potter EVERY time it is on television. Harry Potter movie marathons are perfect for rainy days at home, family nights, play dates or, let's be honest, any day of the week! Instead of a marathon, you can also just pick your favorite movie to watch as a family. Make it even more fun by dressing up for the event and eating classic Harry Potter food! Pick up the box set on Amazon.
Play Dress Up
Nothing encourages pretend play quite like dressing up. Oriental Trading offers Harry Potter costumes for the entire family! Whether you are team Gryffindor or team Slytherin, Oriental Trading has what you need. My little one LOVES pretending to be Harry Potter flying a broomstick while my older son loves going around casting spells in his Harry Potter robe. Becoming the character is a great way to enhance creativity as well as build important language, social and storytelling skills.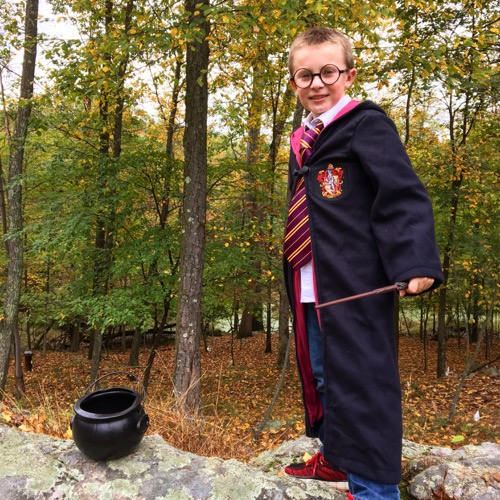 What is your favorite Harry Potter activity?
You may also enjoy: