One of the main reasons we decided to join the Cub Scouts is to experience more family adventures especially those that involve nature. Although I was a little nervous and apprehensive about the upcoming winter camping trip, I went into it with an open mind. I knew it would be a wonderful way for my family to bond as well as a great way for my boys to develop important life skills.
After a day full of hiking, exploring and learning 2 new sports, it was time to wind down and hangout at the cabin. Since we all know most kids can't sit still for more than 5 minutes, it's important to have some fun activities planned to keep the kids happy and engaged. Of course I am always looking for activities that are not only fun but also educational!
In my post about the 10 Benefits of Camping I mention some of the wonderful reasons families should experience at least one camping trip in their lives. In this article, I wanted to share some fun activities families, friends and, of course, scout groups can enjoy while camping. Since cabin camping is my only camping reference at this point (Cub Scouts and Hersheypark Campgrounds), this list is geared toward cabin camping; however, many can also be enjoyed in a tent or trailer!
10 Brain Boosting Activities for Cabin Camping
Cooking
Everyone has to eat right? Cooking is a fun activity everyone can partake in. From starting the fire to preparing the meals to setting the table, there is something for everyone to do. Helping with the cooking process allows kids to develop important life skills while gaining independence.
Alphabet Scavenger Hunt
A fun game to play in and outside your cabin is an alphabet scavenger hunt. Have the kids find something that starts with each letter of the alphabet. The kids can work together as a team or each can be assigned certain letters. They can also create a picture book at the end of what they found.
Bingo
This is always a fun game to play when camping. It's a great way to enhance letter and number recognition skills. Make it more fun by having the winner form an X or square instead of just getting 5 in a row.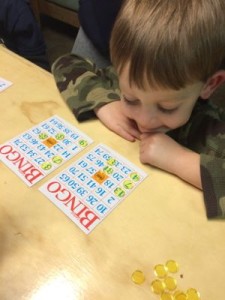 Decorate Your Bunk
A fun activity for kids especially Cub Scouts or Girl Scouts is to decorate their bunks. This sparks creativity as well as encourages teamwork. At the end, everyone can vote on the most creative bunk.
Puppet Show
Let the kids make their own puppets out of paper bags or socks. This a wonderful way to spark their creativity. Then let them work together to create their own puppet show to present to the adults. This helps build story telling skills and encourages imaginary play.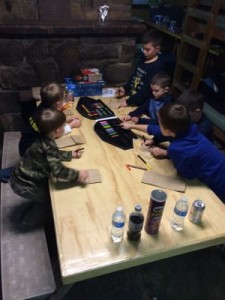 Free Play
Free play may get a little crazy in a cabin but it so important to help kids learn important social skills as well as enhance language and problem solving skills. It also helps them be more independent and expand their creative thinking skills.
Movie Night
Set up a sheet on the wall (or even outside) and use a projector to show a movie. This is a great way to end the night and help the kids wind down.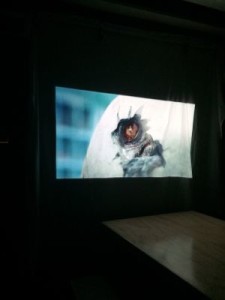 Board Games
Board games like Checkers, Monopoly and Chess are fun ways to spend the night in your cabin. They also teach problem solving, social and reasoning skills.
Skits
If puppet shows are not for you, then put on a fun skit. Group the kids in pairs or teams and give them a theme. Then let them create their own short skit to perform for the group. It's a fun confidence building activity!
Story Time
Whether it's from a book or your own imagination, story time is a wonderful way to end any night at the campground. Kids can make up stories or just retell an experience they had that day. You can also bring some books to read by the fire before going to bed.
I hope you have found this list helpful for your next camping adventure! What brain boosting activities do you enjoy while cabin camping?